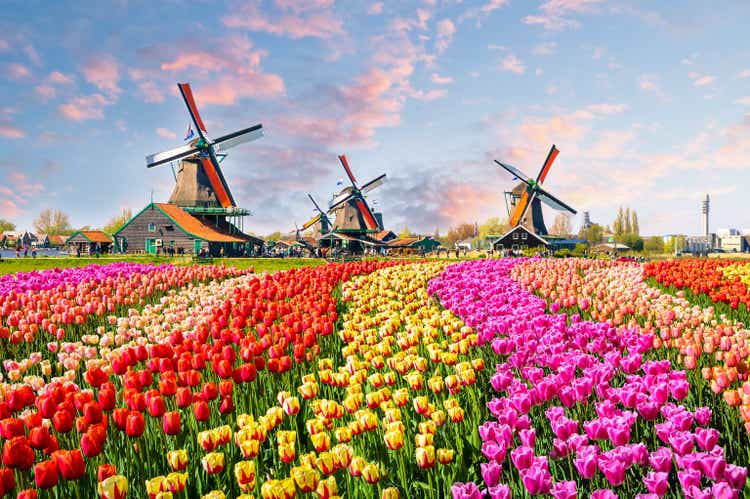 Introduction
In the summer of 2020, I argued NN Group (OTCPK: NNGPF) (OTCPK: NNGRY), a leading Dutch insurance company, looked attractive at a price point below 30 EUR per share. The share price has now indeed increased by approximately 40% and the company is now paying a generous dividend. As NN Group has been under pressure from activist shareholders, its stance towards shareholders has improved and I was glad to see the company is still delivering on its promises.
NN Group has a very liquid listing on Euronext Amsterdam where it's trading with NN as ticker symbol. The average daily volume is approximately one million shares. As there are approximately 305 million shares outstanding, the market capitalization is just over 12.7B EUR. As NN Group trades and reports its financial results in Euro, I will use the EUR as base currency throughout this article.
The company's website primarily contains download-only links, but you can find all relevant information and documentation on this link.
A good result in FY 2021, but keep in mind the post-COVID gains boosted the net income
NN Group posted an excellent result in 2021 but investors are warned that whereas 2020 contained some non-recurring losses related to the COVID pandemic, there were some one-time gains in 2021 as well which boosted the net income to in excess of 3B EUR. This does not mean we should dismiss the company's results as even if we would adjust the results for those non-recurring elements, NN Group remains a very strong performer.
The company reported a total income of 21.4B EUR, fueled by a small increase in the gross premium income by a much higher increase of almost 30% in the investment income. Additionally, the net fee and commission income also increased by more than 10% while NN Group also saw a massive uptick in the contribution from associates and joint ventures, which increased from 219M EUR to o899M EUR.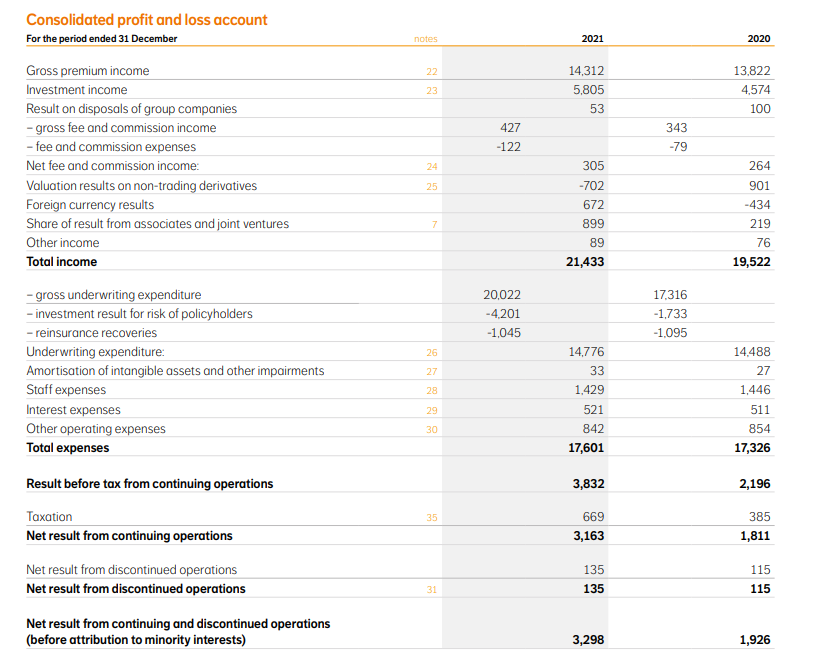 The total expenses barely increased, by less than 2% to 17.6B EUR and it's remarkable to see the staff expenses actually decreased in 2021 compared to 2020.
This resulted in a pre-tax income of 3.83B EUR compared to less than 2.2B EUR in 2020 and the reported net income was 3.16B EUR which translates into almost exactly 10 EUR per share. That's an 80% increase compared to the 5.52 EUR EPS in 2020 thanks to the higher net income in combination with a lower net share count.
These strong results allowed NN Group to hike its dividend once again, and the board of directors is proposing to pay a dividend of 2.49 EUR per share and this will very likely be ratified by the company's AGM. As the current share price is just under 42 EUR per share, NN Group is essentially paying a 6% dividend yield. Thanks to the relatively low dividend withholding tax of 15% in The Netherlands, that's a very attractive dividend yield. Keep in mind NN Group has already paid an interim dividend during calendar year 2021 and the final dividend payable in Q2 will be 1.56 EUR per share.
On top of that, NN Group also announced an additional share buyback program to the tune of 1B EUR. Should this entire amount be used, NN Group can buy back in excess of 20 million shares at the current share price. This would reduce the share count by more than 6% to less than 300 million shares and this would have a direct impact on the EPS and subsequent dividend declarations.
On top of that, NN Group is buying back its stock at a massive discount to its book value. As of the end of 2021, the equity value on the balance sheet was 34.9B EUR. After deducting the equity value attributable to the minority interests and deducting the 1.13B EUR in intangible assets, the remaining book value of in excess of 33B EUR still represents a tangible book value of in excess of 100 EUR per share. And as a large portion of the earnings are retained by the company and it is aggressively buying back stock at a 60% discount to the book value, we can expect the book value to reach 120 EUR per share by the end of this years (barren unforeseen circumstances).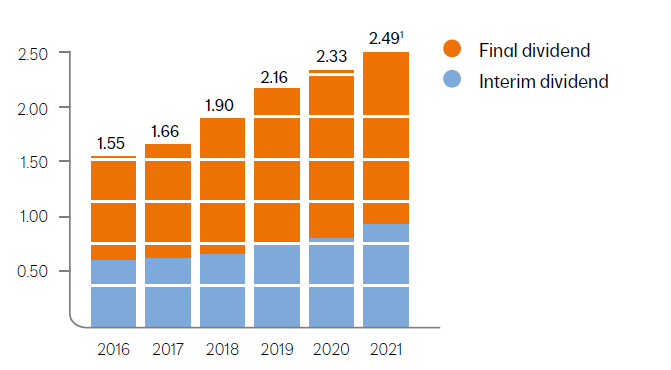 What is NN's investment portfolio invested in?
I also wanted to dig a bit deeper into the company's investments to make sure the book value is reliable and the balance sheet does not contain too much risk. I mainly wanted to focus on the 176B EUR in investments and loans.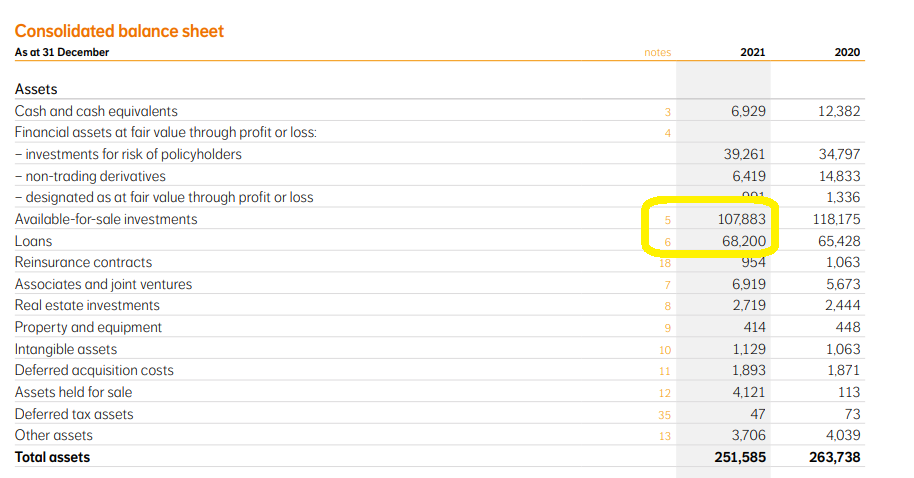 Of the "available for sale investments," NN Group held in excess of 60B EUR in government bonds while the majority of the other assets also consists of debt securities. The equity portfolio represents just over 10% of the 108B EUR in investments.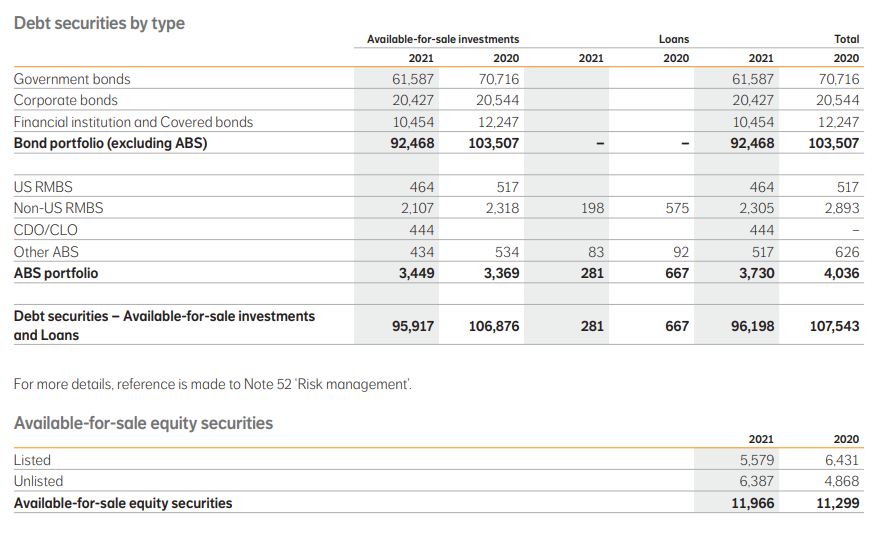 Looking at the loan portfolio, the vast majority of the loan book is related to mortgages. This appears to be a relatively conservative portfolio as the footnotes to the financial statements unveil an average LTV ratio of just around 60%. This means that even if the value of the properties collapses by 30%, NN Group should be able to keep the losses limited and that explains the very low loan loss provision on the balance sheet: most of its mortgage loans appear to be pretty safe. The average LTV ratio across the portfolio was just 59% compared to 67% in 2020, indicating the loan book has actually gotten "safer" in the past year.

Investment thesis
NN Group ticks all the boxes as it combines a strong operating performance with a robust balance sheet (with a solvency ratio of in excess of 210% for the insurance activities). Buying back shares at a substantial discount to the book value and tangible book value also is a no-brainer and while we wait for the lower share count to boost the per-share performance, we get paid approximately 6% for our time. I fully expect the dividend per share to continue to increase and I'm expecting to see a dividend of close to 3 EUR per share by 2025.
I have a small long position in NN Group and I have been writing put options on NN Group on a consistent basis in the past two years. Unfortunately most of those put options expired out of the money, but I will likely continue writing puts in an attempt to increase my exposure to a well-capitalized insurance company.