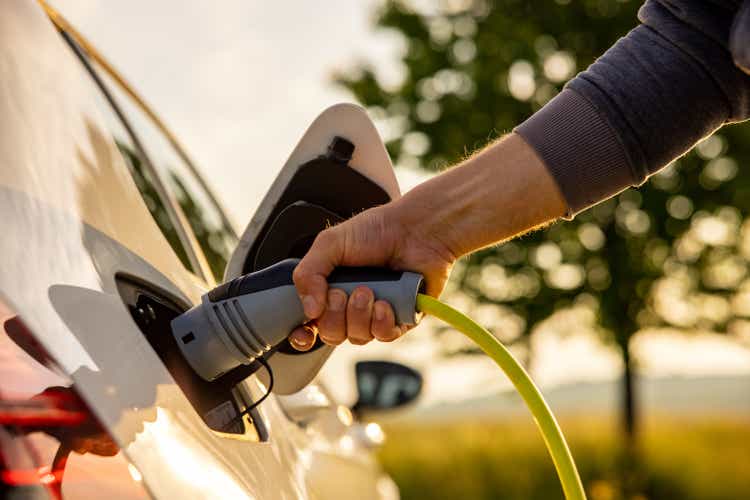 NIO Inc (NYSE: NINE) is a true rarity among EV companies. With positive free cash flow and a single-digit price to sales ratio, it's the closest thing to a value play you'll find among EVs. That's not to say that it IS a value play. Trading at 93 times operating cash flow, it certainly isn't super cheap – nor is it GAAP profitable just yet. But it is inching ever closer to profitability. In a space where there are few true value plays, stocks like NIO are as close as you can get. Thus, NIO may be an attractive play for investors who are a little too fundamentals-oriented for the average EV stock.
Shortly before this article was published, NIO released its fourth quarter earnings, which beat on revenue but missed on EPS. Both the revenue beat and earnings miss were pretty small: revenue of $ 1.55 billion was ahead by $ 20 million; EPS of $ -0.16 was off by two cents. Markets took the earnings poorly, as NIO stock sank after hours.
But the fact still remains: NIO is one of the few EV companies out there that's really delivering. Its quarterly vehicle deliveries approach 100,000 on an annualized basis, and it's already doing over $ 1.5 billion in quarterly revenue. And the deliveries are increasing each and every single quarter. In the third quarter, NIO delivered 24,439 vehicles, up 100% year-over-year. In January alone, it delivered 9,652 vehicles, up 33% year-over-year. In both of these periods, growth in deliveries was strong. The January figure is particularly important as it indicates NIO will surpass 100,000 deliveries for the full year – a key milestone.
In 2021, Tesla (TSLA) delivered just under 1 million vehicles. In the same period, Volkswagen (OTCPK: VWAGY) delivered 369,000. These are the kinds of numbers the top players in EVs are putting out. With NIO delivering about 100,000 and growing its deliveries at anywhere from 33% to 100% depending on what period you're looking at, it could reach this level in just a few years.
So, NIO is a fast-growing company. In this respect, it's not different from other EV names. The EV industry is growing at about 24% CAGR, so naturally, a lot of companies in the space have strong growth. What does make NIO a little different is its modest valuation. At today's prices, NIO trades at just 6.5 times sales and 8 times book value. If you dispute my characterization of those multiples as being "low," remember that this is an EV company we're talking about. Even the relatively mature companies in this space usually trade at over 10 times sales. Throw NIO's 178% three-year CAGR revenue growth on top of its modest multiples, and we may have a true GARP play on our hands here.
With all that said, I have not invested any money in this stock personally. I think it has a lot of potential, but it is not quite at the level of maturity where a complete valuation analysis can be done on it. According to the company's cash flow statements, it only achieved positive free cash flow ("FCF") in 2020. So we do not have a long history of cash flows or earnings to work with here. The revenue trend certainly suggests that the future is bright, but it's tough to gauge precisely how much the stock is worth. For this reason, I rate the stock a "hold," as it looks promising but is subject to some uncertainty.
Competitive Landscape
For a company like NIO, the competitive landscape is of crucial importance. EVs are extremely "buzzy" products, and for this reason, the industry is seeing a lot of new entrants. Not only are there countless EV startups out there, but the established auto makers are getting in on the action too. GM (GM) and Ford (F) are rolling out their own EV offerings to compete with the all-electric players. So, this industry has a lot of competition.
In the EV space, NIO's biggest competitors include:
NIO's competition with Tesla and Volkswagen is already material. Both of those companies are already selling EVs in China, where NIO makes the vast majority of its sales. The competition with RIVN and LCID is more of a distant possibility. Rivian is still in its infancy, having delivered only 920 cars at the end of 2021, while Lucid is only selling to the US market. LCID is backed by Chinese investors and is planning a Chinese factory, so it may enter the Chinese market eventually.
So, the "big three" that NIO competes with are Tesla, VW and BYD.
NIO is presently in third place in deliveries behind Tesla and VW. In 2021, Tesla delivered 936,000 vehicles, VW delivered 369,000. In the same period, NIO delivered 91,429. Its deliveries grew by 109% year-over-year. The growth rates for Tesla and VW were 97% and 100%, respectively. So NIO was last on volume but first on deliveries growth. That makes perfect sense. In economics, the law of diminishing marginal returns states that businesses reach a point where an extra dollar spent results in a smaller incremental gain in production. Tesla and VM, being larger than NIO, are more likely to be at diminishing returns than NIO is.
BYD also merits a brief mention. It manufactures a wide variety of electric vehicles, from buses and trucks to cars. This makes it less of a "head to head" competitor with NIO compared to Tesla, but it's still worth mentioning. BYD mainly sells cars in China, so the car portion of its business undoubtedly competes head to head with NIO. If we include BYD's PHEVs, it sold far more vehicles than NIO in 2021: 593,745 of them, to be specific. If we narrow it down to just BEVs, then BYD enjoys a smaller lead, with 320,000 sold in 2021. BYD also bests NIO on delivery growth, having upped its deliveries 231% year-over-year.
Product Development
As we've seen so far, NIO enjoys a solid place in its industry. It beats Tesla and VW on growth, but is behind BYD on both size and growth. It is well ahead of companies like Rivian and Lucid that are only just beginning to deliver vehicles. So, it's a middle-of-the-pack competitor.
Will it improve its market share in the future?
To answer that question, we need to look at NIO's products. As mentioned previously, the EV industry is a competitive place, one where new entrants are always nipping at the incumbents' heels. In such an industry, the quality of a company's offerings is very important, as this determines its ability to win over customers who have other options.
Here's what NIO's lineup looks like today:
The ET5 and ET7. The flagship sedans. The ET5 is cheaper, but some say it travels further on one charge, due to its smaller size. NIO advertises a 1,000 kilometer range for both of these models but reviewers have noted that the ET5 seems to go further in real world use.

The EC6 and ES8. These are both SUVs. The ES8 is a luxury SUV with a high price tag, the EC6 is a smaller and more affordable coupe SUV. The EC6 has the largest range of NIO's SUVs, at 615 kilometers.

The ES6. A mid-size SUV with a range between that of the EC6 and ES8.
The general theme here is that NIO's smaller models have a bigger range while its larger and more luxurious ones have smaller ranges. This is different from Tesla, whose most expensive car (the Roadster) also has the best range. It seems that NIO is going for space and luxurious interiors on its higher end models, and range on its lower end ones. This positioning perhaps makes sense, as luxury car buyers are going for comfort more than performance. However, the big range edge that the sedans have over the SUVs would appear to make the latter less appealing to anyone wanting to travel long distances.
Recent Financials
As we've seen, NIO is an extremely fast-growing company with solid positioning in the luxury end of the Chinese EV market. It has all the ingredients for success. Is that translating to solid financials? To answer that question, we need to look at the most recent quarter's earnings.
In Q4, NIO delivered:
$ 1.55 billion in revenue, up 49% (beat by $ 20 million).

$ 266.7 billion in gross profit, up 28.8%.

A $ 383 million operating loss, up 162.5% from the same quarter a year before (in this case "up" means worse, as we're talking about growth in losses).

$ -0.16 in adjusted EPS, missed at $ 0.02.

25,034 vehicles shipped.
Overall, it was a solid quarter in terms of revenue, but a disappointing one in terms of earnings. The earnings remained negative and the losses widened. The widening losses were attributed to the loss of regulatory credits and share-based compensation. Investors might want to see this company's share-based compensation come down, as it helped drive bigger losses. On the other hand, when we look at the long term trend in losses, they seem to be getting smaller, so perhaps this quarter was a rare exception.
Risks and Challenges
As we've seen so far, NIO is a high-growth company with a solid competitive position. It is still losing money, and its EPS loss widened in the most recent quarter – though is shrinking on a full year basis. Because NIOs do not lose make up a small percentage of revenue, it looks like it could become profitable soon. Given all these mixed signals, NIO is a clear hold in my books. I'd neither buy nor short it, but I respect the longs' thesis. Nevertheless, there are risks and challenges for both holders and shorts to be aware of.
Those long NIO stock primarily need to keep an eye on competition. Tesla is moving cars in China, the home-grown BYD is quite popular there already, European companies are moving in. It's a competitive space, much like traditional automotives. So, NIO investors will want to look at how the company is differentiating itself from competitors. The 'luxury' thing certainly differentiates it from BYD, but Tesla is a different story.
Those short NIO should keep in mind the long term trends. The company's revenue growth is still extremely strong. Its losses grew in the most recent quarter, but losses as a percentage of revenue are trending downward long term. It definitely looks like this company is approaching profitability. If it does swing profitable then the stock might enjoy a boost.
I'm not playing NIO one way or the other, but I'd prefer to go long than to short it, if I had to choose. The stock is relatively cheap and could swing profitable as soon as this year. Given its small market cap, it could move dramatically on such news. But we do not know when such news will be forthcoming. So for me, this is a "wait and see" stock. I'd want to see at least a few quarters of positive earnings before buying it. But for those with higher risk tolerance than me, the post-earnings dip may be a great buying opportunity.