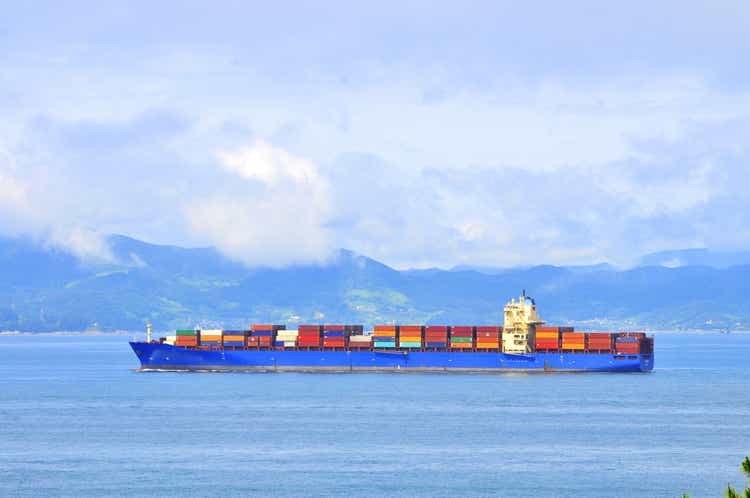 Navios Maritime Partners (NYSE: NMM) is synonymous with the Navios Group, overtaking this status from Navios Maritime Holdings (NYSE: NM). NM remains the last piece of the Navios puzzle. All other publicly traded Navios entities have now been absorbed by NMM thereby simplifying the group's structure and minimizing related party transactions. As I wrote in my previous NMM article dated 27 August 2021, my preference is that NM will also be merged with NMM "so that we are left with just one giant diversified public entity, with strong cash flow generation and a good credit profile". I continue to stand by this statement.
NMM's CEO, Ms Frangou, has been clear about her vision of the new Navios structure. She has reimagined the public shipping company as being highly diversified, with low leverage metrics and a low dividend payout ratio. The focus will be on building sustainable equity value and NAV through internally generated cash flow. Importantly, most of this cash will be kept in the company for opportunistic capital allocation purposes, instead of paying out hefty dividends. Personally, I am happy with this strategy. In fact, I think it is the only viable strategy for a shipping company to produce attractive long-term total returns. It goes without saying that if a shipping company, which owns depreciating assets (that will eventually be scrapped), pays out a large percentage of its operating flow in dividends and / or buybacks, there will be little left for replacing, let alone growing, the fleet. Eventually, this will spell trouble.
A few days ago NMM reported stellar results. For FY 2021, NMM recorded revenue of $ 713.2 million, Adjusted EBITDA of $ 426.5 million, and Adjusted Net Income of $ 364.1 million. 2022 is poised to be as strong, perhaps even better, as the company has chartered out its containership fleet at sky-high rates and the dry bulk market remains robust. What's more, there might be material upside from the tanker segment which is currently hovering around all time lows. However, the market cap remains depressed, still below the $ 1 billion mark. NMM continues to remain dirt cheap, trading at a very small fraction to NAV (less than 35 cents on the dollar), and many investors are rightfully disappointed.
In this article, I will outline what investors should expect going forward. For those who want to understand how we got here, I encourage them to read my previous NMM articles dating back to 2015 (I have written quite a few). As you can see my track record on NMM is not bad, as rated by TipRanks, with a 75% success rate and average return of more than 140%.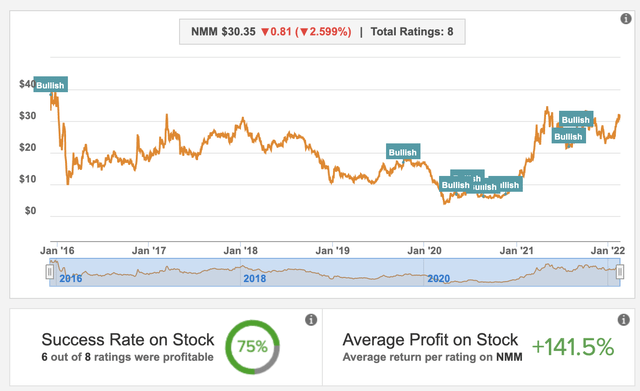 However, if Ms Frangou delivers on her promises, and eventually becomes a bit more shareholder friendly, NMM will be one of the best performing stocks in the entire market for years to come. In fact, I can now see a path to reach and surpass $ 100. NMM now has the scale, asset base and operating cash flow to move the needle and achieve a compounding effect. Specifically, NMM controls more than 140 vessels with a market value exceeding $ 5 billion based on VesselsValue and Clarksons Research as of February 2022. On the other hand, total debt, including bareboat liabilities, is less than $ 1.7 billion. As such, the net vessel equity value amounts to ~ $ 3.5 billion, which is more than 3.5 times the current market cap! In other words, NMM is dirt cheap.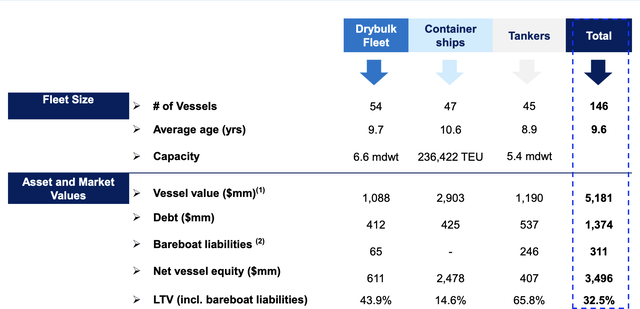 What naturally comes into mind when a stock is trading at such a severe discount to NAV is the following, aiming to bridge the gap:
Repurchase shares at a discount to NAV (instead of buying vessels at NAV).
Sell ​​vessels at NAV to signal to the market that there is hidden value.
Restore a high dividend, either fixed or variable (by establishing a transparent formula to reward shareholders based on market conditions like Star Bulk Carriers (SBLK)).
Change the structure from an MLP into a regular C-Corp.
The bad news for short term investors is that NMM will not do any of the above. I will try to get into Ms Frangou's mind.
By repurchasing units you weaken the balance sheet (it's essentially cash out of the door). This limits the ability to acquire more vessels opportunistically (eg in depressed sectors like tankers), and you also sacrifice the future cash flows linked to the increased fleet.
By selling vessels at NAV you raise some cash today but you also sacrifice the cash flows associated with these vessels.
By restoring a high dividend you weaken your financial flexibility. Shipping desperately needs a new investor base with a long-term outlook, not the "dividend-junkies" of the past.
The successful shipping companies of tomorrow will rely on internally generated cash flow for most, if not all, corporate priorities, including growth and rewarding shareholders, like most successful blue chip companies. Shipping does not need to be different. Forget about the investment bankers promoting high dividend models and pureplay structures.
A shipping company needs to have maximum financial flexibility at all times. This will be achieved by a low leverage and a low dividend payout ratio (in order to support a progressive long-term dividend policy). If a company pays out a generous 50% of operating cash flow in a booming market, what will happen when the market turns south? The answer is fairly easy: a dividend reduction or elimination as well as financial trouble. Miss Frangou wants to avoid this mistake, a trap that most shipping companies tend to fall into.
While I can understand that the aforementioned thought process will not find everyone in agreement, I think it's the right way forward, especially for those with a long-term outlook. The only argument where Ms Frangou loses serious points is around the MLP structure. She wants to keep the MLP model intact in case someone attempts to take over her company. Simple as that. The fact that disgruntled investors like Ned Sherwood have pressured her for changes certainly makes her even more defensive.
The MLP model, combined with poor corporate governance, is a toxic combination. The GP (General Partner) runs all the shots regardless of how much skin in the game the GP has. On a positive note, the Navios Group has been simplified into NMM and this has already limited related party transactions and paves the way for improved corporate governance. For those who have been following the Navios Group over the past decade, like myself, you can notice that things are changing towards the best. From little things such as the style of the latest investor presentations and reading between the lines (eg Ms Frangou's wording, positioning and vision about the new public shipping company) to more substantive aspects eg this is the first time that Ms Frangou has such a large stake in NMM which aligns her with common unit holders. It is no coincidence that Ms Frangou is dedicating substantially more time to promoting NMM. For instance, the fact that she has been recently interviewed twice, with the videos uploaded and promoted on NMM's website, sends a signal to the investment community and is undoubtedly a step in the right direction.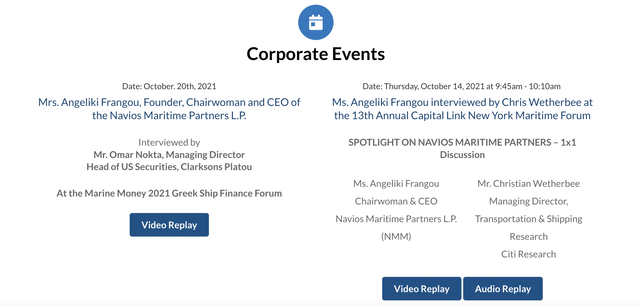 As mentioned above, the only remaining piece of the puzzle relates to Navios Holdings. When this gets resolved, it is my belief that corporate governance will improve further. It seems to me that Ms Frangou is laser focused to build a multi-billion market cap shipping company. She has understood (correctly in my opinion) that the only way to achieve this is by reaching a critical mass in terms of fleet size and operating cash flow (arguably this has been achieved now that the vessel count is 140+), maintaining low leverage (arguably this has been achieved with an LTV close to 30%) and deploying capital efficiently to further grow the fleet in various sub-segments (we still have a long way to go in this front).
It is my expectation that the distribution will increase over time, in a conservative manner, in line with increases in the operating cash flow. Ms Frangou has the chance to build on today's very low distribution level. Currently the distribution is around $ 6 million on an annual basis (around 1% of EBITDA). As such, she can easily grow the dividend by 10% per annum for decades and still maintain a very low payout ratio, thereby retaining the ability to keep on investing in growth. This will be a nice story for long term investors. Those who think that the dividend will be doubled or tripled in a year or two most likely stand to be disappointed. Also, as long as Ms Frangou can identify and pursue accretive vessel acquisitions, buybacks are off the table. In closing, the following conversation with analyst Randy Giveans during the Q4 2021 conference call summarizes the situation well.
Randy Giveans
Got it. All right. That makes sense. And now I guess, the most important question, right? Your revenue backlog is massive. EBITDA is going to exceed, I do not know, $ 600 million, could be closer to $ 700 million, both this year and next.

However, your current distribution is about 1% of that, right, $ 6 million on an annual basis. So when should we expect to see an increase to the distribution? And then secondly, as you mentioned, NAV accretion, right? Your NAV is north of $ 60, probably closer to $ 80. However, your shares are trading at $ 30. So why not repurchase units at these levels?

Angeliki Frangou

Listen, we are creating – we are busy creating NAV. And unlike other companies, NAV, which is a product of the market, our NAV is the product of our activities, and you have seen us busy doing this from last year.

And we have – our stock price has been the best performing last year, not only at the stock price, but also if you take the total returns of peers.

So this is an ongoing process, and it's important to take advantage of the different segments. What we did is take advantage of the Container segment, where we build cash flows, we bought vessels at attractive rates and we sold that histories. So we are not shy on that.

So it's about creating the growth of our cash flows. And with that, we see our stock price to follow. If we have sufficient working capital, as we have stated, and we have investment CapEx, this is not about growth for growth. It's not about number of vessels. It is about cash flow return. So if we can not see attractive in this way, we – of course, we will see in – follow in – we will follow with a different strategy of buying back.
In other words, NMM investors should expect the following:
The distribution payout ratio to remain low ie no material increases such as doubling or tripling the distribution anytime soon.
The focus will be on retaining and investing internally operating cash flow to further increase the partnership's asset base and NAV (this will eventually improve per unit metrics such as DCF per unit).
No buybacks unless there are no attractive investment opportunities in the tanker space, dry bulk space, containership space or any other shipping segment that makes sense (it seems that NMM version 2.0. Is sector agnostic; do not be surprised if NMM goes into LNG or even car carriers provided that the economics make sense).