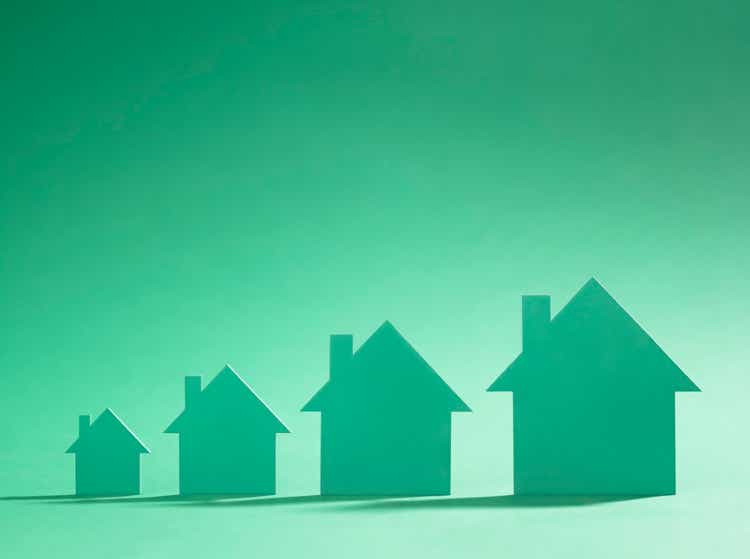 I bet I know what you're worrying about. No, not Omicron. Or the Ukraine. Or even the Brooklyn Nets (might they really miss the playoffs?) You're still pondering MGIC's (NYSE: MTG) messy Q4 earnings report. It's pretty confusing. Let's take a look.
MGIC's confusing Q4 EPS
The headline is not hard to interpret: "Net income for the quarter was $ 174 million, or $ 0.52 per diluted share … " (press release). But looking at the details raises a number of questions: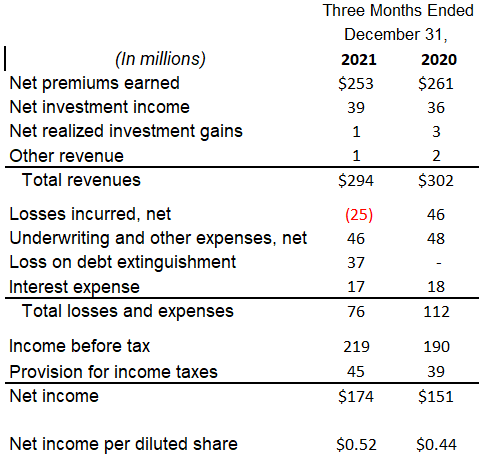 Source: MGIC financial report
Inquiring minds want to know:
MGIC said it increased its mortgage insurance in force by 11% year-over-year (YoY). Then why did it earn 3% less in insurance premiums YoY? Is some price war going on?
Why was its provision for claims payments on defaulted loans a positivenot the usual negative?
Why such a large loss on debt extinguishment?
Net income rose by 15% year-over-year, but net income per share rose by 18%. How come?
The answers lie in MGIC's Great Strategic Transformation
Let's go back to the dark days of 2008. MGIC was hanging by a thread, literally facing the prospect of bankruptcy. Only massive capital raises saved it. The reason was that MGIC actively participated in the housing bubble of '02 -'07 (details in a minute). As such, the ensuing housing bust set off a tsunami of claims payments that still hurt MGIC to this day.
MGIC, like its peers, saw the error of its ways and shifted to a new low risk strategy since '08. To see how radical a change it has been, let's compare MGIC's insurance underwriting standards today ('20 and '21) versus '08: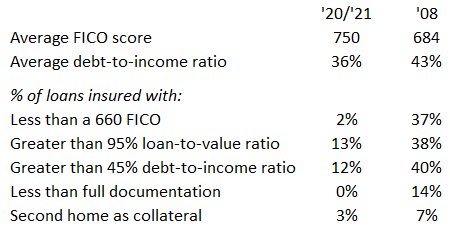 Source: MGIC financial report
Dramatically safer underwriting standards. Then MGIC more actively reinsured portions of these already much lower risks, further reducing its claims payment exposure to declining home prices and / or a recession. The new strategy also caused these two major changes:
Lower insurance premiums. MGIC has to charge its much safer current customers much less than its former higher risk customers.
Less capital required. MGIC, like any insurer, must hold capital in order to have the capacity to meet future claims payments. The capital levels are set by regulators; MGIC's primary capital regulator is the Federal Housing Finance Agency, which regulates Fannie Mae and Freddie Mac. MGIC's low risk strategy allows it to hold less capital than it used to.
Now that we understand the Great Strategic Transformation, we can answer those Q4 questions.
MGIC's average premium has declined as the old, higher paying insurance rolls off
The correlation is easy to see, even these many years after the Great Transformation began: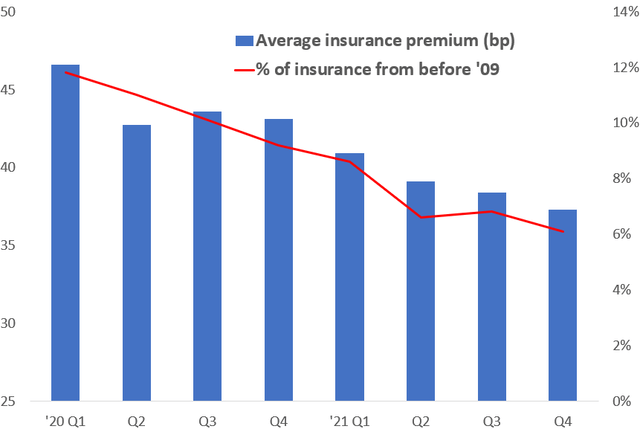 Sources: MGIC financial statements
The high correlation between premiums and old business share – a 90% R² using regression analysis – affirms that the winding down of the old business is the major driver of lower premium rates. Also contributing are higher payments to reinsurers as MGIC insured ever more of its risk. There is no evidence of a price war.
The positive loan loss provision
MGIC's claim payments have declined dramatically over the years. As recently as 2014, MGIC paid out over $ 1 billion in claims. 2021? $ 69 million. Further, when COVID hit, MGIC set aside over $ 200 million in extra loss reserves in case housing got hit. Of course, the opposite happened. The Q4 loss reserve gain is just reversing some of the COVID provisions.
The use of excess capital
MGIC's required capital has steadily declined as the older risky insurance has paid down and as its use of reinsurance has increased. The most useful measure of capital needs is how MGIC's minimum regulatory capital compares to its insurance in force. Here is the history: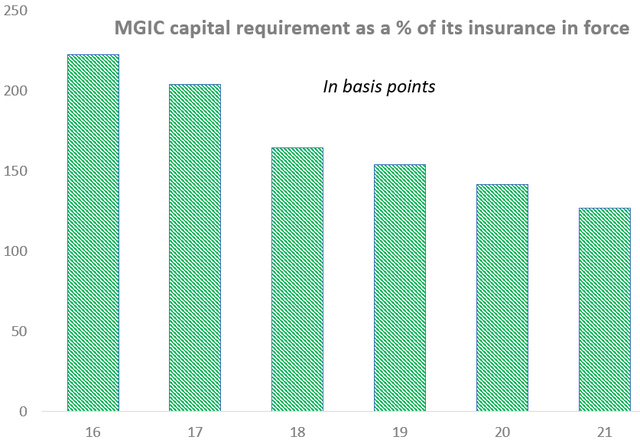 Sources: MGIC financial reports
This steady decline in required capital has freed up more and more of MGIC's actual capital to be returned to shareholders, as either a dividend, a stock buyback or debt repurchase. MGIC did all three during Q4:
The $ 0.08 dividend.
The repurchase of 9 million common shares, reducing its shares outstanding by 3% just during Q4.
The repurchase of $ 99 million of expensive convertible debentures issued when it was fighting for survival, which also prevented a possible 7 million share dilution.
The declining share count is why MGIC's EPS is growing faster than its net income, and why it took the large debt extinguishment loss.
What MGIC's earnings will look like when the Great Transformation is complete
If the Great Transformation had already occurred by Q4, this is how MGIC's income statement would look: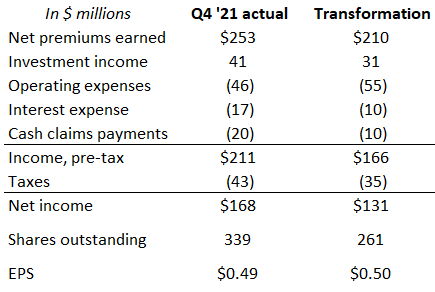 Source: MGIC financial reports
Net premiums earned will decline to 31 bp from Q4's 37.3 bp actual when all the old insurance leaves MGIC's books.
Investment income will decline because MGIC will sell upwards of $ 2 billion of investments in order to buy back stock and debt.
Operating expenses are at a $ 55 million per quarter run rate, according to management.
Interest expense will decline as MGIC pays off $ 200-300 million of its most expensive debt.
I replace MGIC's actual cash claims payments for its accounting charge, which is non-cash. More than half of MGIC's Q4 cash claims payments were for the old loans.
Shares outstanding will decline sharply as MGIC returns its excess capital to shareholders. MGIC currently has $ 2.2 billion of capital in excess of its regulatory requirement. Another $ 250 million of regulatory capital is tied up in the old loans. I assume that MGIC eventually buys back $ 1.25 billion of the excess, assuming a $ 16 per share purchase price.
My Great Transformation valuation is $ 25 a share.
That $ 0.50 Q4 EPS estimate of course annualizes to $ 2.00. Banks and reinsurance stocks have P / Es in 11-15 range. There is no reason MGIC should not. That means a $ 25 value, or up 60% from the current price. Once you work your way through the confusion, this is a very cheap stock.