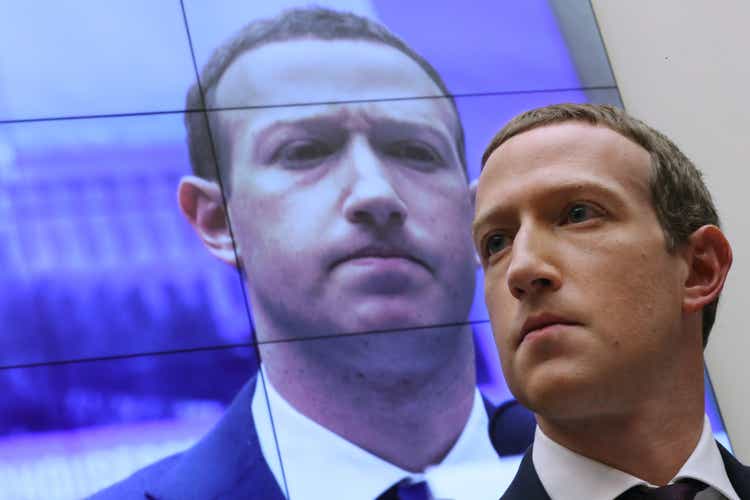 Meta Platforms (NASDAQ: FB) is one of 2022's most beaten-down large cap tech stocks. After its February earnings release, it fell 26% in a single trading day, then proceeded to decline another 21% after that. The earnings in themselves were not that bad. Revenue was healthy at 20%, beating estimates, and EPS only missed by 4%. It was most like the guidance that had investors running scared. In the Q4 earnings call, CFO Dave Wehner said he expected only 3% -11% revenue growth for the first quarter. He also said that Apple's (AAPL) app tracking transparency ("ATT") changes would cost it $ 10 billion in 2022. Together, these comments seem to have spooked investors, and sent them running from Meta stock.
Certainly, some kind of correction was warranted after Meta's fourth quarter earnings release. A $ 10 billion hit to revenue matters, and 11% revenue growth would be the slowest in Meta's entire history. A lower price was justified. But the selloff we have actually seen was not. FB is currently down about 50% from its all time high. Yet its EPS is only down 5%. To be sure, FB was priced assuming positive future growth, but in the second half of this year, it will begin to "lap" past quarters in which Apple's ATT changes were already part of the picture. So there is a strong basis for thinking that FB will return to strong growth in the future.
Not only that, but there are entirely new monetization avenues that Meta is currently exploring. Just recently, Meta rolled out WhatsApp payments. It's currently in the process of monetizing Instagram Reels. All of these bets will take time to pay off. But if they work anywhere near as well as FB's core advertising platform has, they'll be delivering a positive contribution to the bottom line in no time.
The big question mark, of course, is the Metaverse. Facebook is investing $ 10 billion a year on Reality Labs, its Metaverse business. The segment lost $ 3.3 billion in Q4, on $ 877 million in revenue. Had reality labs not been part of the equation, Meta would have generated positive year over year growth in EBIT, as the table below shows: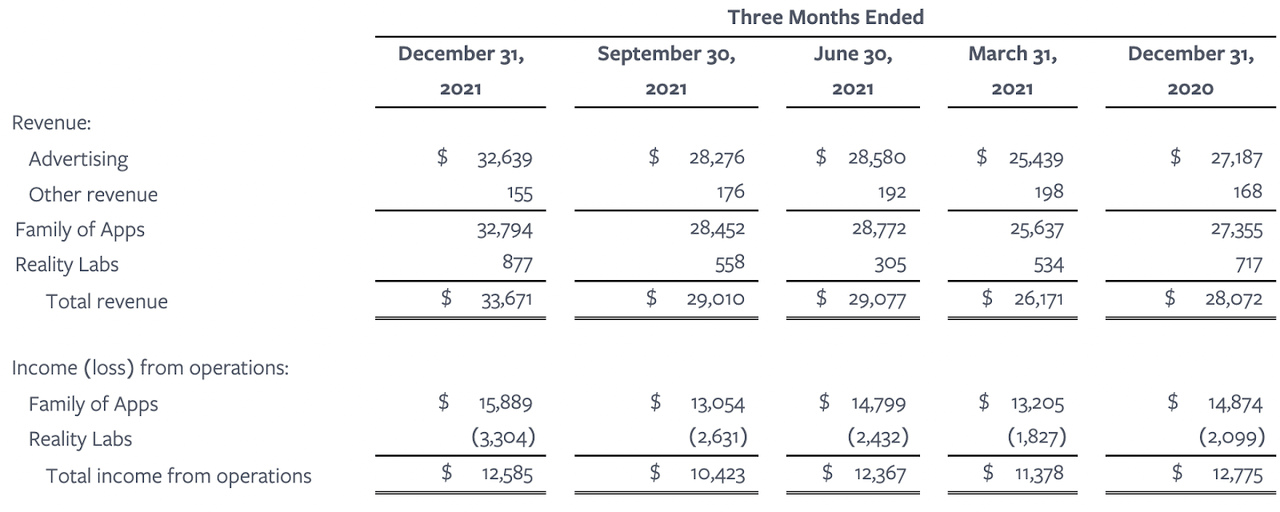 It's clear that Meta has a lot riding on its Metaverse bet. Obviously, it believes in the vision, as it changed its business name to reflect it. More importantly, it's spending a lot of money on the project. Enough that it is willing to post negative year-over-year earnings growth for the sake of building the Metaverse.
This strategy is not without its risks. Arguably, there are other areas of the business that could use the money more than Reality Labs. WhatsApp is under-monetized, Instagram is facing competition from TikTok, and the core ad platform is battling with Apple.
If the Metaverse pays off, it could pay off in a big way. But spending is a bit of a gamble when you consider that the more "obvious" business segments listed above need work.
What does all this mean for FB investors?
That the stock is riskier than it was in the past. Between Apple's ATT changes, increasing competition and the Metaverse bet, FB is spending cash that was once padding the bottom line. Nevertheless, the company still cranks out solid top-line growth, and has outrageously fat margins. There's a price at which it becomes extremely attractive. In this article I will make the case that at $ 150, FB stock would not be good value, but a great one – the kind of bargain that a forward looking investor would "fall in love with." I am long FB now, and I consider the stock a "good" value at today's prices. But at $ 150, I'd exit other positions just to buy more FB. In the ensuing paragraphs I'll explain why I feel that way.
Competitive Landscape
It seems fitting to start this analysis with a review of FB's competitive landscape. The competitive situation is probably the single biggest thing FB has going AGAINST it right now, so this is a good place to start.
Meta is first and foremost an online advertising company, competing with:
Among these companies, it is second by market share. As the infographic below shows, FB is right behind Google, with a 23.8% share of the market. So, it's a major player in its space.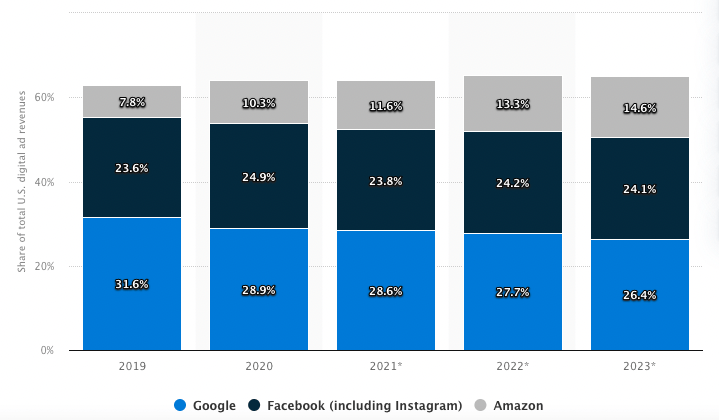 If market share were the only part of the picture, then we'd have to conclude that Facebook had a great competitive position. But the future is not the same as the past. FB is currently facing intense competition in several verticals. TikTok is catching up with Instagram, and is ahead of all of FB's apps in the app store (individually, not collectively). Alphabet is growing its ad revenue faster than FB because Apple's ATT changes did not hurt it as much. Even Snap Inc (SNAP) is diminishing FB's competitive position, by repeatedly refusing to be acquired.
What it all adds up to is more competition for FB. It has not been enough to put a dent in the company's market share – yet. But other companies are catching up in terms of eyeballs, and where the eyeballs go, the money may later follow.
Why I'd Fall in Love at $ 150
Having reviewed Meta's competitive position, it's time to explore the specific reasons why I consider $ 150 (or lower) to be such an attractive entry point. Being long FB now, I obviously consider the stock a good value at today's prices. But at $ 150 or lower, my conviction would be such that I'd increase my exposure. In the ensuing paragraphs, I'll explain why that's the case.
As a value investor, I invest primarily based on the concept of a 'margin of safety.' I generally like to invest in stocks that trade below their intrinsic value – that is, the value of the piece of company you own. If you buy a stock that costs $ 5, that has $ 20 of book value underneath it, you have a margin of safety. Even if the earnings are trending downward, the net value of the assets is so much greater than the stock price that the stock will be able to be liquidated at a profit to shareholders for a considerable period of time.
It's pretty rare to find stocks that trade below liquidation value. But it's not unheard of to find stocks that trade below book value plus a few years' earnings. At $ 150, FB would be in that camp.
First, let's look at Meta's long term earnings.
For fiscal 2021, Meta had:
$ 117.9 billion in revenue, up 37%.

$ 46.7 billion in EBIT, up 43%.

$ 39.3 billion in net income, up 35%.

$ 3.77 in diluted EPS, up 36%.

$ 124.8 billion in shareholder equity.
The $ 124.8 billion in shareholder equity gives us a price / book ratio of 4.4 at today's prices. That's nowhere near liquidation value, but remember that companies consist of assets plus earnings. Enough future earnings can give a company a margin of safety even with a price / book ratio above 1.
Now, if we assume that earnings do not grow over the next 10 years, then we'd get to $ 393 billion in cumulative net income over the next 10 years. Add to that the $ 124.8 billion in today's equity and you get to $ 517.8 in total shareholder value over 10 years, assuming book value and earnings both do not change. If you discount the earnings at a rate of 2% per year, the present value of 10 years' earnings is reduced to $ 359. That plus $ 124.8 in equity is $ 483.
The above analysis, including the price to book value ratio, was all done with a stock price of $ 207. That's what yields the $ 554 billion market cap. As I showed above, the current market price of FB stock is a bit higher than current shareholder value + 10 years' earnings. Therefore, if we assume no earnings growth, it lacks a clear margin of safety.
Not so at $ 150!
At $ 150, FB's market cap would be $ 407. That market cap is lower than:
So, at $ 150, we get a handsome margin of safety on FB assuming no earnings growth! Now THAT'S a value play.
Risks and Challenges
As I've shown in this article, FB would be an extreme bargain at $ 150. It would be trading below book value plus an extremely conservative estimate of future earnings at that point. According to Seeking Alpha Quant, FB has a five year CAGR earnings growth rate of 31.5%. So my estimates are extraordinarily conservative here. Nevertheless, my thesis does face certain risks and challenges. These include:
ATT style changes coming to Android. Meta has estimated that Apple's ATT changes will cost it $ 10 billion in 2022. Similar changes to Android would add to that sum because if Android blocked tracking then FB would not be able to track anyone on any smartphones unless they explicitly opted in to it. Currently, Google plans to roll out its own data privacy controls no sooner than 2024. So, FB has a bit of runway to prepare for this. Still, it's a long term risk worth keeping an eye on.

Legal risk. Currently, Meta is being sued by the FTC, which is seeking to get it to unwind its Instagram and WhatsApp subsidiaries. Unwinding such acquisitions would be costly. WhatsApp and Insta are highly integrated with Facebook now, and disentangling the connections would be challenging. Additionally, there would be investment banking and legal fees incurred in the process of getting Instagram and WhatsApp listed separately from Facebook.

Competition. Meta currently faces significant competition from Alphabet, TikTok and Snap. At least one of these companies – TikTok – has been identified by management as a threat. Currently, TikTok outranks the Instagram app on the App Store. TikTok's gains are taking eyeballs away from Meta. They could eventually take revenue too.
All of the risks above are worth taking seriously. Nevertheless, FB is cheap enough now that they do not damage the bullish thesis. At today's prices, FB is a decent value. At $ 150, it would be a steal. At either price, it's a stock worth owning.