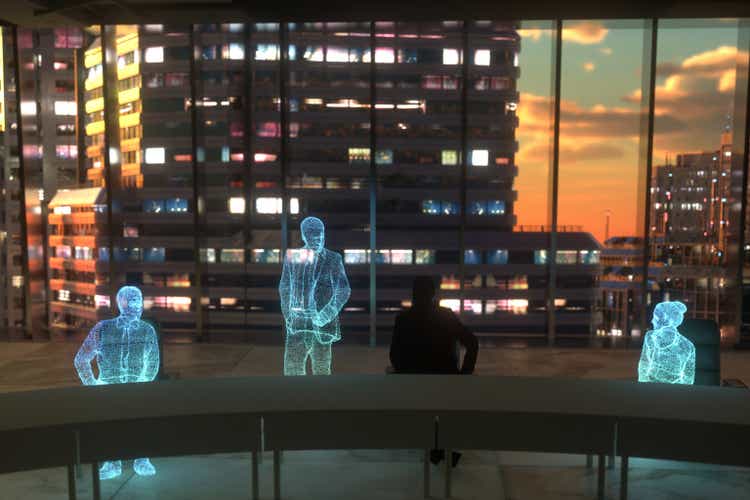 Introduction
Matterport (MTTR) is the leader in the digitization of the built world. They take real spaces and create what they refer to as "digital twins." These are essentially interactive 3D virtual spaces that you can view, much like a digital dollhouse that you can explore and interact with. Here is an entire gallery of example spaces if you want to see what they are like. The number of use cases is incredible and leads to great optionality. There are risk factors and reaching their full potential will require great execution, and so far the execution is lacking. The stock has also dropped precipitously along with every other growth stock since rallying to an ATH at the beginning of December. The sky is the limit for this technology, but they are going to have to be better at monetizing it to succeed, and their track record so far is spotty. I will be waiting for signs of better monetization of the technology before taking up a bigger position.
Incredible Optionality For The Real World And The Metaverse
A Brief History of Matterport
Matterport started out as a hardware company. Their original product was the Matterport Pro2 camera, a high-end camera built specifically with the goal of capturing 3D spaces to build digital twins. As the company began marketing and selling this sophisticated piece of hardware, it became apparent that the real long-term value proposition came not from selling cameras, but from selling subscriptions and extracting data from the resulting digital spaces. This is a much better value proposition for the company as it moves the primary revenue stream from one-off expensive purchases to dependable and recurring subscriptions. The core of the growth proposition is no longer on the hardware side, but on the data and visualization side of the business. In fact, at this point Matterport even offers capture services, where you can pay the company to send a professional to come and capture your space for you.
Almost Unlimited Use Cases
There is significant optionality for digital twins. The most obvious one is real estate. The ability to have a full 360 degree digital walkthrough of a property boosts property engagement, leads to faster sales, and leads to higher sale prices. RJ Pittman, Matterport CEO recently said that homes with a Matterport digital twin "sell for as much as a 10% higher price and as much as 15% faster." Real estate is only the beginning. Rental properties on Airbnb (ABNB) have higher engagement and higher bookings when they have a Matterport twin in their listing. Insurance quotes are better, leading to cost savings for the customer and less fraud for the insurance company.
Matterport reduces cost for building upkeep and determining if there are areas in your commercial space that are in need of additional maintenance. If Chick-Fil-A (a Matterport customer), for example, needs to do upgrades or check if their spaces conform to a new OSHA standard, they can check their 2700+ locations for compliance in the same amount of time it takes to perform a Google search. Individuals and businesses can generate automatic floorplans that are accurate to the inch. Museum owners can have somebody from the other side of the world pay money to walkthrough a digital twin of their space. A manufacturing engineer can diagnose and solve assembly line issues by virtually walking through the factory floor while connected IoT modules give real-time throughput numbers, temperature readings, and any other data she needs to solve issues. Retail clients can have customers explore their stores, fill a digital shopping cart and check out without leaving their couch. There are hardly any use industries that could not benefit in one way or another from using a digital twin.
From Capture to Visualization to Datafication
Matterport started out as a hardware company, then spent time building powerful algorithms that turn 2D captures from virtually any cell phone into a spatially accurate 3D representation of that space, but the core value proposition of Matterport isn't visualization, it's from the data that comes from those spaces. That data is what makes the integrations possible that will allow Matterport to become extremely valuable to their customers, like the Chick-Fil-A use case above. Only 13% of the Fortune 1000 are Matterport customers. That number can and will grow immensely as the full slate of use cases expand and the cost savings become apparent.
Strategic Partnerships and Integration
Matterport has partnerships with some of the biggest names in tech, including the following:
Facebook (Meta) (FB) – In June, Matterport announced their collaboration with Facebook AI Research. This is strictly a research partnership, with Matterport sharing data with engineers and universities to advance their AI algortihms.
Google (GOOGL) – Matterport partnered with Google to have seamless integration of your digital twin into Google Maps, so they can be viewed in Google Street View. Here is an example.
Autodesk (ADSK) – Autodesk is one of the premier 3D CAD companies in the world. They also provide seamless integration with Matterport, allowing you to drop your digital twin into their software. This allows you to then plan, modify, or design a redesign or remodel of any digital space. What's more, utilizing Autodesk's BIM 360 construction management software allows for seamless communication between architects, designers, managers, and contractors on construction projects.
Amazon (AMZN) – One of the most recent integrations, announced in December 2021, Matterport is now available on the AWS Marketplace. Most AWS businesses have IO from their businesses and facilities that are catalogued. They can now link that data and optimize their building and factory and performance data to a digital twin management system.
The Metaverse
In the interview from Pittman referenced above, he stated that people often ask what the business model is for the metaverse, but that Matterport is already 5 or 10 years into building revenue-generating products from the metaverse. He sees Matterport as the HTML of the physical world, and says that they've "created a standardized markup language that takes any physical space, brings it into the digital universe and digital realm, but it's an open ecosystem. The data is accessible to any developer, programmer, or partner that wants to enhance it in any way, shape, or form."
Why Is the Stock Near Its All-Time Low?
If this is such a fantastic technology with incredible potential, why has it sold off from a peak of $37.60 on December 1 to around $7 at the time of writing, a decline of about 80% in three months and below its SPAC IPO price? There were three separate events that added to the selling pressure that have combined to form a perfect trifecta for a massive drop. Those three factors were warrants being redeemed, unlocking of PIPE shares, and a macroeconomic shift away from growth companies in a rising rate environment.
Warrants
Matterport came public through a reverse merger SPAC. SPACs have some baggage that come along with them that add dilution after the reverse merger. The first of these is warrants. A warrant is an option to buy a full share of MTTR for $11.50. Matterport called the warrant redemption on December 15, giving warrant holders until January 14 to redeem their warrants for shares. Matterport's press release states this resulted in 9.1M shares of common stock being issued. The dilution due to warrants is only 4.3%, so the maximum logical drop in the stock price that should be ascribed to warrant redemption should be somewhere around 4.3%.
There are some positives from the warrant redemption. The cash from warrant redemption goes straight into Matterport's coffers, so their cash reserves have been bolstered by a $104.3M windfall. Redeeming the warrants also means that they no keep the warrants as a liability on their books. In the past, every quarter that the stock price rises, the "fair market value" of the warrants increased. So every time the stock price would go up in one quarter, the EPS would be dragged down by the paper loss resulting from this increased liability. If you want to read up more on this, you can see this article here.
Lockup Expiration
Another aspect that isn't unique to SPACs, as it happens with most IPOs, but is still a feature of recently public companies is what is referred to as lockup expiration. Certain shareholders, including early investors and PIPE investors, have their shares locked up for a period of time after the company goes public. In the case of Matterport, these shareholders were unable to sell their shares until January 18, which was 180 days after the completion of the reverse merger. Early investors often have their money tied up for years and are finally able to cash in. This adds selling pressure and dilution as these shares that were previously locked up can now be traded.
Macroenvironment – Tapering and Rising Rates
Now we come to the final reason for the drop in the share price, which is that unprofitable growth stocks have completely fallen out of favor with the market. While one could argue that the warrants and lockup expiration were unique to Matterport, it isn't hard to see that unprofitable growth stocks, even ones that were Wall Street darlings until recently, have been completely demolished since November. SPACs in particular have been hit hard, but this large reset in valuations has been across all growth stocks and all sectors. The 3-month chart below shows a smattering of well-known growth companies that have suffered similar drawdowns. Roblox (RBLX) is a gaming company, Teledoc (TDOC) is in healthcare, Spotify (SPOT) is in audio streaming, Marqeta (MQ) is a fintech, and Fiverr (FVRR) is an online freelancer marketplace. MTTR is in gray, RBLX in red, TDOC in orange, SPOT in pink, MQ in green, and FVRR in purple.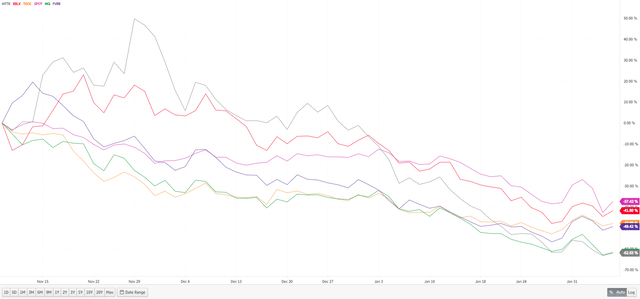 Source: Made by Author using Globe Investor Chart
Every single one of these stocks is down significantly, ranging from a 37% drop by Spotify, to a 62% drop for MTTR and MQ. The chart illustrates the general trend of valuation compression. The economy is now operating in an environment where the Federal Reserve is tapering bond purchasing and will soon be raising rates. When rates rise, future earnings are not worth as much as they would have been if rates and inflation had stayed low. Unprofitable growth stocks (as measured by EPS) suffer the most in this type of environment. The combination of the selling pressure added from the warrant redemption and lockup expiration combined with the headwinds of a rising rate environment has absolutely crushed the stock price.
Poor Execution
A lot of the drop is down to a confluence of dilution and macroeconomic changes, but it would not have fallen this far without a subpar earnings report. I had a few concerns going into earnings, and the company fell flat on a lot of them.
Overreliance on Real Estate and Cyclicality
One of the big reasons that I worry about the future of Matterport is that most of their business is reliant on the real estate industry. Real estate is cyclical by nature, and Matterport is overly dependent on the number of listings that are on the market at any one time from their big real estate clients (Redfin and Keller Williams, among others). In Q3, real estate was "about 2/3 of the revenue". In Q4, it "sits right at about 66%". I want to see their adoption in other markets growing fast enough to reduce real estate to a smaller and smaller percentage of their revenue moving forward. That being said, for the proven value that a Matterport digital twin adds to a real estate listing, there is still a very large amount of subscription revenue to be captured from this market.
Decreasing Net Dollar Expansion Rate
Net dollar expansion rate is the amount of revenue that Matterport sees this year from existing customers compared to last year. If Matterport customers love their products and get significant benefit from them, then this number should be going up over time. While it is still above 100%, meaning that customers are spending more YoY, the numbers have recently been declining.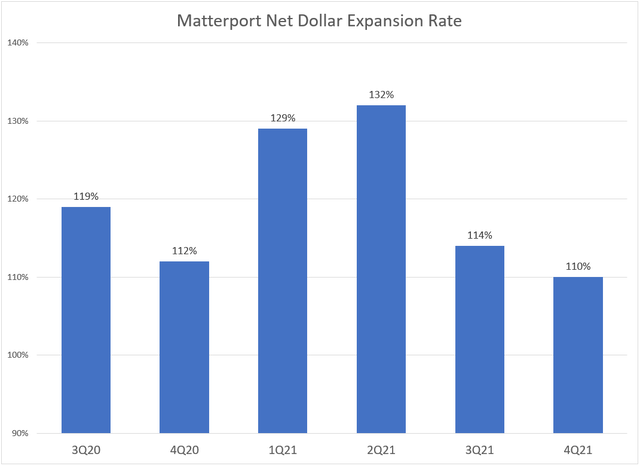 Some of this is also linked to real estate cyclicality. The fourth quarter is always a down quarter for real estate, so it makes sense that it overall revenue would decrease. However, my hope would be that this would be supplanted by increased demand by other commercial subscribers. That, unfortunately, has not happened.
Freemium Model is not Working Out as Planned
Matterport uses a freemium model to build their subscriber base. Anyone can have one fully functional digital twin for free to get them into the ecosystem in hopes that they will see the value and pay for additional functionality. The problem is that their conversion rate has been decreasing over time. In the Q3 earnings call, they mentioned that the conversion rate from free to paid users was around 8% and that free users usually convert within 45 days. While there is breakdown of free and paid subscribers for 1Q21 or 2Q21, we do have numbers for 3Q20, 4Q20, 3Q21, and 4Q21.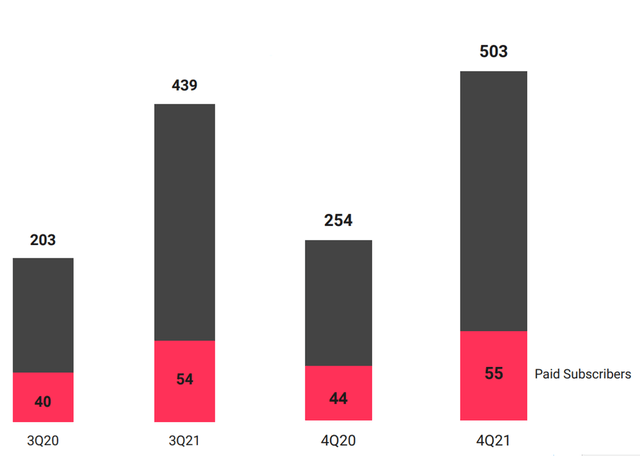 These numbers throw up a number of red flags. First, total paid subscribers only went from 54k to 55k from Q321 to Q421. That is hardly robust growth. Second, the conversion rate is poor. Between 3Q20 and 4Q20, they added 51k new members and 4k new paid subscribers, for a conversion rate of 7.8%. However, their yearly conversion rate from 3Q20 to 3Q21 was 5.9% and their yearly conversion rate from 4Q20 to 4Q21 was only 4.4%. Even worse, if you compare 4Q21 to 3Q21, their conversion rate was an abysmal 1.6%.
There is an argument to be made that part of this might be attributable to seasonality, and I will be very interested to see what happens in Q122, but the trend is clear. Each quarter their free subscriber growth is growing very robustly, but the proportion of those subscribers who turn into paying customers is decreasing over time. It is hard to explain these numbers if you want to argue that this is a product that people can't afford to live without. They have to monetize their technology, and right now it just isn't happening.
Supply Chain Hardware Issues Affecting More than Just Hardware Sales
In their 3Q21 earnings call, Matterport decreased their 4Q21 and 2021 full year guidance. The main reason for this was due to supply chain issues leading to lower sales of their Pro 2 camera (mostly due to chip shortages). My long-term thesis is not built on their hardware sales, which also happens to be their lowest margin revenue, so this was not a large concern of mine. However, the 4Q21 earnings call shone a light why supply chain issues should be a concern. Their previous low margin hardware division turned into a negative margin business, going from gross margins of 39% in 4Q20 to -11% in 4Q21. They decided to source parts at higher prices to support their customers and because "in most cases the shipment of a Pro2 camera results in a new paid subscriber to our platform."
Supporting customers is important, but their supply chain issues have resulted in a double whammy for the business. They are now losing money on every camera they sell, and hardware sales still make up about 30% of their revenue ($32M of $111M in 2021). If supply chain issues persist, it means losing money on tens of millions of dollars of revenue. Second, if most cameras bring in subscribers, it means that every camera that is delayed or not shipped means lost subscription revenue as well. It is great that they are seeing so much demand for their cameras that they cannot meet it and have an order backlog, but the resulting compounding losses will be a huge drain on both revenue and profits in 2022 if they cannot be addressed quickly.
Strengths
There were a couple highlights for the business that should not be ignored and can be counted as strengths for the business and show good management. They released a new Android app that can capture digital twins with virtually any Android device and their balance sheet also shows no long-term debt.
Android Capture
The biggest tailwind moving forward is that they significantly increased their ability to reach both domestic and especially international markets by opening up capture to almost every Android device on the market. While Android only has a 40% market share in the USA, it has about 75% of the market share in the world. By opening up capture to all Android devices, they made it significantly easier for the majority of the world's population to start using their services. In order to turn this into revenue, however, they need to do a better job of getting their conversion rate back to around 8%. This will be a key performance indicator that I will be looking at in 1Q22.
Balance Sheet
If you take a look at their balance sheet, you can see that they have absolutely no long-term debt. Cash and short-term investments are sufficient to see them through the next few years without having to worry about diluting shareholders to raise cash. While it is important to keep an eye on their free cash flow to make sure that they are not burning through their reserves too quickly, for now their balance sheet is fairly robust.
The drop lowers risk, but slowing growth and poor execution make this a Hold
Matterport is the same core business it was when it ran into the 30s a few months ago. I would have argued then that its valuation was frothy and the share price got ahead of the underlying fundamentals of the business. However, it is now trading at a P/S of 15.5 based on 2021 revenue and it is a digital growth story that is just getting started, with a large host of real-world applications. They have a proven subscription base in the real estate industry and a lot of future verticals to capitalize on. Matterport has an executive team with the capability and vision to build the rails that move the physical world into the digital space. However, due to their subpar execution, I am not convinced that they are capable of fully monetizing their product. The large decline in the stock price makes opening a position a less risky investment than it was previously, but there are still a lot of red flags when you start looking at the underlying fundamentals. While this is an exciting opportunity, and I do hold a position in the company, I will not be adding to it until they can prove that their excellent optionality will turn into outsized returns.