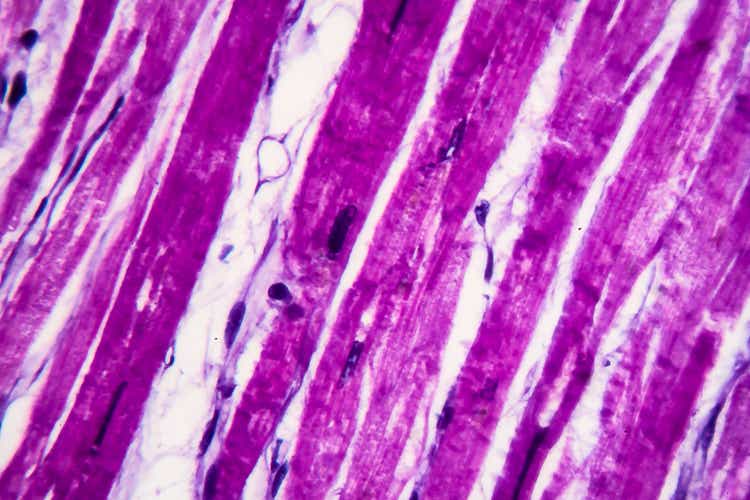 LianBio (LIAN) is based in Shanghai, China, and Princeton, New Jersey, and was founded in 2019. The company is focused on bringing innovative therapies to China and major Asian markets through partnerships with other biotech / pharma companies. China is the second-largest pharmaceutical market in the world ($ 220 billion / year), after the US
I will discuss key aspects of the company's pipeline in detail below.

Mavacamten (partnered with Bristol Myers Squibb (BMY)):
It succeeded in a US Phase 3 trial in obstructive hypertrophic cardiomyopathy (oHCM), showing an improvement in exercise capacity, left ventricular outlet obstruction, and NYHA functional class. US PDUFA is scheduled for April 28 this year.
The drug has been awarded Breakthrough therapy in China. A Phase 3 EXPLORER-CN trial is ongoing in China in symptomatic oHCM (expected completion date in H1 2024). The prevalence of HCM is 1.1 million people in China. Two-thirds of these have oHCM and most of them are symptomatic (target market of 725K people in China).
In symptomatic non-obstructive HCM, a US Phase 2, placebo-controlled trial showed a significant reduction in NT-proBNP and cardiac troponin in some patients, thus showing an improvement in myocardial wall stress. Currently, no Phase 3 trial is ongoing. I am not including non-obstructive HCM in my assessment (it forms a minority, ie one-third of all HCM).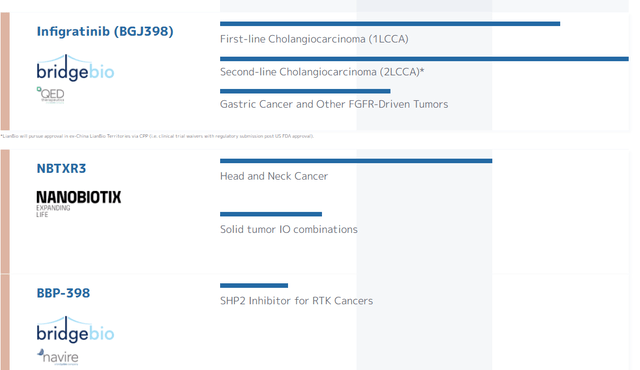 Infigratinib as first-line therapy in advanced cholangiocarcinoma with FGFR2 fusions (BridgeBio (BBIO) partnership):
Infigratinib was approved under a Special Named Patient Program in Hainan Province in the above indication last month. It is already approved in the US in this indication. A Phase 3 trial in this indication is ongoing in China (patient enrollment started in November 2020). The incidence of this cancer is 2 per 100,000. FGFR2 fusions are seen in 10-16% of this cancer. The target market in China is approx. 4,500 patients / year.
A Phase 2a trial in FGFR2 fusions positive gastric and gastroesophageal cancer is ongoing in China (expected completion date December 2023).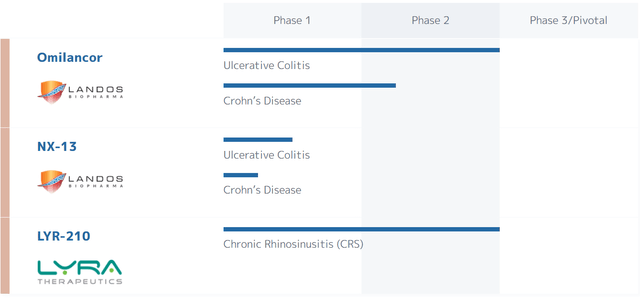 Omilancor in inflammatory bowel disease (partnered with Landos Biopharma (LABP)):
Omilancor is a novel, oral, well-restricted therapy targeting the LANCL2 pathway (targeting 90% of ulcerative colitis patients). Phase 2 open-label, extension study showed nearly 90% of patients achieving remission in stool frequency and rectal bleeding for up to 66 weeks. A Phase 3 study is planned. The size of the ulcerative colitis market is expected as $ 185M in 2021 and grow at 2.9% per year.
A Phase 2 randomized study (comparator is adalimumab) in moderate to severe Crohn's disease has completed recruitment and the data is expected in the first half this year. The study is funded by a $ 3M grant from NIH.
NX-13 in ulcerative colitis (partnered with Landos Biopharma):
NX-13 is an oral, well-restricted, small molecule therapeutic targeting NLRX1, a mitochondria-associated receptor with the ability to modulate immune responses. A Phase 1a study in healthy volunteers was successful. Data from a Phase 1b randomized, placebo-controlled, dose-ranging study is expected in the first half of this year.

TP-03 in Demodex Blepharitis (partnered with Tarsus (TARS)):
TP-03 is a topical ophthalmic formulation of lotilaner which paralyzes and eradicates Demodex mites by selectively inhibiting parasite-specific GABA-CI channels. In a pivotal Phase 2b / 3 Saturn-1 trial, it achieved complete resolution of the disease meeting all primary and secondary points. Patient enrollment in a second pivotal Saturn-2 Phase 3 trial has been completed and the data is expected in April this year. The target market in China is 105 million people.
Target market calculation:
Mavacamten's annual price is expected as $ 75,000 / year in the US The annual price in China is expected as 38% of the US price. At a target market of 725K people, an annual price of $ 28000 / year, and a 65% probability to reach the market (average for Phase 3), the risk-adjusted revenue opportunity in China is $ 13 billion / year. The peak analyst consensus sales forecast in the US is $ 2 billion / year in 2022 (Evaluate Vantage). The Chinese market is much larger than the US
The US price for Infigratinib is $ 258K / year. At a target market of 45K patients / year in the US, an annual price of $ 98K / year, and a 65% probability to reach the market, the risk-adjusted revenue opportunity in China is $ 2.8 billion / year.
Ulcerative colitis and Crohn's disease are crowded markets (though large). I have not included this part of the pipeline in my valuation assessment.
The total risk-adjusted revenue opportunity for Mavacamten in oHCM and Infigratinib in FGFR2 + advanced cholangiocarcinoma in China is thus $ 15.8 billion / year. Biotechnology stocks trade at an average enterprise value, EV / sales of 7 per historical data. The current enterprise value of LianBio is just $ 305 million.
Additional Information:
Cash reserves are expected as $ 51M at the current operating cash use rate. Revenue from recently approved Infigratinib in Hainan province is expected to add to the cash reserves. The operating cash use was $ 133M for the first 3 quarters of 2021. At this cash use rate, the company may need to raise capital in the second quarter this year.
The stock has been in an uptrend since bottoming at $ 3.46 on Feb. 4 and is up 40% since then. The stock is still significantly below its 52-week high of $ 16 in December last year. The most recent sell-side analyst price targets include a $ 28 price target from Bank of America, a $ 24 price target from Jefferies, a $ 27 price target from Raymond James, and a $ 18 price target from Goldman Sachs (November last year). The mean sell-side analyst price target is $ 24 (450% upside potential).
Institutional holders of the stock include Perceptive Advisors (52.2% stake), RA Capital (7.2% stake), etc. LianBio's stock was the newest cumulative purchase ($ 345M of stock bought by top funds) in the recently reported SEC filings in Q4 2021.
Overall, LianBio is a good long-term investment in the large Chinese pharmaceutical market and is significantly undervalued at present. I expect the stock's upside momentum to continue into this year's data releases.
Risks in the investment include disappointing data from clinical trials, unexpected side-effects, failure to gain market share, etc. The company operates in China and there may be concerns over regulatory and reporting issues. The company's ADR also has a low trading volume. The company also needs to raise significant capital before its revenue picks up. Investing in small-cap biotechnology companies is risky and may not be suitable for all investors. This post represents my own opinion and is not professional investment advice.