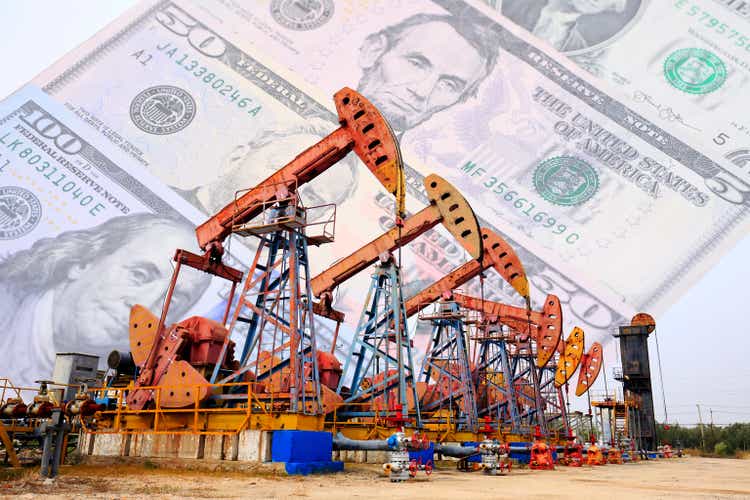 Introduction
Since last discussing Kimbell Royalty Partners (KRP) within my previous article, oil prices have further strengthened during the second half of 2021 and seen their distribution yield lifted in tandem to now reach a high 9.34% versus its 6.78% yield last time. When looking ahead, it seems to be business-as-usual during 2022, albeit very profitable with a very high 10% + yield virtually assured thanks to the very strong oil price outlook, as discussed within this follow-up article that also reviews their subsequently released results for the second half of 2021.
Executive Summary & Ratings
Since many readers are likely short on time, the table below provides a very brief executive summary and ratings for the primary criteria that were assessed. This Google Document provides a list of all my equivalent ratings as well as more information regarding my rating system. The following section provides a detailed analysis for those readers who are wishing to dig deeper into their situation.

* Instead of simply assessing distribution coverage through distributable cash flow, I prefer to utilize free cash flow since it provides the toughest criteria and also best captures the true impact upon their financial position.
Detailed Analysis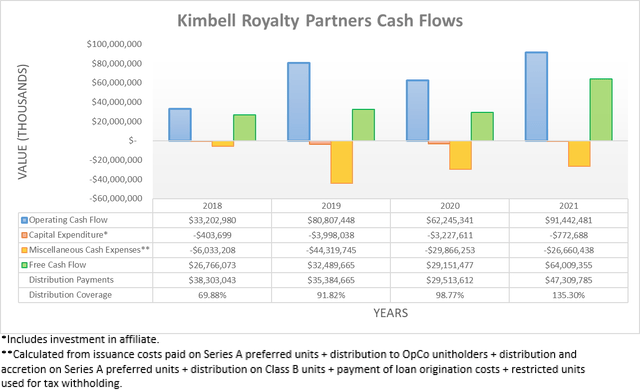 Following oil prices continuing to strengthen during the fourth quarter of 2021, it was not surprising to see their cash flow performance follow in tandem with their operating cash flow ending the year at $ 91.4m, thereby sitting more than twice its result of $ 44m during the first half of 2021 and thus pointing to an acceleration. Apart from representing a solid recovery versus their previous result of $ 62.2m during 2020, it also beats their previous best result of $ 80.8m during 2019 and thus marks a new high watermark. Thanks to their variable distribution policy that links their distributions to their free cash flow, this also saw their distribution payments reach a new record of $ 47.3m during 2021 with strong coverage of 135.30%.
When looking ahead, the current very strong outlook for triple-digit oil prices during 2022 stand to see their distributions even higher than during 2021 as their free cash flow should surge higher in tandem, although the exact extent cannot necessarily be quantified due to the high volatility of oil prices. Despite technically being possible that oil prices crash later in 2022, this seems unlikely following the Russia-Ukraine war further compounding an already very bullish outlook that had already seen many analysts talk of triple-digit oil prices even before the war. Given the new possibility of lost Russian oil production further tightening an already tight market, it seems reasonable to expect these currently very strong prices to persist throughout 2022 and possibly even into 2023, thereby lifting their cash flow performance and thus distributions to new heights.
Due to the very low capital intensity of their mineral-rights operations, the only other variable when it comes to their distributions is their capital allocation strategy. Since they operate with a variable distribution policy, if they increase the relative portion of their free cash flow directed towards their unitholders it would also help push their distributions higher, although this seems unlikely to transpire during 2022 with their capital allocation strategy set to remain unchanged , as per the commentary from management included below.
"I think you're right that for the duration of this year, we're going to maintain 75%. I think you're spot on in pointing out that the ratio is just going to continue to accelerate downward as we have a greater amount of cash flow and therefore, 25% of that cash flow is just going to create an additional incremental drop in leverage over time. "
-Kimbell Royalty Partners Q4 2021 Conference Call.
It can be seen that management seems intent on keeping their capital allocation strategy and thus variable distribution policy unchanged during 2022 with 25% of their free cash flow being retained to help with deleveraging. It appears that management desires to see their net leverage ratio at 1.00 or less, as per the commentary from management included below, which will likely take a number of years to achieve, as subsequently discussed.
"I think that a couple of years ago, maybe 5 to 10 years ago, if you had asked us what an appropriate leverage level would be for royalty business, we would've said anything less than two times debt to EBITDA. That used to be kind of the general rule of thumb for the upstream E&P businesses, so certainly for a mineral company without CapEx bonds less than 2x seems perfectly reasonable. I think as we look at the environment, as we look at the best-in-class governance on E&P companies, I think that's changed now to be probably less than one-times. "
-Kimbell Royalty Partners Q4 2021 Conference Call (previously linked).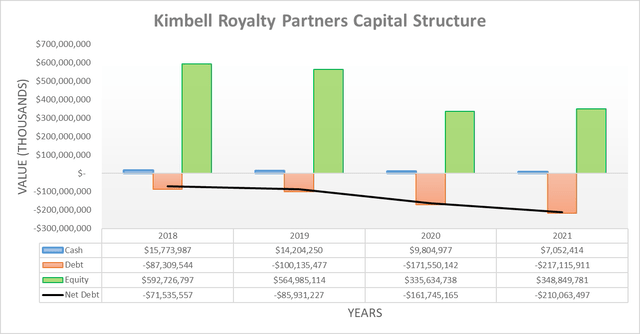 Despite their cash flow performance strengthening throughout the second half of 2021, their net debt actually increased to finish the year at $ 210.1m, which is 40.07% higher than its level of $ 150m when conducting the previous analysis. This mostly relates to their additional $ 54.8m of oil and gas property acquisitions, plus various other relatively small miscellaneous cash expenses, such as loan origination costs. When looking ahead into 2022, barring any further acquisitions, their net debt will trend lower as they retain 25% of their free cash flow but the extent obviously remains uncertain since it depends upon the highly volatile oil prices.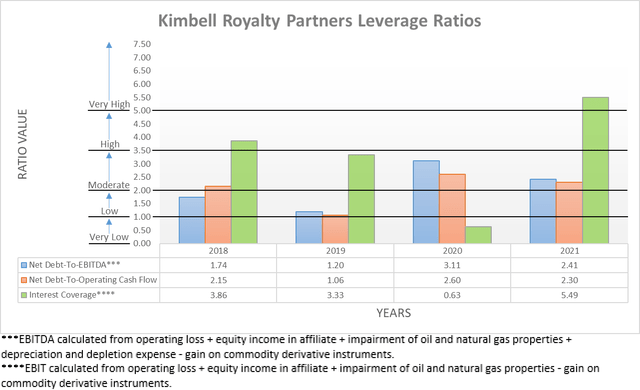 Rather unsurprisingly, their higher net debt stemming from their acquisitions pushed their leverage higher following the second half of 2021 with their net debt-to-EBITDA and net debt-to-operating cash flow ending the year at 2.41 and 2.30 respectively. Apart from sitting higher than their results of 1.40 and 1.48 when conducting the previous analysis that followed the first half of 2021, their new results now sit within the moderate territory of between 2.01 and 3.50. Meanwhile, their net leverage ratio that management utilizes ended 2021 at only 1.7, as per slide five of their Spring 2022 investor presentation, which differs from my net debt-to-EBITDA primarily due to the different treatment of gains on derivative instruments. Thankfully from a financial stability perspective, there are no day and night differences between these results, especially given their capital allocation strategy that scales their cash outflows with their cash inflows, excluding acquisitions.
When looking ahead, the very strong oil price outlook for 2022 makes it very likely that their leverage will plunge simply due to the earnings component surging higher versus 2021, which could promptly see management reach their net leverage target of 1.00 or less. Although given the unlikelihood that oil prices will remain above $ 100 per barrel forever, it seems unlikely that this alone would push management to increase the portion of their free cash flow allocated to distributions. If utilizing their earnings from 2021 as a basis, reducing their net leverage ratio from 1.70 to 1.00 would require their net debt to be reduced by a significant 41.18%, which amounts to $ 86.6m and thus as this broadly equals their entire operating cash flow during 2021, it will likely take a number of years to achieve.

Even though their leverage increased, thankfully their liquidity remained broadly unchanged overall following the second half of 2021 with their current ratio increasing to 1.60 from its previous result of 1.33, thereby roughly canceling out their cash ratio that decreased to 0.25 from its previous result of 0.45 . Meanwhile, their credit facility that houses the entirety of their debt saw its borrowing base increased to fund their acquisition, although at $ 275m it remains only marginally above the $ 217.1m that they have already drawn. Thankfully, their capital allocation strategy means that it should not be required any further and should see its availability increase as their 25% of retained free cash flow repays its drawings, absent of any future acquisitions, thereby helping smooth over any refinancing requirement come June of 2024 when it matures.
Conclusion
After a strong year of oil prices during 2021, it appears that when looking ahead, 2022 will represent another business-as-usual year with the same capital allocation strategy. Although thankfully with the current very strong outlook for oil prices, this still looks likely to be very profitable with the prospects of triple-digit oil prices potentially lining up for record-high distributions. Since their distribution yield already sits at a high 9.35% even without any further increases, I now believe that upgrading to a buy rating is appropriate with a very high 10% + yield for 2022 virtually assured.
Notes: Unless specified otherwise, all figures in this article were taken from Kimbell Royalty Partners' SEC filingsall calculated figures were performed by the author.