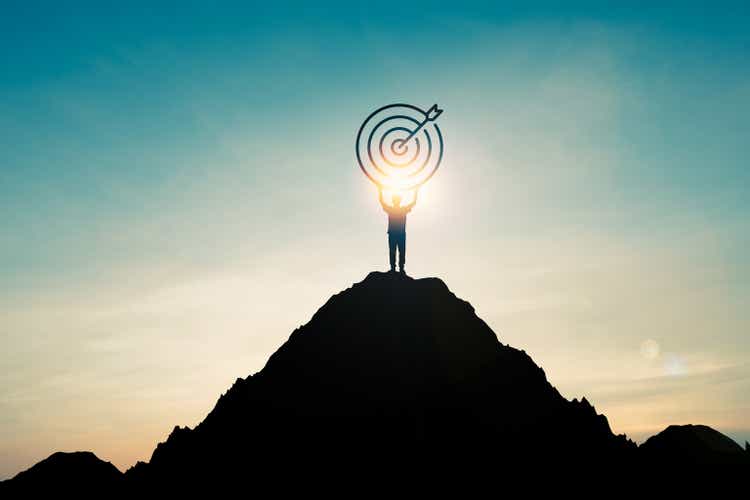 Journey Energy is a top performing oil and gas stock that continues to deliver. After a phenomenal recovery up several thousand percent from Covid era lows, the stock pulled back recently when the company did a small equity offering without having updated its financials, guidance or providing clarity on use of proceeds. However, its updated financials and guidance are out, and as I forecast, the update is stellar and there are great things to come for Journey.
The company is clearly messaging this. They shifted from a sedate presentation format to galloping horses "unbridled." Unbridled is perhaps a reference to much higher free cash flow, debt paydown to near zero by end of 2022, and no hedges to fully benefit from the current commodity price environment.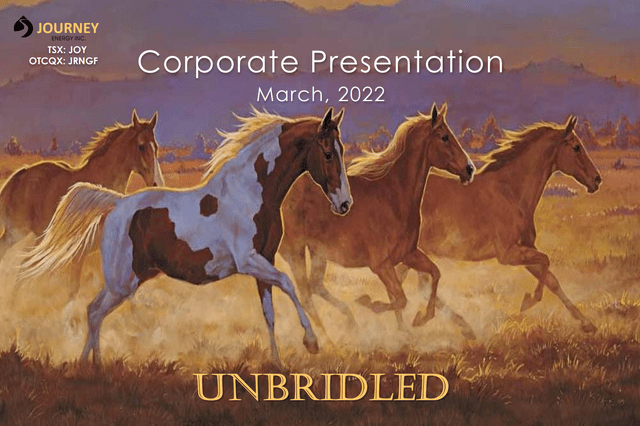 Clear, optimistic communication is a meaningful step forward for Journey. I discussed the uncertainty from an equity offering amidst dated, unclear financials and materials in a recent article. I would have preferred the offering to have been done at the higher post-presentation price. But time is of the essence in a rapidly changing commodity price and services cost landscape. The logic of accelerating development while simultaneously paying off debt becomes apparent with a capital budged garnering 100-400% rates of return at current commodity prices: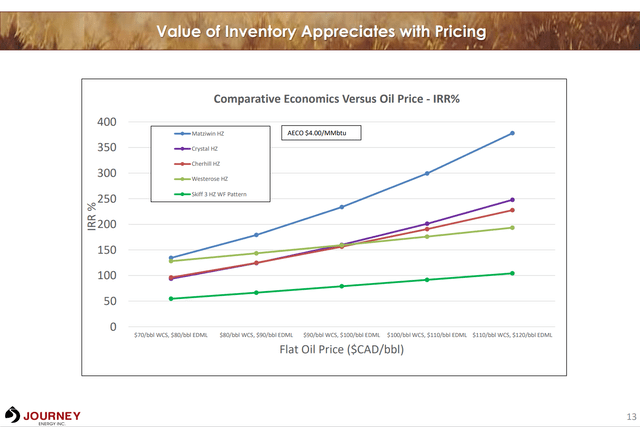 Well-level rates of return should be read with significant skepticism. I find it helps to remember the old saying "many a slip from cup to lip" in the context of claimed single well economics often yielding far more modest corporate returns on capital employed. However, Journey's capital expenditures benefit from mature, capital-starved assets with infrastructure and other often undisclosed elements already in place. At current price levels and with accelerated development, Journey has over 15 years of inventory and wells that return their full capital costs in cash flow in as little as 6 months!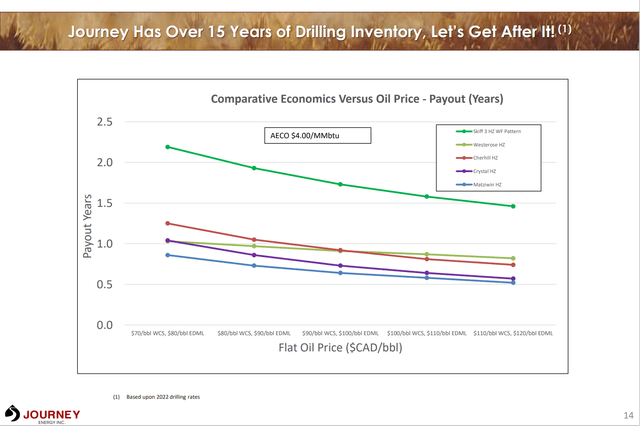 Importantly, the lowest IRR and slowest payout project shown in the above metrics is a low-decline waterflooded project. This could keep Journey's production decline rate very low despite accelerated development. With only 17% of the oil recovered to date in this field vs booked proved and probable recovery of 38%, and with 28 million barrels of original oil in place, Journey could produce millions of additional barrels of oil just from this small field, over many years, with limited required capital investment.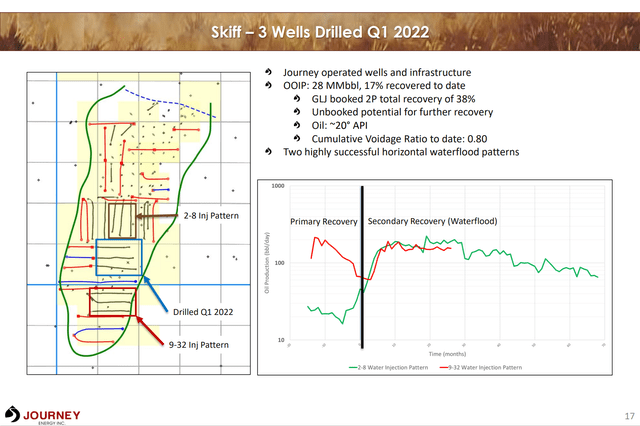 Additional benefits of this accelerated development include potential paydown of debt to near zero by the end of 2022, while also growing production 25% by year end! The debt paydown path is impressive, and may be understated. It is based on a forecast $ 87.50 WTI price, vs the current $ 109 price. Every day that oil is above that $ 87.50 level, Journey reduces more debt than this forecast: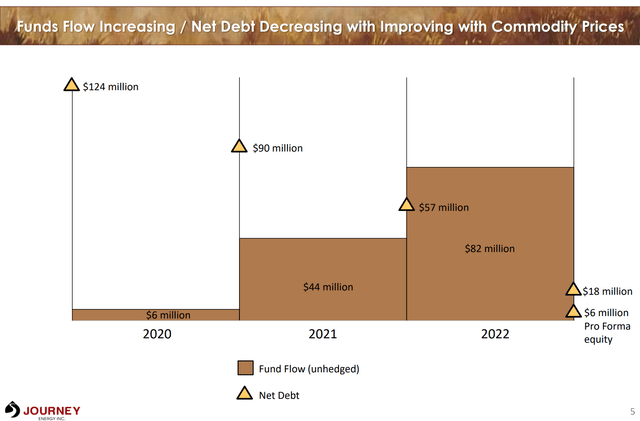 Journey's cash flow matrix is ​​remarkable, considering how much cash flow has stepped up from 2021 and how much upside Journey has from its unhedged production. And it is even more compelling when considering average production is guided for 2022 to 8,500-9,000 barrels of oil equivalent per day (boepd), while it is guiding to exit 2022 at a higher 9,500-10,000 boepd – while maintaining a guided 14% production decline rate! This means that 2023 cash flow could easily be 10-20% higher at the same commodity pricing, without requiring a large step-up in maintenance capital investment.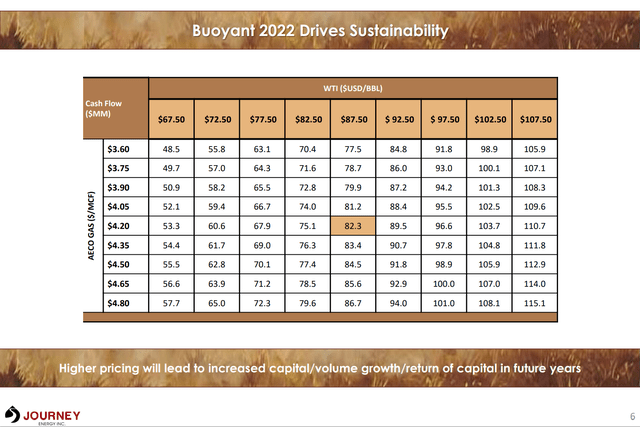 While not explicitly guiding to this, Journey alludes to the ability to both continue to grow production, and importantly, to "return capital in future years" in the footer of the above slide. As Journey gets to 10,000 boepd and near zero net debt, its ability to return capital via a meaningful dividend and / or share buyback increases to peer-leading levels. This has been seen as peers like Cardinal (OTCPK: CRLFF), Gear (OTCQX: GENGF) and Surge (OTCPK: ZPTAF) reach low debt levels and guide to ramping up dividends (and as they benefit from associated share price increases and shareholder excitement in anticipation).
However, unlike these peers, Journey is forecasting exit-to-exit production growth of 25%, while spending less than 50% of cash flow, while keeping decline rates at 14%. If Journey had its forecast exit 2022 debt at the start of 2022, it could achieve this 25% growth while also paying a ~ $ 20 million dividend and repurchasing $ 20 million of shares. The benefit of growing, particularly while keeping decline rates stable, means that in 2023, that $ 40 million excess cash flow number could increase by the 2022 growth rate, or 25%. Debt paydown is a form of shareholder returns, and with forecast debt near zero for exit 2022 using lower than current commodity prices, this could be a rapidly emerging element of a Journey investment thesis.
Of course, nothing is perfect. Even with a significant step up in communication (and forecast cash flow! $ 80-85 million, at lower than current commodity prices, in the new presentation), Journey's website still guides to a broken "Peter's & Co. Presentation" link.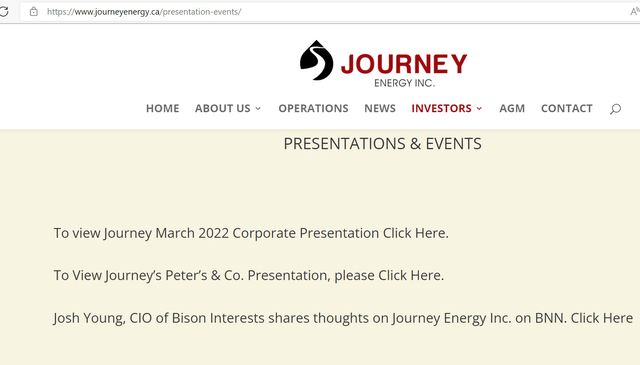 There is no 2023 forecast despite rapidly growing production, no multi-year plan of the sort competitors have, and the valuation discount persists. Journey is at exit 2022 ~ $ 30,000 / boepd, a low free cash flow multiple and decades of inventory, vs peers at ~ $ 50,000-70,000 / boepd, meaningfully higher free cash flow multiples, and comparable or less inventory with comparable or higher production decline rates . And Journey is still getting little recognition by investment banks and other investment fund managers. With guided 25% growth and debt paydown to near zero in 2022, Journey's discounted valuation metrics and minimal recognition may not persist.