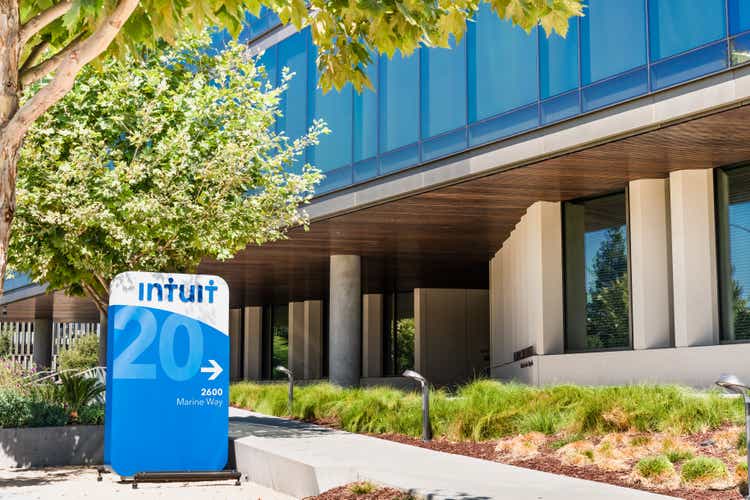 Intuit Is One Of The Best Businesses
As the company continuously digs a wider moat year over year, the multiple assigned to Intuit continues to grow.
Intuit participates in two extremely defensive markets. Taxes and accounting. These markets can (and will) change over time, but they will almost certainly never go away.
Management is heavily dedicated to providing the best product towards their customer.
Although I will stop just shy of calling Intuit a monopoly, they certainly dominate in almost every market they are currently participating in.
QuickBooks
As a young lad, I got my start doing the books for both my parent's landscaping and rental property business. Beforehand, my parents hired accountants that would charge upwards of $ 500 per month. A one time payment of $ 400 for QuickBooks software got rid of their need to bring someone in. It was so easy, I could (as a 16 year old) balance the books and enter transactions with less than 10 hours a week.
Today, the product has grown beyond the rudimentary software I used. Solutions offered can thoroughly cover the needs of small businesses all the way to up the middle market. It would take you less time to go over the things it can not do as opposed to what it can.
QuickBooks is the dominant DIY platform in the US where it enjoys an estimated 80% of the market share.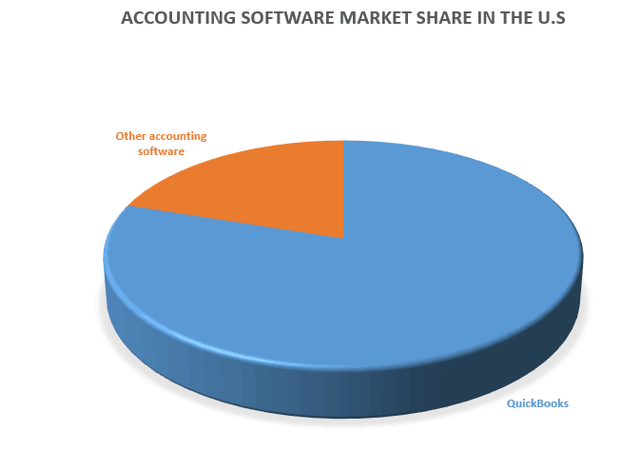 QuickBooks does not have the margins TurboTax has, but it by far has the stickiest and most reliable revenue out of every segment. QuickBooks Online (QBO) changed the game for Intuit and allows them to slowly move past unpredictable one time software sales. Not only does the average SMB customer prefer paying monthly, but it creates cash flow stability for Intuit year round. QBO's system generates 58% of total QuickBooks revenue and growing each year.
An advantage QuickBooks has over the other segments is the combination of pricing power & market growth. TurboTax only has pricing power and Credit Karma has market growth.
For these reasons, QuickBooks' growth has been accelerating the larger it gets. The small business & self-employed segment grew 16% from FY20 to FY21. FY22 guidance is for 33% growth with a mid-point of $ 6.2b.
TurboTax
TurboTax's growth has been fueled by tax market share gains over the past decade. They have famously chipped away at their in-person assisted competitors slowly and surely.
I recently wrote a piece explaining that H&R Block (HRB) has been permanently impaired by the pandemic. On the opposing side, TurboTax has been a direct and obvious beneficiary of the move to online filing.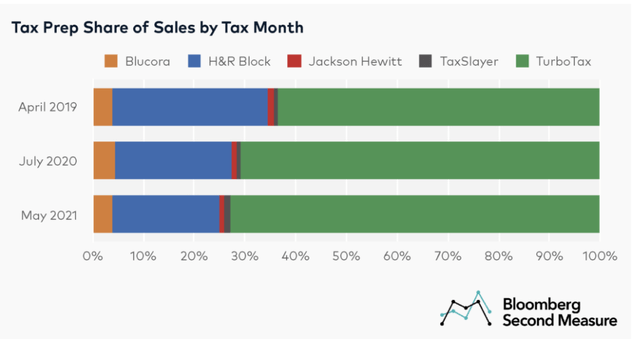 The strength of TurboTax's brand is represented in the fact that their market share gains have not been slowed by their annual price hikes.
The Consumer segment, which is mostly made up of TurboTax, is still projected to grow revenue at 10%, but this has come down from 13% and 14% in the prior two years.
Credit Karma
Credit Karma is an affiliate fee business. Credit Karma's revenue is derived from cost-per-action, cost-per-click, and cost-per-lead transactions. You can look at it as a marketplace / platform for consumer credit. The business model is extremely successful because it truly benefits all parties involved. Consumers get to easily compare cards and apply for cards that they are confident they will be accepted for. Although not guaranteed, this process drastically improves customer approval odds. Credit Karma touts on their homepage that applicants get approved 66% more often thanks to Karma Confidence Technology.
This is a tool that I have used plenty of times when looking for cards with cash back offers and I have been very pleased with how it works.

Credit Karma is also Intuit's fastest growing business segment. Credit Karma contributed only $ 865m in revenue (9% of total) in FY21. Q1FY22 revenue already amassed $ 418m. FY22 guidance given by management in the Q1 fact sheet guides for $ 1.55b in revenue. A near double in one year is incredible growth, especially considering that operating margins for the segment has also increased q / q from 26% to 40%.
Experian (OTCQX: EXPGF) is Credit Karma's only direct competitor. This is a two horse race where both companies are set to succeed in the long run. Although in my experience, Credit Karma is a much better product.
Mailchimp
For the first time, Intuit has a front office / consumer facing business product. Mailchimp offers small business marketing solutions and commerce solutions (websites with shoppable pages). All of this is offered with a highly lucrative monthly subscription plan. This recurring revenue grows as the business grows. The disclosed financial data for Mailchimp was extremely limited. We do know, that during calendar year 2020, Mailchimp recorded $ 800m in revenue. This was 20% higher than 2019. 20% revenue growth during 2020 is certainly impressive. One would only assume that growth was negatively impacted by the pandemic, and that Mailchimp was set to accelerate growth, even as a standalone business.
I believe the Mailchimp acquisition will prove to be a key growth driver once plugged into the QuickBooks ecosystem. The cross-selling opportunities are endless. See below for the banner at the top of the Quickbooks homepage.

This opportunity reminds me of Fiserv's (FISV) success acquiring Clover's parent company. Both Intuit & Fiserv have direct connections to the businesses that would benefit from the new product they are offering, therefore accelerating growth in both cases.

On November 1, 2021, Intuit borrowed an initial amount of $ 4.7b to fund the cash portion of the Mailchimp acquisition. The remaining $ 1b will be funded with cash on hand and their revolving credit facility.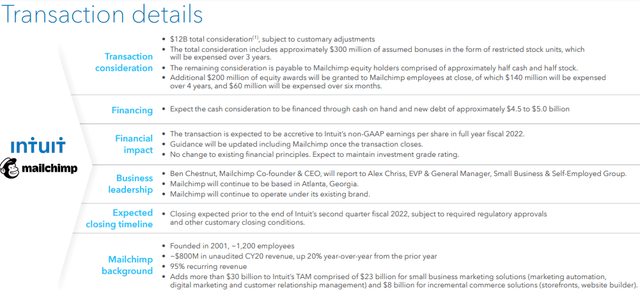 Valuation
The valuation has grown due to a couple factors I see:
The first and most obvious one is the 'bubbliness' that took place throughout 2021 in all technology names. We all know the Fed induced mania drove many names to heights they should have never seen. Intuit was certainly a part of that, although to a much lesser extent.
Intangible brand name value of QuickBooks, TurboTax, & Credit Karma combined continues to grow.
Names aside, Intuit has the rare combination of being a growth stock with defensive revenues. Tax filings and accounting software is completely non-discretionary for American citizens and the businesses they run. Even during a downturn, taxes will be filed (w / less pricing power but same volume), and a business will certainly not shed their accounting software.
Revenue growth is accelerating at Quickbooks, Credit Karma, & Mailchimp.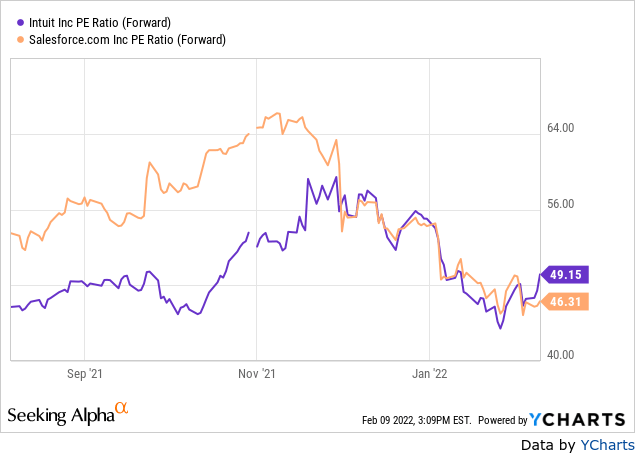 Intuit's 5yr average PE is 38. We are currently sitting at a 23% richer valuation from the 5 yr average at 47.
Many investors, such as myself, worry about investing in a high valuation name in our current market environment. Many tech names, profitable or not, have been getting crushed after earning releases.
With earnings coming up on the 24th, a post-market haircut cannot be ruled out.
Conclusion
QuickBooks, TurboTax, and Credit Karma makeup a three headed business monster for Intuit. Fundamentally and intangibly Intuit can do no wrong at the moment.
All three brands are skating to where the puck is going and Intuit has been rewarded for it.
QuickBooks is set to grow at a clip it hasn't posted in over 5 years. TurboTax has grown its market share since the pandemic. Credit Karma's growth rate is expected to double its revenue growth in only its first full FY under Intuit.
Finding an entry point with the current macroeconomic backdrop will prove to be difficult, but investors with a long-term outlook will be protected with a multi-staged buying process.