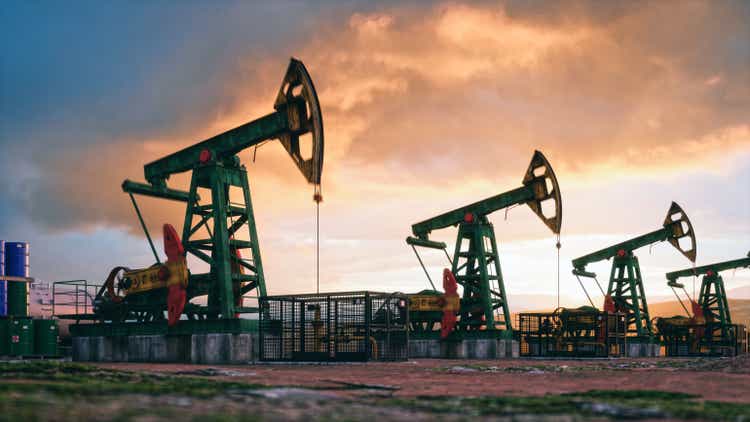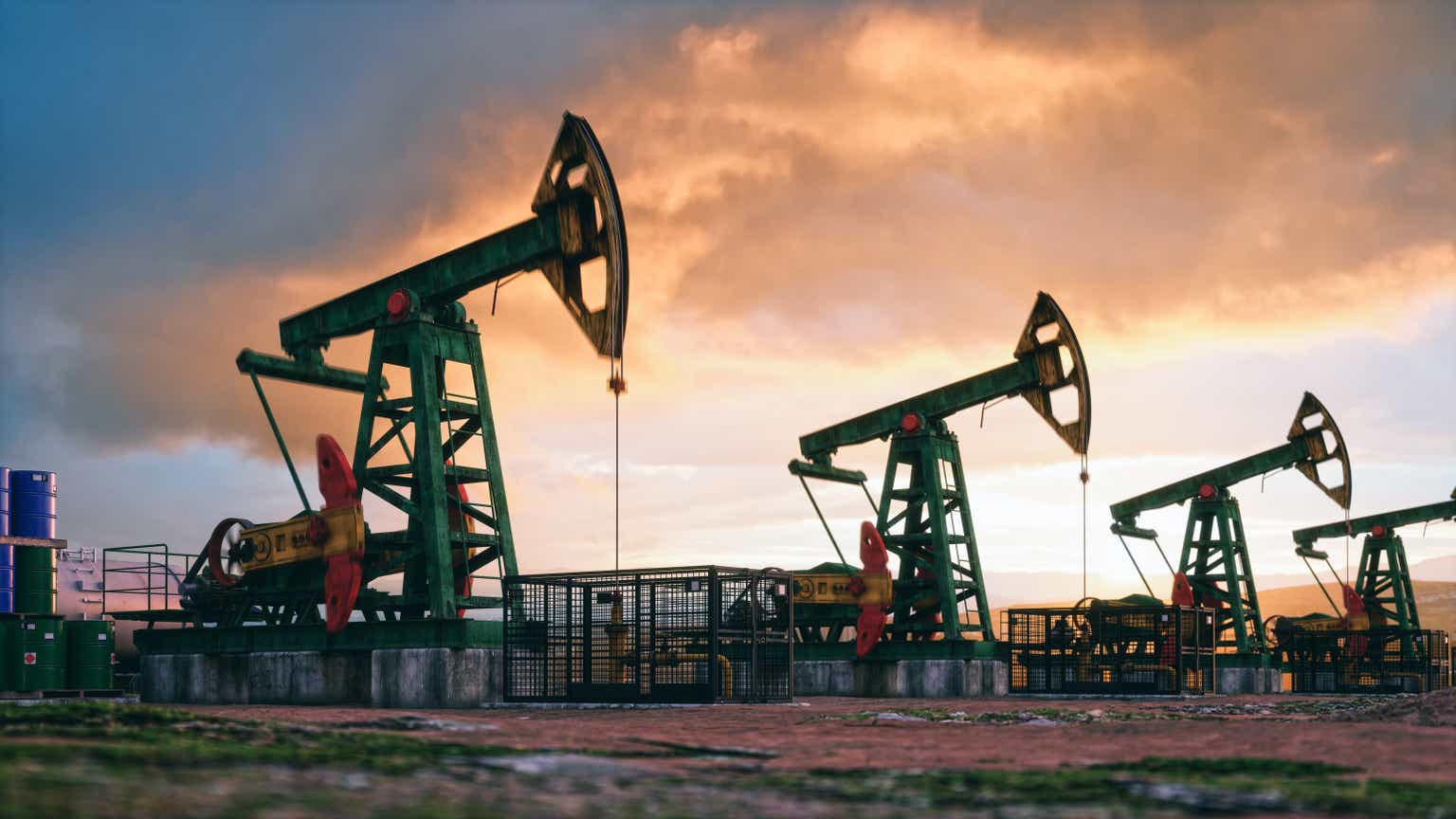 InPlay Oil Corp. (OTCQX: IPOOF) is one of the leading companies working in light oil development and production based in Alberta, Canada. I am bullish on IPOOF due to its financial statements analysis and my stock valuation. Using the Discounted Cash Flow (DCF) model, I estimate a fair value of $ 5.29 for the stock. Despite being very volatile, InPlay is an opportunity for growth investors who do not mind waiting for long-term growth.
2021 results and implications
According to InPlay Oil's financial statements, the company's TTM revenue is $ 64.5 million, which is over 110% higher than the 2020 total revenue of $ 30.7 million. Moreover, its TTM EBITDA increased to $ 27.1 million, compared to $ 6.7 million in 2020. InPlay closed an acquisition of light oil Cardium focused producer Prairie Storm Resources which is predicted to be very accretive to the company.
What awaits IPOOF in 2022
InPlay's production recovery was eye-catching after challenges caused by COVID-19 in recent years. As Figure 1 indicates, the company surged its liquid growth per share by 180% from 2016 to 2021. After the oil price collapse in 2020, IPOOF boosted its production by 45% in 2021.
Figure 1 – InPlay production growth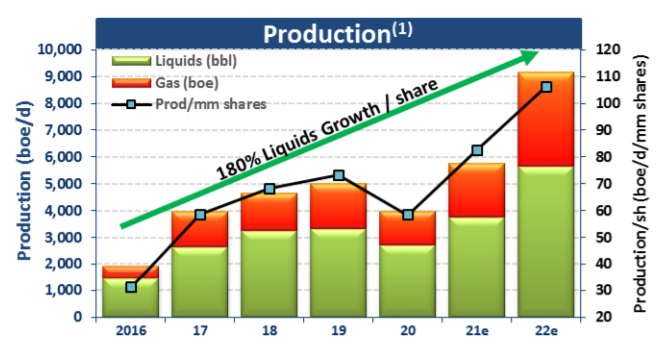 Moreover, the company's adjusted funds flow swelled over 586% during 2021. The adjusted funds flow is forecast to grow by 25% -32% per share, or $ 53.5 – $ 59.5 mm, resulting in a FAFF yield of 25% – 28% in 2022 The company's net debt / EBITDA ratio is predicted to be 0.2x-0.3x. This low amount indicates that the company is paying its debt successfully (see Figure 2).
Figure 2 – InPlay organic growth

New acquisition
To raise the financial performance strength, most companies decide to target acquisitions. InPlay closed an acquisition deal for Prairie Storm Resources. Prairie Storm is a light oil Cardium focused producer located in Alberta, Canada. Prairie's production volumes for 2021 were lower than 2020 due to COVID-19 production declines, which were not balanced out by new production. On the other hand, Prairie's revenue and netbacks grew during 2021 as the crude oil demand started to improve after the easing of COVID-19 restrictions in developed countries.
Prairie Storm acquisition, and acquisitions like this, would enable management to report outstanding growth in future financial reports. Based on InPlay's projections, production per share will rise by 15% in 2022. Furthermore, the company's adjusted funds flow would grow by 12% per share.
InPlay Oil versus peers
InPlay Oil company introduced its peer group in its presentation. The peer group contains light oil weighted small to large cap companies that have greater than 60% oil and liquids weighting. Companies like Cardinal Energy (OTCPK: CRLFF)Bonterra Energy (OTCPK: BNEFF)and Obsidian Energy (NYSE: OBE) are in the peer group. Figure 3 illustrates that InPlay Oil was top-tier in finding reserves and adding production barrels compared to its peers. Comparing IPOOF's operating netbacks with its FDA number indicates that the company is adding reserves at a reasonable cost. Also, using the recycle ratios for peer comparisons shows that IPOOF was well-performed in recent years.
Figure 3 – IPOOF's FDA and recycle ratios vs. the peers

Moreover, IPOOF's gross profit margin is 61.71% which is about 50% higher than the peer's average, which is 41.6%. This higher gross profit margin indicates that the company is producing profit over its costs, indicating that the management has performed productively. Also, investors can expect the company to perform well through a combination of management performance and production growth (see Figure 4).
Figure 4 – InPlay gross profit vs. the peers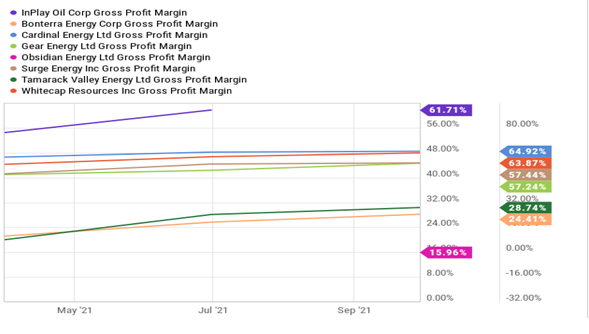 Performance
Tracking IPOOF's price change during the last year shows a strong move up in the company's share price. If you think that it is an appropriate moment to sell your position, I recommend you consider IPOOF's financial metrics and momentum to decide if there are more opportunities to grow.
Figure 5 – InPlay price history

InPlay Oil has predicted an excess of $ 100 million in cash flow for the fiscal year 2022. According to current strong price movements, the company is able to achieve a fast cash flow growth, and therefore, generate more profitability (see Figure 6).
Figure 6 – InPlay's cash flows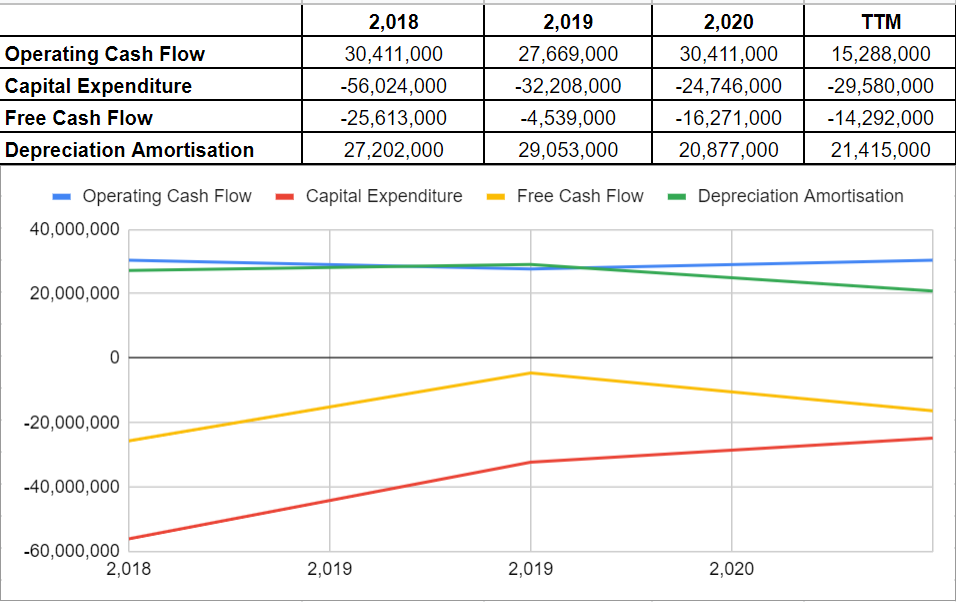 Since 2018, IPOOF has experienced an increasing capital expenditure. However, its total depreciation has declined by over 26%, from $ 29,053 million in 2019 to $ 21,415 million in 2021. This could be a sign that the company is growing and attempting to invest in new property, plant, equipment, products, and technology. Moreover, as you can see in Figure 7, during 2021, IPOOF's cash flow to capex ratio has been surging, which is a good sign for investors who are looking for growth stocks.
Figure 7 – InPlay cash flow to capex ratio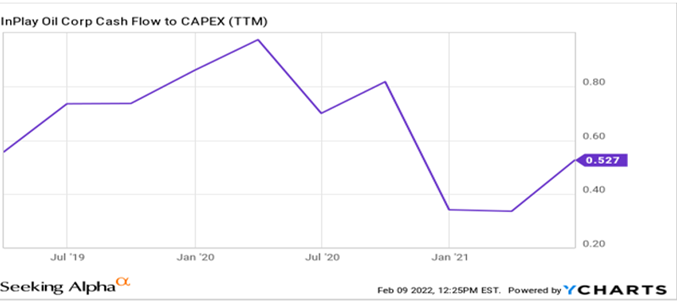 Valuation
I used Discounted Free Cash Flow (DCF) model to evaluate IPOOF's stock. I noticed that the stock is attractive and undervalued. Using the DCF method, I estimate that the stock's fair value is around $ 5 per share. One of the main benefits of the DCF model is that it uses financial numbers that are based on reality, like the cash flow that is generated by the company. Compared to other methods like Comparable Companies Analysis, it does not require any comparison with similar companies and investments. I chose the DCF model to evaluate InPlay Oil company since this method reflects the fundamental financial health of the company and is suitable for analyzing acquisitions and mergers (see Table 1).
Table 1 – IPOOF valuation based on DCF model (data is based on millions of USD)

IPOOF and the oil market
After seven years, oil prices are around $ 90 again, mainly due to the Russia-Ukraine increasing tension and robust oil demand in 2022. WTI oil price increased from $ 75 per barrel from 31 December 2021 to $ 91 per barrel on 18 February 2022, up 21%. InPlay Oil forecasted that with a $ 58 million capital program, the company will deliver an average production of 8900-9400 boe / d in 2022, compared with 5750 to 6000 boe / d in 2021, up 55% to 63%. On 12 January 2022, InPlay Oil forecasted FY 2022 WTI oil price of $ 72.50 per barrel in its financial and operational guidance report. Is IPOOF's plan to increase its production rational? Is the forecasted oil price real?
On one hand, the robust oil demand in 2022 due to the economic recovery, the ongoing tension between Russia and Ukraine, and supply constraints due to the underperformance of OPEC + could push oil prices higher to more than $ 100. On the other hand, if the United States eases oil sanctions against Iran, a 1.3 mb / d of Iranian crude oil supply can stop prices from going higher. Thus, keep an eye on the Russia-Ukraine tensions and Vienna nuclear talks. By now, as Russia-Ukraine tensions are going on and there is no agreement in Vienna, IPOOF is a buy. Also, easing oil sanctions against Iran will not change my bullish view on the stock in the long run.
Risks
Anyone who wishes to consider my recommendations on IPOOF stock, keep an eye on the following risks:
InPlay Oil's value at risk (VAR) is higher than its competitors. In other words, IPOOF's total potential loss through a specific time period has been higher than its peers.
Figure 8 – InPlay's value at risk vs. the peers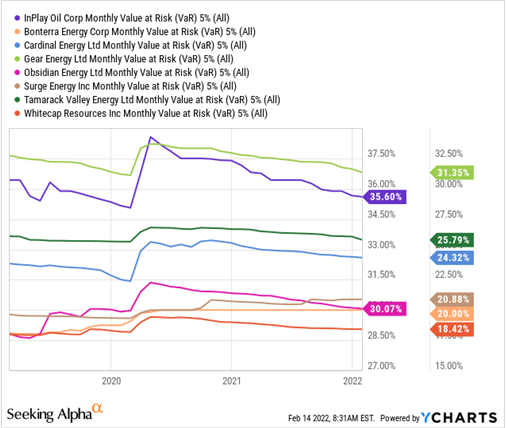 Moreover, The Company's operations and business are particularly sensitive to a reduction in the demand and prices of commodities like crude oil and natural gas, which are linked to the company's financial performance.
Finally, IPOOF's EV / Revenue ratio is higher than the peer group. This ratio compares the company's revenues to its enterprise value, and a higher amount of signals that the company is overvalued.
Figure 9 – InPlay's EV to revenues vs. the peers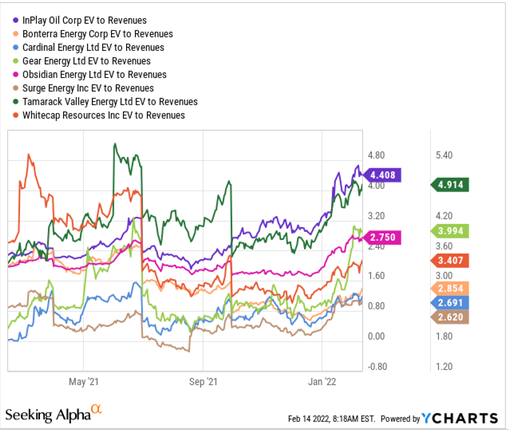 In a nutshell, based on my valuation and the company's financial statements analysis, I evaluate that InPlay Oil's stock is worth around $ 5 per share. If you are on board, consider that although IPOOF is an appropriate choice for growth investors, it is a volatile stock that its operations are pretty much sensitive to global factors like prices of commodities like crude oil and natural gas. In a word, InPlay Oil is a Buy.