International Business Machines Corporation (IBM) is a very well-known tech stock, that is not performing like most tech stocks. I believe IBM is more of a value play given the lower growth rate targets and relatively high dividend yield the company offers shareholders. IBM has gotten more focused with the recent completion of the Kyndryl spinoff. This will allow them to put some shaky results over the last decade behind them and focus on maintaining predictable growth in the long term. I think IBM is a hold at this point as I do want to see some proof that their model will produce results.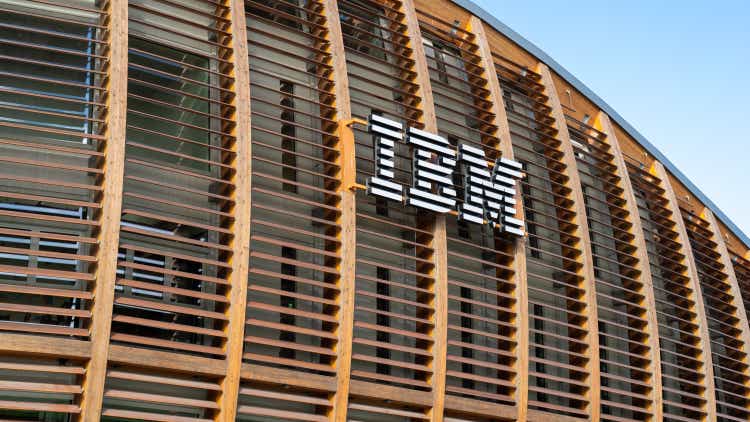 How Does IBM Grow From Here?
I think before we look at how, we need to decide if IBM is still a growth stock, or is it a value play at this point? Being tech-related, often they get mixed into the growth basket, but looking at recent results it's hard to say they deserve to be in that basket. The company has struggled to see positive growth over the last decade which is not what you want to see in a growth stock. However, I do think we will see some growth in the coming years with the Kyndryl spinoff behind them.
Moving forward, the goal is to deliver mid-single-digit percentage revenue growth over the medium term. I have a feeling many investors are sitting in the "show me" stage as they wait to see that IBM can grow earnings after some tougher years. There's no question that the market for their products is growing as companies start to really see the competitive advantage technology can offer, but will it be enough to please shareholders? CEO Arvind Krishna had this to say during the Q4 earnings call:
We are seeing high demand for our capabilities in several areas. Clients are eager to automate as many business tasks as possible, especially given the new employee demographics. This dynamic is likely to play out over the long term. They are also using AI and predictive capabilities to mitigate friction in their supply chains. Cybersecurity remains a major area of ​​concern as the cost of cybercrime, already in the billions of dollars, rises each year. As clients deal with these challenges and opportunities, they are looking for a partner they can trust and who has a proven track record in bringing about strategic transformation projects. This is why our strategy is focused on helping our clients leverage the power of hybrid cloud and AI.
That sounds pretty bullish, so what do the numbers look like? The company outlined a short-term plan (2022-2024) that was centered around revenue and free cash flow growth back in October. I touched on the revenue growth targets earlier, but the free cash flow is going to be the key in my opinion. They said they expect to generate $ 35 billion in free cash flow over the next 3 years. The math on that comes from $ 750 million of free cash flow growth generation per year. Taking a baseline of $ 10 billion of free cash flow, you compound that free cash flow at high single digits and that delivers $ 35 billion of cumulative free cash flow over the midterm horizon.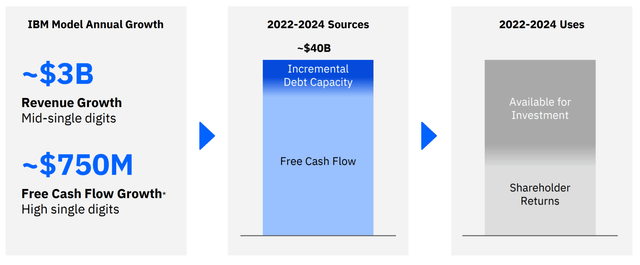 Is it possible they meet / exceed their targets? Of course. I think most would agree that there is a growing market for their services, the question comes down to execution. That starts in 2022. They are expecting to see $ 10- $ 10.5 billion in free cash flow. This will be driven by lower payments for the structural actions, a modest tailwind from cash taxes, working capital improvements, and profit growth resulting from our higher growth and higher value business mix. Breaking this down by segment we can expect to see the following.
In Software in 2022, there will be progress in the growth rate. While it likely remains in the low-single-digits, there is an expectation of the pretax margin to land in the mid-'20s for 2022.
On the Consulting side, which was the big winner in 2021 with regards to growth, were expecting to see much of the same in 2022. We should see double-digit growth in the first half of the year here as the momentum continues. Margins aren't as great here, but it is expected to improve throughout the next couple of years.
Lastly, infrastructure which is not a huge growth contributor, but everything counts! The revenue performance will be tied to the product cycle. In 2022, with a new IBM Z introduction late in the first half, they expect performance above the model and a slight contribution to IBM's overall growth. For the full year, we should see high-teens pretax margin rates.
As long as everything falls into place, IBM should do just fine in the short-medium term. One of the benefits of holding IBM is getting paid to wait thanks to the dividend. Let's dive into how it's standing.
How's The Dividend?
The reason that IBM is so appealing to many investors is the dividend. Looking below, we can see why. IBM has a great history of returning cash to shareholders, and at a pretty healthy rate. We have also seen increases for over 25 straight years. That is easier said than done and requires attention to detail. That kind of attention is extremely attractive to shareholders.

Why is it so impressive? Looking below tells that story. We can see IBM currently yields about 4.9%. To land in the top 25%, you need 3.6%. Even more impressive is the industry average is 1.3%. Many investors rely on dividends as a source of income, if they can get tech exposure and consistent, growing income, how do you say no to IBM?

Is it safe? Yes. I talked about the free cash flow earlier and how it will grow, but where does it get used? The company took on a lot of debt in the Red Hat acquisition, but they did so with the confidence that they could pay it off. In 2019 the leverage ratio sat at 2.95x while debt totaled almost $ 54 billion in net debt. Fast forward to today, and the company finished off 2021 at just over $ 44 billion with a leverage ratio of 2.91x. While the ratio may not be where they hoped it might be, a lot has gone on in the world as mentioned above. The fact debt was able to be reduced, and shareholders were given yet another increase with confidence, speaks volumes.

If we do not see the net debt leverage continue to decrease and ideally get below 2x within the next two years, that could be cause for concern. Historically we have seen IBM keep a very slim debt profile. Obviously, the acquisition plays a factor here, but it cannot bog down the balance sheet for the long haul without jeopardizing the dividend. That said, given the dividend history, I do think it's likely the increases will continue regardless on reputation alone. Keep an eye on how big the increases are, as that will indicate how IBM truly feels about the market. IBM finished the year with $ 7.6 billion in cash and the dividend cost them ~ $ 6 billion. There is nothing to worry about here in the short term.
What Does The Price Say?
As we all know, the tech sector has taken a beating over the last few months. IBM did as well, but it has rebounded since. The stock fell 20% on bad earnings over roughly a month. Then rebounded back to where the stock was originally in about the same amount of time. So where do we go from here? I do think the stock trends higher. Looking below, we can see the stock is undervalued based on "fair value", which accounts for 10-year forward cash flows. I will say, I do not think we see $ 180 in the next year or two, but it is definitely possible down the road.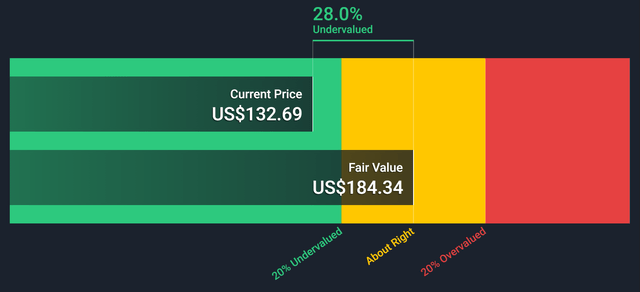 Let me first talk about the earnings drop and how crucial the quick gap-fill was. I always love looking for gaps in the chart when making a trading plan, because more often than not, they get filled. Sometimes it takes months or years, but if you are patient, they will get filled. We saw a perfect example of this here recently. We saw the stock fall off a cliff at $ 140.70, which has been a clear support line, and we saw it rebound back up and through $ 140.70, before putting in a temporary top. Before we go any higher, we are going to need to see a move through this level, and a good backtest of it. It is about 6% from current levels, which could happen over a few days.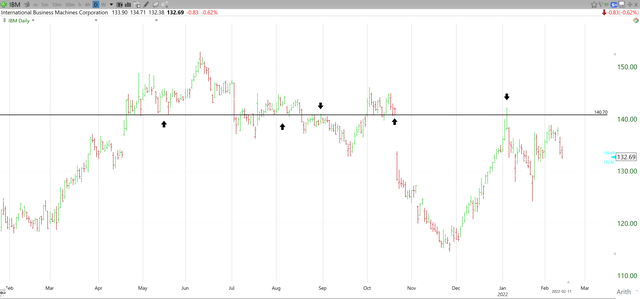 Why do I think it's going to move higher here? Looking below, we can see that the 50-day moving average is about to cross the 200-day moving average. Every time that happens, we see the stock run-up. I have circled the recent times this has happened and the results speak for themselves. Now, we have not crossed yet, but one or two green days and we very well could. A cross would be a bullish buy signal and is definitely something to watch for.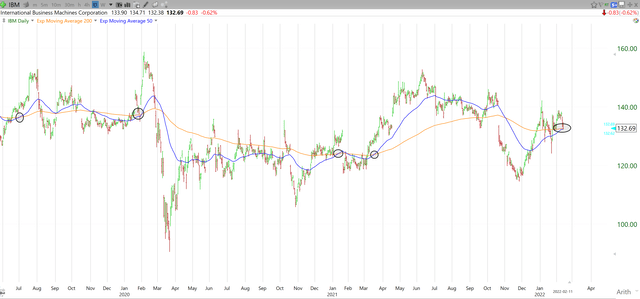 What's the downside risk? It's minimal. You could either place a stop right at the moving averages or if you want to take on a little more risk, place just below $ 124.19. Looking below, we can see historical support and resistance here. This is about 6% to the downside from current levels, which I am okay with. I would not want to hold below that, as it is very possible we re-test the $ 115 mark. It's safer to exit at $ 124.19 and get back in if we bounce off the low. Protecting capital is the number one goal here.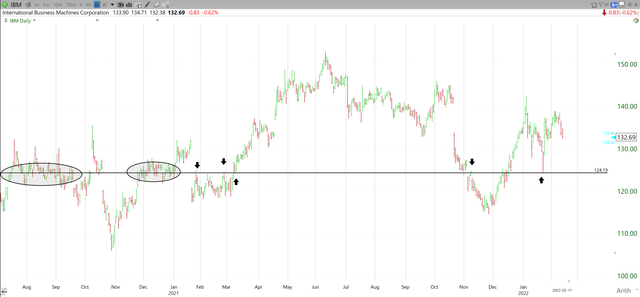 Wrap-Up
As you can see, there are things to like about what IBM is doing. The company is more focused now and going to be locking in on revenue and free cash flow growth, which are two things shareholders haven't seen in recent years. If they can actually produce these results, it would be very bullish for the stock. Those who are already invested can hold and get paid to wait. Given the technical setup, it is appealing, but I would like to see the moving averages confirm a breakout before entering new capital. Generally, I do think it's a low-risk play with decent potential, but it will be slow going. Do not expect IBM to move 25% in a year. If you have patience and want some income, while getting tech exposure, IBM is the stock for you.