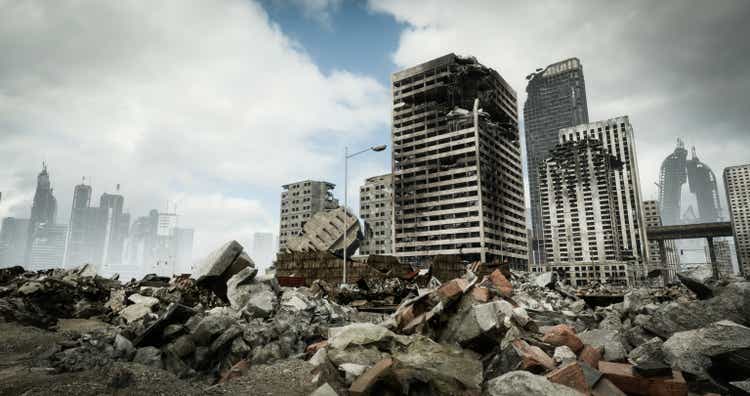 War is never a pleasant reality to any degree for anyone involved. However, I will argue that it's sometimes a necessity driven by social/economic/national conflicts, as we've seen over humanity's thousands of years of history.
Wars have never ceased happening – and they certainly won't now. The arenas, the causes, and the ways we fight change. But not human conflict.
As someone with a German background, with a grandfather who fought in WW2, a family where members lived through bombings, a father who lived through rationing and post-war difficulties and rebuilding, and myself growing up with classmates and friends growing up in the shadows of the Yugoslavian war in the mid-'90s, I'm no stranger to it – even though I've never personally experienced or participated in one.
In this article, we're going to look at the impacts upon our portfolios in times of armed conflict – even if that armed conflict is geographically at a distance from where we live.
We're going to look at how you can think in terms of war, some historical precedents as to what happens to the stock market in war, and how you can position yourself and your investments to prepare for the worst.
War & Your Portfolio – History
As you've seen over the past weeks, the market has wildly fluctuated in almost daily reactions to a looming armed conflict in Ukraine. It's been up, it's been down – and it seems to react to every message coming out of either side.
In this article, I'm going to distance myself and the writing from the potential conflict, causes, and the like, and focus on the market.
That is what we care about here.
We're going to talk about geopolitical crises and the stock market impacts, and a high-level portfolio approach as to how we can think.
The focus will be mostly on the S&P 500, which I will use as a comparative point to see what has happened historically. Keep in mind that some of these historical indicators are old. My view is that any crash say, 50-60 years ago, would likely be 2X as volatile given the prevalence of electronic/algo trading as opposed to phones and the like which was the only option back then.
First, some averages.
The largest historical drawdown due to war was in conjunction with Nazi Germany's entry into what was then the Czechoslovakian nation in 1939, and the attack on France in 1940. The S&P 500 fell by 20.5% and 25.8% respectively during the following 22 trading days.
One year after these instances, the market was up almost 19% and 9.2% respectively, eliminating much of the drop.
During Pearl Harbor, S&P 500 dropped around 11% in a single day after the attack. As we all know, the USA declared war on Japan the day after, and on the 11th of December that year, Germany declared war on the USA (with the USA declaring war on Germany the same day).
Despite all this turmoil, S&P was up 15.3% higher one year later.
During the oil Crisis in 1973, S&P 500 fell by more than 17%. This was also followed by the slowest recovery since the second world war.
So, we're starting to see some trends here. War and conflict bring sudden crashes, varying in their degrees and depths. But usually, the recovery is relatively solid and forecastable. There are exceptions to most of these rules.
On average, the S&P 500 has been 6.5% in negative territory 3 months following an armed conflict (either global or smaller), and around 13% positive 12 months after said conflict.
The Vietnam war and both of the Gulf wars are examples of conflicts that brought about extremely short-lived drops followed by long upward trajectories. When the Soviet Union invaded Afghanistan in 1979, there was a 12-day consecutive index drop of about 3.8% in total. When Russia later took Crimea in 2014, there was a 2% drop.
The reason why the current geopolitical tensions are so crucial, and why we're seeing so much volatility is because the threat of armed conflict coincides with one of the highest threats of inflation since World War 2.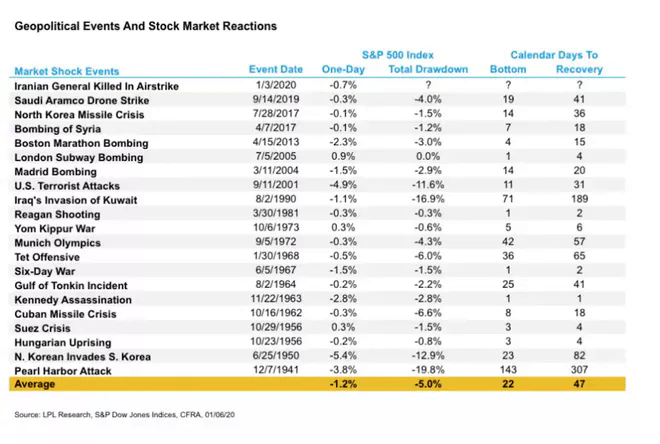 From a historical basis, the implication here is that how Ukraine as an armed conflict develops, will not have much long-term impact on the overall index development. Rather, we will continue to be led by the Fed and its policy changes with regard to inflation and overall interest rates.
How to handle a war-based crash
The implication from these historical sources is that an armed conflict and the effect it has on the market should be viewed as a buying opportunity for quality stocks and investments. Most of the time, the market simply shrugs it off. This might be odd, given how serious we think an armed conflict is.
However, the implication here is that even an armed conflict doesn't have serious impacts on the US economic fundamentals, or the corporate profits related thereto.
In fact, from the beginning of WW2 to its end, the DOW was up more than 50%, over 7% per year. During both combined world wars, the stock market grew 115%.
The adage that it's a good idea to buy when there's blood on the street turns out to be – quite literally – true.
That isn't to say that there aren't classes of investments or sectors that don't suffer during armed conflicts. An increased likelihood of armed conflict tends to decrease stock prices – but even more so when the armed conflict is a "surprise".
During the actual war, stock markets actually tend to be less volatile than at other times, which is quite baffling (with exceptions like the Gulf War, when it was on par with historical volatility).
There are industries that obviously would outperform during times of war, and industries and types of investments that would fare better. In this specific case, I don't see any real implication of increased SCM or increased costs due to a conflict in Ukraine. In a larger war, it's possible to see trade disruptions, tariffs, and raw material price increases. We currently already have this, but for other reasons. Overall, I don't see it likely that a localized conflict in Ukraine would in any way affect global supply chains by itself.
Indices/Risks on the market for a crash/downturn
We can use different methods to see how the market is interpreting the current signals. A very good indicator is ETF fund flow. On a broad basis, what we can see is fund flows moving from Russia, like the VanEck Russia ETF (RSX), as well as from Russia-adjacent geographies, including Sweden like the iShares MSCI Sweden ETF (EWD). These ETFs, including Utilities, REIT ETF's and the overall real estate sector, are currently down between 4-5% on an ETF basis.
Instead, money is flowing to Gold mining, Silver, Brazil in the iShares MSCI Brazil ETF (EWZ) as well as general Metals/Mining ETF's, up about the same amount.
Single-country ETF's like the ones mentioned have a high geopolitical correlation. It should be viewed as fairly natural that this is what is currently happening.
The overall mix with inflation fears is also being expressed on the bond market, with bond mutual funds seeing outflows of $30B on a weekly basis. The belief that fixed-income funds are a supposed hedge against volatile markets has been proven false thus far. In fact, I would go so far as to say because of the current interest rate climate, there really aren't any available "safe" fixed-income funds at this time.
During the past times when there have been massive outflows, the Fed has reacted by either not raising interest rates (2018/2019) or actually buying bonds (2020). That is probably not going to be the case this time.
This is already taking place; the most liquid bond ETFs — HYG, LQD and TLT, for example — are experiencing billions of dollars in outflows already this year. Mom-and-pop investors aren't selling these ETFs; they are professional money managers. Once they sell all their ETFs and the outflows continue, they will have to sell actual bonds, which will lower prices and result in negative returns, which will spark more outflows which will force them to sell more bonds which will lower prices and their returns. You get the idea. This downward spiral would start to dry up liquidity in the bond market and could ultimately lead to the fund having to halt redemptions. Panic would ensue.

(Source: MarketWatch)
Again, not even the safer 20+ year treasury funds have seen any type of safety from volatility during 2020. The iShares 20+ Year Treasury Bond ETF (TLT) is down almost 8% in 2022.
Volatility has come not because of Ukraine, but because of a combination of an already-fragile situation in interest rates/inflation, added to by these geopolitical tensions.
The combination of these factors is, to my mind, likely to bring about only one outcome. That outcome likely wouldn't change even if there wasn't a conflict in Ukraine a few weeks, or this year.
I see increased volatility – not only in stocks but in bonds as well. Rising inflation is terrible for bonds because it destroys fixed values, but rising rates are also bad for bonds because it means that investors are less likely to buy existing bonds because they're waiting for higher yields to materialize due to the message of higher interest rates.
So, negative either way at this time – at least for now.
The outcome & interpretation
My method for handling such volatility is fairly simple – because it mirrors to a large degree my method for handling other downturns as well.
We find the most qualitative of companies/stocks, we do research on them to make sure that things will continue to be at the very least borderline positive, we make sure that we buy them at low value. Not fair value or high value. Low value. I don't want a fair or high valuation close by when I go on my shopping tours on the market at this time.
I want to see at least 10-20% undervaluation to a conservative fair value for the investments that I make.
If you base your investment on these assumptions, then a 5-12% drawdown in the general market won't really matter as much, given the historical appreciation within 12 months and you buying quality at a cheap price.
I would go so far as to say that an armed conflict in the region is likely to be a net positive for investors, due to the eventual effects on stock valuations.
This goes double for European stocks. In a military action scenario, I view it likely that German, Scandinavian, French, and overall European indexes will see drops of upwards of 5-8% in a very short timeframe.
That means that certain A-quality stocks will become incredibly attractive, seeing price points that could really deliver some of those 20-40% RoR rates in as little as a year if things line up similar to historical trends.
So. Any military conflict in Ukraine is, to my mind, a buying opportunity.
The same is true for most armed conflicts. I don't mind saying that when there's blood on the streets or in the markets, I will break out my checkbook and start writing investment checks to the left and to the right, buying up quality at cents on the dollar.
That isn't to say I'm excited to see any sort of armed conflict from a humanitarian perspective – including Ukraine. But I will certainly try to make the best of any situation that I am handed during the course of my market career.
An armed conflict in Ukraine would be only another one of these situations.
So What to do if the guns start firing?
Simple.
Get out your shopping lists.
We all have them. Those companies at high quality that we want to buy, but that don't get cheap unless there's a drop. I've made a list of a couple of companies that are right up there to buy – all of them quality stalwarts and the sort of rock-solid businesses I've been pouring capital into for the last two months.
The result of this investment of capital has been a market outperformance at a relatively good degree.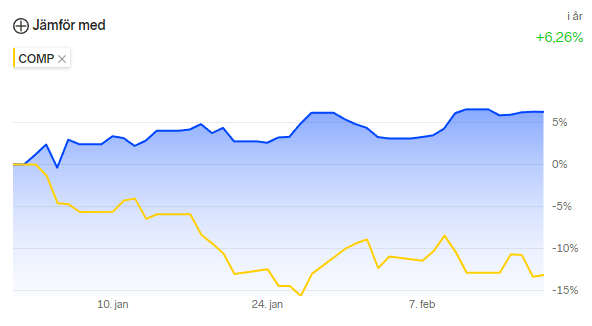 Compared to the NASDAQ, my non-SEK portfolio has outperformed the NASDAQ by around 20% YTD, the Dow Jones Industrial Average by around 11%, the S&P by double digits, and every single local index such as Stockholm, Oslo, Frankfurt by ranges of 9-20%.
In short, it's been a good year, and I am content. So far.
A short-term performance like this isn't really indicative to any larger degree. But I do believe that it shows a degree of "correct allocation" according to market movements. I successfully managed to rotate most of what I viewed as undervalued into companies that haven't deteriorated, or indeed have appreciated a great deal. This wasn't a surprise to me – it was my thesis, and what I've been trying to communicate over the last 3 months.
I believe that this partially at least confirms my thesis for the sort of environment we're moving into. It's Risk-off, where you don't necessarily want to be holding highly-valued stocks (whatever this means to you), unless it's for the long, long term.
It's an environment where your income/yield dictates in part how well you might be doing. On those metrics, I am doing quite well – and this is the strategy I intend to continue pursuing.
Where my capital is flowing to
I've been tendentially rotating into:
1. Quality defensive stocks, such as conservative Telcos/utilities with yield and some growth potential, such as Verizon (VZ), Deutsche Telekom (OTCQX:DTEGY), Orange (ORAN), Enel (OTCPK:ENLAY), and others.
2. Extremely defensive high-end stocks such as LVMH (OTCPK:LVMUY), Kering (OTCPK:PPRUY), Prada (OTCPK:PRDSY), and others.
3. Consumer defensive such as Ahold Delhaize (OTCQX:ADRNY), Carrefour (OTCPK:CRRFY) and others.
4. Real Estate Giants such as Realty Income (O), Simon Property Group (SPG), and other solid plays in the sector.
5. Above-average safety global asset managers, billionaire banks, and ridiculously safe insurers, such as Allianz (OTCPK:ALIZY), UBS (UBS), Manulife (MFC), and others.
Do you notice some consciously absent classes/sectors of stocks? Such as high-risk plays? So-called "undervalued" tech stocks? Zero-Dividend stocks? Nanocaps and companies that actually don't have a positive GAAP EPS?
Yeah, I'm not interested. Not at this time. Not usually either, but definitely not now.
I believe that the way to go at this time is to focus on assets, real capital/income flows, and defensive plays. I'm talking infrastructure. Water. Power. Food. Products that have a timeless value, including such things as luxury goods, have proven to hold up extremely well in crises. Gold is potentially becoming interesting to me for the first time in many, many years (funds, not physical gold). If this becomes somewhere I go, I will post an update on this.
My point is that I don't see this as the time to start getting "fancy" with our strategies. This is not the time to throw hail-mary's or start to invest in "the next Amazon".
This is the time to hunker down by the fire and keep safe in every meaning of the word. Because there are plenty of undervalued, even cheap opportunities at great quality out there.
I know because I write about them every week. I show them to readers, every week. I invest in them – on a weekly basis.
Conclusion
Some of you might view the impending possibility of an armed conflict as a net long-term negative for your portfolio and your investments.
I am here to tell you that such an assumption is erroneous, at least when viewed on a historical basis. The opposite is actually true. Any time an armed conflict brings about a downturn in the market, the correct way to handle it has been to buy quality for cents on the dollar.
That does not change, I expect, in this conflict.
I have around $50,000 in cash to put to work, with another $45,000 coming in over the next 3-5 months, depending on a few factors. I look forward to boosting my portfolio with at least 30-40% of that. I'm not taking any massive allocation risks, but I don't want to be caught with too much cash in my pocket either. Because the fact is that under current inflation rates of 7.48% in the USA, $100,000 will lose $7,480 in one year. That's $623,33 worth of purchasing power per month, or if you want to dig down, $20 of purchasing power is lost per day. You could set up a little countdown timer to track the loss in terms of inflation on a continual basis.
I don't know about you, but $52 isn't "nothing" to me. At over 7% (and much higher according to some), it starts to get very, very noticeable.
This is my view.
My view on armed conflicts impacts vis-á-vis the market – and why I prefer not to stay inactive, and what I would do in terms of portfolio strategy.
Questions?
Let me know!