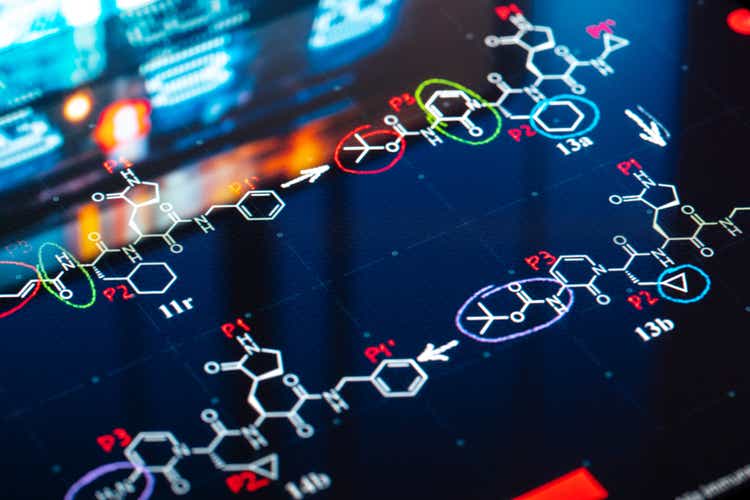 Harmony Biosciences (HRMY) is a minor pharmaceutical company ($ 2 billion equity capitalization) with a new medicine approved for rare neurological disorders in the United States. Its main product, WAKIX is a safe, revolutionary medication for the treatment of excessive daytime sleepiness in adult patients with narcolepsy. The drug has been well received by doctors and patients alike with very powerful growth in prescription writing during 2020-21. Harmony has a conservative balance sheet with more cash and current assets than total liabilities. Management has stated it is looking for small complementary drug development asset buys, putting future free cash flow generation to work. The idea is this reinvestment effort will diversify sales and continue company growth several years down the road.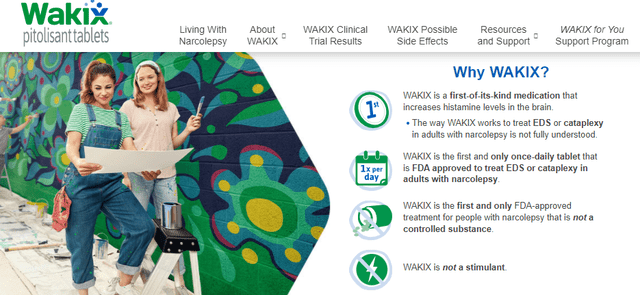 What has caught my attention in early March is the stock has been popping up on my daily screens looking for robust momentum buying trends, alongside a turn higher in price. Reviewing its low valuation setup vs. expected EPS growth in 2022-24, I am confident an extended run higher may have started off last summer's low trade around $ 25. And, if sales / income results beat current Wall Street analyst expectations, an upmove to $ 60 or even $ 80 a share is possible over the next 12-18 months.
My bullishness is not a lone voice in the dark. Goldman Sachs included Harmony Biosciences on a November list of top defensive, high-growth ideas for 2022, assuming a rising interest rate environment.
However, the promise of oversized gains for investors has yet to be realized. The stock's performance since it started trading in August 2020 has been above average for the industry, but nothing to write home about. Below is an 18-month total return graph measuring Harmony against pharma peers and competitors, including some smaller names and a number of the big boys.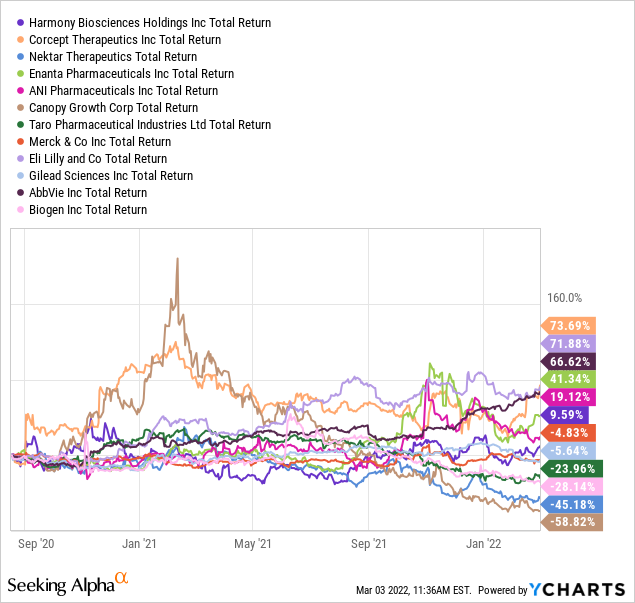 Low PEG Ratio
The smartest fundamental reason to own Harmony is a near-term P / E in the 25x range may be quite the bargain if estimates of 40% YoY sales growth and 80% EPS expansion through 2024 become reality. In stark contrast to the popular bubble-like "Big Tech" valuations of 30x to 50x equivalent EPS setups on far weaker underlying business growth rates in the 15% to 30% range, Harmony could be a solid pick currently vs. its bright future. If you will, Harmony is selling for HALF of what the math would suggest, while Big Tech as a group is selling for DOUBLE reasonable real-world worth calculations!

The end result of a bargain valuation on strong growth is a ridiculously low Price to Earnings vs. Growth [PEG] ratio. Using forward 1-year estimates, Harmony is getting cheaper every day if the stock quote does not rise materially to keep up with business expansion. Below is a graph of forward P / Es vs. pharmaceutical peers and competitors. (Note: the list includes only those with projected earnings by analysts for 2023.)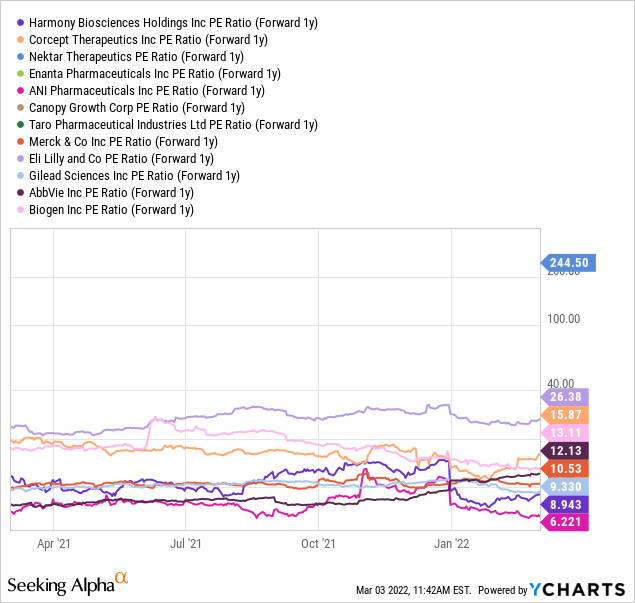 Since powerful improvement in the business is expected into and past 2023, the forward 1-year PEG ratio is ultra-low vs. low. the prescription drug making industry. With scores below 1.0x historically preferable for committing investment dollars, the whole sector is looking more interesting than a few years ago. And, with President Biden and the Democrats unable to push through sweeping reforms for government-run healthcare programs like Medicare (including price negotiations and fixing for prescription drugs), the pharma industry may be able to outperform the general US stock market and S&P 500 index in 2022 and beyond. Why not own an underfollowed gem, inside an improving industry outlook, holding low-valuation and high-growth characteristics? (Note: most of the smaller pharma businesses do not have earnings today, or are lacking Wall Street forecasts past 2023 for creating this PEG graph.)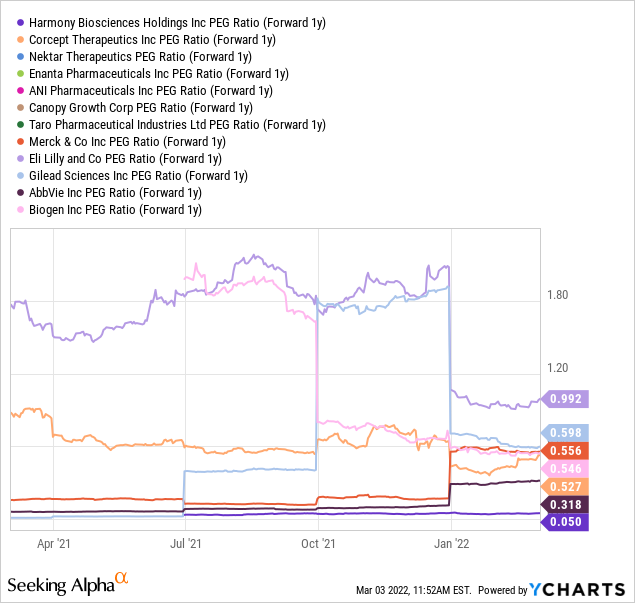 More good news – today Harmony sports a massive gross profit margin (before any new development expense is brought onboard). If sales double and double again in the next 3-4 years as forecasted by Wall Street, final net profit margins could be industry-leading or nearly so, as economies of scale take over and reduce fixed costs and sales expenses to a minimum per pill sold. Plus, the company is working hard to get Wakix approved as a treatment for a number of other cognitive disorders, which could ramp up sales and income without serious R&D or new fixed costs. Remember high-growth, high-margin businesses are usually priced with a huge valuation premium. Such could be the Harmony Biosciences future if management moves slowly on the acquisition hunt.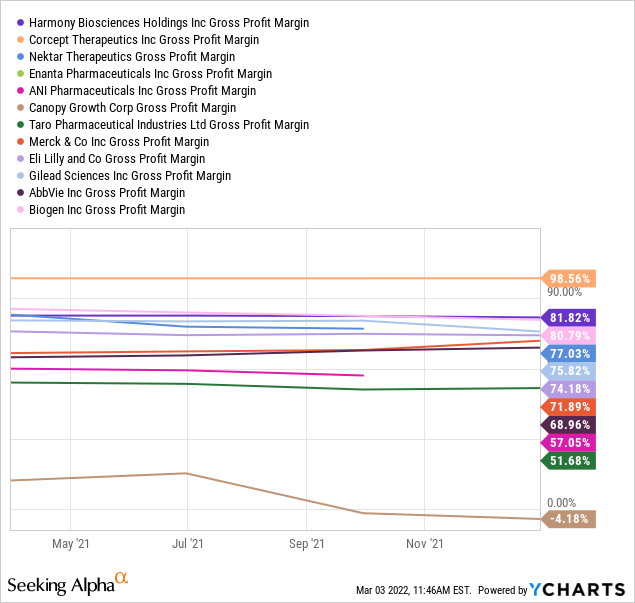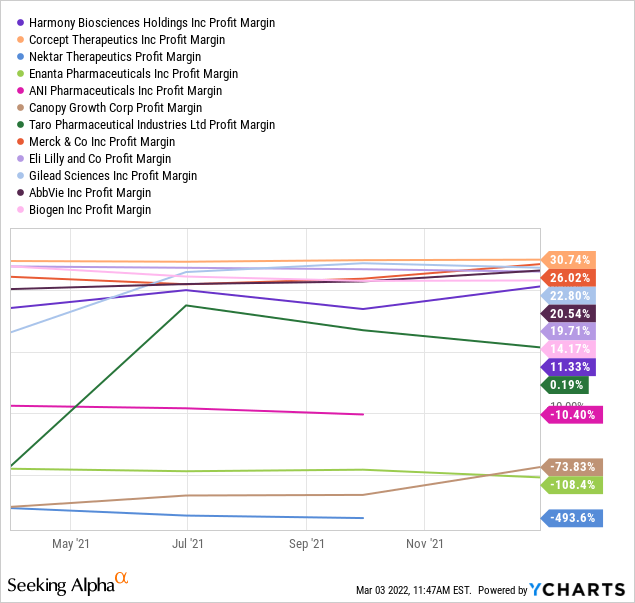 Technical Pattern Turning Higher
Below is an 18-month chart of daily price and volume changes. My sorting formulas have noticed the steady buy volume in Harmony over the past week, with price rising and staying above both its 50-day and 200-day moving averages.
Another positive, rising price trends during low 14-day Average Directional Index scores can pinpoint important bottoms. In addition, HRMY's Negative Volume Index and On Balance Volume calculations have been climbing in tandem since late January. I prefer this technical situation, where buying is verifiable on both low and high-volume days.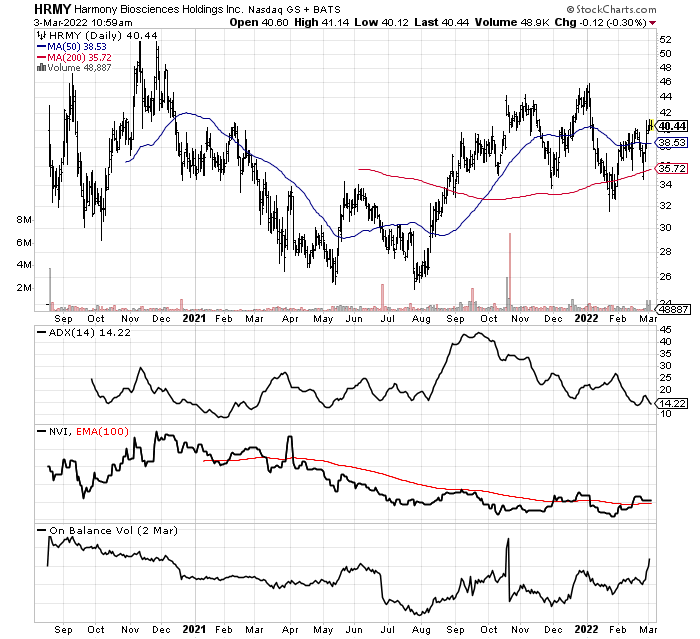 Final Thoughts
Harmony could be a bullish Growth at a Reasonable Price [GARP] selection in early March vs. both its industry and the market overall. Seeking Alpha's Quant Ranking equally offers some optimism for new buyers, as this unique score has been rising for months. Today's SA computer setup for Harmony is a top 20% pick in Health Care and top 30% idea in the Pharmaceuticals industry.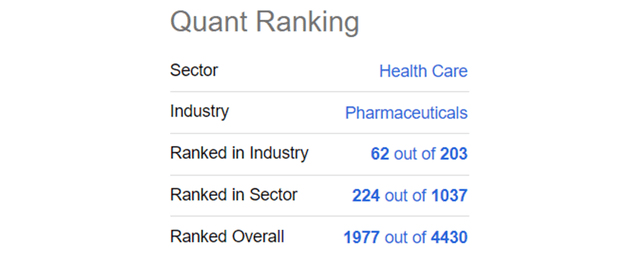 What are risks for the stock quote? Short sellers seem to be convinced the bullish story is flawed, and growth rates will not become reality. Below are graphs vs. peers of the total bear position as a percentage of trading float and the theoretical number of days to cover (assuming regular volume trends could absorb the extra buying, which it cannot). The greatest risk, in my thinking, is management becomes overly aggressive when acquiring other drug development assets, and dilutes the rapid expansion taking place in its primary Wakix product.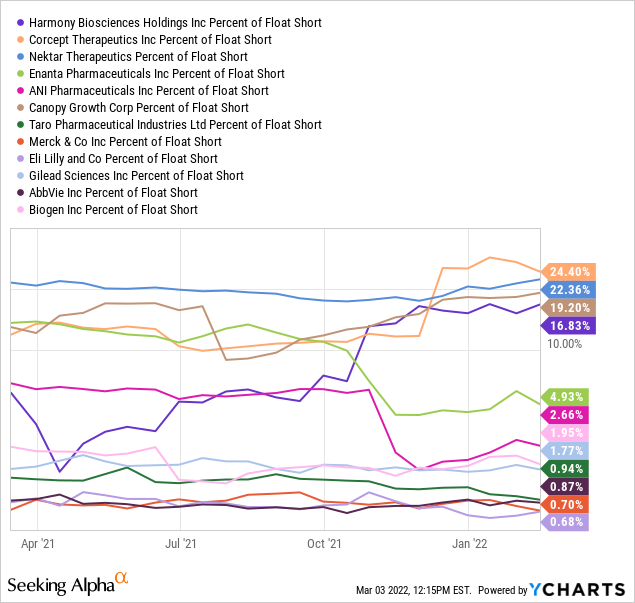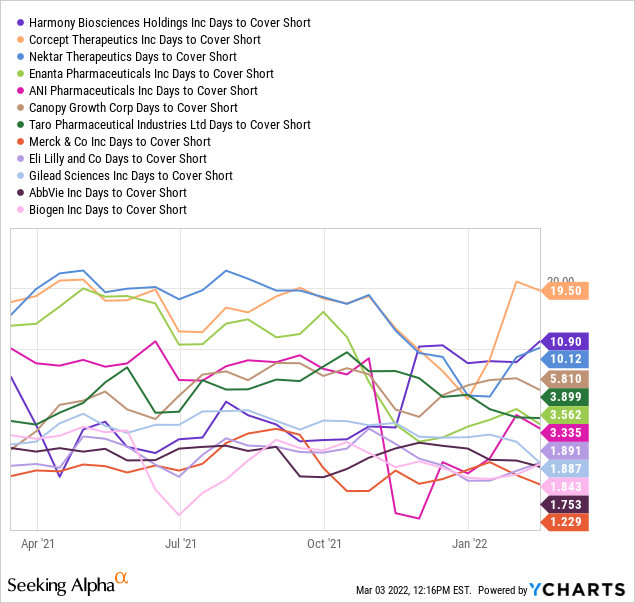 Believe it or not, this high short position could provide the fuel for much stronger stock gains later in 2022, assuming the company can continue reporting excellent growth in sales and income. When shorts eventually cover their position, they will only add to a future imbalance in daily buy / sell volumes. If plenty of buyers appear every day, not matched with sellers, higher prices will physically be needed to find supply and execute trades.
While a clear price uptrend is not yet apparent, odds favor the formation of one, kind of like your local weatherman predicting a storm. The conditions are ripe for positive price trends in Harmony Biosciences, and I have purchased a small stake in the company. The low PEG ratio should keep any losses limited in a bear market scenario on Wall Street during 2022 (outside of a crash of course). For investors, time is on your side as the underlying business expands and shorts are forced to cover. I have a target price zone of $ 60 to $ 80 in 12-18 months.
Lastly, with the company's simple business setup, clean balance sheet, and single patented drug taking off in demand, Harmony may become the target of an acquisition bid by a Big Pharma enterprise. I would not be surprised if it is purchased (or merges in an all-stock deal) with a nice premium for shareholders in 2022.
Thanks for reading. Please consider this article a first step in your due diligence process. Consulting with a registered and experienced investment advisor is recommended before making any trade.