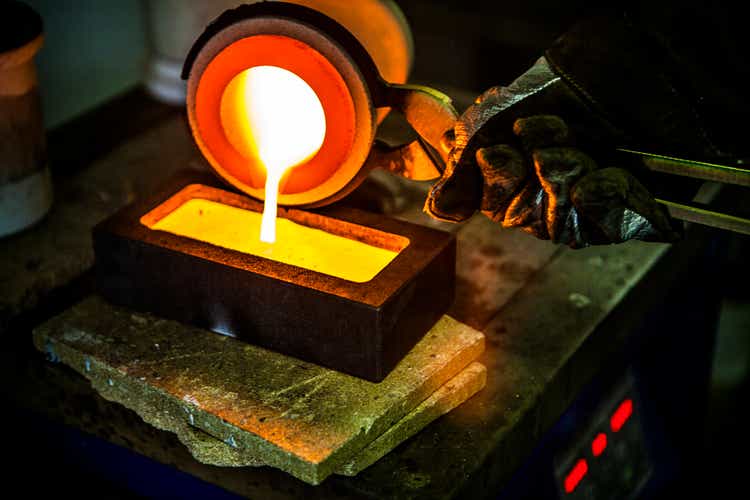 2021 was a year to forget for investors in the precious metals space, with few sanctuaries from the selling pressure, and many names down over 40%. However, one of the worst performers was Great Panther Mining (GPL), down 74%, which should be no surprise given the pathetic FY2021 operating results. As we begin 2022, there's added uncertainty related to a fine, a recent underwhelming resource update, and cost guidance that translates to razor-thin margins. So, with one small Tier-2 jurisdiction asset that relies on mining resources (Topia) and one Tier-2 jurisdiction asset with a small reserve base (Tucano), GPL continues to be uninvestable and a name that's best to avoid.

Great Panther Mining released updated resource estimates for its Mexican operations this month, which made up nearly 25% of FY2021 production, and just over 20% of total production on a trailing 2-year basis. Unfortunately, the resource estimates were not positive, with measured & indicated [M&I] silver-equivalent ounces [SEOs] at Topia down 25% since 2018, and M&I SEOs at the Guanajuato Mine Complex [GMC] down more than 40%. Worse, these declines were despite upwardly revised metals price assumptions, which I would argue are not conservative in the slightest. Let's take a closer look below:

Beginning with the company's underground Topia Mine in Durango State, the company reported an M&I resource base of ~ 11.1 million SEOs at an average silver-equivalent grade of 1,041 grams per tonne. While grades were up slightly, silver mining M&I tonnes decreased to ~ 331,800, down from ~ 475,900 in July 2018. This led to a ~ 25% decline in silver-equivalent ounces, from ~ 14.8 million SEOs. It's worth noting that this sharp decline in tonnes was despite the company raising its metals price assumptions to $ 1,650 / oz gold, $ 20.00 / oz silver, and $ 1.20 / lb zinc. These are massive upward revisions from $ 1,225 / oz, $ 15.50 / oz, and $ 1.15 / lb, respectively.
While some investors might argue that the higher metals price justifies an upwards revision in metals prices, I would disagree, and certainly not to this degree. In fact, the best companies like Barrick (GOLD), Yamana (AUY), and others have been reporting their reserves that they use to mine at $ 1,250 / oz gold or less and resources at $ 1,500 / oz or less. This gives these companies a large cushion if the gold price were to weaken, with the material they're mining being profitable at very low metals prices. Notably, despite not raising their gold price assumptions, they still managed to replace reserves net of depletion. This is clearly not the case with Great Panther.
At Topia specifically, Great Panther noted that an increase in mining costs and mine depletion led to the depletion of ~ 3.7 million SEOs over the past three years, with much higher cut-offs (net smelter return) at the 1522 Mine ($ 280 / ton vs. $ 193 / ton), Argentina Mine ($ 257 / ton vs. $ 172 / ton), as well as Durangueno, Recompensa, Hormiguera, El Rosario, La Prieta, Animas, and San Miguel. Given that Great Panther could not even increase resources during a period of gold price strength (increased cash flow to aggressively drill) and benefit from using higher metals prices to aim to replace depletion, I am not optimistic about resource growth at Topia.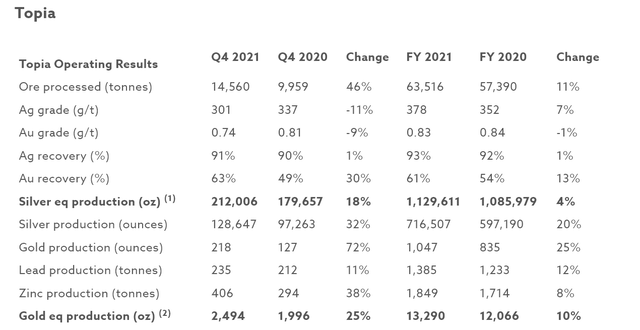 Given that the resource estimate is as of the end of March 2021, and more than 40,000 tonnes have been mined since then, it would appear that the resource base which Topia relies on for mining sits at barely 290,000 tonnes. If we compare this to annual tonnes mined (~ 60,000 tonnes), this points to barely five years of mine life for this asset, assuming no additional resource growth. I have given zero credit to inferred resources, but they are 10% lower grade than M&I resources and stand at barely 270,000 tonnes even if we do see some conversion.
Guanajuato Mine Complex
If the Topia resource replacement was ugly, investors should skip reading the GMC resource update, which was just as unsightly. This is because resources fell to a paltry figure of just ~ 6.5 million SEOs at Guanajuato and San Ignacio, down from ~ 10.2 million SEOs just one year ago (July 31st, 2020). The decline of more than 3.6 million SEOs translated to a 35% drop in resources on a year-over-year basis. Similar to Topia, this is despite higher metals price assumptions (combined average), with the previous resource based on a gold price of $ 1,694 / oz gold and $ 17.64 / oz silver, and the current resource based on a $ 1,650 / oz gold price and $ 20.00 / oz silver price.

Great Panther noted that underground development led to the removal of some resource blocks due to a better definition of historical mine workings or through the demonstration of less favorable mine conditions. Examples included discontinuous mineralization or poor ground conditions. The company shared that the geology team is embarking on a major project of developing a 3D exploration model for each deposit to help identify controls on mineralized zones to guide future exploration.
However, with one of the weakest balance sheets sector-wide and its debt to market cap ratio of nearly 2: 1, and limited free cash flow generation, I am not optimistic that Great Panther will be able to drill out GMC aggressively. This is especially true when the priority should be drilling at its Tucano Mine in Brazil, which makes up ~ 80% of production, and has a relatively small reserve base. Given that the Guanajuato Mine and Cata processing plant is care & maintenance, the actual resource M&I resource base applicable to mining sits at barely ~ 3.3 million SEOs (San Ignacio only), with permits still not received from CONAGUA to expand the TSF.
Verdict
Normally, for a company with multiple operations, a decline in reserves at one asset would not be a huge deal, especially if that asset made up ~ 10% of annual production like Topia. However, with GMC in care & maintenance, Topia will make up a larger portion of production in FY2022 and going forward, unless Great Panther can work out a toll milling agreement with a neighbor at the San Ignacio Mine while it awaits permits. So, the sharp decline in resources at Topia is concerning. This is exacerbated by the fact that Great Panther is not generating meaningful free cash flow to drill aggressively, and it is mining resources, not reserves.
There is a higher risk to mining resources, given that there is no Feasibility Study to back them up. As noted in GPL's cautionary notes: "there may be increased uncertainty and risks of achieving any particular level of mineral recovery or the costs of such recovery." As also noted, "the company faces higher risks that anticipated rates of production and production costs will not be achieved." For a company that's already guiding for all-in sustaining costs of $ 1,650 / oz next year company-wide, which leaves limited room for free cash flow generation with all-in costs closer to $ 1,800 / oz, this should not inspire much confidence.
Valuation
Based on ~ 465 million fully diluted shares and a share price of US $ 0.21, some investors will make the argument that Great Panther is cheap, trading at a market cap of barely $ 90 million as a ~ 120,000-ounce producer. However, I would argue that it does not mean much to classify oneself as a producer if they generate limited free cash flow and dilute shareholders at a pace of more than 10% per year. In fact, there are some gold development stories that dilute at a slower pace, but at least they have projects that could one day produce gold for less than $ 800 / oz.
So, while Great Panther may be cheap, and it may be tempting to go bottom-fishing after a more than 80% decline from the stock's Q3 2020 highs, I believe there are dozens of better places to park one's money in this sector. This is especially true given that we could see additional share dilution in 2022, meaning that the share count of ~ 465 million fully diluted shares can not entirely be relied upon. One possible reason for accelerated dilution will be if the company loses its defense to three Notices of Infractions delivered by the Amapa State Environmental Agency to GPL's Brazilian subsidiary, Mina Tucano, in December.
For those unfamiliar, Mina Tucano was fined by the Brazilian environmental agency for cyanide pollution. The Amapa State Environmental Agency [SEMA] alleged that Great Panther polluted two freshwater streams in the northern Pedra Branca do Amapari municipality. Great Panther noted that it intends to appeal the amount of the fines and the timing of the payment in its defense statements. However, if the company is not successful, the fine is for 50,000,000 Brazilian Reals [US~$9.8 million].
This would put a major dent in the company's balance sheet, with working capital sitting at barely $ 3 million at the end of Q3 before a $ 23 million capital raise in Q4. Normally, this would give the company some flexibility. Still, Tucano has a very busy year of stripping ahead, and capital expenditures should be front-end weighted and are forecast at $ 22 million. This means that if Great Panther can not generate free cash flow, which does not look likely with all-in costs close to $ 1,800 / oz, it may need to raise additional funds by year-end.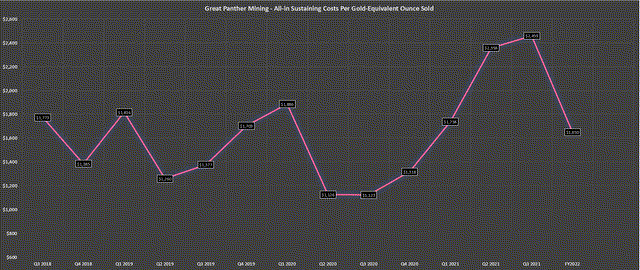 Some investors might be lured into thinking that Great Panther is a worthwhile bet, given that it's guiding to make money this year, and the gold price is finally firming up. However, it's important to note that this outcome requires the company to meet guidance, and last year, Great Panther missed cost guidance by more than $ 500 / oz, guiding for a mid-point of $ 1,400 / oz initially, and revising to more than $ 1,900 / oz. With a track record like this and Tucano proving to be a challenging operation, it's hard to have much trust in the team.
To summarize, with dilution risk, the additional risk from the fine handed down recently, some of the highest costs sector-wide, and a resource / reserve base that leaves a lot to be desired, Great Panther continues to be uninvestable. The only reason I have a neutral rating is that there's little value in being bearish on a stock after it's already down 80% from its highs because even the worst companies rarely drop in a straight line and are prone to oversold bounces.