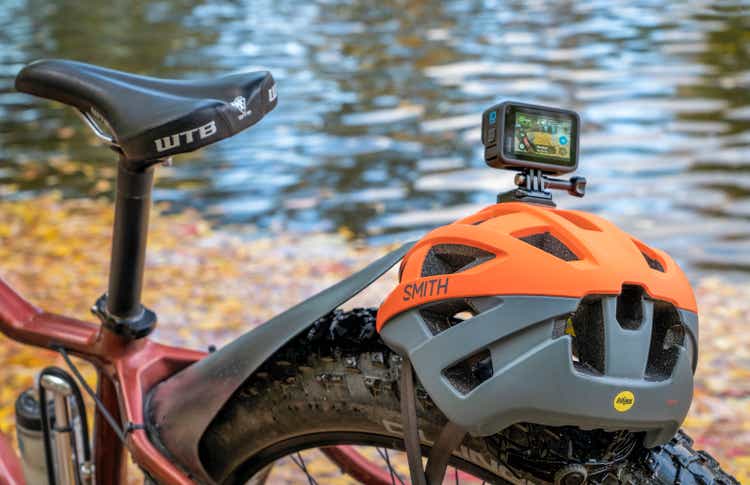 Investment Thesis:
Over the past decade, GoPro, Inc. (NASDAQ: GPRO) has completely wiped out investors from its all-time high levels close to $ 90 per share shortly after its IPO, down to nearly $ 2 a share. Despite the lack of strategic direction, poor management, product failures, and value deteriorating acquisitions, the company's turnaround plan is overlooked by the market, but the first signs of transformation are here. Therefore, I classify GPRO as a compelling turnaround case and qualify with a buy rating.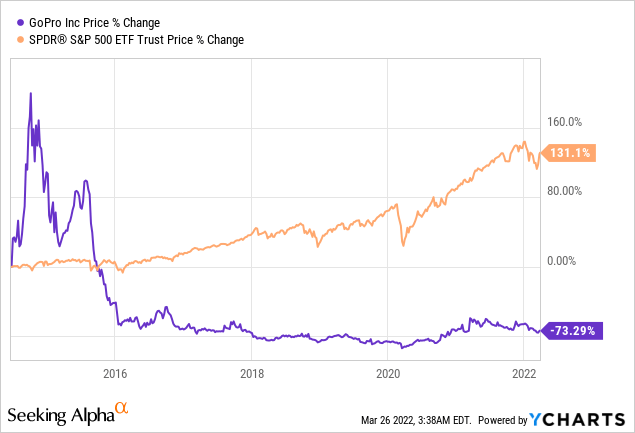 The Company's Operational Performance
In 2015 the company's revenue reached all-time high levels at $ 1.62 billion, but since then, the Management has struggled to drive operational efficiency, reporting negative operating margins. Next, in 2016 the company reported a severe plunge in operating margins at negative 30%, but since then, the company managed to limit its losses, with margins turning positive in 2021.
It is important to note that following the introduction of the 2020 restructuring plan, the company has reduced 20% of its global workforce and consolidated office facilities. Such moves have led to significant cost savings, and this is evident in the company's financials as the operating expenses decreased in 2020, with only a slight increase in 2021.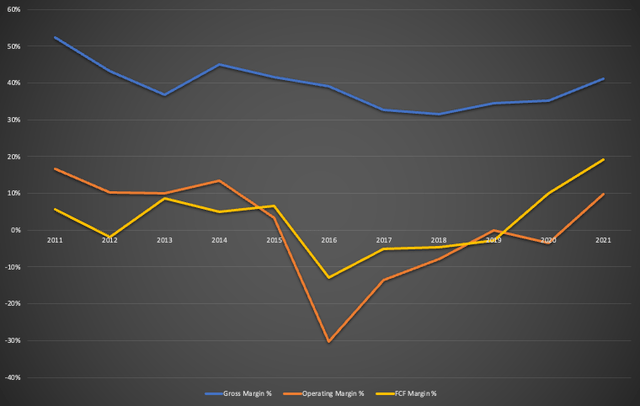 Eventually, during 2020, the company has made a strategic shift in its sales channel strategy, moving direct-to-consumer (DTC) through its website and becoming less reliant on resellers. Favorably, the company's DTC sales now account for nearly 34% of overall revenue, almost three times more than 2019's DTC revenue composition. Indeed, the pandemic has accelerated digital transformation and pushed many companies to become self-reliant, and GPRO is no exception. Thus, investors should not yet thoroughly applaud the Management. This trend was a forced action for survival implemented in April 2020 and should have been performed a long time ago since the shrinkage of the operating margins.
The Management remains under scrutiny
Even though the CEO and founder Nick Woodman has built the company from scratch, his false ambitions and poor decision-making have put the company in trouble in previous years. Surprisingly, Nick remains the CEO and the ultimate decision-maker, but the board recomposition and appointment of key executives since 2016 has provided a more well-diverse, balanced, and experienced team.
Not surprisingly, GoPro employees have given only a 59% CEO approval rating on Glassdoor, and most negative comments relate to lack of innovation, lack of career growth prospects, and poor Management. Nevertheless, overall the company receives a 4 out of 5 Glassdoor rating, which is satisfactory, but some management issues remain in place. The leadership team has an average tenure of 3.8 years, and Nick still maintains a significant ownership position of 17% in the company, which provides a strong vote of confidence to investors as it aligns shareholders' interests. Despite the mismanagement in previous years, the new team now seems to deliver results, and I remain confident that the outlook will only get better from now onwards.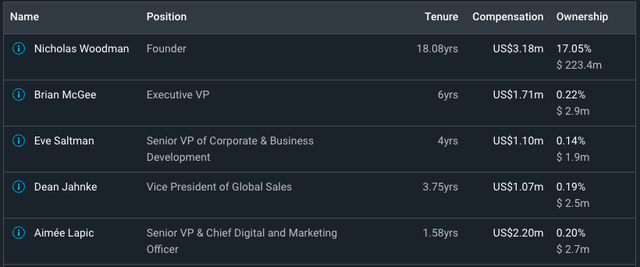 Focusing on its core products will drive Earnings
Unquestionably, we can not blame it all on Management, as the rise of smarter, more robust, and waterproof phones with super cameras have taken away market share from GPRO. However, trends such as video content creation are more real than ever, and it is here to stay. YouTubers, Vloggers, travelers, or even everyday people who seek better video experiences are choosing GoPro as their primary supplier for video shooting.
For a more complete and balanced review, I have watched several videos comparing GoPro Hero 10 with iPhone 13 Pro Max and other professional camera options such as Canon, Sony, and Nikon. Certainly, GoPro cannot beat any leading camera name in terms of photo shooting ability but remains the leader in action camera video shooting. After all, GPRO serves a specific market niche in which it is an undisputed global leader.
Statista suggests that the action camera market niche will register an 8.3% CAGR through 2028, reaching $ 4.4 billion. Remarkably, GPRO achieved an outstanding market share of 38% in 2020, and it is well poised to capitalize on the future growth ahead. Thus, assuming that the company's market share hovers around 35% by 2028, GPRO's revenue will reach $ 1.54 billion or a CAGR of almost 5%. Notably, subscription-based revenues are not accounted for and are expected to grow in line with hardware sales.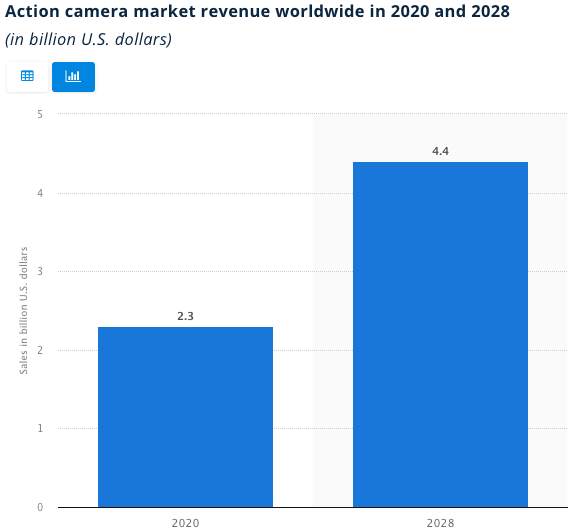 There is a clear strategic direction now, with the Management focusing on its core products, with more plans to increase its camera offering by the end of 2023. During the latest earnings call, the CEO has noted that they plan to add another two new cameras products beyond the HERO and MAX series.
Even though the company spent a phenomenal $ 359 million in R&D back in 2016, accounting for 30% of its revenues, there are no signs that historic R&D spending produced the desired results. This is mainly attributable to the fact that the company tried to diversify its operations by investing in drones and the media business. Unfortunately, those actions ended up 'diworsifying' the company's assets and have taken away valuable resources from its core products. However, the company's R&D to revenue has stabilized around the 12% -15% range, but most importantly, the company now remains laser-focused on improving and expanding its camera offerings, understanding its customers, and delivering superior products and services.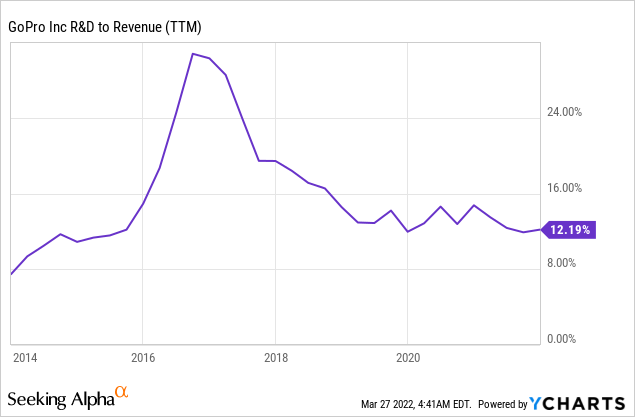 Another positive sign, the average selling price (ASP) has increased by 31.8% since 2019 and recorded another 16.7% jump in 2021. The consistent YoY price increases signal strong pricing power and an excellent economic moat for the company. Moreover, the market is excited about the company's adoption of a subscription-centric approach and higher penetration of the DTC channel. Therefore, a complete ecosystem with advanced hardware, accessories, apps, and cloud storage services will provide the company with a more balanced and diversified product portfolio which would support its sustainability for the long term.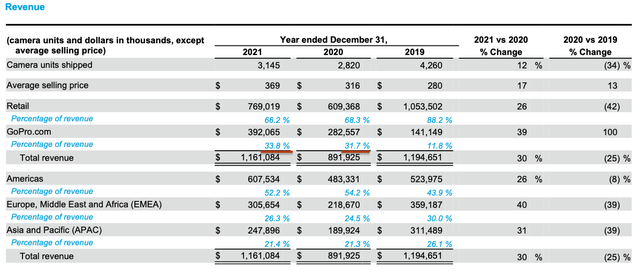 Can share Buybacks counterbalance Dilution?
Bearers argue that the stock-based compensation (SBC) creates substantial dilution for current investors. Indeed, the SBC expenses peaked in 2015, when they reached $ 81 million, but the company has used its strong cash flow generation to buy back shares as a counterbalance measure. On the contrary, in 2021, the SBC stands at nearly $ 39 million, and the company has resumed its intense buyback activity authorizing a repurchase program of $ 100 million. Such a program represents around 8% of the current market cap and makes it reasonable to assume that it will primarily address any dilution concern in the medium term. In the Q4-2021 earnings call Brian McGee (CFO / COO) has noted:
So it's well earned for the employees of the company, so congrats to them. We still do our standard share issuance to employees, and the buyback in part is intended to, at a minimum, cover that dilution. And if we can generate enough cash flow, we can take it down further. So we have that opportunity.
Last but not least, from a capital allocation perspective, it is a prudent decision as the company remains undervalued. Thus any buyback activity at such share price levels is expected to be value-enhancing in the long run.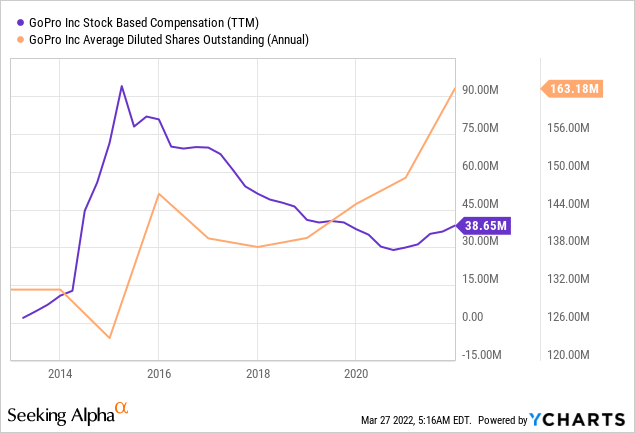 GPRO Offers Wide Margin of Safety
For GPRO's fair value determination, I have used a six-year growth period matching my earlier assumption for revenue CAGR at 5%. Notably, this figure is conservative as it does not account for the growth from subscription-based services. In addition, considering the company's risks with reliance primarily on two hardware products and intense competition from technologically advanced and cheaper Chinese alternatives, I assign a 15% discount rate which is my required rate of return for high-risk investments.
The model suggests an intrinsic value of $ 17.91, implying an upside potential of 114% for GPRO and a wide margin of safety at 53%. As a result, despite the company's idiosyncratic risks, the current share price provides for an attractive entry point.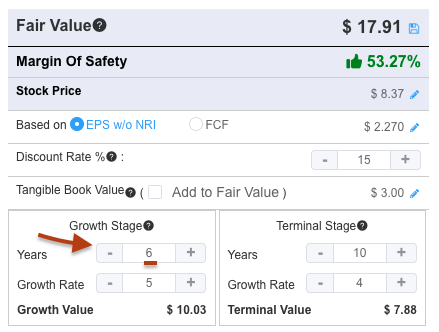 Conclusion
The market is watching GPRO closely, and any positive surprise in the upcoming earnings results in May is expected to attract more bulls that will support the share price upward trajectory. To conclude, GPRO offers a favorable risk / reward profile with limited downside risk, and I plan to open my first position in the next 48 hours, but due to the company's unique risks, I would not overweight it.