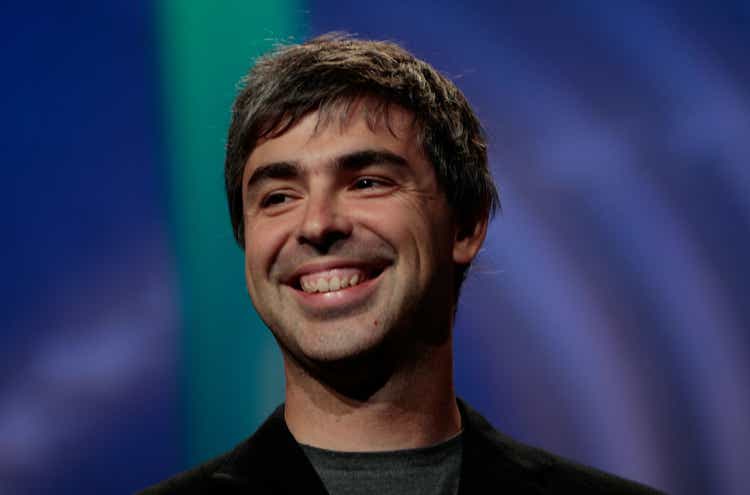 Alphabet (NASDAQ: GOOG) stock is among the best-performing big tech stocks of 2022. One of the few advertising businesses to avoid being slapped by Apple's (AAPL) app tracking transparency policy, it absolutely crushed fourth quarter earnings. Beating on both the top and bottom line, it handily exceeded Wall Street's expectations. Google immediately rallied following the release, though it later gave up the gains, as broader tech sector selling overwhelmed the effect of earnings.
When a stock makes up a large percentage of an index like Google does the S&P 500, ETF selling can take it lower even when sentiment is strong. It appears that something like that happened with Google following its Q4 earnings release. At the same time that GOOG was beating on earnings, Meta Platforms (FB) and Netflix (NFLX) were in the midst of huge drawdowns that likely pulled the NASDAQ-100 down with them. The end result was that GOOG sold off slightly in the weeks after its earnings release, even though its earnings and outlook were both solid.
Today, Google remains substantially down from its all-time highs. On the day of this writing, it closed at $ 2,765, down 6.5% from the high. The stock made some gains in the weeks prior to this article being written, but remained down for the year.
So, we have a quality stock getting cheaper while at the same time growing its earnings. In the most recent quarter, GOOG earned $ 75 billion in revenue, up 32%, and $ 30.70 in EPS, up 37%. Very strong growth, yet GOOG stock is actually down from the period before the earnings being released.
No doubt, rising interest rates played a role in this. When interest rates rise, the present value of future cash flows is reduced. The higher the growth rate in the cash flows, the more severe the percentage impact. So, it is not necessarily "irrational" for GOOG stock to have gone down on strong earnings. The Federal Reserve went ahead and hiked interest rates 25 basis points in March, and has plans for six more hikes.
All that being said, there is reason to believe that Google could keep exceeding expectations well into the future. Interest rate hikes may take a bite out of expected future growth, but growth ahead of expectations is another story. If a company is actively beating analyst estimates in a rate-hiking period, it may still rise. And in Google's case, there is reason to believe that that is happening. Not only is Google in an industry that's experiencing above-average growth, it also has a solid competitive position within its industry, which could lead to growth ahead of industry averages. As I'll show in this article, GOOG enjoys not one, but two economic moats in the tech sector, an advantage that none of its competitors can match. For this reason, the company is likely to grow and be wildly profitable for the foreseeable future.
Sources of Moats
Before exploring Google's economic moats, it helps to understand where such moats can come from. According to Morningstar, a moat is a company's ability to "keep competitors at bay for an extended period." In other words, it is a durable competitive advantage.
Where can such an advantage come from?
There are five commonly cited sources:
Network effects. This is when the existing user-base of a product becomes an advantage in itself. For example, a social media platform with a lot of users enjoys network effects, because the existing user-base provides an incentive for new users to join. This phenomenon is widely thought to have contributed to Facebook's early growth.

Pricing. Companies that offer lower prices than their competitors often enjoy greater sales.

Brands. A strong brand identity can keep customers coming back to a specific vendor just out of affinity with them. Often cited examples of this include Apple (AAPL) and Nike (NKE).

Barriers to entry and exit. Barriers to entry keep competitors out of the market, high switching costs keep customers in it. An example of a high barrier to entry is found in utilities, an industry you need a lot of government approvals to operate in. An example of a high switching cost is a cancellation fee that a cellular carrier might charge you for dropping them.

Technical advantages. A technical advantage is when a company offers technical capacity that nobody else does. A classic example here is ASML (ASML), which is widely thought to be way ahead of anybody else in EUV Machines.
So, there are many sources of economic moats. And it just so happens that Google enjoys at least two of the ones listed above: technical advantages and pricing.
Google Search: Effortless Targeting
The first must Google enjoys is in online advertising. This is the "technical advantage" I just mentioned. Google is one of the few platforms that allows instant targeting. That is, serving ads to customers without knowing anything about them beforehand. When a customer searches for something in Google.com, Google instantly knows what they're looking for. This allows Google to show them an ad immediately, based on what they searched for. This kind of targeting does not require collecting immense amounts of data on the user before hand. Having such data certainly helps – for example, it can facilitate showing an ad that's geographically as well as topically relevant. But it is not necessary.
To test this out, I went ahead and did a Google search for something I have no interest in: diamond rings. I have never searched for anything remotely similar to this in my life. Yet Google was able to show me a targeted ad relevant to my query, which you can see below.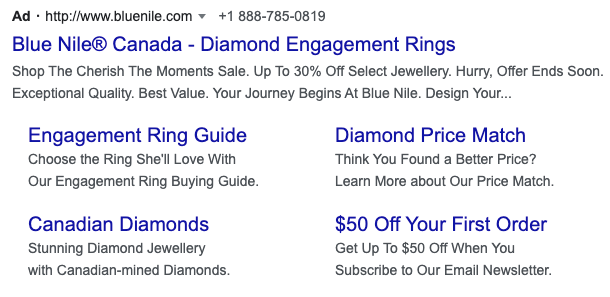 Google is one of the few companies that allows such instant targeting. Social media sites like Facebook and Twitter (TWTR), by contrast, require much more data on the customer before they can target an ad. Those sites do have search bars, but they're mostly used to search for people, not things. So, they're not as helpful for targeting ads compared to Google's search.
As proof of this, consider what I got when I searched for "Diamond ring" in Twitter.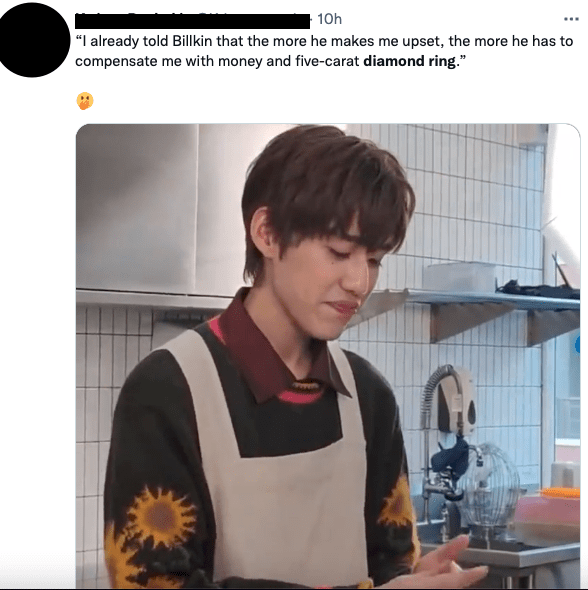 As you can see, it's just a post by a user. There was no advertisement shown anywhere in the search results. And it's a similar story with most social platforms. Because they are not used for intent-driven queries as much as Google is, they depend much more on data tracking. When they can not track data – as is the case on post-ATT IOS devices – clickthrough rates suffer. As a result, Google charges much higher prices per click than its competitors.
Android Download in King of Budget Category
The second must Google enjoys is in pricing. That is, the pricing of smartphones that run on Android. Currently, Android has a 72.2% market share in smartphones globally, while Apple enjoys 23%. Apple takes the lead in revenue, because it dominates the wealthy US market. But Google's position in the "budget" end of the smartphone market is rock solid. Google licenses its Android operating system to phone manufacturers around the world. IOS only runs on Apple devices. Because of its business model, Google pretty much has the low end of the smartphone industry locked down. Smartphones can cost as little as $ 120. The cheapest 2022 iPhone is $ 429. So customers who want smartphones cheaper than $ 429 have to go with Android devices. There simply aren't any Apple devices available in their price range (apart from used ones).
Financials and Valuation
Having looked at Google's competitive position, we can now turn to its financials and valuation. Alphabet's most recent quarter was excellent, with the following numbers stealing the show:
$ 75 billion in revenue, up 32%.

$ 21.8 billion in EBIT, up 39%.

$ 20.6 billion in net income, up 35%.

$ 30.7 in EPS, up 37%.

$ 24.9 billion in cash from operations, up 9.8%.
Very solid results. Not only were the growth rates strong, but $ 20.6 billion in earnings on $ 75 billion in revenue yields a 27.4% net margin – so profitability is off the charts too.
Speaking of strong, GOOG's long term growth rates are strong as well. According to Seeking Alpha Quant, its five year CAGR growth rates in revenue, earnings and free cash flow are:
Revenue: 23.34%.

EPS: 32.1%.

Free cash flow: 20%.
Incredible growth. If you take even the slowest-growing of GOOG's headline metrics – FCF – it would double in a mere four years if the growth were to continue. Of course, it's never certain that strong growth will actually continue. But recall the above analysis of Google's moats. The company has not one, but two moats, and they're both in fast growing industries. So, this company could keep cranking out market-beating growth for several more years.
This gets all the more enticing when we look at GOOG's valuation. At today's prices, the stock trades at 25 times earnings, 7.25 times sales, and 20 times operating cash flow. Earnings growing at 32% double in about two and a half years. Cash flow growing at 20% doubles in four. So if Google maintains its recent growth rates and its stock price does not move, its P / E comes down to 12.5 in two and a half years, and the cash flow multiples comes down to 10 in four years. It is historically unusual for fast growing stocks to trade at such multiples, so stock price appreciation is likely.
Risks and Challenges
As we've seen, Google is a fast-growing, ultra-profitable, big-time company. Its stock certainly looks like a buy. Indeed, it is, for me at least. However, there are two risks and challenges to look out for:
Anti-trust risks. Google is, like many other tech giants, being investigated for anti-trust infractions. It has been fined and sued before. For example, it was recently ordered to pay out € 4.34-billion to the EU in the form of a fine. That specific fine is being appealed, so the jury is still out. But a company with as strong a competitive position as Google is always vulnerable to anti-trust action. Particularly if it is perceived as being politically controversial.

Interest rates. The Federal Reserve is currently in the process of raising interest rates. Higher interest rates are generally thought to make high-growth tech stocks less attractive, all other things the same. When interest rates go up, the present value of cash flows is reduced – the higher the growth in the cash flows, the greater the percentage reduction. If Google beats analyst estimates, then its stock may rise even with interest rates rising. But with the Federal Funds Rate expected to hit 2.75% by year end, it will be a hard act to pull off.
These risks and challenges are worth bearing in mind. Nevertheless, Google has a rock solid competitive position that provides a great foundation for it to blow past expectations. In my judgment, it's one of the best mega-caps out there today.