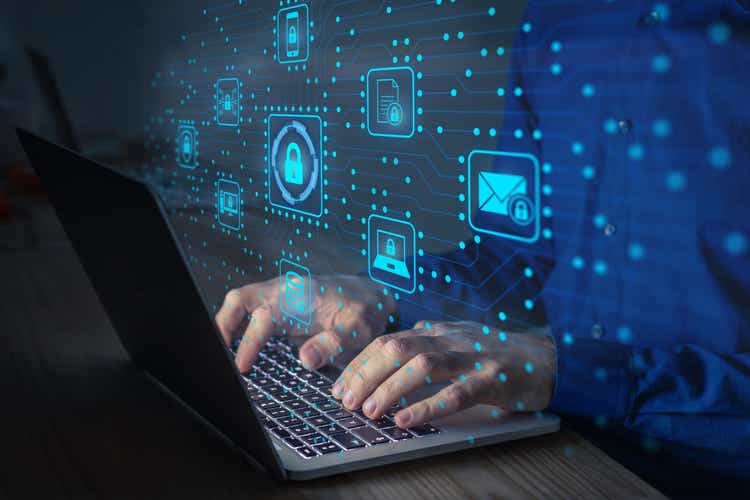 Investment Thesis
Cybersecurity provides protection against phishing, malware, ransomware, cyber fraud, identity theft, cyber theft, cyber-attacks, and other types of cybercrime. Cybersecurity is a persistent global concern, affecting both public and private sector entities seeking to protect against the increased risk of ransomware attacks and other online threats. The realm of cybersecurity extends far beyond personal computers, reaching an ever-multiplying number of devices and applications. This provides an interesting investment opportunity in a market with strong tailwinds. Forecasts suggest the global cybersecurity market could grow from nearly $ 180bn in 2021 to more than $ 370bn by 2028, registering a CAGR of ~ 13%. In this article, I will be reviewing the Global X Cybersecurity ETF (NYSEARCA: BUG) which invests in a basket of cybersecurity stocks.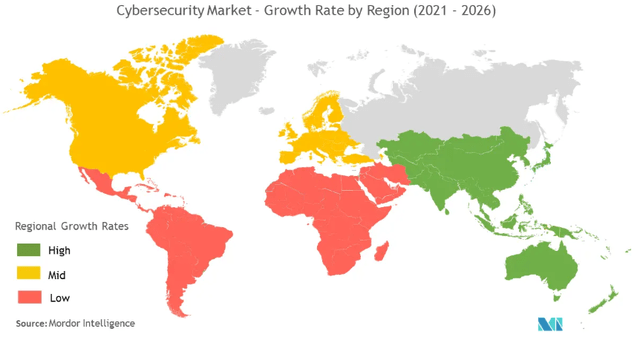 Strategy Details
The Global X Cybersecurity ETF tracks the Indxx Cybersecurity Index. The strategy seeks to invest in companies that stand to benefit from the increased adoption of cybersecurity technology, such as those whose principal business is in the development and management of security protocols preventing intrusion and attacks to systems, networks, applications, computers, and mobile devices .
If you want to learn more about the strategy, please click here.
Portfolio Composition
From the sector allocation chart below, we can see the index places a high weight on the information technology sector (representing around 98.1% of the index), followed by communication services (accounting for 1.6% of the index) and industrials (representing around 0.3 % of the fund). The largest three sectors have a combined allocation of approximately 100%. Unsurprisingly, the strategy is tilted towards tech stocks. These stocks generally have high betas, thus I think it is important to see if you are comfortable with a higher level of volatility before purchasing BUG.

In terms of geographical allocation, the top six countries represent approximately 100% of the portfolio. The United States accounts for 66.8% whereas other countries such as Canada seem to be underrepresented given the low weight (only a 0.4% allocation to Canada).

BUG invests over 29% of the funds into small-cap growth issuers, characterized as small-sized companies where growth characteristics predominate. Small-cap issuers are generally defined as companies with a market capitalization below $ 2 billion. The second-largest allocation is large-cap growth equities. It is interesting to see that BUG allocates approximately 43% of the funds to small-cap issuers, which generally have a larger runway to grow than large-cap issuers and can therefore compound at a higher rate.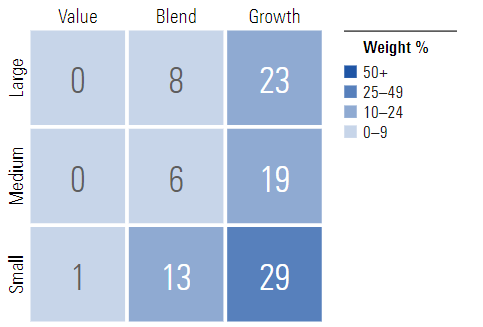 The fund is currently invested in 32 different stocks. The top ten holdings account for 58% of the portfolio, with no single stock weighting more than 8%. All in all, I would say that BUG is pretty well-diversified across issuers.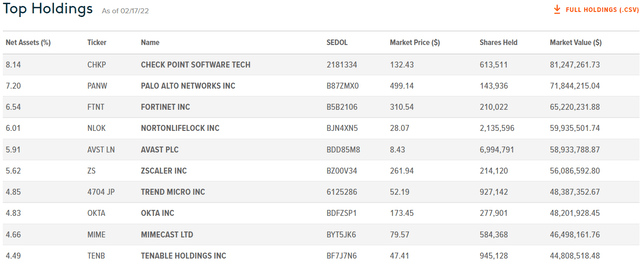 Since we are dealing with equities, one important characteristic is the portfolio's valuation. According to Global X ETFs, the fund currently trades at an average price-to-book ratio of 10.5 and an average price-to-earnings ratio of ~ 46. In addition to that, the portfolio has a return on equity of 24.50%. I generally consider a company trading at a price-to-earnings ratio above 20 to be richly valued. That said, I think there are some exceptions where you can pay a premium for an outstanding business that delivers a high return on capital and has good growth prospects. In BUG's case, these companies have an excellent return on equity on average (close to 24.50%) and that could explain why the market is ready to pay a premium for these businesses. However, valuations are very important, especially going into the tightening cycle, and I think it is hard for many constituents to justify such high multiples.
Is This ETF Right for Me?
I have compared below the price performance of BUG against the performance of the Invesco QQQ ETF (NYSEARCA: QQQ) over the last 2 years to assess which one was a better investment. Over that period, BUG outperformed QQQ by a ~ 7 percentage points margin.
To put BUG's performance into perspective, a $ 100 investment in this ETF at its inception would now be worth ~ $ 174.5. This represents a compound annual growth rate of ~ 12% which is a good absolute return. That said, I do not think past returns are a good indicator of future returns, especially in BUG's case which trades at a lofty valuation.
As the NASDAQ 100 is heavily tilted towards tech stocks, the correlation between the two strategies is very high. Even if BUG has strong growth prospects in the long term, I expect a lot of volatility in the short term as central banks around the world are starting to withdraw liquidity from the system.

Key Takeaways
In my opinion, the Tech sector, and especially cybersecurity, is going to continue on a strong growth trajectory. BUG provides exposure to a basket of fast-growing international stocks that are primarily focused on cybersecurity. Unsurprisingly, BUG is highly concentrated in tech stocks, and its returns are therefore strongly correlated to tech indices. Given the fact that many constituents trade at a high multiple and that central banks around the world are starting to withdraw liquidity from the system, I do not see any reason why the recent level of volatility will go away over the next few months. I would personally be patient and wait for a larger pullback before buying BUG.