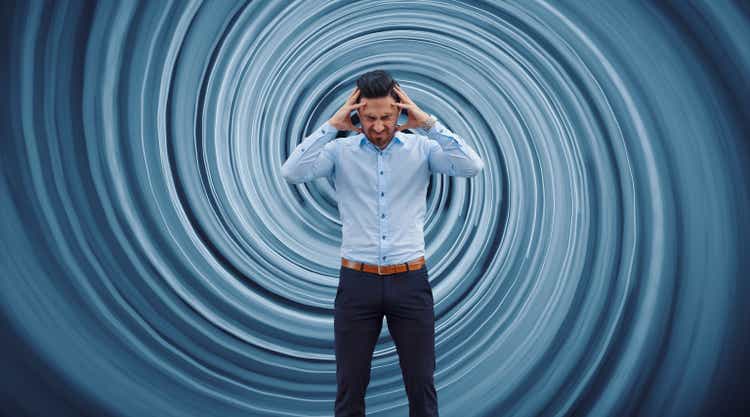 I have covered Gilead extensively over the last half dozen years. It has had a tough road following its heroic vanquishing of HCV. Since that time Gilead (GILD) has been a veritable Joe Btfsplk, never able to break out to the upside.
In this article I will discuss its latest dilemmas as updated during its recent Q4, 2021 conference call which saw slumping shares despite top and bottom line beats.
Gilead's lenacapavir holds remain in place blocking a key growth asset.
On 12/21/2021, Gilead issued a release with the headline:
… Clinical Hold on Studies Evaluating Injectable Lenacapavir for HIV Treatment and Prevention Due to Vial Quality Concerns
This was not the type of glad tidings that shareholders look for during the Christmas season; nonetheless the market pretty well shrugged it off with no noticeable change in share price or volume.
Moving forward to Gilead's Q4, 2021 earnings call, we get an update on this hold. CMO Parsey emphasized that the hold was not concerned with the molecule. Rather the concern has to do with the compatibility of the molecule with the vials used in its injection. That is the good news.
The discouraging news is that the project is now at the stage where the company is in talks on how to best remediate the situation. No time line for resolution has been given, however he did confirm the expectation for:
… an FDA decision for lenacapavir in heavily treatment experienced individuals in the first half of 2022. If successful, lenacapavir will become the first available six-month, long-acting subcutaneous injection for the treatment of HIV.
This is important. Gilead's 06/2021 NDA for lenacapavir as a long acting agent in the treatment of HIV-1 infection in heavily treatment-experienced [HTE] people with multi-drug resistant [MDR] HIV-1 infection is an important one. In Gilead's Q4, 2021 earnings presentation (the "Presentation"), it was listed as Gilead's major upcoming near term catalyst as shown by the slide below: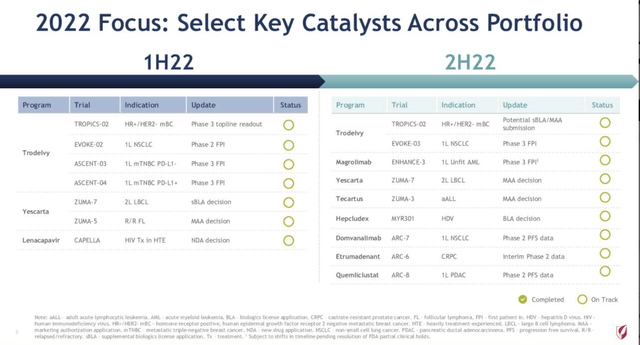 Yes, there are two more Yescarta sBLA's expected during the same time frame. Unfortunately, cell therapy is a therapeutic success, with multiple FDA approvals, which barely moves the needle in terms of revenues as reflected by Presentation slide 6.
While cell therapy has so far been a financial bust for Gilead, its HIV franchise makes up the bulk of Gilead's revenues. It is critical to the company's ongoing health to keep this franchise fresh and up to date. Lenacapavir, with patents expiring in 2037, is expected to play a critical role in this regard; so many other Gilead products are running up against far nearer term expirations as shown by tables on p. 8 of Gilead's 2022 10-K.
On 03/01/2022, the FDA added to Gilead's lenacapavir woes. It formalized and extended the vial issue by slapping Gilead's lenacapavir NDA with a CRL. According to Gilead's announcement, it does not appear that the CRL is raising new issues. Nonetheless, it adds a new, albeit related, administrative hurdle to Gilead's lenacapavir NDA approval track.
Should we look for a lenacapavir launch by close of 2022? Before the hold, definitely. Now, it seems quite unlikely. CRL's delay a products' launch by an average of 14 months.
Let's give Gilead the benefit of the doubt on this one since it is a discrete issue unrelated to the trial's therapeutic response. Lenacapavir's PDUFA date had been 02/28/2022. Gilead will surely do everything in its power to get this critical much needed therapy on the market. It might have been earning significant revenues for the company in 2022. Now revenues are put off for several quarters; perhaps a year or more.
Magrolimab, Gilead's top late stage candidate, is under a recently imposed partial clinical hold.
Gilead's pipeline is shown by its Presentation slide 23 below: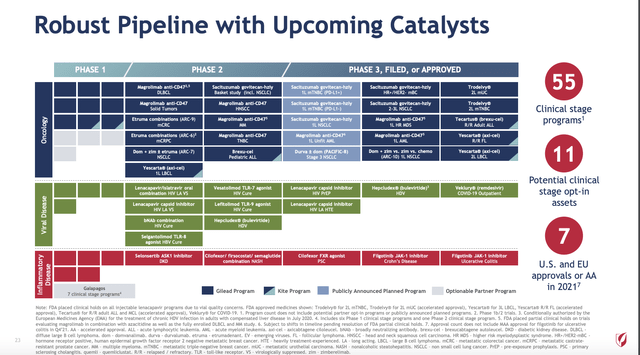 Magrolimab (monoclonal antibody against CD47 and a macrophage checkpoint inhibitor) takes up five of the phase 2 and three of the phase 3 trials listed. As such it is clearly Gilead's top late stage investigational therapy.
The Presentation sets out the current posture of its magrolimab program as follows: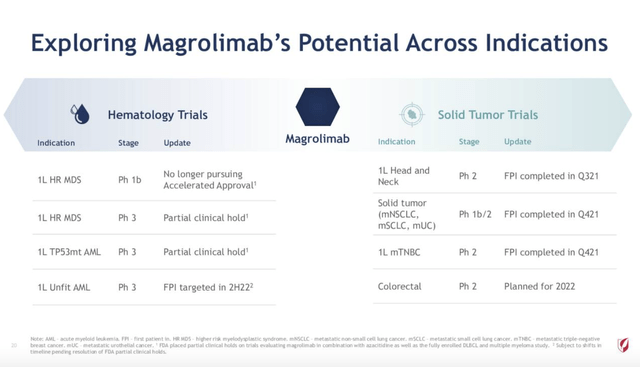 The first announcement of a magrolimab clinical hold came on 01/25/2022. It came in the form of a Gilead press release relating to studies evaluating magrolimab in combination with azacitidine. The hold was partial; it did not preclude patients from taking the study drug and it did not impact other magrolimab studies.
The hold is, however, directed at "an apparent imbalance in investigator-reported suspected unexpected serious adverse reactions (SUSARs) between study arms". It sounds like a difficult and important issue to untangle insofar as it impacts magrolimab's safety.
Gilead's Q4, 2021 earnings call included more on magrolimab. Additional clinical holds were put on its Phase 2 multiple myeloma study and the fully enrolled Phase 2 DLBCL study. Treatment was still allowed to continue in other magrolimab studies and compassionate use programs remained open.
In response to an earnings call question, Parsey explained why the two subsequently announced magrolimab holds were of little consequence beyond the initial hold. As for magrolimab generally, he noted:
We are working with FDA to take a comprehensive look at the safety data, and we will share the outcome as quickly as we can. In the meantime, we remain committed to the magrolimab development program and believe that it has the potential to address an important unmet medical need in these seriously ill patients.
Gilead's finances are strong, yet its repeated miscues are distressing for investors.
Gilead is a dividend stalwart. It has been steadily raising its dividend since 2015, with its most recent raise announced on 02/01/2022, increasing it 2.8% to $ 0.71 per share. Its Seeking Alpha dividend report card is strong. It provides a yield of> 4.5% and a payout ratio of <40%.
All good, there's only one problem; Gilead has had a horrendous jiggly share price trending down over the last five years as shown by its price chart below:
It's hard to imagine a more distressing chart. Every time Gilead seems to be mounting a serious charge upwards, it promptly falls back in exhaustion. Its overall five year return shown below is abysmal:

So Gilead has a terrible record for the last five years, what about its next five years?
They could be wonderful; Gilead's future is not ours to see. However the signs are mixed. Gilead's dividend is a nice consolation prize, but it does not compensate for the risk inherent in owning the stock. Shareholders want to see a viable path to future growth.
Seeking Alpha's quant ratings system provides an excellent approach to judging a stock's financial prospects based on its important financial metrics. As I write on 03/03/2022, Gilead's quant ratings grade for growth is a solid "F" as it has been for at least the past 6 months.
Its substantive prospects are less blatantly negative. Gilead's revenue pie chart below shows its important franchises: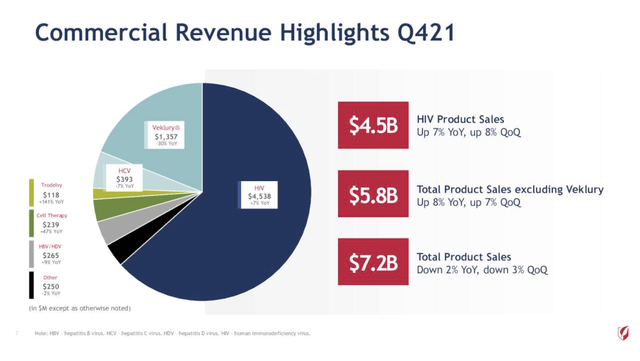 Its HIV franchise is by far its most important. It is growing at a satisfactory rate and provides ballast for Gilead's overall prospects. It has four blockbuster HIV therapies, Biktarvy ($ 8,624), Genvoya ($ 2,879), Descovy ($ 1,700), and Odefsey ($ 1,568) (revenue figures in billions of $ for 2021 shown in parenthesis). Biktarvy's US patent continues until 2033, Genvoya's until 2029. Both Descovy's and Odefsey's US patents are set to expire in 2025.
As for its next largest contributor outside of HIV, its COVID-19 therapy, Veklury (remdesivir), has performed yeomen's work in bolstering Gilead during the pandemic. But for Veklury, Gilead's 2021 revenues would have been marginally below its 2020 revenues. As I discussed at length in "Gilead: Whither Remdesivir?", It provides a marvelous shield during the pandemic. However, it is not a growth driver for Gilead.
Next we come to its magical HCV franchise that has been shrinking ever since the astronomical heights of its 2014-16 era. There are no prospects for ongoing HCV growth; Gilead has cured too many of those who had HCV.
Gilead's best hopes for meaningful future growth lie in adding indications to its:
cell therapy approvals for YESCARTA and TECARTUS so that it can gain scale in this franchise that is growing smartly from a small base as shown by Presentation slide 21,
Trodelvy whose already approved indications include unresectable locally advanced or metastatic triple-negative breast cancer (mTNBC) and certain metastatic urothelial cancers [MUC]with a strong framework of phase 3 trials coming up per Presentation slide 19,
lenacapavir has yet to garner an FDA approval, however once it gets unstuck from its hold and CRL lifted, Gilead has high hope for it as an HIV growth driver.
Conclusion
Gilead has been a troublesome hold for the last several years. It has yet to recover from its epic market cap expansion attributable to enthusiasm over its HCV successes.
As matters now stand, it is definitely a show me stock that has failed miserably to show reliable growth for an extended time. I remain personally optimistic on the name. I can see a path that would support a bullish future if it can succeed with its three potential growth drivers listed above.
This potential is insufficient to warrant a buy recommendation at this time. I rate it as a hold.