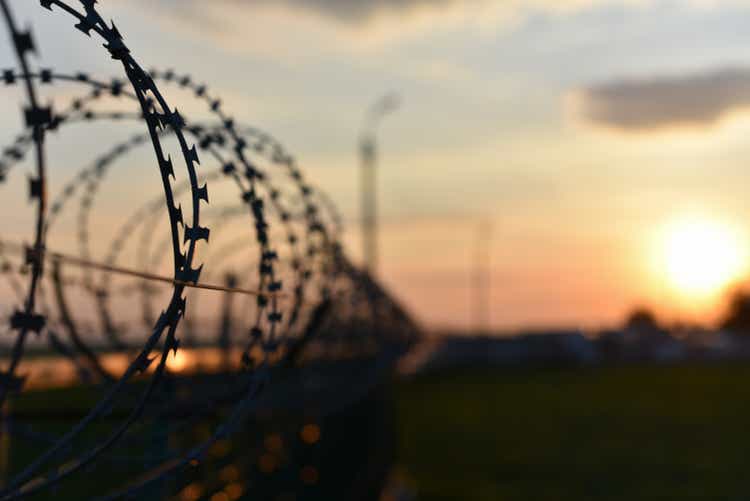 GEO Group Has Got Ample Cash Flow For A Deal
Given the FY2022 guidance, a successful out-of-court restructuring is almost a certainty at this point. In the previously disclosed cleansing material the term loan lenders asked for L + 775 bps with 100 bps floor (ie 8.75%) and $ 191 million cash paydown. I assume the revolving credit facility lender will ask for the same treatment. The bondholder ad hoc group asked for 9.5% coupon, 1-1.5% PIK interest, and different levels of cash paydown for the three senior unsecured bonds (50% for the 2023s and 5% for the 2024s). A quick modeling exercise would suggest that these terms are affordable to GEO (NYSE: GEO)but it's going to limit how much GEO can delever going forward.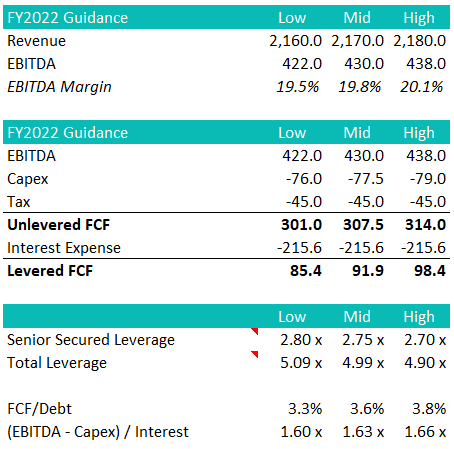 Accepting the ad hoc group's proposal would mean almost doubling the annual interest expense and leaving on $ 85-100 million levered free cash flow to delever the balance sheet in FY2022 (~ $ 130 million in the out years as all FCF are used to pay down the term loan and RCF, saving interest expenses). Under this scenario, the total net leverage will drop by 0.6x from the current 5.0x over the next 4 years.
While I do not believe this deleveraging trajectory is going to make the equity work in the long run, this does mean that GEO can afford to take the most punitive deal and still leave itself with some free cash flow to delever slowly. In anticipating a relief rally from the removal of this debt restructuring overhang, I'm covering my GEO short position. This does not necessarily mean that I recommend rewinding this pair trade (+ 14% YTD) because I still see CXW outperforming GEO in the medium-to-long term. In effect I'm changing from a market neutral position to a net long position.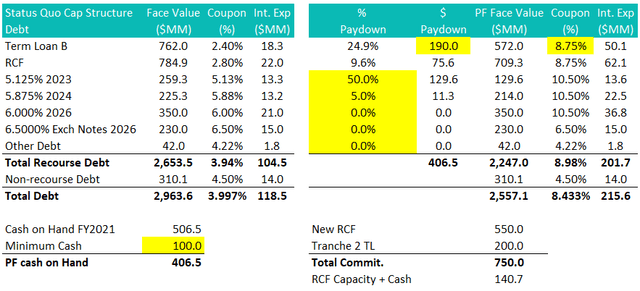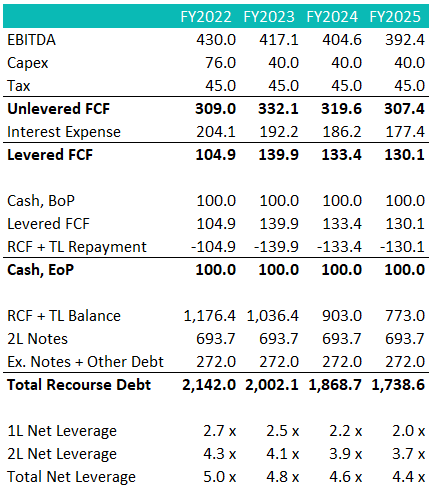 Source: Investor Presentation and Author's Estimates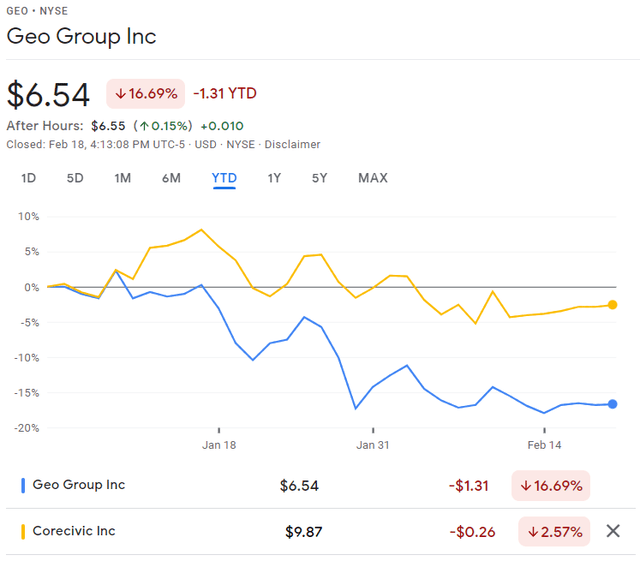 Source: Google Finance
Where I see Terms Will Be Settled
While everything is still possible, we generally know the starting points of the two sides and I believe the final terms will be somewhere in the middle but favoring the creditors as GEO does not really have much negotiation power. I do not believe the term lenders will accept anything lower than 7% coupon but perhaps they will accept a lower cash paydown (I assumed $ 130 million) to give GEO more liquidity. The bondholders asked for + 1.75% for being in the second lien position behind the term loan and RCF, which translates to an 8.75% coupon.
I think the 7% and 8.75% coupon are fair given the near-term COVID-related occupancy risk and the lingering political risk. This also gives GEO ample liquidity (~ $ 200 million) and an opportunity to pay down debt. Admittedly, the deleveraging will still take place at a slow pace but at least GEO has a line of sight to 1.5x first lien leverage and 4.0x total net leverage, both are healthy leverage ratios, in 4 years. Note that I'm also assuming a 3% YoY EBITDA decrease. If I assume EBITDA stays flat at $ 430, the 1.5x and 4.0x leverage ratio can be achieved in 3 years.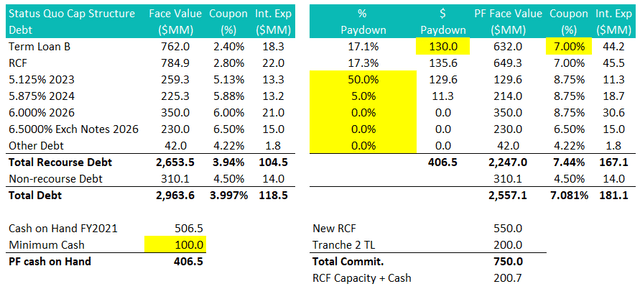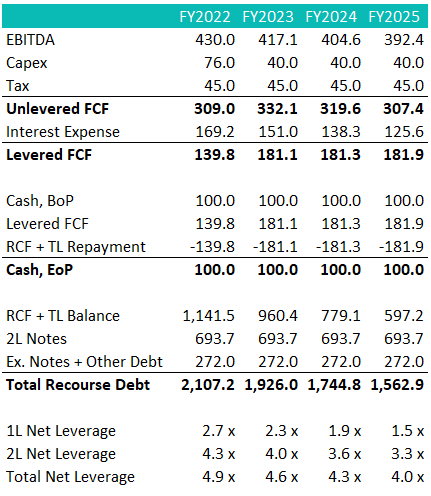 Source: Investor Presentation and Author's Estimates
Conclusion
GEO can afford the most punitive terms but it just means that it will not be able to delever very fast. I believe the secured lenders will accept a coupon that's fair for the fundamental risk while giving GEO some room to pay down the secured debt in a reasonable timeframe – a 7% coupon will enable GEO to reduce the first lien leverage from the current 2.7x to 1.5x in 4 years. I expect the bondholders will just add 1.75-2% on top for being junior to the term loan and RCF. In any scenario, I do not see how GEO is able to return any capital to shareholders in the next few years, but I'm (partially) covering my GEO short position in anticipation of a successful out-of-court restructuring in the near term.