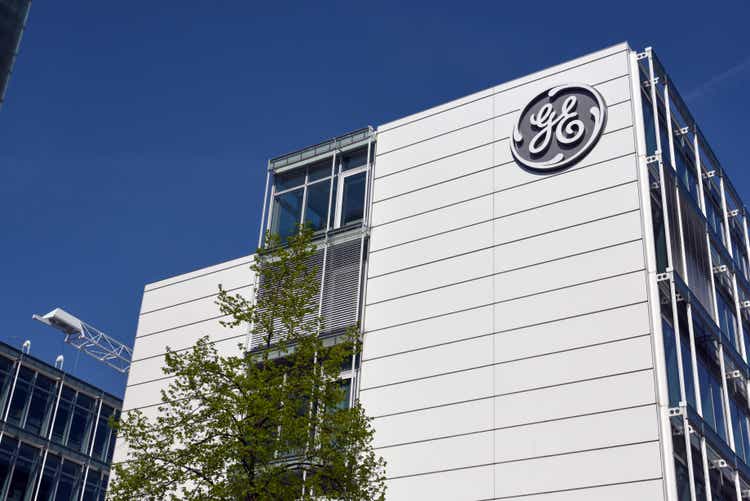 Last week, General Electric Company (GE) announced to the market that its board of directors had authorized a $ 3 billion stock repurchase. The stock initially reacted positively to the announcement, but General Electric is still in the midst of a year-long restructuring and transformation process.
The buyback represents approximately 3% of General Electric's outstanding stock. To rekindle investor interest in the company, the conglomerate will need to do much more than simply repurchase back stock.
General Electric's Stock Performance Is Heart-Breaking
For years, General Electric has struggled to turn around its various businesses and achieve consistent profitability. I recently argued that General Electric's transformation has been ongoing for what seems like an eternity, and I even referred to the conglomerate's proposed split into three distinct businesses as a 'perpetual restructuring'.
To raise cash, General Electric has sold many of its most appealing businesses, including the jet leasing unit, to other companies over the last five years. The proceeds from asset sales were primarily used to pay down General Electric's large financial debt, which had accumulated over time as a result of a series of hastily conducted acquisitions.
Investors are still paying for General Electric's past mistakes. A $ 10k investment in General Electric stock a decade ago would be worth only $ 7.6K today, resulting in a $ 2.3K loss. The stock performance of General Electric has been heartbreaking, and I see few reasons why this will change in the coming years.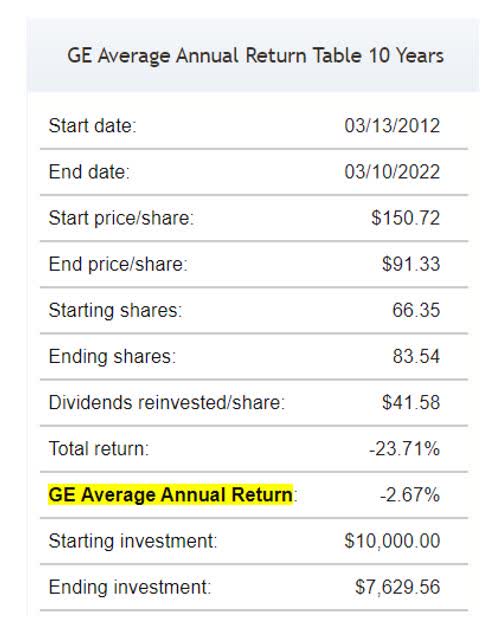 Ongoing Business Transformation
General Electric intends to spin off its healthcare business in 2024 while keeping a 20% stake in it. The renewable and power businesses will be combined to form a $ 33 billion revenue powerhouse, which will be spun off a year before the health-care unit.
What will remain of General Electric is an aviation-focused core business with approximately $ 21 billion in revenue and rapid growth. When all spin-offs are completed and investors have a better understanding of how each individual business is performing, the full value of General Electric's individual businesses may not emerge until 2024.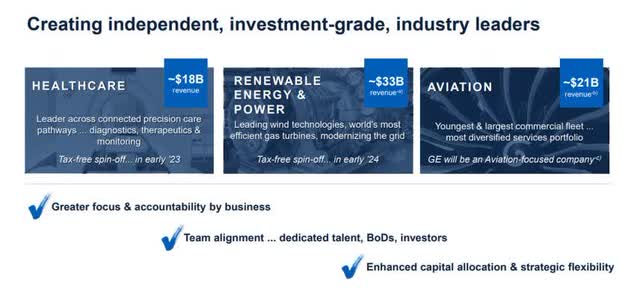 Stock Repurchase Is Not Enough
The board of directors of General Electric recently approved a $ 3 billion stock repurchase. Based on a $ 92.28 stock price, the $ 3 billion authorized stock repurchase implies that General Electric could repurchase approximately 3% of its outstanding shares.
I'm not sure why General Electric is announcing a stock buyback while the company is still restructuring. General Electric may want to give investors who are frustrated with the company's underperformance a reason to hold on to the stock as it completes its business transformation.
Outlook For 2022
In 2022, General Electric expects organic revenue growth to be in the high single digits. The most robust growth is expected in the aviation industry, which is expected to grow by more than 20% organically in 2022. With the exception of renewable energy, all of General Electric's segments are expected to generate profits in 2022.
At its investor day last week, General Electric reaffirmed its forecast of $ 5.5 billion to $ 6.5 billion in Free Cash Flow in 2022 and more than $ 7.0 billion in 2023. The proposed $ 3 billion stock repurchase represents 50% of the expected Free Cash Flow for 2022.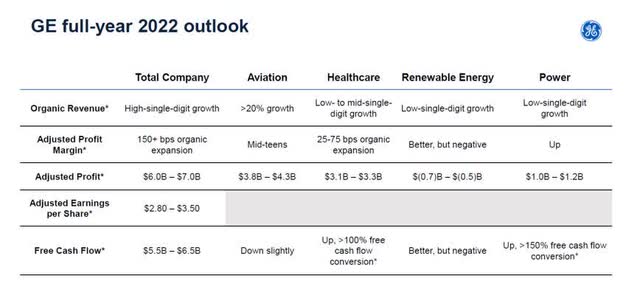 On a mid-point basis, the 2023 Free Cash Flow forecast of $ 7.0 billion translates into a Free Cash Flow multiple of 14.5. The FCF multiple is very high in comparison to the current state of General Electric's business transformation, and the stock buyback is insufficient to make a significant difference.
More Problems For General Electric
Aside from the ongoing restructuring, which has already been going on for years, supply-chain issues and inflationary threats could have an impact on General Electric's results. In response to the war, a couple of US companies, including General Electric, announced last week that they were suspending operations in Russia. Corporate sanctions imposed voluntarily may have a negative impact on General Electric's sales in 2022.
My Conclusion
The authorized $ 3 billion stock repurchase implies that General Electric, at its current valuation, can buy back about 3% of its outstanding shares. The stock repurchase represents roughly half of General Electric's expected Free Cash Flow in 2022. However, the buyback may not be large enough to have a positive impact on General Electric's stock price.
Investing in General Electric at this time is fraught with risk, and the conglomerate's quarterly revenue declines remain a source of concern.
General Electric's stock also appears to be overpriced, given that the company is still years away from completing its proposed division into three distinct business units. General Electric is likely to be difficult to value until the spin-offs are fully completed in 2024, and the stock may not move much until then.