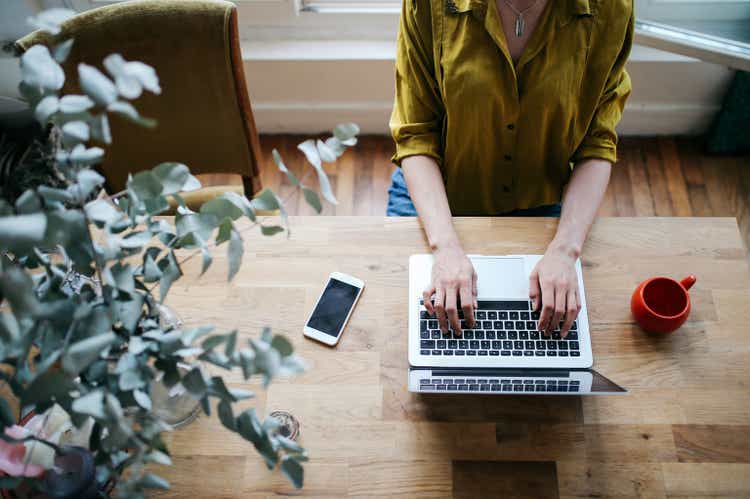 Investment Thesis
Fiverr (NYSE: FVRR) is a good company, but investors have been too blinded by the growth prospects to see how overvalued FVRR truly is. Despite being beaten down by a prolonged sell-off, FVRR's price is still too high to be considered a buy.
Industry Overview
Fiverr is an online marketplace for freelancers, and the industry that it operates in is set to grow rapidly over the coming years. The global freelancing market is expected to grow at a 15.3% CAGR from 2021 to 2026. While this growth is impressive in its own right, the American freelance market has led the charge with total revenues growing at 78% CAGR since 2013. As technology continues to revolutionize worker capabilities and communications, more people are packing out their offices in favor of the free, work-at-home lifestyle that freelancing can provide. As facilitators of this shifting dynamic, companies like FVRR can profit greatly as industry leaders.
The Bull Case for Fiverr
FVRR seeks to become the "talent cloud solution" for freelancers and businesses alike, connecting these parties while also providing an array of tools to embed itself in the full process. Their business model relies on a system of fees in which the buyers pay a 5% service fee on top of the "Gig" price when a purchase is made and the sellers receive 80% of the Gig price for their services, with the remaining 20 % going to FVRR. This model, while simple, produces a powerful "flywheel effect" in which growth exponentially contributes to more growth. As more buyers join, they bring in more jobs, attracting more sellers and fueling a constant cycle of growth as a result.
Investors fell in love with FVRR following COVID-19 as the company began churning out impressive financials and remarkable growth projections, and some of this sentiment is right. FVRR's revenues have grown at a 3-year CAGR of 58% with projections for the next three years hovering around 25% CAGR. Its gross margins have slowly increased for the last few years to the handsome 82.6% FVRR reported for 2021. Although the company has yet to report profitability, they are expected to turn their first GAAP profitable year by the end of 2022.
Importantly, the company's model is successfully attracting valuable customers as well. 4.2 million active buyers were reported in their Q4 2021 earnings call, up from 3.4 million a year prior. Spending per buyer increased to $ 242 per buyer as well, up from $ 205 the year prior. Take rate increased as well, with the company reporting a 29.2% take rate in that quarter compared to 27.1% from Q4 2020. These statistics cannot help but validate FVRR's business model and inspire great investor confidence in management's performance thus far, making it no secret why investors have fallen in love with the company.
So great was investors' love for FVRR that the company swiftly found itself in a bubble by the end of 2020. FVRR profited greatly after the onset of COVID-19 as mass amounts of workers sought to outsource their labor as they remained locked down in their homes. As a result, the stock price exploded to an all-time high of $ 323 per share up from its $ 31 IPO. Unfortunately, the bubble burst, sending the stock price down a prolonged sell-off. In 2021, the stock lost 43% of its value. Today, it sits at $ 75.46 per share.

Growth Does Not Justify Current Valuation
Nearly every analyst that has recently covered this stock has taken this sell-off as an opportunity to buy into a successful growth company, but every valuation ratio indicates that FVRR is still very overvalued. So much so that I do not understand how such numbers can be ignored. FVRR's price to book ratio is 7.39, total enterprise value to forward EBITDA is 80.07 (its sector average is 9.23), enterprise value to sales is 8.3 (sector average is 1.32), price to forward earnings is 96.58 (sector average is 13.36), and price to sales is 8.72 (sector average is 1.03). Nearly every valuation metric suggests that FVRR is priced roughly 8 times higher than other consumer discretionary companies.
The most concerning ratio in my opinion is the 96.58 price to forward earnings. This particular figure was derived from the company's projected $ 30 million non-GAAP EBITDA in 2022. Clearly, 96.58 is an extremely generous valuation, even for a company that is doing as well as FVRR. To give some perspective, FVRR's EBITDA is projected to grow to $ 59.86 and $ 94.34 million by the ends of 2023 and 2024 respectively.
Yes, this is a solid growth rate. However, if FVRR's stock price stayed at $ 75 for nearly the next two years, only then would its price to forward earnings reach a reasonable figure at around 30 based off their projected $ 94.34 million EBITDA in 2024. This suggests to me that FVRR's impressive growth is already priced in for the next two to three years even as prices have continued to fall.
FVRR has become the subject of a herd mentality that often has investors falling over each other to invest in an exciting stock like this one. We all fall victim to it at one time or another. The financials are reasonably impressive, and I understand why other analysts are quick to point them out. However, almost none of the other analysts I have seen have taken the time to justify the sky-high valuation or the fact that Seeking Alpha's quantitative rating has FVRR at a Strong Sell 1.12 rating while SA authors continue to peg it as a buy.
Financials Still Have Flaws
It is also worth noting that Fiverr's financials are not exactly as rosy as many have been suggesting. Recently, it appears that management has taken on an overspending habit. Revenues continued to grow at their impressive 57% annual rate from FY2020 to FY2021, but interestingly, the company also greatly ramped up spending across numerous categories. Selling, general, and administrative expenses hurdled the revenue growth, jumping up 72% in just one year.
Research and development expenses rose at almost the exact same rate. These contributed to a pretty substantial decrease in FVRR's operating income, as it fell by 275% in this same year. Looking back over the years, this seems to be a new development in FVRR's management. While I do not believe this negates the company's stellar performance in other categories, it raises a red flag that investors should keep an eye on in upcoming quarterly reports.

Conclusion
FVRR is undoubtedly a company I would invest it, but with prices so high for the time being, I will keep an eye on it for the next couple of years until it reaches a reasonable level. Unless its earnings grow at a much higher rate than expected, I expect FVRR to underperform for the next year or two as investors recognize the unjustified valuation and the overexcitement dies down a bit. Based on its projecting earnings and growth rates, I would assess a fair value of FVRR to stand at around $ 36 per share.
This is a very rudimentary assessment that would simply drive its forward price to earnings ratio down to 43x. Although this ratio is still high, I believe it fairly prices in FVRR's exciting growth prospects and future profitability thanks to its handsome gross margins. FVRR is still coming down from the bubble that was sparked by COVID-19, and investors should expect prices to get worse long before they get better. As a result, I rate FVRR as a sell for the time being.