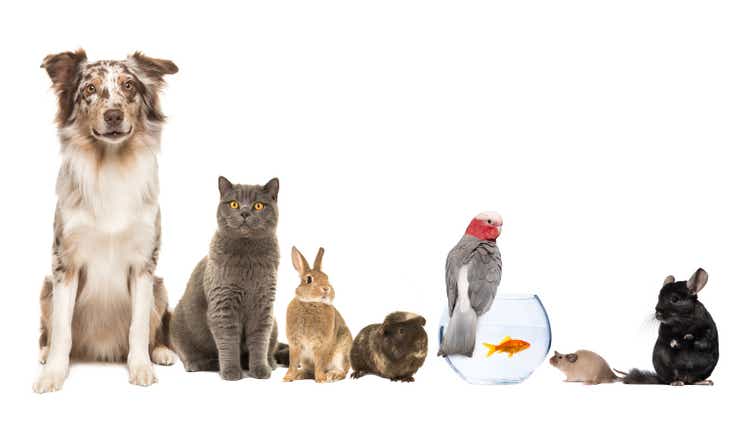 I last wrote about Elanco's (NYSE: ELAN) relatively little-known tangible equity units, called Elanco Animal Health Incorporated Units (NYSE: ELAT), on August 21, 2021 in my article entitled "Elanco's Tangible Equity Units: Low-Risk Option With A 5% Yield. "
It's time to review this still-viable low risk option for yield and potential capital appreciation.
Elanco in Brief
Elanco is the product of the 2019 spin-off of Eli Lilly's (NYSE: LLY) animal health business, which followed the trail blazed by Pfizer's (NYSE: PFE) highly successful 2013 spin-off of Zoetis (NYSE: ZTS). Over the past few years, Elanco's stock market performance has badly lagged that of Zoetis: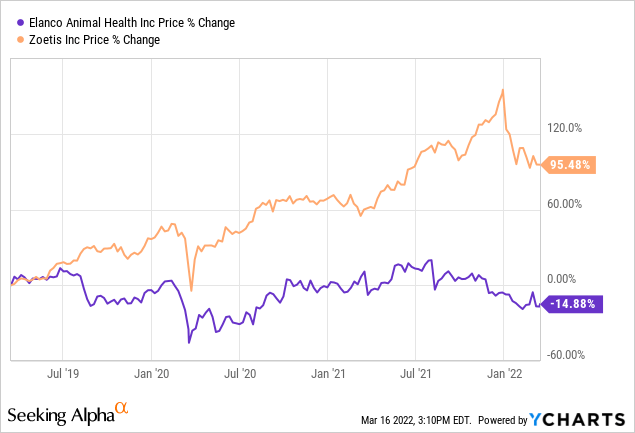 It's too early to claim that Elanco has turned the corner, but here's a comparison of stock price performance over the past three months. Please do not read too much into this graph, as ZTS was priced for perfection and overdue a correction, but there are reasons to be optimistic.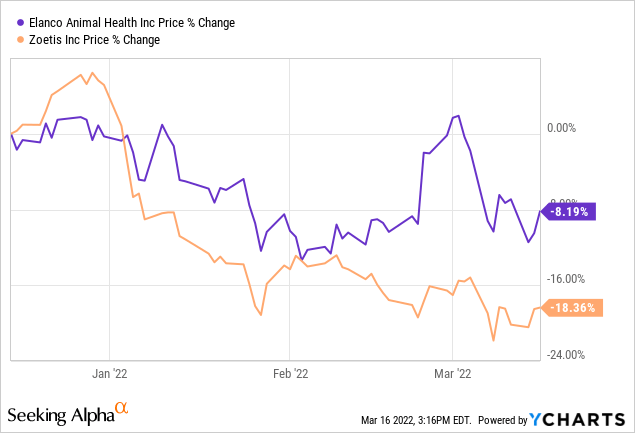 Elanco suffered a rocky start compared to Zoetis. The Pfizer unit was bigger and better organized. Elanco management responded with the Innovation, Portfolio and Productivity Strategy ("IPP") designed to address organizational and operational shortcomings plus two acquisitions; the $ 6.9 billion 2020 acquisition of Bayer Animal Health, which made Elanco the second-largest pure-play public animal health business and the $ 444.0 million 2021 acquisition of Kindred Biosciences, a biotech company focused on therapies for dogs, cats and horses.
Elanco has become a very different company since its spin-off three years ago, but financial performance has been hard to decipher due to the reorganization and acquisitions.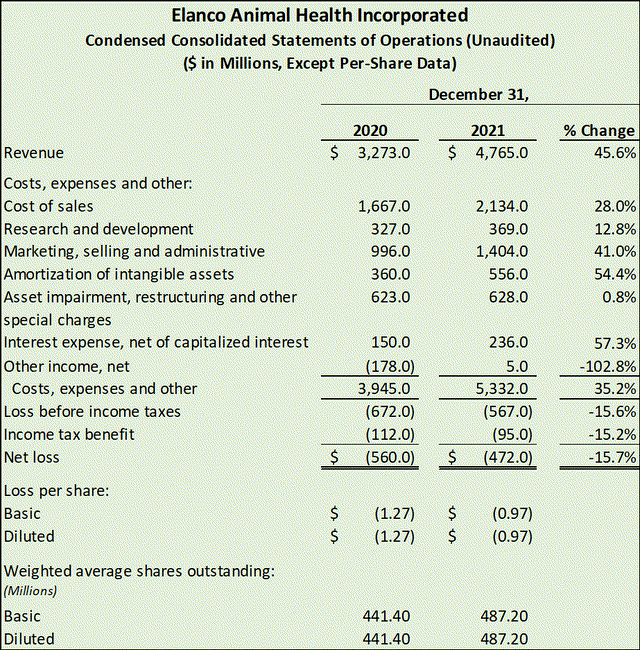 It is difficult to be enthusiastic about a company that lost $ 472.0 million or $ 0.97 per share in 2021, but that was a significant 15.7% improvement over the net loss of $ 560.0 million or $ 1.27 per share in 2020. We could play the "adjusted" game – 2021 adjusted EBITDA was $ 1.1 billion compared to $ 529.0 million in 2020 – but let's focus on GAAP revenue, up 45.6% year-over-year, compared to GAAP expenses, up only 35.2% for the same period. Progress is being made. Furthermore, management provided 2022 guidance in the February 24, 2022 Press Release that suggested GAAP net losses were at an end:
… Revenue of $ 4,745 to $ 4,800 million, representing growth on a reported basis at the midpoint and 2 to 3 percent growth on a constant currency basis, and diluted EPS of $ 0.01 to $ 0.07 on a reported basis, or $ 1.18 to $ 1.24 on an adjusted basis.
For a broad overview of how management views the company, here's a somewhat complicated slide from the Fourth Quarter & Full Year 2021 Results and Highlights presentation: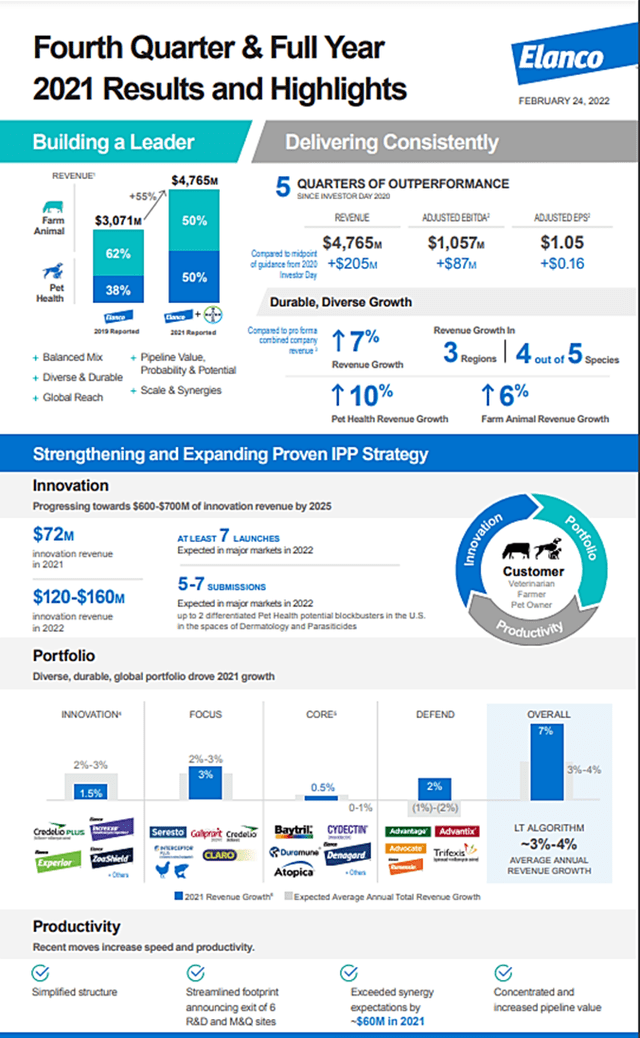 We're in very uncertain times, but Elanco is a largely recession-proof animal health business with a background of improving performance and the units offer an interesting way to place a conservative bet.
Understanding the Units
Elanco's common stock has bounced around between $ 24.15 and $ 37.49 per share over the past 52 weeks and does not pay a dividend. The tangible equity units are very different.
Let's take a moment to understand what the investor receives when purchasing a unit.
The Stock Component
In simple terms, the stock purchase contract mandates conversion of the "stock portion" of each ELAT unit to Elanco common on February 1, 2023. Here are a few examples of possible outcomes: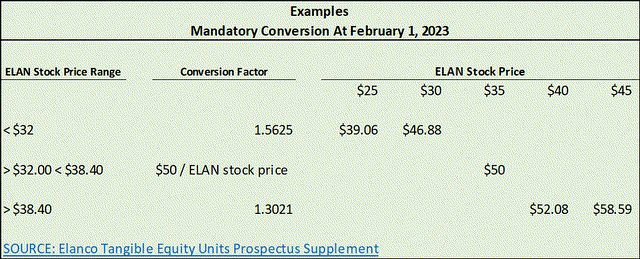 There is a catch, however, in that a unit holder has the right 1) to convert early at a 1.3021 conversion ratio and 2) to convert upon a "fundamental change" to Elanco, eg, a change in control, recapitalization, liquidation or delisting, etc., with a conversion rate (interpolated if necessary) as follows: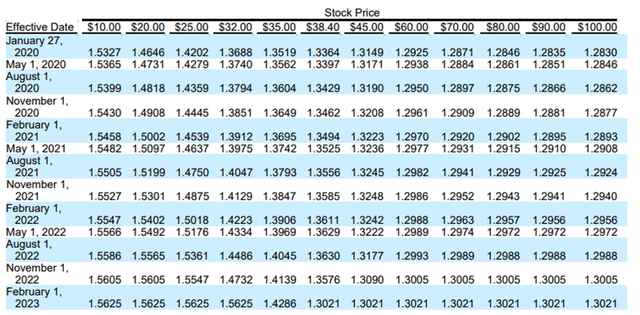 In addition, Elanco can call for conversion of all ELAT units, but not a portion, at the fixed rate above depending on the stock price and date of notice with adjustments for stock splits, etc.
The Debt Component
When issued, the senior amortizing notes had a total principal amount of $ 79.0 million, about $ 7.20 per note with one note per unit. The notes pay 2.75% annual interest in quarterly cash installments of $ 0.625 ($ 2.50 per year) on each February 1, May 1, August 1, and November 1 until the maturity date. Each installment consists of a payment of interest and principal, for a combined "cash yield" of 5.00% per year on the $ 50.00 stated value of each unit.
As of February 1, 2021, with total payments of $ 2.50 per note remaining, the principal amount had been amortized to roughly $ 2.46 per note, ie, only about $ 0.04 of the remaining payments consists of interest. Below is the amortization schedule which is very important to investors as return of capital is not taxable: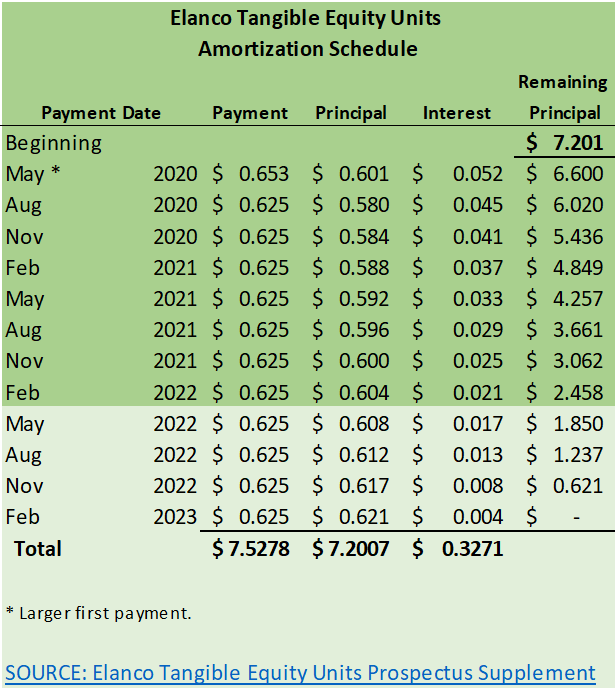 The darker portion in the table above is what has already been paid.
Elanco can repurchase the notes, but only if a unit holder has requested a repurchase coincident with Elanco's exercise of its right of early mandatory conversion. In that event, the conversion table in "The Stock Component" above will be applied based on the current stock price with some adjustments for possible eventualities such as defeasance, default, etc. Although the possibility of any of these events seems remote, please see the prospectus (link above in multiple locations) for more detail.
A Conservative Path to Profit
Investing in ELAT units is unlikely to let you buy a confiscated Russian oligarch's yacht, but they have a good chance of being a conservative path to profit. What are a range of scenarios for ELAT investors? As a side note, per E * Trade, analyst price targets for Elanco common currently range from a low of $ 30.00 per share to a high of $ 37.00 per share.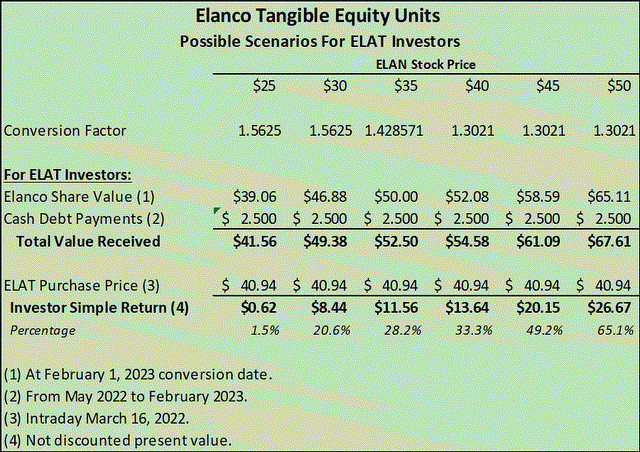 As the scenarios above show, Elanco common only has to be above $ 25.00 per share for investors not to lose money on an undiscounted basis. As of intraday trading on March 16, 2022, Elanco stock was trading at about $ 25.91 per share and the units were trading at $ 40.94 each – a 6.1% yield.
Here's the real upside:
Let's say an investor can buy ELAT at a discount, say today $ 40.94 per share. Let's assume the conversion occurs when ELAN common is trading at just $ 35.00 per share on the conversion date – certainly not impossible. In that event the simple investor return is $ 11.56 per unit or 28.2% with little risk.
Here's the real downside:
Let's say an investor bought ELAT at today's $ 40.94 per share. At conversion, Elanco is trading at just $ 25.00 per share. This could happen, but in my estimation, given the company's improving financials, it is unlikely. In this case our investor makes just $ 0.62 per unit or 1.5%, but has received $ 2.50 per unit in cash and now has 1.5625 Elanco common shares which can be held until there is a better selling opportunity.
As the table of scenarios and the above example demonstrate, the risk profile for an investment in ELAT is conservative – and somewhat controllable. An investor could certainly just buy Elanco common, but some investors need current income. Perhaps more importantly, ELAT has traded as low as $ 39.02 per unit within the last year which equates to a 6.4% cash yield, understated as a portion is return of capital.
Conclusion: A Conservative Risk
Unlike the security itself, the case for buying ELAT is relatively simple:
Elanco's world-wide business, preventive and therapeutic pharmaceuticals and food additives for pets and farm animals, is recession-resistant.
The pet business is well-positioned to capitalize on the secular "humanization of pets" trend within developed nations.
Since the 2018/2019 spin-off from Eli Lilly (NYSE: LLY), Elanco has struggled to gain its operational and financial footing more than the comparable Zoetis (NYSE: ZTS) spin-off from Pfizer (NYSE: PFE).
Recent reorganization initiatives ("IPP") and acquisitions are beginning to have a positive impact on financial performance.
Buying ELAT offers the investor a low-risk option on Elanco's future with an above-average current yield.
If you are interested in buying ELAT, today's intraday price of $ 40.94 per share just about ensures the worst case is short-term breakeven at a conversion price for Elanco common of $ 25.00 per share. If you are optimistic about Elanco's future – and its stock price – anything below $ 45.00 per unit is certainly reasonable. Upon conversion, you may opt to hold Elanco common for an indeterminate period as Elanco does appear to be a reasonable longer-term investment as well.