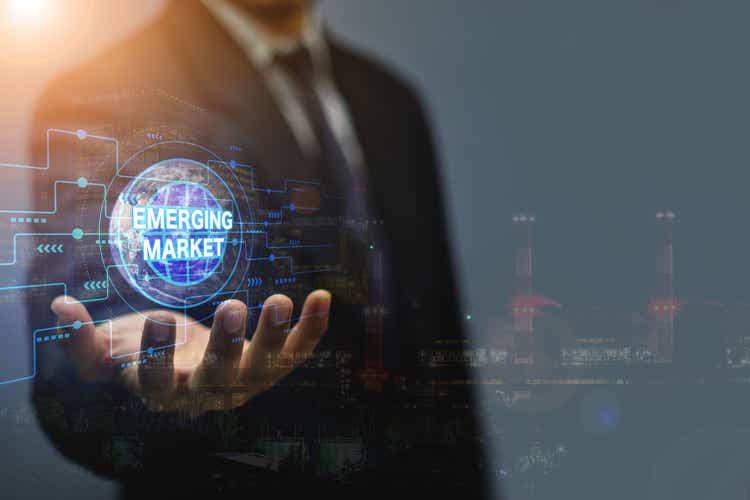 Intro
Chinese stocks are up significantly today on the news that China's state council is ready to step in to support struggling financial markets as well as the real estate market. Due to the depressed levels of many Chinese stocks at present, we remain long multiple plays, which should now see a significant rebound to the upside. The iShares MSCI Emerging Markets (EEM) ETF should also see healthy gains today due to its significant weighting towards Chinese stocks.
In fact, EEM is made up of over 1300 holdings, which are divided primarily across companies in the technology, financials, and consumer cyclical industries. Suffice it to say, because of the strong diversification in this play across emerging markets as a whole, we do not expect the ETF to rally as aggressively as core Chinese plays over upcoming sessions. This though does not mean EEM is not without opportunity, which we will get into here.
For example, as we see on the chart below, shares of EEM have strong support at around the $ 40 level, which remained unbreached during this latest down move. Although the coronavirus-induced lockdowns collapsed shares briefly below the $ 30 level, the fund quickly recovered to trade above the long-term support level once more. On the contrary to the upside, despite the announcement of the pending release of the purse strings by the Chinese, EEM has some major resistance points to take out before breaking out once more to higher highs. The price of the fund firmly remains below its 50,100 & 200 weekly moving averages, which means EEM will need some time to start a sustained rally in earnest, in our opinion.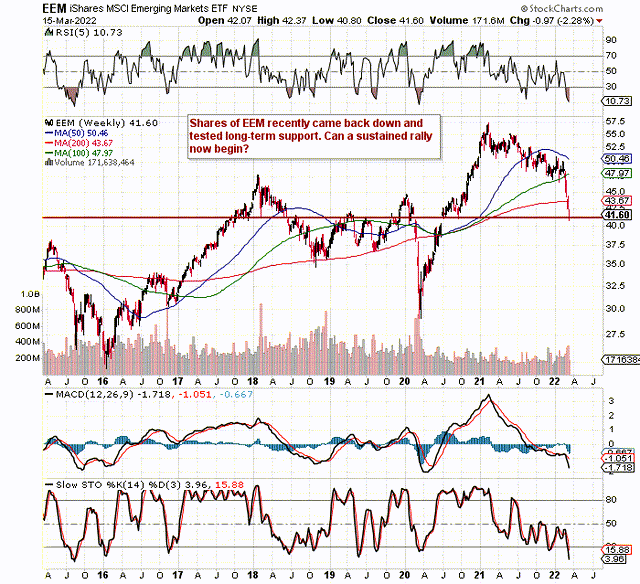 Reasons For Inflows
As the world slowly moves away from the US dollar, we believe emerging market funds will continue to gain traction for diversification purposes. Although EEM charges an above-average expense ratio of 0.68%, we believe the ETF should continue to experience inflows over its peers due to being almost a 20-year-old established fund at this point. Furthermore, EEM's average daily dollar volume of $ 2.1 Billion is significantly higher than its peers in this space and demonstrates the fund's superior liquidity at present.
Implied Volatility
In fact, it is EEM's liquidity combined with the spike we have seen lately in its implied volatility, which brings opportunity in this ETF at present. Many investors measure risk in a fund through its implied volatility, but here is where we need to use this metric in EEM to our advantage.
As we can see from the implied volatility chart below, EEM's current IV in the April cycle comes in at approximately 32%. The spike in the fund's implied volatility has come as a consequence of the aggressive selling, which has taken place for the most part over the past 4 weeks. As the chart clearly shows, this level of volatility is not normal for this fund, so, over time, this mean-reverting metric should come back down to something much closer to its average (Around the 22% mark).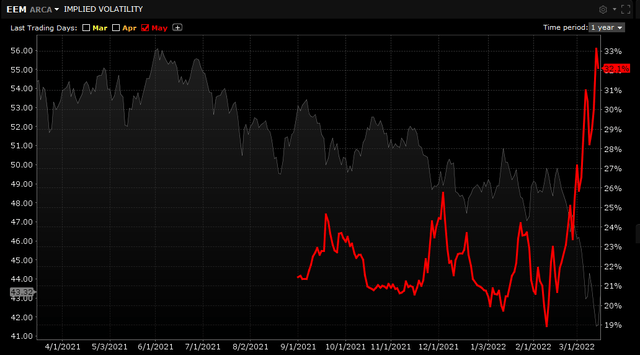 Delta Neutral Strategy
So when we combine what the technicals are illustrating (robust upside resistance and downside support) with EEM's above-average high implied volatility, the opportunity here is not to become directional but rather sell the volatility (fear) on offer. Something like the sale of a delta neutral strangle would be suitable in the May cycle as a strangle makes money when the price of EEM stays within a defined trading range. Although it is an undefined risk strategy, investors need to take the following into account regarding risk for the following reason.
Low beta liquid ETFs, which are highly diversified, rarely make foreign moves, which results in options going deep in the money. The reason being is that, unlike equities, they do not have quarterly earnings announcements to deal with, which always have the potential to drive stock prices one way or another. Furthermore, the strangle strategy has theta decay working in favor of the investor as well as most likely vega if volatility subsides in the above-mentioned cycle. Suffice it to say, high levels of implied volatility in diversified liquid ETFs always attract us because the odds are high that previous trading patterns will repeat before long.
Conclusion
Therefore, to sum up, given how EEM has bounced off its lows, we believe there is opportunity in this ETF at present due to its strong liquidity and high levels of implied volatility. In fact, a rally over the new few sessions should see volatility dissipate somewhat which is what option sellers desire. We look forward to continued coverage.