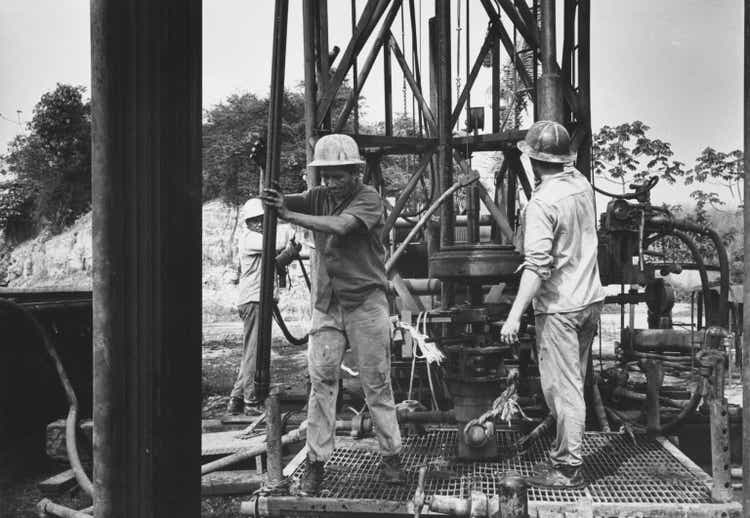 State-owned Colombian O&G company Ecopetrol (NYSE: EC) is going full steam on the ESG front and is now in the midst of a transformation into something very different. The process will take time, however, as its target of $ 13-14bn in annual EBITDA by 2040 remains predominantly O&G-based (new businesses will account for 30-50%). While the aggressive production growth target at + 20-35% should facilitate the transition, the company's past struggles with production growth and the reliance on exploration-dependent projects (100-150kbpd) are reasons for bail on fully underwriting these numbers. Plus, we could well be at the peak of the O&G cycle, so despite the near-term earnings momentum, I think the current 4x EV / EBITDA places Ecopetrol stock in a fairly valued territory. With the unpredictability of the upcoming presidential elections also an overhang, LatAm peers like Petrobras (PBR) and YPF Sociedad Anónima (YPF) offer better relative value.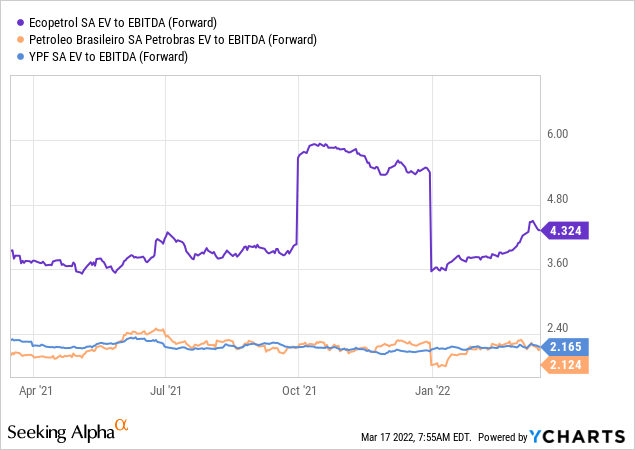 Favorable Conditions for a Production Ramp Up
Ecopetrol will work towards a significantly more ambitious business plan for the 2022-2024 period, setting an organic ex-ISA investment range of $ 14.4-17.4bn (well above the $ 12-15bn in the prior 2021-2023 business plan). The focus is still very much on upstream O&G, with the $ 2.6bn investment in its electricity transmission business ISA going into a separate bucket. To support this growth plan, production is set for a marked expansion through the decade, peaking at 800-850kton in 2030. Given the reliance on exploration-dependent projects (100-150kbpd) and Ecopetrol's well-documented struggles with sustaining production growth though, there is likely more downside than upside to these targets. That said, the increase in resources devoted to gas is noteworthy – the earmarked $ 1.8bn is a + 38% increase relative to the prior plan, paving the way for gas contribution to eventually reach ~ 30% of total production.

Still, the economics of the core business makes for compelling reading. The latest data on proved reserves, for instance, indicates the reserve replacement ratio (RRR) for 2021 was at a lofty 200%. Higher oil prices did play a key role, but even if we exclude the price impact, the reserves life index (RLI) and RRR would have been strong at 7.9 years and 122%, respectively, helped by the performance of its development fields and the improved execution and enhanced recovery expansion projects in the Chichimene, Castilla, and Akacias fields. The 2021 numbers mean that over the 2016-2021 period, Ecopetrol has delivered a 4.6% CAGR on its reserves and an average IRR of <140% over the last three years. The company's continued emphasis on investment discipline should ensure the outstanding returns continue in the years to come - the current return on average capital employed (ROACE) projection is at> 8.5% for 2022-2024 and 8-10% for 2040.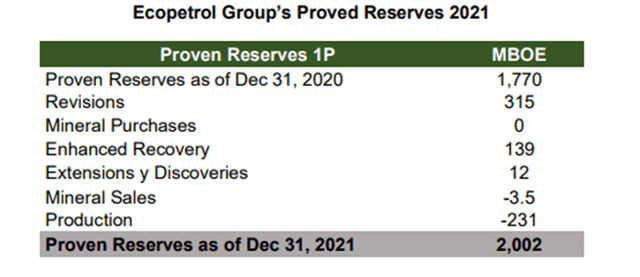 Smooth Transition Away from Fossil Fuels Under Threat
For ESG-focused investors, Ecopetrol is the place to be in LatAm – it has the most ambitious energy transition plan among its regional peer group, with its base-case scenario calling for power transmission / toll roads to generate ~ 26% of EBITDA and new low-carbon businesses ~ 14% of EBITDA by 2040. In line with its long-term transition, Ecopetrol has retained its 2050 targets of ne-zero emissions following a 50% reduction in scope 1, 2 and 3 emissions over the coming years . This will need to be balanced though against the superior economics of developing hydrocarbons in Colombia – at this stage, abandoning hydrocarbons would not only prove suboptimal but also potentially lead to the depletion of fields, significantly impairing the company's fundamentals.

The key risk to the pace of transition will be the upcoming Colombian presidential elections (scheduled for May) – leading candidate Gustavo Petro has adopted a firmly anti-oil industry stance, so if he wins, we could see an untimely acceleration in Ecopetrol's fossil fuel transition. Over the long term, Colombia's oil regulation could also undergo a material change should Mr. Petro take charge and Ecopetrol's O & G-dependent terminal value could take a hit as a result. Key future projects such as the joint effort with Exxon (XOM) to develop shale in Colombia, for instance, could be sold on the cheap (or abandoned in a worst-case scenario) while the need for an accelerated transition could pressure management into overpaying for acquisitions.
Dividends are Good, but Equity Issuance Window is the Key Overhang
While normalized 2021 earnings have hit a new record of COP16.7tn (or $ 4.4bn), the 2022-2024 E&P investment plan entails an aggressive $ 11-12bn of spending. This means funding will be key if Ecopetrol is to maintain its ROACE target of 8-10% in the long term (only slightly above the projected WACC). Thus, I am skeptical of the prospects of an extraordinary dividend payment beyond the reiterated dividend policy of 40-60% of normalized earnings. Plus, management has also signaled its openness to inorganic growth opportunities and integrating the ISA assets – pursuing these options likely limits the headroom for a more aggressive 80-100% payout, in my view.

Perhaps tellingly, management left the door open for another equity issuance down the road by maintaining a five-year window to execute an offering. There have been signals of intent here – the company has already received approval to offer up to 4.4bn shares (> 10% of the shares outstanding), with any proceeds used primarily to fund growth and de-lever. It is unclear if such an offer can be absorbed by domestic institutions as local private pension fund managers have a limited allocation for equities, so much of the demand will likely need to come from foreign investors – this could mean a steeper discount.
Oil Price Beneficiary but with Limited Upside
Overall, Ecopetrol is doing a great job setting its strategy apart from its LatAm O&G peers – getting ahead of the ESG curve and further diversifying its growth outside of the traditional integrated O&G industry ensures the company should mitigate some of its terminal value decline in the years to come. That said, the current production plan is ambitious, particularly given its past struggles with production growth and its dependence on exploration projects, and could result in a major dilution event in the coming years. Perhaps more importantly, it is hard to look past the ongoing macro uncertainties in Colombia, particularly with a crucial election on the horizon. The relative valuation also seems unattractive at ~ 4x EV / EBITDA – a premium to LatAm peers like PBR and YPF, with a lower FCF yield to boot. Net, I would stay on the sidelines here.