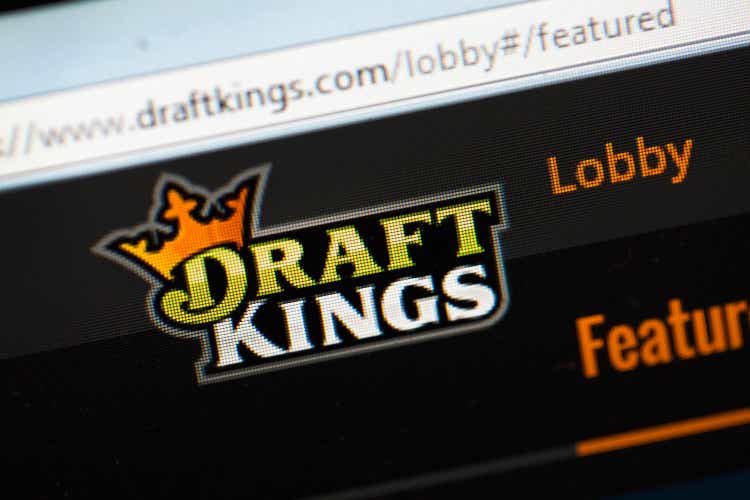 One of the most famous investing quote is that in the short term the market votes, and in the long term it weights. This quote, from Warren Buffett, could not apply more today than to companies in the sports betting business such as DraftKings (NASDAQ: DKNG).
The legalization of sports betting in the United States has been one of the most hyped investing themes we have seen in years. With companies that were already dominant players in the fantasy space such as DraftKings and FanDuel leading the way, DraftKings' IPO in April of 2020 was very hyped.
DraftKings went public in April of 2020, and the stock soared to a high $ 73 a share in March of 2021.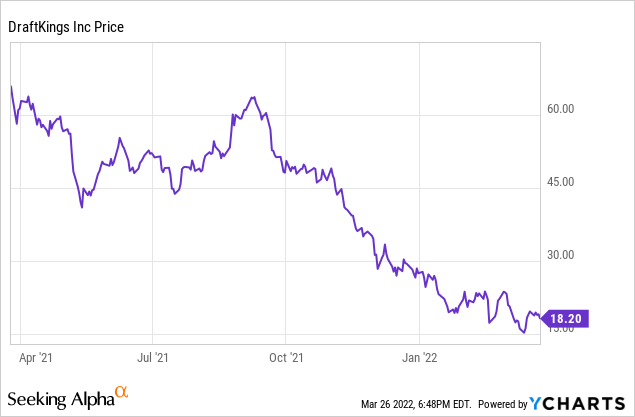 DraftKings stock was initially offered in the IPO at $ 20 a share in April of 2020, and the stock rose to $ 73 a share in March of 2021, before plummeting to the current price of $ 18 a share.
Given that the stock has plummeted over the past year and DraftKings and FanDuel are still both by far the two dominant players in the sports betting industry, some bulls are starting to make a case to buy DraftKings stock.
I think this company has no clear path to profitability, and this stock should be sold.
The reality is the rise in DraftKings stock was a move based on leverage pushed by traders ahead of legalization in New York, and the company faces two significant problems that aren't going away. First, the company's sports betting business, which is the core business, is not a high margin business long term. Second, DraftKings has no competitive advantage over its competitors of any significance, and the number of companies competing in the states DraftKings is in will likely only grow over time.
The company's last two concerning earnings reports show key problems with DraftKings' business model, and these problems aren't going away. DraftKings EBITDA margins were negative 62% in 2020, negative 52% in 2021, and the company has guided to negative 44% for 2022, this year. The company's revenue growth rate has plummeted as well. DraftKings revenue growth rate was 253% in the first quarter of 2021, and 320% in the first quarter of 2022. Still, the company grew revenues at 60% in the third quarter of 2021, and 47% in the fourth quarter of 2021. This revenue growth would of course be impressive if the company was profitable, but that's not the case right now. DraftKings has not been able to drive any significant growth without massively increasing spending for marketing, advertising, and promotions.
DraftKings operating expenses and costs increased dramatically this past earnings report. The company reported revenues increasing from $ 322.2 million to $ 473.3 million but cost to market and sales increased from $ 192 million to $ 278 million. The company's loss for the recent quarter widened from $ 242.7 million to $ 326.3 million. What's most concerning about the huge increases in DraftKings marketing and advertising costs, is that the company along with FanDuel is one of the most dominant players in most of the major markets that the company's products are found in. FanDuel and DraftKings have a combined nearly 70% of the online sports betting market in Michigan, Pennsylvania, and New Jersey, with DraftKings slightly behind Fan Duel at 29% in those three major markets.
This is why investors should be so concerned about the dramatically rising sales and market costs DraftKings has now consistently seen for over a year. The company has a very strong foothold in the major markets the company is in, but management is still spending enormous amount on promotions, sales, and advertising. The reality is that DraftKings has no significant competitive advantage over other online gambling companies, and the company has spent heavily on sportsbook and casino promotions to retain existing customers and acquire new customers. DraftKings has good software and lots of capital, but players who want to bet on sports or play in the casinos can play at any online sportsbook and have the exact same experience. The sports betting business is a tough and low margin business, and as competition gets fiercer moving forward, DraftKings will likely need to spend even more to retain existing customers and acquire new ones.
DraftKings's frequent lucrative promotions in particular for higher end players show the company can not keep and acquire high end clients without spending significantly. The company frequently gives away thousands in cash to individuals with casino credits, risk free bets, and other very generous bet promotions such as 100% bet boosts where bettors get double returns they normally would if they win their bets. DraftKings' marketing costs were up forty-five percent year-over-year this past year, and that's not even including market costs of launching in New York. DraftKings CEO Jason Robins also implied the company does not plan to lower sales and marketing costs anytime soon, saying, "Typically the first year, sometimes two years, is the strongest cohorts that you acquire, and I think it's really important that you invest there . "
DraftKings' stock has been a classic example of buy the rumor, sell the news. The stock rose dramatically on the prospect of a huge and lucrative US gambling industry, and traders drove the stock price up before the company was close to showing any profitability. The last several earnings reports have shown the reality of the online sports betting business, a tough low margin business where constant and generous promotions are needed to both acquire new customers and keep existing ones. The fact that DraftKings can not keep existing customers without frequently offering lucrative promotions even though the company has a dominant market share across most of the major markets the company operates in shows how fragile the DraftKings business model really is.