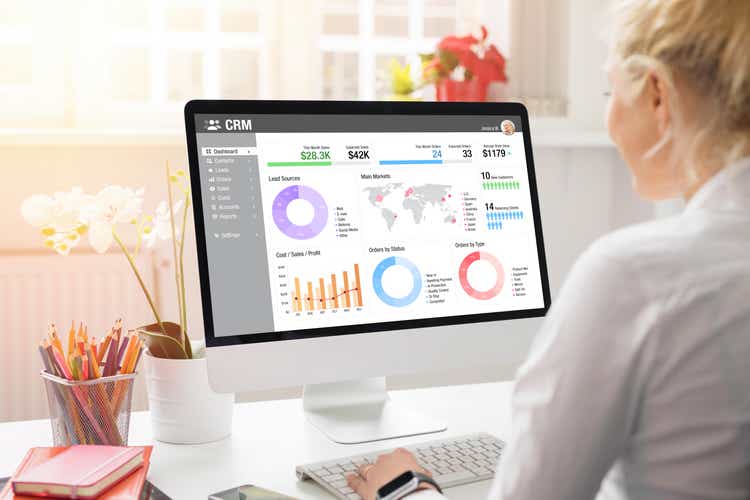 I'll continue to repeat the same message: right now, as the market continues to vacillate between gains and losses in a very choppy environment, investors should be positioning themselves for a near-term rebound. The space that has gotten the most hammered by recent volatility is small / mid-cap growth, and within this space, there are many attractive and high-quality tech stocks that have been reduced to very modest valuations.
Domo (DOMO) is one such name. The Utah-based provider of BI (business intelligence) software has seen its stock price drop by more than half, despite the fact that its fundamentals are looking better than ever. When Domo first went public in 2018, the company was growing revenue in the mid-20% range while generating massive GAAP and non-GAAP losses. Today, at a much larger scale than before, Domo is still growing at roughly the same pace while also having significantly shrunk its pro forma operating loss margins to the low teens – proving that the business is capable of scaling, and that earlier fears that Domo competes in a highly competitive BI market against the likes of Tableau (now part of Salesforce (CRM)) and Microsoft Power BI (NASDAQ: MSFT) has had little impact on its overall growth trajectory.
Year to date, shares of Domo are down roughly 20%, and in spite of a strong Q4 earnings print released in early March, Domo stock has yet to see a rebound. It's a good time, in my view, for investors to re-assess the bullish thesis for this name.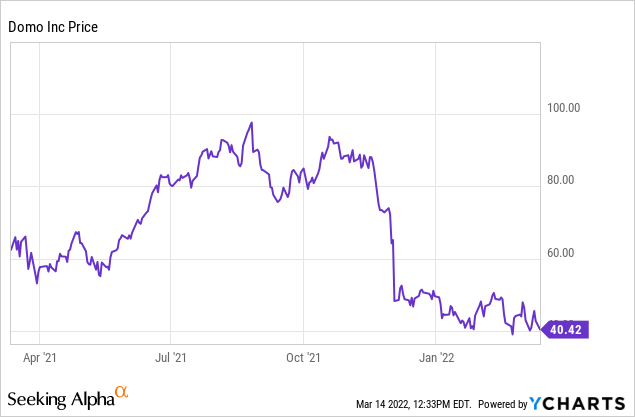 I remain solidly bullish on Domo and believe it's a great near-term rebound play. It's also a stock that is now flying under the radar (especially given its very small ~ $ 1 billion market cap), so it's a name that may move quickly once the direction of the market starts to turn. In spite of the "risk" of investing in such a small-cap stock, I think the combination of Domo's improving fundamentals plus its low valuation makes it a relatively guilt-free, safe choice to invest in.
As a refresher for investors who are newer to this name, here is a rundown of the bullish thesis for Domo:
Domo has gotten into a consistent growth groove, and billings acceleration is a good sign for strong growth ahead. Revenue has been growing in the mid-20s over the past several quarters. In its most recent quarter, Domo also managed to accelerate billings to 30% y / y growth – which is a good leading indicator of potential growth improvement ahead.
There's some evidence that competition arguments are overblown. One of the original criticisms of Domo is that it plays in a heavily competitive BI space against other powerhouses like Tableau (now owned by Salesforce.com) and Microsoft Power BI. Domo founder Josh James is of the belief that many Domo customers aren't exactly looking to rip out their existing BI systems, but to supplement them with other products for different use case. So while there is certainly competition, it may not be a dealbreaker for many prospects.
High pro forma gross margins. Domo's subscription pro forma gross margins are north of 80%, which gives the company plenty of room to scale its operations profitably as it grows.
Domo is closing the profitability gap. The company is trending towards a -10% pro forma operating margin and steadily improving.
Acquisition possibility. While it's never smart to bank an entire investment decision on hoping for a takeout, Domo is a very small company with a compelling technology platform and recurring revenue. I could easily see a larger software company wanting to absorb Domo into its portfolio.
Valuation, meanwhile, remains quite modest. At current share prices near $ 40, Domo trades at a market cap of $ 1.32 billion. After we net off the $ 83.6 million of cash and $ 104.0 million of debt on Domo's most recent balance sheet, the company's resulting enterprise value is $ 1.34 billion.
Meanwhile, for the following fiscal year FY23 (the fiscal year for Domo ending in January 2023), the company has guided to $ 314- $ 319 million in revenue, representing 22-24% y / y growth. Considering that Domo exited Q4 at a 30% y / y billings growth rate, this estimate may prove a few points too conservative.

Regardless, if we take Domo's outlook at face value, the company's resulting valuation is 4.2x EV / FY23 revenue – which, to me, is quite low for a company growing its billings at a 30% y / y pace.
The bottom line here: Domo looks ready for a recovery rally. With all the fundamental upside the company has driven over the past several quarters plus the accommodating valuation and possibility of a takeover / acquisition, I can see Domo recovering to at least ~ 5.5x EV / FY23 revenue, representing a price target of ~ $ 53.
Q4 download
Let's now go through Domo's latest Q4 results in greater detail. The Q4 earnings summary is shown below: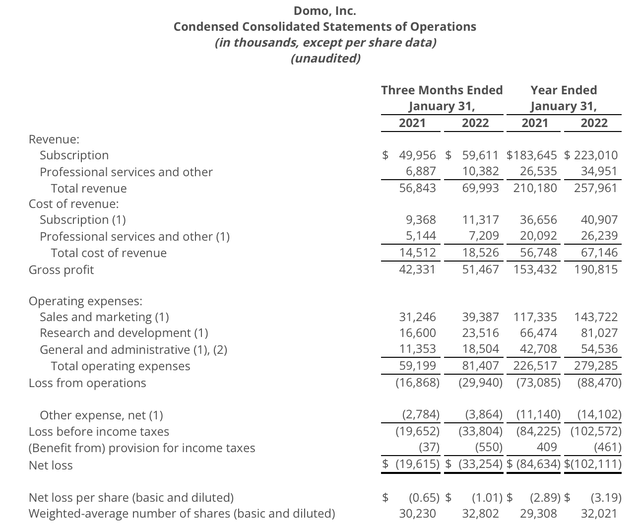 Domo's revenue grew 23% y / y in the quarter to $ 70.0 million, beating Wall Street's expectations of $ 67.1 million (+ 18% y / y) by a significant five-point margin. Note as well that Domo's revenue accelerated two points versus 21% y / y growth in Q3.
More acceleration may be on the way. Domo's billings in the quarter clocked in at $ 108 million (adding a significant $ 38 million build-up to deferred revenue), representing 30% y / y growth. As seasoned software investors are aware, billings represent a better long-term picture of a company's growth trajectory, as it captures deals signed in the quarter that will be recognized as revenue in future quarters.
Here's some additional commentary from Domo CFO Bruce Felt on the Q4 earnings call discussing the drivers behind the company's Q4 outperformance:
We finished fiscal 2022 with a strong Q4, closing out with 30% billings growth, the highest growth in the last 14 quarters. Some of the foundational growth drivers we have been investing in contributed to billings in the quarter and these important drivers should also help us achieve our fiscal year 2023 growth objectives.

One of the key drivers was sales hiring. We grew our direct sales force by over 25% in fiscal '22. Our sales productivity per ramped rep was over $ 1 million in first year contract value in FY '22. We're very pleased with this level of production, particularly since it occurred while we accelerated sales hiring. This gives us the confidence to continue hiring reps at a pace at least as high as last year's pace.

Other key drivers are improving gross retention, better market positioning and awareness, higher yields on marketing spend and improved partner contribution. We had a year of accelerating new logo growth while continuing to see significant commitment enough selling into our existing customers. The new logo growth is primarily driven from our corporate group which has become a heck of a new business machine. We're finding that the complete platform pitch resonates extremely well with those customers because of the overwhelming amount of functionality and ease of use we bring to the market compared to all of the tool provider competitors. We plan to continue to lean into this category as we believe it can drive sustainable, cost-effective high growth. "
In spite of the accelerated hiring in sales, however, Domo still managed to produce healthy profitability. As previously mentioned, subscription pro forma gross margins for the year clocked in at a high 82%, two points richer than the year-ago quarter: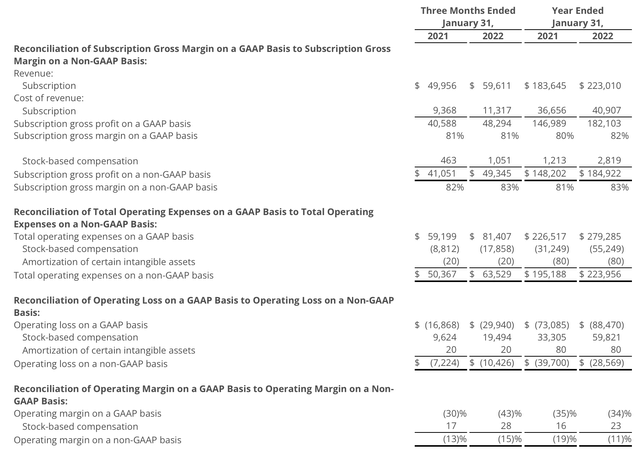 In addition, as seen in the chart above, pro forma operating margins for the full year were -11%, which is an eight-point improvement versus FY21. Domo's free cash flow burn of – $ 2.0 million for FY22 was also very near breakeven and a substantial improvement over a – $ 14.8 million burn in FY21.
Key takeaways
There's a lot to like about Domo heading into the remainder of 2022: resilient and accelerating growth, profit improvement based on economies of scale on high gross margins, and an undemanding valuation. Use the recent dip as a buying opportunity.