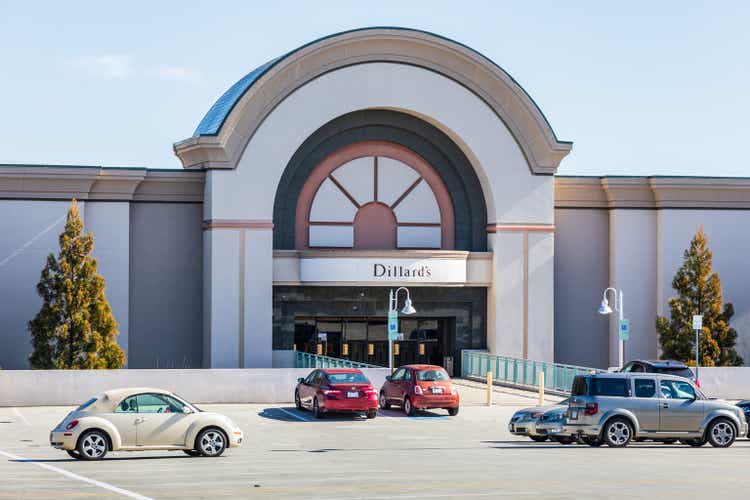 Dillard's (DDS) stock plunged two years ago, as investors fled department store stocks in the early months of the COVID-19 pandemic. Shares of the regional department store chain spent most of the spring and summer of 2020 trading in the $ 20s, down from around $ 70 at the beginning of the year. This sharp drop was particularly remarkable in light of Dillard's strong balance sheet. The company owns nearly all of its stores and has very little debt.
However, Dillard's revenue and profit rebounded quickly as the pandemic started to ease in the summer of 2020. In recent quarters, the retailer has posted record profits. This shocking turnaround (along with an aggressive share repurchase program and periodic short squeezes) caused Dillard's stock to soar over the past year. Dillard's shares peaked at around $ 400 in November before pulling back to trade near $ 250 for the past two months.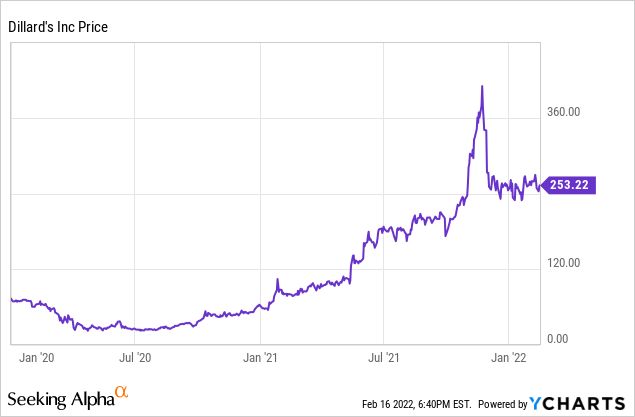 At these prices, Dillard's stock appears very cheap based on its P / E ratio. Investors should not get greedy, though. The retailer's profitability is likely to retreat rapidly over the next few years, making Dillard's stock look like a classic value trap.
A remarkable turnaround
In fiscal 2019, Dillard's recorded pre-tax income of $ 134 million ($ 114 million excluding asset sale gains) on total revenue of $ 6.3 billion. This put its pre-tax margin at a paltry 2%. Adjusted EPS came in at $ 3.56 for the full year.
Dillard's financial results worsened in fiscal 2020. The company lost money for the full year, due to the pandemic's severe impact on sales. That said, by the fourth quarter of fiscal 2020, the company had returned to earnings growth. While revenue was still down 18% year over year in that quarter, Dillard's more than offset the top-line pressure with big cost cuts and a modest improvement in gross margin.
Margin expansion accelerated in 2021, driven by strong gross margin performance. EPS surged to $ 8.81 in Q2 and $ 9.81 in Q3. To put that into perspective, Dillard's previous full-year record for adjusted EPS was $ 7.79. Moreover, these two quarters tend to be seasonally weak for Dillard's. In each of the two years before the pandemic, the company lost money in the second quarter and posted negligible profits in the third quarter.
Perhaps more surprisingly, the top line returned to growth. Compared to fiscal 2019, retail sales jumped 12% in Q2 and 9% in Q3.
For the first three quarters of fiscal 2021, Dillard's posted adjusted EPS of $ 24.85 (excluding asset sale gains). That put its trailing 12-month EPS at nearly $ 30 as of Q3 2021. Considering the company's recent earnings momentum, analysts expect another big increase in earnings for the fourth quarter, bringing Dillard's full-year adjusted EPS to $ 35 or more.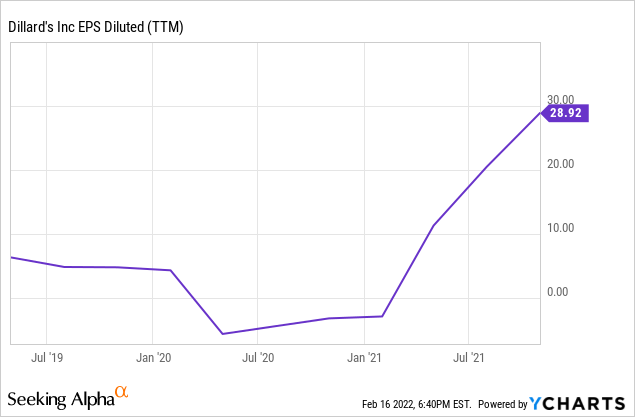 Thus, even after its spectacular gains over the past 18 months, Dillard's stock trades for just 7 times its likely 2021 earnings. With sales on the rise, too, quite a few investors think the stock is an attractive bargain. However, the company's recent sales and earnings trends do not look remotely sustainable.
Selling less stuff at bigger markups
As noted earlier, Dillard's retail sales increased approximately 9% in Q3 2021 compared to Q3 2019. However, cost of sales plunged 14% to $ 796 million.
Investors saw no reason to complain. The combination of higher sales and lower cost of sales caused gross margin to widen by more than 12 percentage points, enabling Dillard's to earn an extraordinary profit.
Yet on another level, these results represent a big red flag. Inflation is heating up and freight costs are surging, so it's very unlikely that Dillard's is acquiring inventory at lower all-in costs than it was two or three years ago. If cost of sales decreased by 14% from 2019 levels in Q3, Dillard's probably sold 15% to 20% less "stuff" than it did two years earlier. In other words, Dillard's grew its sales by selling fewer things at significantly higher prices.
This would be great news, if the trend were sustainable, but that's unlikely to be the case. Dillard's 2021 results benefited immensely from two unusual situations.
First, excess savings from 2020 and additional fiscal stimulus lifted households' spending power. The third round of stimulus (distributed beginning in March 2021) provided payments of $ 1,400 per person for households with AGI below $ 75,000 for single taxpayers and $ 150,000 for married couples. Dillard's got an extra leg up relative to competitors like Macy's (M) due to its focus on the South, where household incomes and the cost of living tend to be lower compared to the Northeast and West Coast (so that more people qualified for stimulus payments).
Second, global supply chain chaos led to widespread inventory shortages in 2021. With such short supply, retailers had little incentive to offer big discounts to drive sales. And because consumers had lots of excess savings from stimulus checks and reduced spending on experiences during the pandemic, there was little resistance to higher prices.
This will not last
Looking forward, the consumer spending lift attributable to fiscal stimulus and excess savings from 2020 is likely to reverse over the next couple of years. Global supply chains will return to normal, too. Inflation could also pinch consumers' discretionary budgets.
As a result, consumers will return to their price-sensitive ways, and retailers will have to offer better prices to avoid substantial market share losses. Thus, investors should expect Dillard's to give back most of its recent gross margin gains before too long.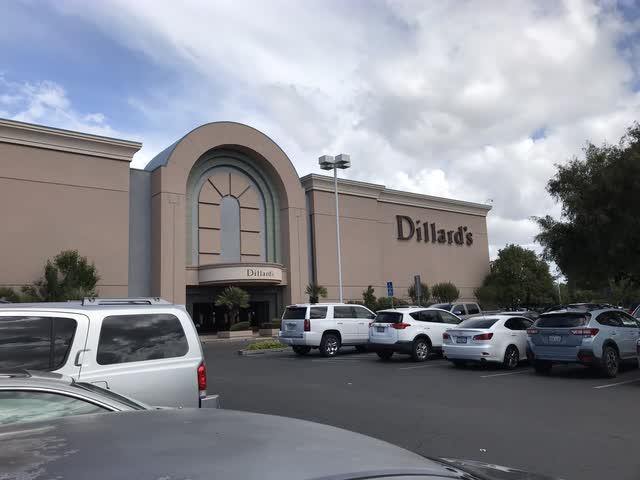 From a top-line perspective, Dillard's might be able to offset some of the impact of bigger discounts by increasing unit sales again. Nevertheless, I expect Dillard's top line to recede to its pre-pandemic level within a few years.
Indeed, the company does not have much of a customer acquisition strategy. For example, it spends very little on advertising: consistently below 1% of sales (see p. F-12). By contrast, between 2017 and 2019, Macy's spent around 5% of its revenue (see p. F-13) on advertising to drive brand awareness. Dillard's is also a laggard in e-commerce. It did not even have a mobile app until last summer. App usage remains very low. The Dillard's iPhone app gets fairly good reviews but has just 445 ratings, compared to over 1.5 million for the Macy's app.
In the short term, the savings from low advertising spending and limited investments in e-commerce are good for Dillard's bottom line. But as its customer base ages and reduces spending on apparel, accessories, etc., the chain will struggle to acquire new, younger customers to support top-line growth.
The valuation is way too high
As macroeconomic conditions normalize, Dillard's profits will fall from recent levels. The only question is how much.
Through better inventory management, Dillard's may be able to maintain gross margin above its pre-pandemic level of roughly 32%. On the flip side, SG&A as a percentage of sales will likely increase over time, due to rising labor costs and the company's subpar top-line growth prospects. (In this context, it's important to note that Dillard's recent SG&A savings can be attributed to the retailer selling less stuff at unsustainably high markups.)
A mid-single-digit pre-tax margin seems like the best that investors can reasonably expect a few years from now. That would be consistent with EPS of roughly $ 10-15 based on today's share count and perhaps up to $ 20 if the company continues reducing its share count rapidly. It's also quite possible that profitability will sink all the way to the level of 2019, causing EPS to retreat to $ 5 or less.
This range of plausible outcomes makes Dillard's stock look unattractive at $ 250. Even with EPS of $ 20 in 2023 or 2024, the stock might not trade above recent levels in the absence of top-line momentum. And if EPS falls towards $ 10 (let alone below that level), the shares will come crashing back to earth. Notably, whereas Dillard's stock traded at a deep discount to book value when I turned bullish in 2020, it now trades at a steep premium to book value, providing minimal downside protection.
I do not recommend shorting Dillard's, because the free float is quite low and short interest remains elevated (albeit well below peak levels). It would not take much to spark another short squeeze.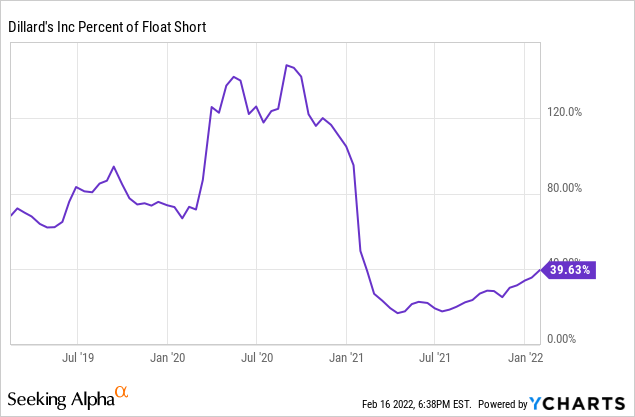 On the flip side, I would not want to own Dillard's stock at anything close to current prices, either. Hoping for a short squeeze when fundamentals are likely to deteriorate rapidly starting as soon as this year seems like a bad bet. Shareholders should consider taking profits.