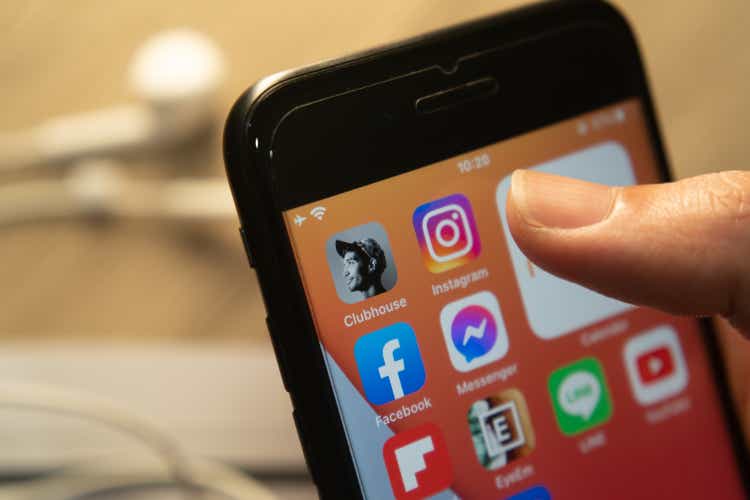 Investment Thesis
Digital Turbine, Inc. (NASDAQ: APPS) stock continues to baffle us. The company is expected to post revenue growth of 30% in FY23. It's GAAP profitable, and it's also FCF profitable. Yet, APPS stock revisited its lows last seen in November 2020, as investors remain concerned with execution risks relating to its multiple integrations.
However, we think the company's digital ad stack looks much more potent than before. Its integration has also resulted in revenue synergies of about 10% of revenue. Moreover, it has also deepened its partnerships with carrier operators and smartphone OEMs.
Still, the market remains unconvinced. Therefore, the stock remains stranded, 59% below its 2021 highs. Its NTM revenue multiple of 2.8x is approaching "value" levels, which is astonishing.
Nonetheless, keen investors should understand that APPS is a volatile stock. Therefore, investors should consider capitalizing on the current weakness to load up.
APPS Stock Key Metrics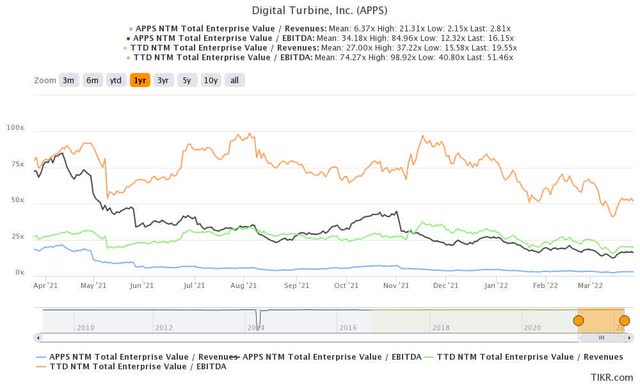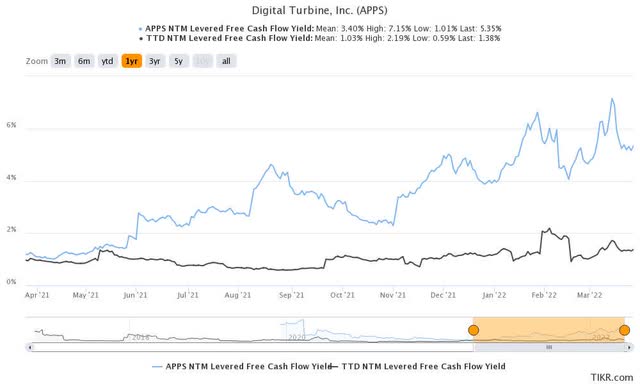 APPS stock is trading at an NTM revenue multiple of 2.8x and an NTM EBITDA multiple of 16.2x. If we compare it to the Open Internet DSP leader, The Trade Desk (TTD), the bifurcation is astounding. TTD stock's NTM revenue multiple of 19.6x implies a significant premium over APPS stock. While TTD is also profitable, its NTM EBITDA multiple incorporated a marked premium.
Furthermore, APPS stock's NTM FCF yield of 5.4% demonstrated just how pessimistic investors have gotten over its execution. Its acquisitions are accretive to its bottom line and offer significant synergies and moat enhancements. Moreover, it's also way more attractive than TTD stock's 1.4% FCF yield. So it's baffling, to say the least, as investors bailed out of Digital Turbine stock.
Where is Digital Turbine Heading In 2022?
Many ad tech players have been affected by Apple's (AAPL) IDFA changes. However, APPS has consistently emphasized that the impact on its revenue was not material. Digital Turbine has IDFA exposure through Ad Colony's business. However, the company also explained in its FQ2 card that the impact was insignificant.
Moreover, we think Digital Turbine's unique first-party ecosystem would continue to shield it from Google's (GOOGL) (GOOG) impending privacy changes to its Android OS. We discussed in an earlier Google article detailing how changes to Android's Ad ID could impact the tech industry. Therefore, investors and analysts were also concerned whether Digital Turbine's business would be impacted.
Hence, it was reassuring Digital Turbine elucidated that it did not expect an impact from Google's changes. CEO Bill Stone articulated (edited):
One of the things about our business is we actually have our own identifiers on the device. And that's on 800M devices that we've put that on around the world, and 60 + M each quarter that we add. And so with that ID, we've actually integrated with the mobile measurement partners that kind of keep score of what's happening on the device for the advertisers. What's in Google's interest is more on the privacy side in terms of how to limit third-party data sharing, which is not anything to do with our business. (34th Annual Roth Conference)
Therefore, the message is pretty straightforward. It's business as usual for Digital Turbine. Moreover, investors seem to forget that APPS has robust first-party data tied to every phone with its software installed. And that's massive because it does not rely on any other third-party data partners. As a result, advertisers would be keen to leverage its ecosystem in reaching out to the 800M phones installed with its software.
But, we believe that the market remains concerned with its recent acquisitions, which have diluted its profitability markedly. Digital Turbine reported an adjusted EBITDA margin of 24% pre-acquisition. However, consensus estimates suggest that APPS 'full-year adjusted EBITDA margin for FY22 could be just 15.7%. Therefore, we believe the marked decline in profitability has continued to bother investors as they parsed the benefits of its acquisitions. But, Stone has other ideas. He believes that Digital Turbine would be able to justify its purchases. However, investors need to exercise patience. He emphasized (edited):
We encourage investors to continue to look at aggregate dollar growth versus percentage growth. When we look at our guide, our EBITDA guide was 2x or 40% top-line revenue guide for the year. So there's a tremendous amount of operating leverage in the model. There's accelerating free cash flow, there's accelerating earnings in the model. And so what we're seeing right now is the revenue synergies, which are encouraging. So we've got a lot of optimism right now. You're going to continue to see overall EBITDA continue to grow and accelerate. (Roth conference)
Hence, investors are encouraged to continue giving management time to prove its worth. These synergies would take time to work out. Furthermore, the company's expanding partnership with Samsung (OTC: SSNLF) has lent further credence to its business model.
Given Digital Turbine's focus on expanding in the LatAm region, leveraging Samsung's penetration is critical. Investors need to know that Samsung had a 38% shipment share in LatAm in 2021 and was the # 1 player in the region. Furthermore, Brazil took home the # 2 top country by downloads in Google Play in Q4'21, coming in behind India. Therefore, we believe that Samsung's partnership with Digital Turbine is still in the early stages. Investors are encouraged to continue monitoring the company's development with Samsung in LatAm. Stone also accentuated that its partnership with Samsung is "very strategic."
Is APPS Stock A Buy, Sell, Or Hold?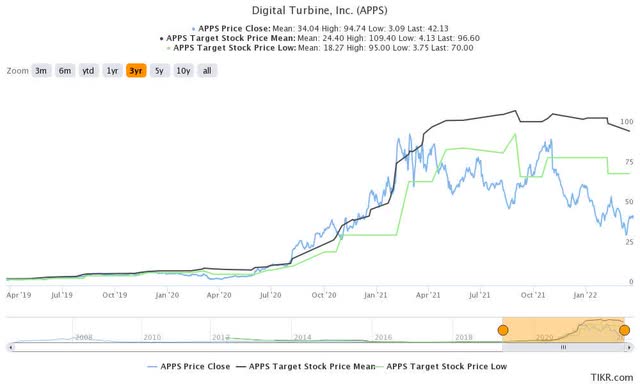 We concur that the Street has not gotten its price targets ((PTs)) over APPS stock with much accuracy over the past year. It has never closed in onto its average PTs while also missing out on its most conservative PTs.
Therefore, investors have been parsing APPS stock's valuations over the past year, with the execution concerns hampering its forward momentum.
However, we believe that too much pessimism has been baked into APPS stock. As a result, we think investors who decide to add exposure now could be handsomely rewarded moving forward.
As such, we reiterate our Buy rating on APPS stock.
Editor's Note: This article discusses one or more securities that do not trade on a major US exchange. Please be aware of the risks associated with these stocks.