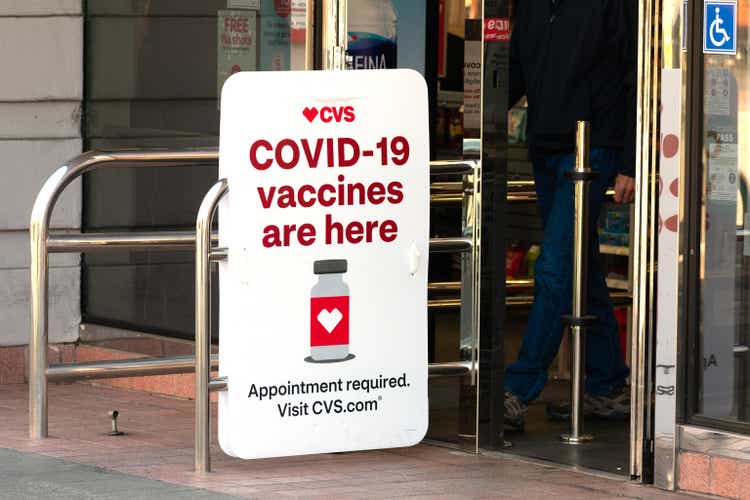 CVS Health (NYSE: CVS) is a company that specializes in providing personalized health care solutions. With its innovation, CVS has been able to offer a unique model that promotes health care at a better cost. Their community-based initiatives and emphasis on digital healthcare will enable them to serve a greater number of people. Despite the slowing volume of the Covid-19 vaccine to be administered in 2022, management provided a positive outlook for the company's topline. CVS has a strong financial performance, with a 10% increase in dividend growth and a $ 10 billion authorization for share repurchases, making it a good buy on a pullback.
Connected and Personalized

In order to keep up with the digital age, CVS has invested heavily into its online presence. These investments have helped them grow their customer base and brand awareness, while also increasing customer engagement across all of their business segments. Their website, cvs.com, is already one of the top health websites, and in 2021, according to management, the website reached 2 billion visits with an estimated 40 million customers served daily, up 55% than last year. CVS is also prioritizing in expanding its reach and its health zones, as depicted in the image below, are already operational in five geographic locations. One of their objectives is to assist communities in providing necessary resources and services both within and outside of the doctor's office.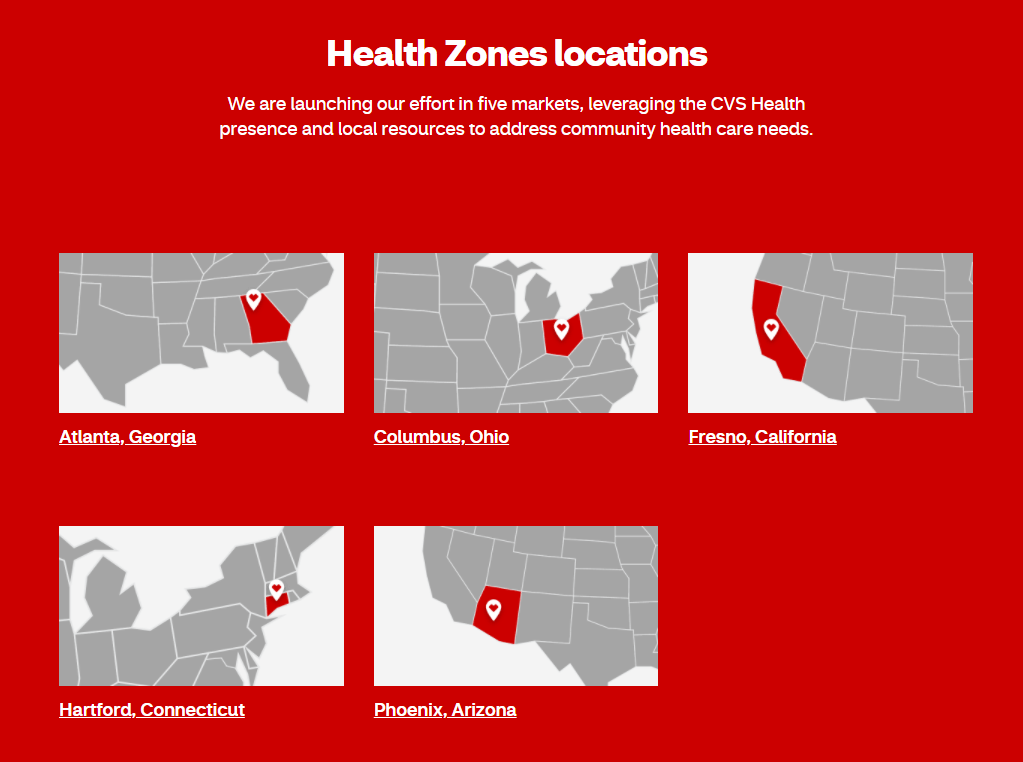 According to the management, they have plans to increase health zone locations in 2022 and another exciting news about CVS is its commitment towards a sustainable future, as quoted below.
Health Zones is now active in five geographies with additional markets planned in 2022. We remain committed to the environment and have pledged to reduce our overall impact, cutting greenhouse gas emissions across our operations and supply chain and decreasing resource consumption, especially paper and plastic.
The company is also building affordable houses in Denver and Nashville which will strengthen its unparalleled consumer reach.
Going Digital
CVS going digital benefited both consumers and the company, and one of the most noticeable benefits is cost savings.

Its Pharmacy Services Segment generated a total revenue of $ 153,022 million, up 7.8% year over year and accounting for 52.4% of the company's consolidated total revenue of $ 292,111 million. This also resulted in an outstanding client retention rate of over 98%, according to the management. Additionally, CVS delivered an outstanding growth in its operating income of $ 6,859 million compared to a challenging figure of $ 5,688 million last year. This sizable portion of CVS revenue exposes the company to some risk in the event of a market crash. As discussed in the linked article, the healthcare industry will be severely impacted by a financial crisis. Additionally, the management provided a pessimistic outlook for the vaccine volume to be administered in 2022, which is quite large, approximately 70% to 80% in the absence of a fourth Covid-19 dose.
However, there might be a chance as there is already a recommendation from the government pushing a 2nd booster shot for those who have weak immune systems. On a lighter note, despite the risks mentioned above, the management provided a positive outlook on its Health Care Benefits' revenue growing by 7% -9% YoY and Pharmacy Services which has a growing revenue by 6-8%. Speaking of its Health Care Benefit segment, one of its value adding catalysts is its growing Medicare benefit membership which grew by 9.8% YoY and its improving medical benefit ratio as shown in the image below.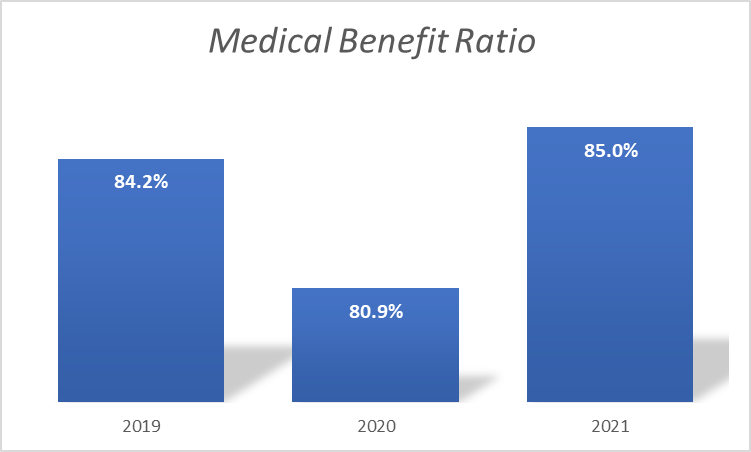 This translated to growth in its operating margin outlook from the management amounting to $ 5,760 million, up 15% -17% than the 2021 figure of $ 5,012 million. Digitalization helps CVS to improve its cost structure and help integrate its products and services across its reportable segments.
Management Provided a Positive Outlook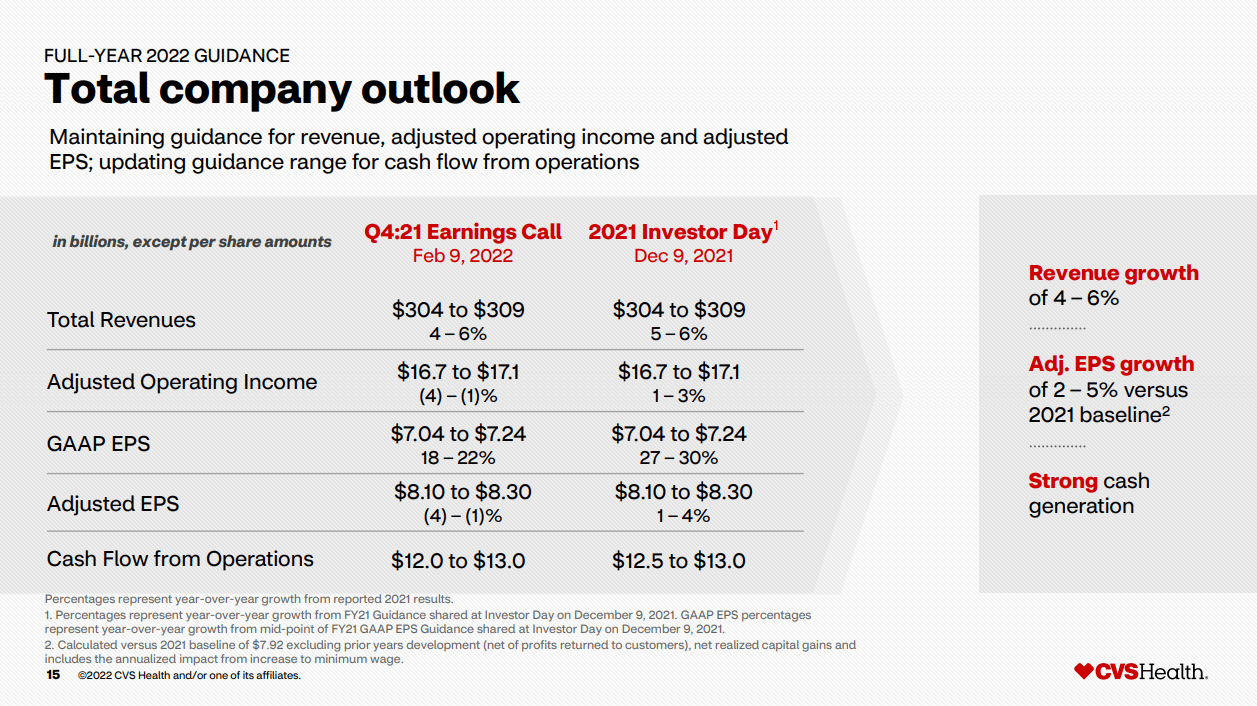 As shown in the image above, despite the declining pandemic-related boost, it maintained its forecast of total revenue, adjusted operating income and EPS but lowered its projected cash flow from operation by $ 500 million. The projected adjusted operating income may decline from a year over year standpoint, but a look at its GAAP EPS, which is expected to rise from $ 6 to $ 7.04 to $ 7.24 in 2022, seems to be an interesting catalyst. It is unlikely that CVS will incur many impairments next year that could lead to higher adjusted operating income in its 2022 performance. It is also worth noting that CVS has a share repurchase program worth $ 10 billion.
Strong Cash Flow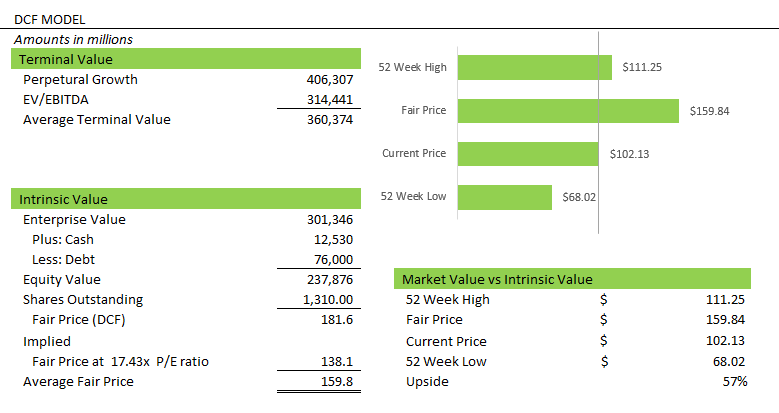 CVS is currently trading at a trailing P / E ratio of 17.16x cheaper than its forward P / E of 14.37x and is relatively cheaper than its sector median of 28.39x. According to my DCF model and simple relative valuation, CVS should be trading at $ 159.8, implying an upside of 57% as of today's price.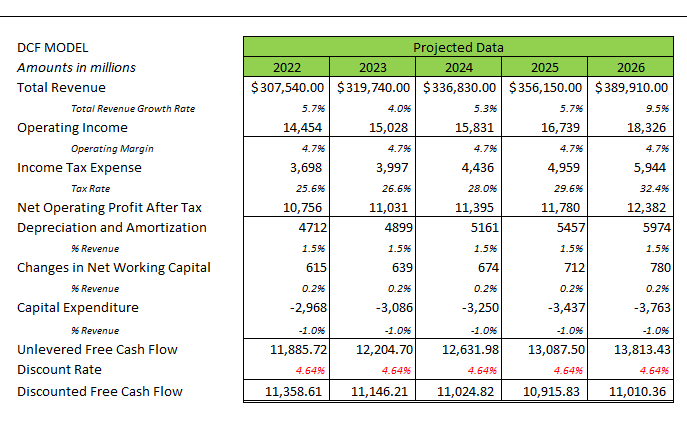 I used the analyst projection from 2022 to 2026 to complete the model. I projected a 4.7% operating income all throughout the model which is below its 5-year average of 5%, a very conservative figure in my opinion. I used the management projection as my tax base. I also assumed that there will be a positive shift from its net working capital aligned with its slowing cash from operation of $ 12 to $ 13 billion in 2022.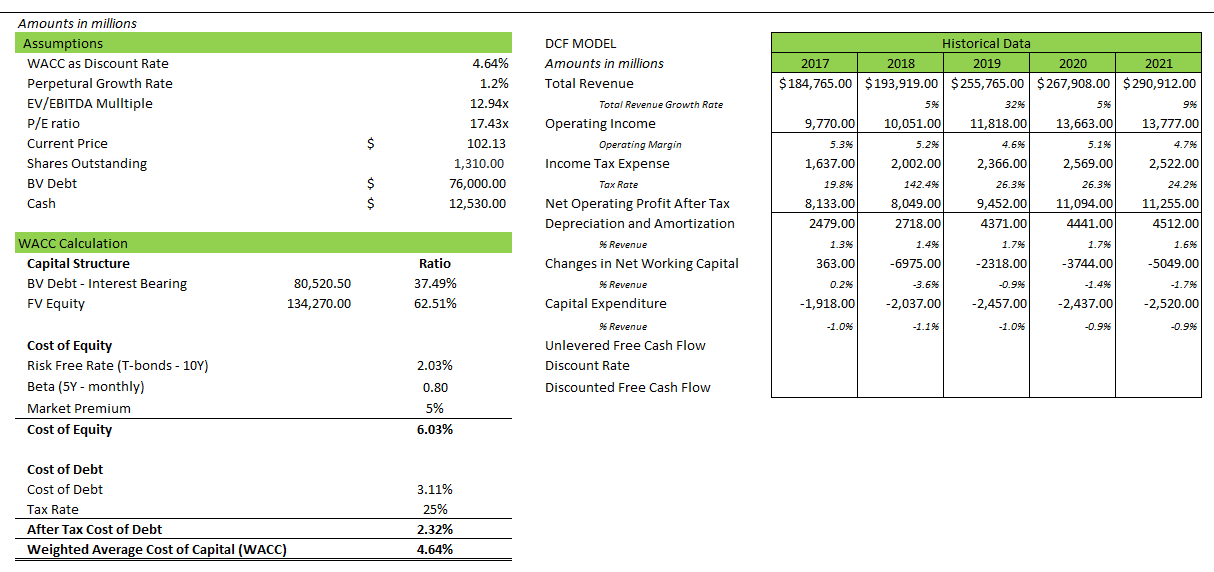 I used WACC as my discount rate, including my calculations and assumptions I used in the table above to complete the model.
Pullback: Get It In With A Better Price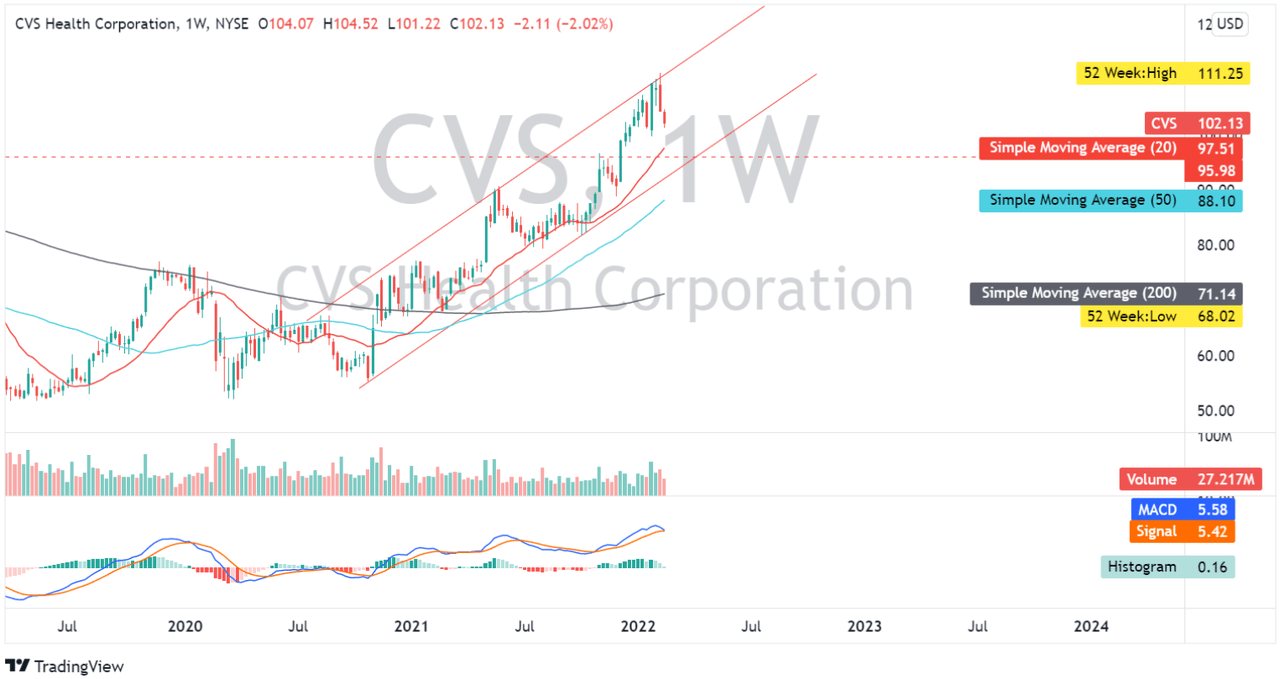 CVS is currently pivoting to the downside, in confluence with today's bearish market. Currently, its simple moving averages are stacked in a bullish manner, which may serve as a key support area if there will be a pullback. It's interesting how CVS will react between the $ 90 and $ 96 zone. Its MACD indicator is currently showing a potential bearish crossover that may signal a deeper correction.
Conclusion
CVS ended its 2021 stronger than 2020, as it improved both top and bottom line, as well as improving its liquidity with its debt-to-equity ratio of 1.01x better than last year of 1.22x. Additionally, the stock had a positive insider trading on February 11, 2022. CVS remains investable despite the pandemic's slowing catalysts; buy on a pullback.
Thank you for reading and have a great last week of February everyone!