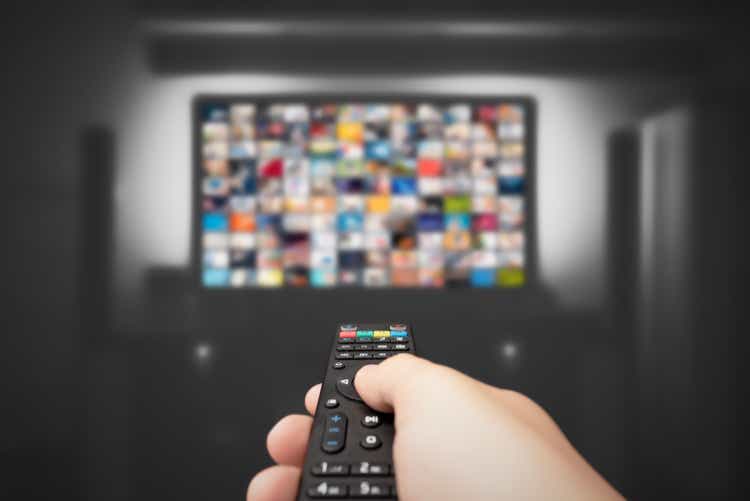 It's been a rough few years for Corus Entertainment (OTCPK: CJREF). In 2018 they slashed their dividend by close to 80%, citing a high debt load and competition from streaming services. Their largest shareholder (Shaw Communications) also started shopping around its ~ 38% stake in 2018 and, after failing to find a buyer, ended up selling in a secondary share offering at a steep discount. Then in 2020 the pandemic hit, which caused a decrease in advertising revenue in both their TV and radio segments.
Things are now starting to look a bit better for Corus. In their Q1 results TV revenue surpassing pre-pandemic levels. They've been able to use their strong free cash flow to share their balance sheet and are now close to their target of 2.5 times net debt to segment profit. The growth of Corus' streaming services (STACKTV and Nick +) has also been impressive, and gives Corus an avenue for growth that was missing over the last few years.
Business Background
Corus is a Canadian media and content company that owns 33 specialty TV channels, 15 conventional TV stations (under the Global brand), and 39 radio stations. They create content for their channels and license to other companies through their Corus Studios and Nelvana brands. Corus also has a presence in video streaming with the most notable being the STACKTV and Nick + add-ons within the Amazon Prime ecosystem.
Corus' specialty stations include popular stations such as HGTV, Food Network, National Geographic, YTV and Cartoon Network. Some of you may recognize that these brands are owned by leading US media companies such as Disney, and Discovery. Corus operates the licensed Canadian versions of these brands. The specialty channels generate revenue through both subscriptions and advertising.

Source: Corus Investor Presentation
The 15 conventional TV stations are "Global" branded stations that cover the major markets of Canada. The conventional TV stations generate revenue primarily through advertising.
Close to two-thirds of Corus's 39 radio stations are based in Ontario, with the remainder in Western Canada. They consist mainly of news, rock, country, and classic hits stations.

On the content creation side, Nelvana is an Emmy award winning studio focused on creating content for kids. It has created popular shows such as "Babar," "The Berenstain Bears," and "The Hardy Boys." Corus Studios creates unscripted content with popular shows such as "Big Timber," "Rust Valley Restorers," and "Island of Bryan." Corus uses the content it makes for use on its own TV channels and licenses the rights to other companies internationally. Many of the purchases of its content comes from streaming services such as Netflix (NASDAQ: NFLX) and Hulu.
Corus' main streaming offerings are the StackTV and Nick + streaming services. They have historically just been available as add-ons to the Amazon Prime streaming service. However, recently they announced a deal with Rogers to have StackTV available as an add-on to Rogers Ignite TV and Ignite SmartStream customers. Stack TV is on the more expensive side at $ 12.99 / month and includes content from 13 of Corus' channels. Nick + is cheaper at $ 5.99 / month and is available through an add-on through Amazon Prime or through Apple TV. It features Nickelodeon content.
The vast majority of Corus's revenue and profit come from the TV segment with only 3% of profit for YE 2021 coming from radio.

Recent Results
Annual Results Over the Last Five Years
With the well-documented drop in the number of households with cable, you would not be alone in assuming that the financial results for the company would have deteriorated significantly over the years. The numbers aren't all bad, though. Corus's EPS, segment profit, and free cash flow have decreased slightly over the past five years, but have stabilized and started to recover as we emerge from the pandemic and advertising spend increases.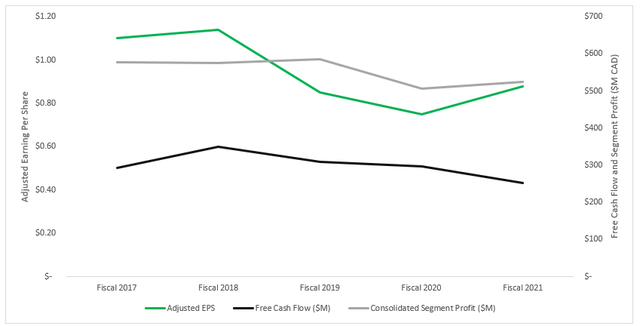 Initially, I was concerned with the steady drop in free cash flow over the last four years. However, when looking at the fiscal 2020 and 2021 free cash flow you can see that the cash flow from operations actually increased in 2021 by $ 36.5 compared to 2020. The drop in free cash flow in 2021 was caused by a change in working capital and an increase in cash used for investing activities. If the change in working capital was excluded from the free cash flow calculation, then it would be back near $ 300M where it was in 2019. This ability to consistently achieve $ 250M- $ 300M in free cash flow per year is what initially got me interested in this investment.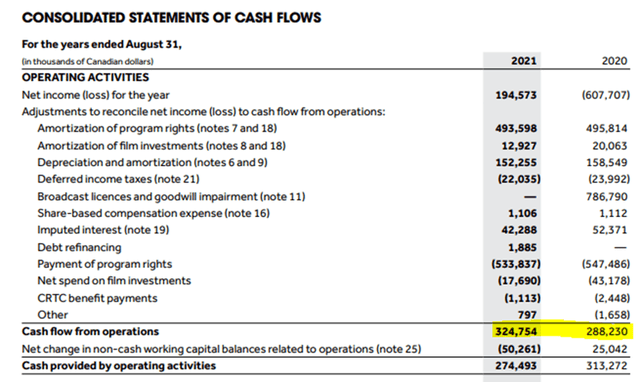 Taking a deeper dive into the TV and Radio segments, you can see that the TV segment profit has been quite stable with a recovery in 2021 as we emerge from the pandemic. The radio segment has yet to recover, though. The radio segment profit has decreased from close to $ 40M in 2017 and 2018 to an average of $ 15M in 2020 and 2021.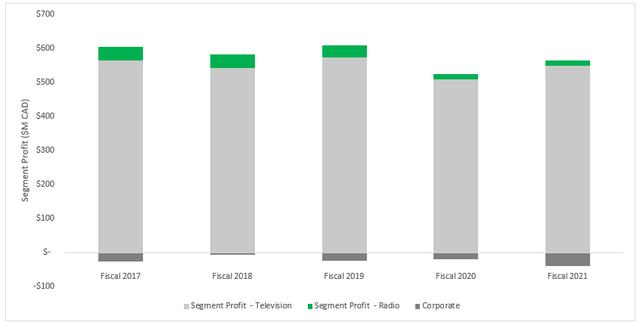 Reading the annual report, management states that the TV segment is seeing higher subscription revenue due to the STACKTV and Nick + subscription growth. That helped to offset lost revenue from traditional sources and an increase in licensing revenue driven by Corus Studios content. Comparatively, the radio segment has not seen any areas of growth to offset the decrease in advertising revenue.
Q1 2020 Results
Corus released Q1 2020 results in mid-January and there were no major surprises. The EPS was comparable to a year ago. Free cash flow was higher, but this was mainly driven by a distribution from a venture fund they hold. Results from the TV segment continued to be stable while the Radio segment continued to struggle.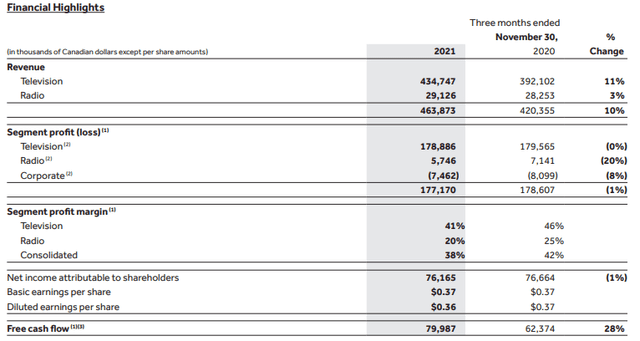 Source: Corus Q1 Earnings Press Release
One thing that stood out to me is that the expenses for the TV segment increased by quite a bit (20%) compared to the previous year. The reasons given in the report were an increase in original content deliveries, an increase in employee costs, and increasing marketing costs for STACKTV and Nick +. I expect these higher expenses to continue, which could be a risk if Corus can not grow revenue enough to offset the higher expenses.
Deleveraging
One of the reasons I've been hesitant to invest in Corus in the past has been the high amount of debt. Corus started with net debt close to $ 2B when they cut their dividend in mid-2018 to concentrate on deleveraging. They are now sitting at under $ 1.4B. One important note is that starting in 2020, with the adoption of IFRS 16 lease liabilities started to be included in net debt. That resulted in higher Net Debt to Segment Profit for 2020, as shown in the graph below.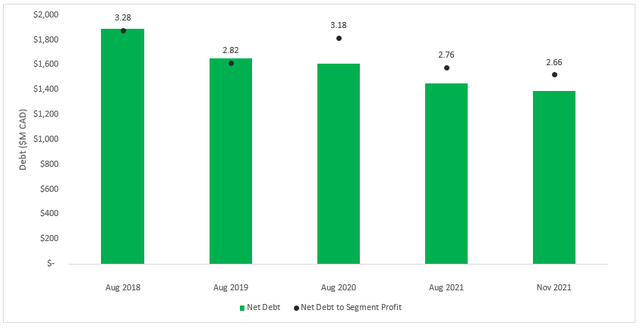 If you only look at total debt (excluding lease liabilities) it's even more impressive, with a decrease from ~ $ 2B in Aug 2018 to ~ $ 1.3B in November 2021.
The debt level now stands at 2.66 net debt to segment profit, which is just above the 2.5 target that management has set. If Corus continues to pay down debt at the same rate as they have in the past, they should reach their target in mid-2022. Note that Corus reports segment profit, which is similar to EBITDA reported by other companies.
With the debt levels close to management's target the company now has the financial flexibility to allocate between:
stabilizing and growing the business through investments or acquisitions;
continuing to pay down debt; and
returning capital to shareholders through share buy backs or increasing the dividend.
Based on the capital allocation policy my best guess is that they'll do some sort of combination of investing in content creation and further debt reduction. I'm OK with this strategy as long as they opportunistically buy back shares on any meaningful pullbacks in the share price. Note that management previously had the debt target set at 3.0 net debt to segment profit before decreasing it to 2.5, so there's nothing stopping them from decreasing it again when they get to the 2.5 target.

Valuation
Looking at most indicators, Corus is trading at a very cheap valuation. Here are a few highlights:
P / E of 5.8
EV / EBITDA of 5.1
FCF Yield> 20%
Note that I calculated the above numbers myself and, as such, there are some slight differences to the numbers shown on Corus's Seeking Alpha quote page (I used the adjusted numbers in the quarterly and annual reports).
The Seeking Alpha valuation grade and sector relative grades for Corus all screen very attractively as well, with the majority being A- or better.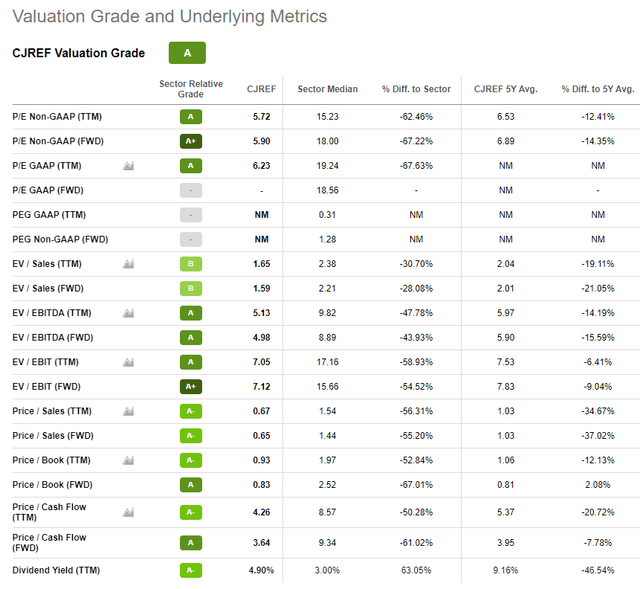 Compared to its peers, Corus screens well. With its P / E and EV / EBITDA the lowest in the peer group. I could not find any peers that were directly comparable as the majority of the media sector is controlled by a few companies in Canada that have business segments such as wireless, internet, and cable – which Corus does not.
If Corus were to trade at Stingray's P / E or Thunderbird's EV / EBITDA (next lowest peers), its share price would be ~ 50% higher than current prices. I understand the discount compared to the large integrated companies, but given the resilience in free cash flow and leverage now being more reasonable I see significant upside based on valuation.

Risks
The investment thesis is based on the attractive valuation and stable free cash flows. There has been an increase in expenses recently based on creating more original content, employee expenses, and the marketing cost of STACKTV and Nick +. Expenses could continue to rise without the ability of Corus to increase revenue, deteriorating free cash flow.
With the continued launch of additional streaming services in Canada (Paramount +, Discovery +, etc.) the recent growth of STACKTV and Nick + could stall. These services have helped made up the drop in traditional TV revenue. Many of the competing streaming services are also selling subscriptions with ads, leading to more competition for advertising dollars.
The company sells at a very cheap valuation, but it has for quite a while and I do not see any near-term catalysts to change this. The majority of the voting shares are held by the Shaw Family Living Trust (SFLT), so any outright purchase of the company would have to be supported by SFLT.
Conclusion
Based on the attractive valuation, stable free cash flow, and financial flexibility created by deleveraging, I rate Corus as a buy. Due to the lack of near-term catalysts, I consider this a long-term investment. As long as there is no rapid deterioration in the business fundamentals, I'll likely purchase additional shares on any material pullbacks.