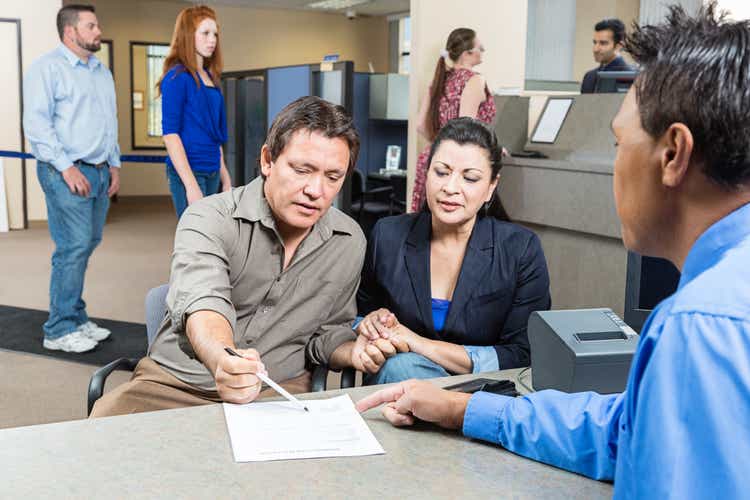 Community West Bancshares (CWBC) is a banking holding company, whose only asset is Community West Bank, a Californian nationally chartered community bank. Throughout this article, we consider both companies, the holding and the bank, to be the same, and we use the name CWBC.
CWBC has shown sustained deposit and loan growth during the past decade, doubling its balance sheet. This in turn has increased profits for CWBC, from an average of $5 million between 2012 and 2017 to an average of $9 million between 2018 and 2021.
The bank only holds a small portion of California's deposits but has an interesting position in the cities where it operates (mostly small ones).
Based on a relatively deep relationship with its clients, the bank is able to obtain a higher than peers' net interest margin while sustaining low losses on loans. The company is also relatively conservative on its loans, particularly in real estate.
We believe that CWBC is well-positioned to benefit from a context of higher interest rates not because of higher spreads but because some of its competitors will be more exposed to losses and will have to restrain lending.
It is true, however, that if the bank cannot increase its spread, or if a recessionary context reduces its balance sheet, then the bank's profitability may suffer from increased costs.
Note: Unless otherwise stated, all information has been obtained from CWBC's filings with the SEC.
Competitive position of community banks
Community banks are generally smaller regional banks with deeper relationships in the cities where they operate in. They mostly work with small and medium-size businesses, providing them with financing.
According to a comprehensive study published in 2020 by the FDIC, community banks usually earn a higher net interest margin than non-community banks. However, in general, community banks earn less than their bigger peers because they do not participate in non-banking activities, therefore their non-interest income is lower.
Community banks specialize in commercial real estate, SBA and agricultural loans. CWBC is no different in this respect, with these three categories composing 54% of its loans, according to their latest 10-K for FY20.
According to the FDIC, community banks are able to earn a higher interest margin because they can lend to businesses that bigger banks would consider too risky while sustaining lower delinquencies. This is possible because community banks know their clients better and evaluate them on a case-by-case basis, rather than using one size fits all procedures.
In the previous version of the same study, published in 2012, covering information since the 1990s, the FDIC mentions that community banks also do better during recessionary contexts. The reason is that their non-banking activities, particularly trading in securities, are smaller. Therefore when equity and bond prices fall, community banks are less affected.
However, the study differentiates community banks according to the regions where they operate. If the region's population is relatively older, or the region shows a net emigration flow, community banks tend to do worse. The reason is their markets shrink. In the opposite context, community banks tend to do even better.
CWBC's operations
The first step is to understand the competitive position of CWBC in the cities where it has branches. According to their latest 10-K, the bank has 8 branches in the cities of Goleta, Oxnard, Paso Robles, San Luis Obispo, Santa Barbara, Santa Maria, and Ventura, all of them in California. Fortunately, the FDIC publishes quarterly deposit share reports divided by bank and city.
CWBC is small in San Luis Obispo, Santa Barbara, Santa Maria, Oxnard and Paso Robles, with less than 3% of deposits. However, the bank has more than tripled its deposits in the cities since 2015. In Goleta, where CWBC has its headquarters, the bank holds 16.3% of deposits, while the biggest bank in the city, Wells Fargo, holds 18.2%.
According to their latest earnings release, for December 2021, CWBC is almost fully dedicated to loans, which compose 77% of its assets. On the financing side, deposits are 90% of liabilities. The bank holds less than $23 million in securities for total assets of $1.1 billion, and $200 million in cash equivalents.
Among loans, the company is heavily concentrated in commercial real estate ($480 million) and manufactured housing ($297 million).
The company has been increasing its cash position, from $60 million at the end of 2020, mostly by not increasing lending while increasing deposits.
The loan portfolio suffered during 2020, reaching total non-accruals of $3.6 million. However, during 2021, most of these loans recovered and now non-accruals stand at only $565 thousand, less than 0.1% of total loans. The reader should be wary though, because CWBC categorizes $21 million of its loans as substandard, meaning the borrower's financial position requires improvements.
Also, CWBC does not hold a lot of government-guaranteed loans, only $40 million between SBA, USDA and FHLB guaranteed loans. This figure has been decreasing in recent years. CWBC does originate some of these loans but then resells them.
Most of CBWC's loans are backed by real estate. CWBC reported that its real estate loans last between 6 and 18 months. However, we put this into question, because the latest maturity schedule (for FY20) mentions that more than 70% of loans have maturities over five years. CWBC also reported in 3Q21 that substantially all loans were secured by first liens with average loan-to-value ratios of 53%. This means that even if the property value went down 45%, CWBC would not lose the principal.
CWBC is able to charge 5% on its loans. Because the bank increased its cash positions during 2021, restraining new loans, its yield on earning assets was only 4%. On the financing, it had to pay 0.3% on average, mostly for deposits. As can be seen from the chart below, published by the FDIC, CWBC earns a similar net interest margin to its peers, banks with between $100 million and $1 billion in assets.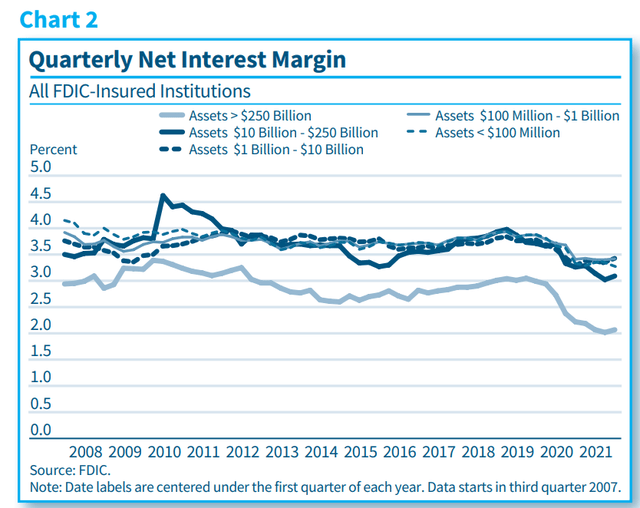 Regarding variable and fixed rates, as of FY20, approximately 75% of CWBC's loans are variable rate and are therefore somewhat protected from the increase in rates that the FED has announced.
However, manufactured home loans, which comprise 35% of loans, are fixed for a period of 5 years from origination. We do not know the exact amount of manufactured home loans with less than 5 years since origination. To provide a comparison, in 2016 CWBC had $195 million in these types of loans and by 2020 it had $280 million. So at least those $85 million of difference, without considering renovation, have been created in the last five years.
With $888 million in loans earning an average of 5%, the company has been able to obtain interest income of about $44 million in net interest income. As was mentioned, non-interest income represents a small portion of CWBC's income statement, less than $4 million.
Unfortunately, CWBC's costs are high, at $28 million in 2021. Costs are also increasing, about 10% between 2020 and 2021, with salaries being the biggest expense, at $18.3 million. With 123 full-time employees and $3 million in management compensation, that means an average salary of $124 thousand a year. According to CWBC, employees are an important part of their business model because they care for the direct relationships with business owners that sustain CWBC.
However, as can be seen in the chart below, CWBC has been able to increase its margin over expenses across the years, growing interest income faster than expenses.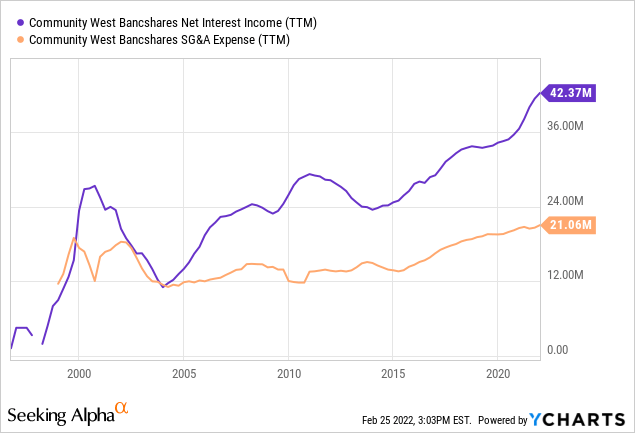 Regarding cash flows, CWBC has been generally positive on an operating basis. Additionally, cash flows have generally been above net income, because of accruals and non-cash expenses.
Risks and uncertainties
With current earnings of $13 million and a market cap of $120 million, CWBC currently trades below a P/E ratio of 10. This compared to an average P/E ratio of 37 for regional banks. CWBC's P/E ratio is in the lowest 20% of the industry.
When a company like CWBC suddenly increases reported income the main question is whether or not that situation is sustainable. Generally, the company recorded a one-time gain that inflates earnings and reduces the P/E ratio.
Operating leverage generates short term volatility
This is not the case of CWBC, whose income was generated by recurrent operations. The reason is CWBC has operational leverage, meaning that most of its costs are relatively fixed. Companies with operational leverage are more sensitive to movements in the topline.
As we mentioned, most of CWBC's costs come from its employees. Although a bigger bank requires more employees, the relation between loans and employees is not direct. Therefore, if the bank can increase its net interest income, either by increasing its spread or increasing its balance sheet while keeping costs relatively fixed, it can show bigger increases in earnings (percentage wise). In the case of CWBC, net interest income went up 20%, from $35 to $42 million. However, with costs fixed around $28 million, net income jumped 60%.
Inversely, that means that CWBC is sensitive to reductions in its net interest income. If interest income goes down 10%, net income may go down 30%. Also, labor costs are only semi fixed, and they have started escalating already, 10% YoY. CWBC was able to keep total costs fixed by reducing other costs, like professional services.
The cost portion of the equation is relatively out of CWBC's hands, because there is generalized inflation. In the past, under a lower inflation context, CWBC was able to increase income above their costs.
Therefore the question is whether or not CWBC can not only increase its interest income but actually increase it above inflation. All of this, in a context that will probably be very different from the one in which the bank operated during the last decade.
Higher interest rates are not a long-term concern
One thing is certain, interest rates are going to be increased, or already did in the secondary markets. However, as the chart from FRED below shows, the net interest margin of small banks is not affected by changes in short-term rates of interest. In fact, the tendency is for the margin to decrease independently of the context, because of competition. The same conclusion is supported by a 2016 report by the Federal Reserve Bank of Richmond.

Interest rates do have a depressing effect on equities and bonds. However, CWBC holds a negligible portion of its assets in such securities. They can also affect a bank that has borrowed a lot, which is not CWBC's case either.
Another aspect where CWBC could be affected is the reduction in deposits. Some economists believe that if interest rates are higher people will reduce their cash holdings and will invest more. Again, the evidence does not agree. As the FRED chart below shows, deposits have been going up in the US irrespective of the behavior of the interest rate.

Finally, there is the impact of interest rates in the viability of the businesses CWBC lends to. Again, higher interest rates should push marginally profitable businesses out of business, therefore increasing default rates. The effect is believed to be compounded in real estate, where CWBC has a significant portion of its operations, because real estate prices are believed to be depressed by interest rates. However, again the evidence does not support this idea. The red line in the FRED chart below shows delinquency rates on commercial real estate loans for banks not among the 100 largest. The blue line is short-term treasury bills rate and the green one long-term treasury notes rate. The graph is clear, moving interest rates do not affect delinquencies.

Summing up, a context of higher interest rates is neither beneficial nor harmful for CWBC's earnings directly. The net interest rate margin that CWBC can earn is going to suffer in the short term, but not in the long term. In the long-term however that margin will decrease because of competition.
CWBC – Competition landscape and balance sheet growth
With long-term decreasing margins, CWBC can only increase interest income by increasing loans, and in turn, it can only do that if it increases deposits. The required growth is above its labor costs, or above inflation in general.
In this respect, we believe that CWBC may have an advantage under higher interest rates. The reason is that other banks may be affected by higher interest rates, maybe because they have a significant portion of assets in securities, or because they have obtained financing outside from deposits.
For example, Wells Fargo, one of the main competitors in California, has about 30% of its assets in securities. Something similar happens with Bank of America and Mitsubishi, the big players.
Competitors more in line with CWBC are also affected. For example, Malaga Bank, Plumas Bank, Banner Corporation, First Republic, Community Bank of Santa Maria and Pacific Premier all have between 20% and 25% of assets in securities.
Other competitors like Private Bancorp or Capital Bancorp are similar to CWBC, in the sense that they hold small trading books and are mostly financed by deposits.
If some banks suffer heavier losses, it can be expected that they will reduce their lending activity and that they will become more risk-averse. It is our understanding, that in relationship banking the willingness and availability of a bank to lend to its customers in times of need is valued. If moved by minimum capital or risk requirements a bank has to deny loans to long-term customers in need, that deeply damages the bank's reputation. Some clients may move their business elsewhere. New clients may not receive loans and therefore may not open long-term deposits account with the bank.
In that context, CWBC may be one of the less affected banks, and therefore it may take more risk and lend more. That possibility can protect long-term customers and allow to gain new ones.
Of course, macro factors could affect CWBC's balance sheet growth, for example, if borrowers were less willing to take loans given the higher interest rates or lower aggregate demand. Again the evidence from FRED shows a continued increasing trend, only affected by recessions.

Loan concentration
As we mentioned, two categories compose up to 80% of the company's loan portfolio, commercial real estate and manufactured houses.
The company has experience operating in these segments. They represent such a proportion of loans since at least 2006, according to their 2010 10-K report.
Are these loans riskier than other types of loans? Regarding commercial real estate, we have shown evidence that they are not. First, the FDIC report on community banks mentioned that commercial real estate is one of the main activities of this type of bank and that they show lower delinquencies than other types of banks. Second, we have shown specific data from the FRED, showing the effect of interest rates and recessions on commercial real estate loan delinquencies.
Regarding manufactured houses, we have two pieces of data.
First, the 2012 10-K report shows the effect of the last financial crisis on these loans, then already composing 30% of CWBC's loan portfolio. During the financial crisis, between 2008 and 2012, CWBC took $38 million in net charge-offs from a $600 million balance sheet. From these, manufactured represented $9.5 million, or about 25%, in line with its weighting in the loan portfolio. This tells us that under strains, manufactured houses are not riskier than commercial real estate.
Regarding a bubble or something akin to that, the Manufactured Housing Institute published an industry report for 2021. The institute also reports data going back as far as 1993, divided by state. In those reports, two things are worth considering. First, the Californian industry has operated at the same level, between 2,500 and 3,000 houses per year, since 2014. Second, the national average price per square feet had grown 20% since that date towards 2019. Although we would prefer to have 2020 and 2021 data for prices, the data we have shows no indication of a bubble or mania being formed.
CWBC stock price volatility
We have addressed some risks from a long-term perspective, but their effect on short-term profitability can be more substantial. For example, CWBC's lending rates may take more than a quarter to adjust, during which their net interest margin will contract and quarter performance will suffer. This effect is compounded by the already mentioned operational leverage of CWBC.
Therefore, it may be possible that next quarter's earnings are disappointing and CWBC's stock price suffers accordingly.
However, CWBC has shown that it can operationally earn $13 million based on long-term trends of its business. We are more concerned with that long-term trend than with quarter by quarter earnings.
Summary
After addressing some of the most important risk factors regarding recent CWBC earnings, we find that a P/E ratio of 10, market cap of $120 million and stock price around $13 for CWBC are very interesting. Although earnings could suffer from short-term fluctuations, caused either by shrinking spreads or increased costs, in the long run, we believe the bank will be able to recover profitability and continue growing.
However, the situation has to be followed with detail, to confirm that the suppositions made in this article are valid, and to evaluate if CWBC can continue growing its balance sheet sustainably.