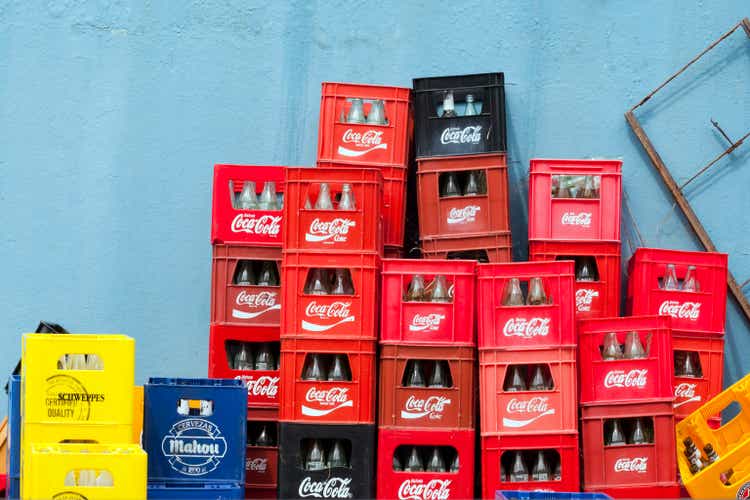 Introduction
Coca-Cola Europacific Partners (NASDAQ: CCEP) has been one of my favorite Coca-Cola bottlers as this company has the monopoly to market, produce and distribute Coca-Cola (NYSE: KO) and Monster products for several 'rich' regions. While CCEP was originally solely focusing on European countries, the acquisition of Coca-Cola Amatil in 2021 has expanded its footprint.
CCEP has a very liquid listing in the USA and in the Netherlands where it's also trading with CCEP as its ticker symbol on Euronext Amsterdam. As CCEP reports its financial results in Euro, I will use the EUR as base currency throughout this article, and refer to the company's Amsterdam-listed shares. If you're looking for liquidity, the USA is vastly superior though.
The combined entity still has room to grow
Before kicking off the financial analysis, readers are cautioned the reported financial results only include the results from the recently-acquired Amatil division from May 11 th on as the acquisition was completed on May 10. This means that 2022 will be the first full year the Amatil division will be incorporated in the financial results.
The total revenue came in at just under 13.8B EUR resulting in a gross profit of just under 5.1B EUR. That's approximately 40% higher than the 3.74B EUR in gross profit generated in 2020 but that should not come as a surprise as the demand for Coca-Cola products bounced back after the COVID year where traveling and leisure were severely impacted. Additionally, as mentioned before, the FY 2021 results contain a contribution from the Amatil division for almost 8 months of the year.
It is interesting to see how fast the margins are expanding. Despite an almost 30% increase in revenue, the selling and distribution expenses increased by just over 25% while the administrative expenses increased by just 10%. The combination of all these elements caused the operating profit to almost double as it came in at 1.52B EUR, up from 813M EUR.
The finance expenses increased and will likely be even higher in 2022 as the acquisition of Amatil was an all-cash acquisition. So I expect the interest expenses to increase this year before they will start to gradually decrease from 2023 on as Coca-Cola Europacific Partners will be reducing the net debt by retaining a portion of the incoming free cash flow.
The net income in 2021 came in at 988M EUR which is approximately 2.15 EUR per share. That's almost twice as high compared to the 1.09 EUR EPS generated in 2020.
I'm mainly looking at CCEP from a cash flow perspective.
The reported operating cash flow in FY2021 was 2.12B EUR, as you can see below. This does however include approximately 114M EUR in contributions from changes in the working capital position, while I also still have to deduct the 139M EUR in lease payments as well as the 97M EUR in interest payments. So on an adjusted basis, the operating cash flow was approximately 1.77B EUR.
The total capex was approximately 446M EUR as you can see above, and this results in a free cash flow result of approximately 1.33B EUR. Divided over just under 460M shares outstanding, the free cash flow per share was approximately 2.90 EUR. That represents a free cash flow yield of approximately 6%.
The dividend policy is clear, and there's plenty of cash available to reduce the net debt
Coca-Cola Europacific Partners has committed to a payout ratio of approximately 50%. The dividend for FY 2021 has technically already been paid as an 'interim dividend' in December 2021, but income investors will be happy to know CCEP has now updated the frequency of its dividend payments as it will move to making two payments per year.
After the Q1 trading update, CCEP will make an interim payment which will represent 40% of the full-year dividend of the previous year (in this case, CCEP will likely pay an interim dividend of 0.56 EUR per share). The second dividend will NOT be paid after the end of the financial year, but after the Q3 trading update. This means there will likely be a little bit of 'guess work' involved as CCEP will make the final payment before the financial year ends.
The guidance for 2022 appears to be rather positive as CCEP is guiding for a 6-9% increase in operating profit on a pro-forma basis. Dealing with inflation will be a key element in 2022 which makes it rather difficult to put EPS and DPS projections forward but I'll make an attempt.
The pro-forma operating profit was 1.89B EUR in FY 2021 (including the period of January 1-May 10 th when the Amatil acquisition was not consolidated yet). If I would use the bottom of the operating profit increase guidance (6%) I'm anticipating the full-year operating profit to come in at around 2B EUR.
Deducting a net finance expense of 160M EUR (up from 129M EUR in FY 2021) would then result in a pre-tax income of 1.84B EUR. Applying a 23% tax rate (the upper end of the 22-23% tax rate guidance) would subsequently result in a net income of 1.42B EUR or 3.08 EUR per share. Applying a 50% payout ratio means we can likely expect the dividend to come in at around 1.5-1.55 EUR per share for a dividend yield of 3.3% based on the current share price. As Coca-Cola Europacific Partners is headquartered in the UK there should be no withholding tax payable on this dividend.
Investment thesis
Assuming the free cash flow result will be in line with the reported net income, the payout ratio of 50% means CCEP will retain in excess of 700M EUR in cash on its balance sheet which will be very helpful to reduce the net debt from the elevated level of 11.7B EUR. That sounds rather high but as the pro-forma EBITDA was roughly 2.7B EUR (on an adjusted basis, so including a full year contribution from Amatil and excluding the integration costs and restructuring charges), the net debt to EBITDA ratio was approximately 4.3. I expect this to drop below 4 by the end of 2022. CCEP has mentioned it wants its debt ratio to fall to the 2.5-3 target range by FY 2024 and I think the company will be able to achieve that considering the EBITA will likely increase while the net debt should be below 10B EUR by the end of 2024.
Using the current share price of approximately 47.40 EUR, CCEP has an enterprise value of 33.5B EUR and an EV / EBITDA of 12.4. This will decrease soon, but that does not make CCEP particularly cheap, especially when you see how COKE is trading at an EV / EBITDA of less than 8.
That being said, the enterprise value has increased a lot after the all-cash acquisition of Coca-Cola Amatil as that's what boosted the total net debt. We are now less than one year after the completion of the acquisition and most of the synergy benefits will still have to be unlocked so CCEP mainly needs time. Time to show that it is able to fit in the Amatil acquisition in its existing corporate structure, and this should result in an EBITDA increase, and a stronger free cash flow result.
While I do not have a position right now, I am considering going long as the free cash flows remain strong and the dividend yield is 'okay' considering CCEP is correctly prioritizing balance sheet health.