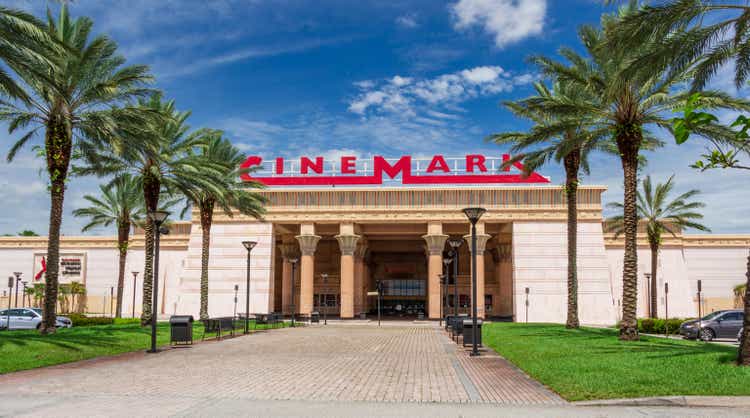 Investment Thesis
Cinemark Holdings, Inc. (NYSE: CNK) is an American movie theater chain headquartered in Plano, Texas in the Dallas-Fort Worth area, and has been operating since 1984. The stock has been decimated due to the Covid-19 pandemic producing disaster for the movie theater industry, but a recovery is on the cusp of reality in 2022 and beyond. While AMC is likely not investable at this point due to its meme stock status and high debt levels, Cinemark is not a meme stock, and remains an overlooked company in a market with few players and great future prospects.
Introduction
The stock first came onto my radar in September 2020, when things were looking pretty grim. This was before vaccines were widely available, and I did not know how long it would take for the movie theater industry to recover. However, with an over 60% decline in the shares of CNK, I decided to take a small position as a quick trade, betting that the depressed share price would soon tick back up. I was more inexperienced back then, with a short-term mindset and only a handful of years of stock market trading under my belt.
My initial buys of Cinemark were at a price of $ 11.77, and I averaged down into the trade at $ 10.73. Boy, do I wish I had held those shares …
I sold my Cinemark stock after the vaccine rally in mid-November 2020, which came almost immediately after my speculation on the industry. If I had held, I would still be up nicely on the position, but at the time it seemed like a good idea to reposition the money into other, more stable stocks in other industries.
Now that the stock has come back down, and settled into a nice basing pattern above $ 13.00 per share, the risk / reward is starting to look favorable for a long-term investment.
Cinemark From A Technical Perspective
In this market, timing is everything. Looking at a five-year chart, we see that Cinemark is starting to stabilize, with a nice base formed above the $ 13.00 level.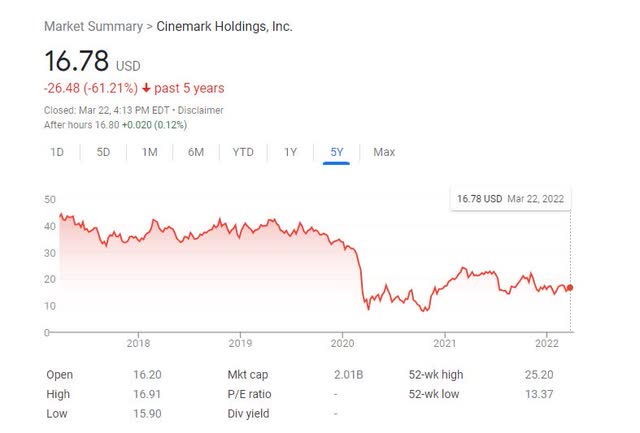 With more market volatility, we could potentially see a test of the $ 13-14 level in the shares, which would likely be a good buying opportunity for the long term. I am tempted at this price, as the stock appears to be stable with year-to-date returns at -1.4% compared to the SPY at -5.89%.
So far this year, we have had fears of an economic recession, rising interest rates, major geopolitical events taking place, and a decent correction in the S&P 500. It is shocking to see a stock like Cinemark holding up so well in volatile times. The bad may be fully priced into the shares already, as the stock is down nearly 33% from the recent highs set on June 2nd, 2021.
The stock is off of the lows, but remains in almost the exact middle of a trading range between $ 14.88 and $ 18.19. It is neither overbought nor oversold, so the market is likely valuing the company efficiently and effectively, but I believe more research is necessary and would prefer to wait for a larger correction in the price.
Signs Of A Rebound At The End Of Last Year
Cinemark has actually started making money again, after long last. Will the trend continue? That is the big question.

After an abysmal 2020 calendar year, we can see that the most recent quarter generated operating profits of $ 59 million. Gross profit was $ 425 million, which is almost back to the comparable quarter in 2019.
Gross margins are also slightly higher than 2019 levels, but it is too early to see if there will be a huge improvement. Operating margins are still depressed, and earnings per share have not recovered to previous years. For those hoping in 2020 that 2021 would be the big rebound year for movie theaters, I feel that many were too optimistic at the time.
However, there are many movies from the last several years that were delayed and delayed again, until demand was seen to be making a recovery. I feel like the signs are showing that 2022 may be the year that investors have been waiting for.
With the release of Spider-Man: No Way Home on December 17th, 2021, the results showed that the Covid-19 pandemic's destruction was no more. Globally, this movie has set many records, as it is currently the sixth-highest grossing movie of all time with $ 1.8 billion, and the third-highest release for the domestic box office.
More recently, The Batman did fine at the box office, showing that pent-up demand remains a bullish catalyst for the full year. With more long-awaited titles releasing over the course of the year, such as Top Gun: Maverickthere are reasons to be bullish on movie theater stocks.
Debt, Risks, And More
As of December 31st, 2021, Cinemark has total assets of approximately $ 5.2 billion and total long-term liabilities of $ 4.1 billion, with understandably not much change in these numbers since the same period in 2020. While the debt is slightly less, in comparison to the December quarter of 2020, it is still a major issue for the company.
However, it is in a much better shape than AMC, which would most certainly have gone bankrupt if it did not become a meme stock and offer shares to the market at high equity prices. The market rallied behind AMC to save the company, so why not Cinemark? Who knows why or how stocks achieve the "meme stock" status, but when looking at shares of GameStop (NYSE: GME) today, (30% rally on 3/22/22) these names can have mind-blowing rallies on seemingly no news whatsoever.
Will CNK ever become a meme stock? I sure hope not. I deem AMC to be uninvestable at this point, and I am much more hopeful that Cinemark can remain under the radar and avoid the crowd of speculators.
The company is also dominant in Latin America, which could be seen as a positive or as a negative depending on how you feel about emerging markets outside the US I am more bullish on the US economy than pretty much anywhere else in the world, but this is one area I will have to research more before deciding to buy CNK stock for the long term.
Mainly, I have issues with Cinemark's valuation given the book value metrics, and see some risks ahead. CNK still trades at a price-to-book of 5.9, which is interesting. I admit that I am not sure if this current price is cheap, or invites more downside risk if I am incorrect in my thesis that 2022 will be a strong rebound year for movie theaters. If there is an economic recession just ahead, then Cinemark is still too expensive for me and could likely fall a lot more.
However, if recession worries are overblown, and the roaring twenties are destined to happen after all, then Cinemark could present with some great buying opportunity in the weeks and months ahead for investors with a long-term mindset.
Conclusion
Cinemark is an overlooked movie theater stock compared to AMC, which I deem uninvestable at this time. The company has great potential to recover long-term, and is starting to show signs of life after a quarterly profit was realized at the tail end of 2021. With a lot of pent-up demand, and long-awaited titles finally releasing, movie theaters could have a fantastic year in 2022. The technical picture is interesting at this price level, but I would wait for more volatility to see how it shakes out. There are of course issues with debt, market position, and other factors, which is why I think more research is necessary. While I have traded the stock in the past, and currently have no position in the stock, I rate CNK as a Hold at this time but I am leaning more towards Buy on weakness.