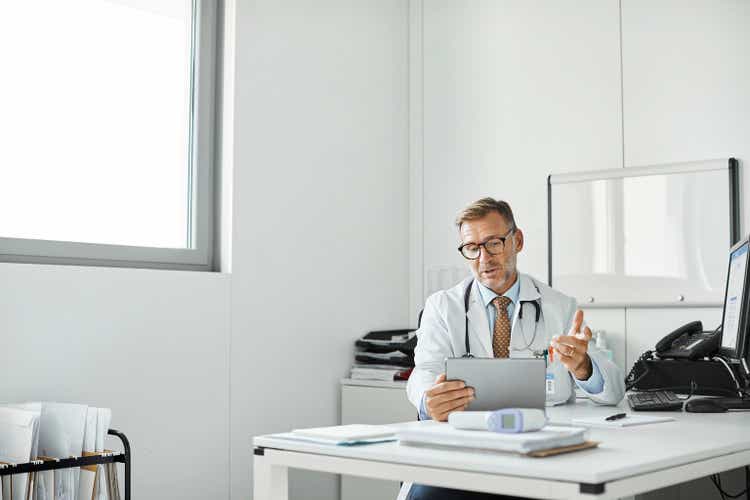 Cano Health (NYSE: CANO) is a healthcare plan provider headquartered in Miami, Florida. The company specializes in healthcare plans for seniors. While the company started off small, servicing just its local Florida markets, it has since grown exponentially. The company now services many areas across the globe, including Texas, New Mexico, Nevada, California, and Illinois. As large and varied as Cano Health is, the story of Cano Health is really the story of one man: CEO Dr. Marlow Hernandez. Dr. Hernandez opened Cano Health as a way to provide healthcare to the residents of his home community in 2009. Since then, Cano has become global, with Florida alone being home to 36 clinics and employing over 1,000 people.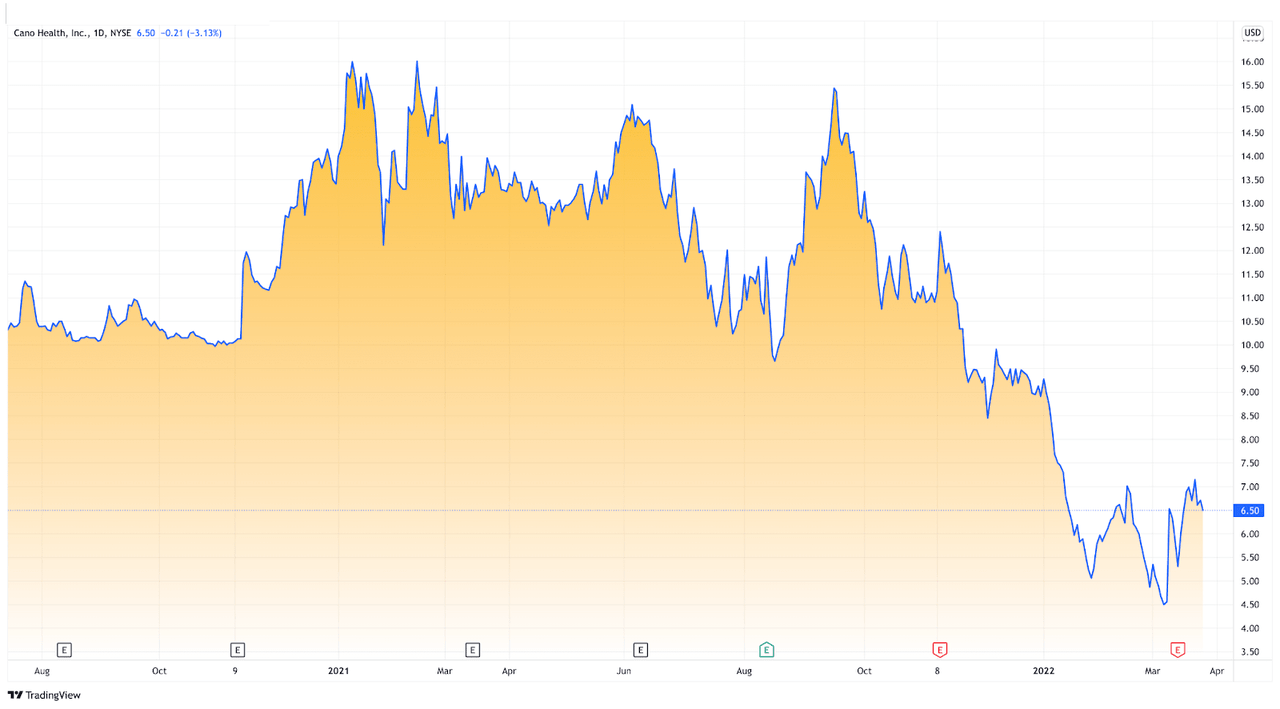 In this article, I will show that Cano Health is a healthcare provider worth significant investment. Insurance in America is a high-demand item, and companies that are able to cover a vast array of different medical tests and treatments are leading the way. Additionally, health care providers that offer a range of services are also extremely popular, which Cano Health currently provides. As of 2019, only 0.8% of adults over 65 years old are without health insurance. Therefore, they represent the most lucrative demographic in terms of consumer demographics and the primary demographic for Cano Health. Cano Health sits in one of the most lucrative industries servicing the most lucrative demographic in that industry, and they just expanded. For these reasons investors should be bullish on the future of Cano Health.
Healthcare Market Overview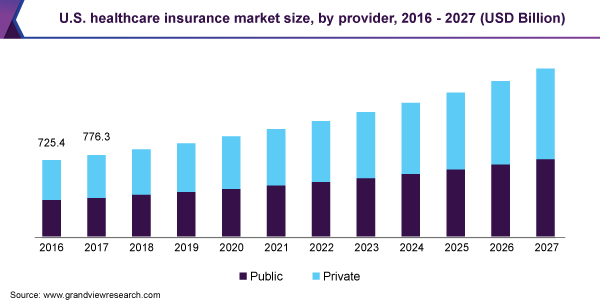 The global healthcare insurance market was estimated to hold a market cap of $ 2.4 trillion in 2019. From that point, projected into 2027, the industry is expected to grow at a significant 6.7% CAGR. The largest segment in the market is government-related healthcare. Healthcare plans purchased by state and federal governments for use by low-income citizens totaled 55.6% of the market. However, despite holding less market value, the private sector is actually projected to grow at a higher CAGR of 7% in the same projection period.
The largest demographic within the US healthcare market was that of senior citizens. People who are 65 years or older have the second-highest growth CAGR on the market, coming in at a projected 6.6%. This is because seniors are more at risk to health issues, and so there is an onus on them to purchase premium healthcare plans so that they can monitor and treat their conditions effectively. Because Cano Health serves senior citizens primarily, it puts them in a prime position to benefit from this growth.
Recent Deals
The most significant factor in the success of a healthcare provider from a market value perspective is their reach. For many years Cano was a Florida-based company that serviced Florida residents. Because Florida is largely a retirement state, this benefited them greatly as their practice focuses on seniors. However, as time has passed, they have greatly expanded their coverage areas, extending as far as California. This has propelled them into profitability. While much of their expansion has been organic, from their company roots, their most significant development came from combining forces with another large company.
In 2021, Cano finished a business deal that saw it combine forces with Jaws Acquisition Corp. The deal allowed Cano Health to significantly expand its services, helping them acquire clinics and treatment centers all over the country. Since its inception, the company has had a vision of becoming the country's leader in primary care. This partnership with Jaws will allow the company to build, buy, and manage primary care centers in multiple different cities and states. This will likely prime them for a significant jump and set them up for long-term growth.
Financial Overview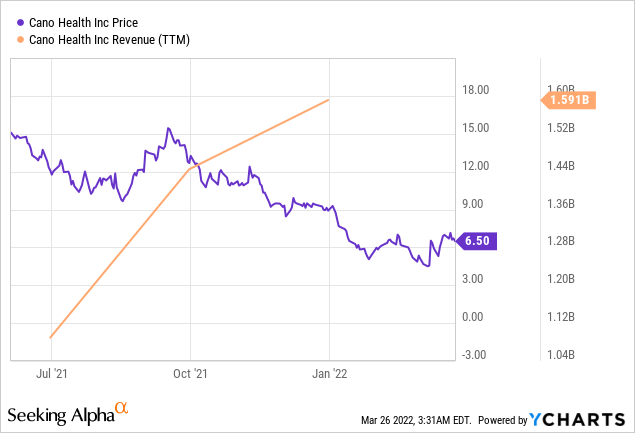 Over the last three years, company revenues have seen a significant and steady rise. In 2019, the company earned $ 361 million in revenue. While most markets struggled in 2020 due to the pandemic, the healthcare market saw some positive trends. This helped Cano Health increase its 2020 revenues to $ 831 million. The partnership with jaws paid immediate dividends, as 2021 posted the highest numbers yet on the books for the company. 2021 saw the company generate a massive $ 1.6 billion in revenues, nearly double the previous year.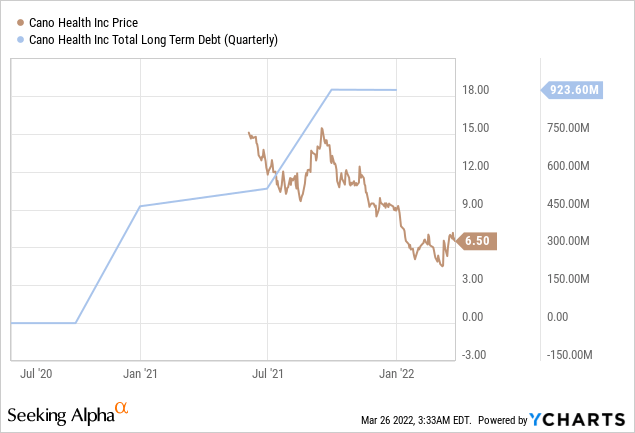 The company's profits are in line with its revenues, generally staying in the 20-25% range, which is a healthy margin. In 2019 the company took home just $ 261 million in profits. In 2020 that number spiked to $ 266.5 million. 2021 saw a massive boost, with Cano Health raking in $ 378 million in profits. One of the main factors preventing profits from being more robust is the added operating costs from expansion. In 2019 those costs were just $ 121.6 million. By 2021 those costs had risen significantly to $ 468 million.
One area of ​​concern for the company is the amount of debt. In 2020 the company held a pretty substantial $ 459 million worth of debt. That number has significantly increased over the last year, likely as a result of significant expansion. The 2021 long term debt sits at just over $ 920 million. This is significant in relation to revenues. Another glaring issue in the financials is that Cano Health has posted negatives on net income every year since 2019. 2021 saw the year close out with negative $ 18 million in net income. This is an alarming trend, especially when looking at the massive rise in revenue.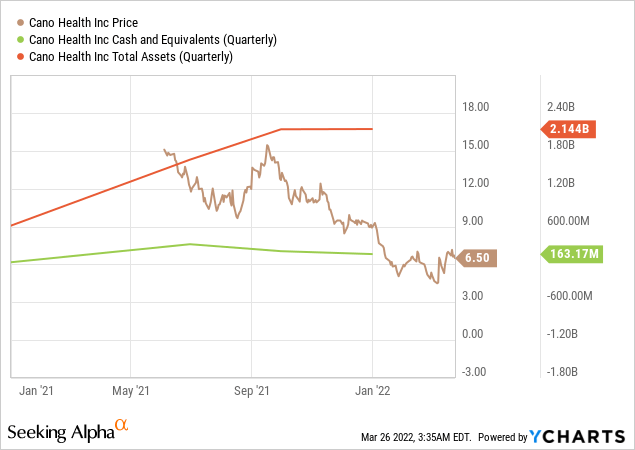 What the company does have on the positive side of the balance sheet is a hefty amount of cash in hand and assets. In 2019 the company held just a mere $ 33 million in cash. In 2021 that number saw a massive rise to $ 163 million. When looked at in perpetuity with the treasure trove of assets gained by the company, it paints a picture of a long-term development plan loaded with future potential. In 2021 Cano Health held over $ 2.1 billion in assets thanks to their partnership with Jaws. Many of these assets are in the form of health clinics and treatment centers that, once operational, will provide a massive influx of new revenues. This is what the company hopes will catapult them into one of the leading names in American healthcare.
Conclusion
Over the years, Cano Health Inc has grown significantly. One of the things investors like to look at is a company's level of growth. In terms of net income and debt, there is still some concern about the plan's viability to expand services. With that being said, purely in terms of revenues and profits, it has been a soaring success. Over the past three years, the company has expanded significantly, and some trouble streamlining costs of expansions is to be expected. The partnership with Jaws gives them access to the assets needed to catalyze growth. By 2025 I expect that Cano Health will be one of the leading healthcare providers in the country, and for me, it is a strong buy based on long-term value.