Canadian Natural Resources (NYSE: CNQ) is one of the largest oil producers in Canada. I believe that the Canadian producers are the best way to play the current oil cycle given that they produce in the cheap $ CAD and sell in $ USD. Canadian Natural is seeing incredible cash flows and returning them to shareholders. Throughout 2021 and 2022, shareholders could see as much as $ 10 billion returned via dividends and buybacks and that's at $ 70 WTI. I do think we could see a short-term pullback in oil prices, but the point here is that as long as it stays over $ 70, there's no reason to get bearish on producers like Canadian Natural.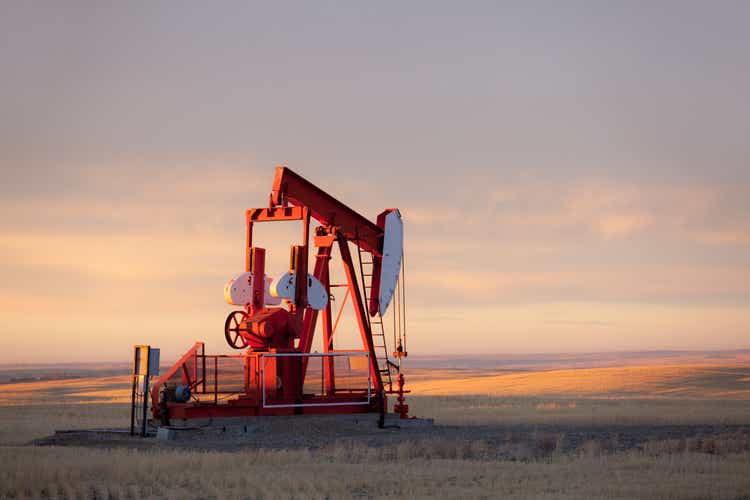 What's Coming For Canadian Natural?
In short, its cash flows, and a high volume of it. As the price of WTI hovers over $ 90, there is a lot of money to be made. How much, we will get a better idea of ​​the situation during the March 3rd Q4 earnings call, but I have a feeling it will be more than most analysts are expecting at this point based on what we have seen from companies that have already reported like Exxon Mobile (XOM).
Before I get into the free cash flows and what it means for investors, let's look at the macro oil picture. On Friday, we got some news that the US was repealing sanctions on Iran. What this means is that there will be more oil supply showing up on the market. We saw this news hit oil stocks at the end of the trading day and sent XLE down over 2% pretty quickly. The question we have to think about is "Was Iran sending out oil through a backdoor to China?" and the answer is likely yes. They would have been selling at a discount, which they may no longer need to, but I do not think it will have the impact that the US seems to think it will. While demand is at highs and continues to increase as we enter peak driving season in North America, and jet fuel demand starts to increase as covid measures are relaxed globally, this is a desperate attempt by Biden to try and keep the oil price down.
Looking below, we can see a seasonality chart on the price of oil. As we enter February, we are in the last month where we typically do not see price strength. I do think we will see a dip in the short term on the Iran news until we see new inventory numbers. This will cause stocks like Canadian Natural to also dip. The real question arises in March through September as demand typically climbs in a normal environment, never mind a global energy-starved environment. As I have stated before, I think we are in the first leg of the multi-year bull market for oil. My target remains around $ 130- $ 140 WTI. Likely reached in 2023/2024. The good news is companies do not need to see much over $ 70 WTI to see incredible success.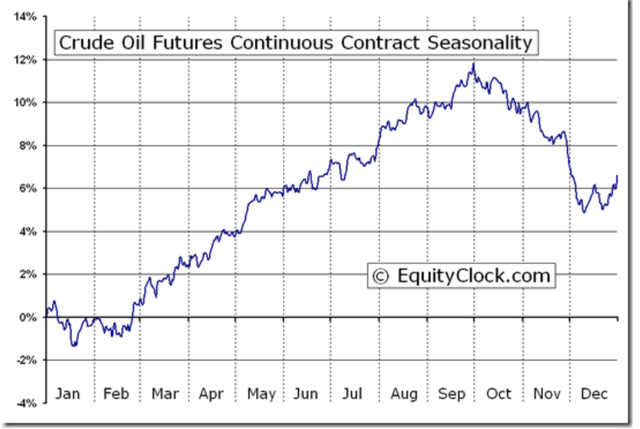 So how does this affect Canadian Natural? Well, it means big-time cash flows. Looking below we can see that the company is expecting to see almost 20% FCF yield, which is crazy. We can see how they stack up amongst one of the other large caps like Exxon, Suncor (SU), Chevron (CVX), ConocoPhillips (COP) amongst others. What does this allow? Freedom. The company can reward shareholders, take care of the balance sheet, and look for opportunities to acquire quality assets. Notice I did not say CapEx?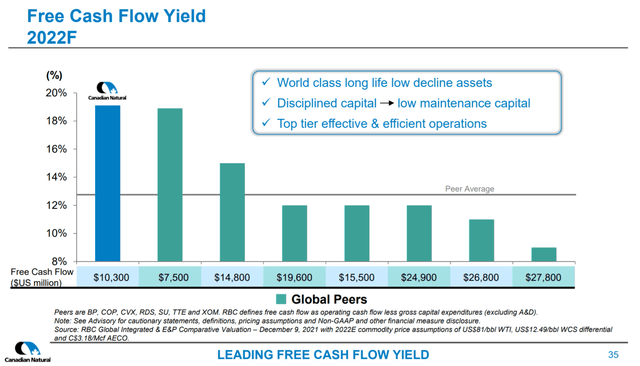 During the Covid years, so many oil producers realized they could cut costs, and get extremely efficient, generating quality returns without having to reinvest crazy amounts or grow production. This is fantastic news for the industry. It means that we will not see the flooding of supply that we have seen in previous boom years, which ultimately led to the demise of oil over the last 6-8 years. Looking below, we can see the difference from 2010 to 2014, which is when oil was last seen topping $ 100. CapEx for Canadian Natural was higher in 2010, than it was in 2021 or will be in 2022 and likely beyond. It will be interesting to see if there is a price point where a bunch of companies suddenly increase CapEx. That will likely be a signal to run for the hills. In the current environment, they are just maintaining the quality assets that they do have and letting the free cash flow rain down to shareholders, which is much appreciated.

How's The Dividend?
One of the pros to investing in large caps is the stable dividend they pay. Some are better than others for sure, but the current dividend Canadian Natural offers is stable and growing. Looking below, we can see how well Canadian Natural has done against some of its large-cap peers in terms of dividend sustainability. We saw the dividend get increased twice in 2021 for a total of 38% in increases. This is all possible thanks to the free cash flow that I mentioned earlier. When you've got cash, and you're not drastically increasing CapEx, may as well return a good chunk of it to shareholders, and they aren't just doing that through dividends.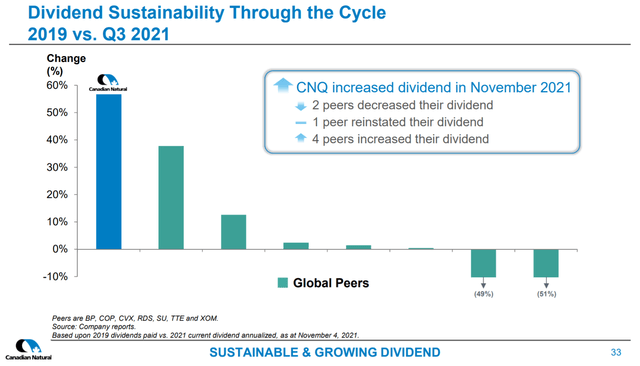 The other piece of shareholder returns is buybacks. With oil prices trading at over $ 90, and share prices drastically undervalued, it's a no-brainer for companies to focus on buying back shares at this time. This will add lots of shareholder value down the road as we ride through the commodity bull cycle. In 2021, we saw $ 1.6 billion worth of share repurchases, and looking below, we could see far more than that in 2022 if the cash flows continue to produce. As of now, the target is to allocate 50% of free cash flow in 2022 to share repurchases and 50% of free cash flow to the balance sheet strategic growth acquisitions. By the end of 2022, we could see as much as $ 10 billion returned to shareholders in the form of dividends and buybacks over a two-year period, which is incredible. This works out to be about 16% of the current market cap.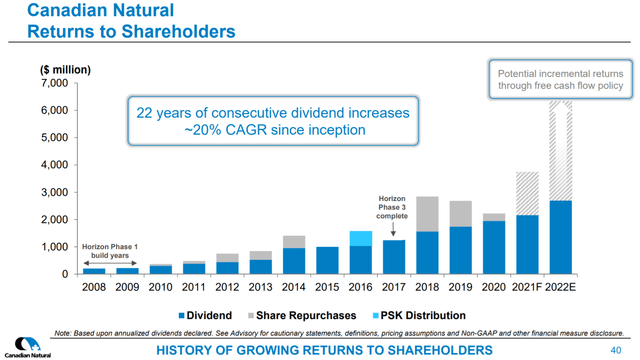 The best part of this is that the math on this is all based on $ 70 WTI. If we can stay above $ 70, which I think is likely for most of, if not all of 2022, the returns for shareholders only get better. So many have waited years for this moment, and it's finally here and I think it's going to be here for years to come.
What Does The Price Say?
There is lots of room to run. It's crazy that even the large caps are still so far undervalued in this current climate. We saw oil get over $ 92 a barrel, yet the stock is still undervalued on pretty well any metric you could use. The questions are always around growth and where they go from here, which is fair in an environment where oil is sub $ 50, but in the current environment, oil stocks are cash machines. Looking below, we can see that based on "fair value" the stock is well undervalued and due for new all-time highs any day.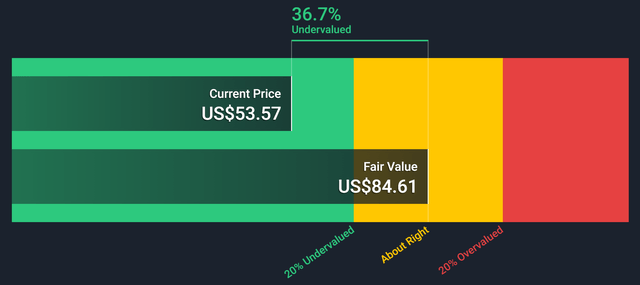 As I mentioned earlier in the article, we could see some weakness in the short term here as the Iran sanctions have been lifted. I want to reiterate the words short-term. So where could we dip too? Back in March when I wrote on Canadian Natural being One of The Safest Oil Plays I mentioned $ 37.50 as a future target. That resistance played out extremely well and we busted through it in early October. The stock is up 80% since I wrote on it, and it was the "safe" play. Incredible stuff we have seen in the oil market. The reason I brought up $ 37.50 is we could find ourselves looking for support there once again if we get a serious pull. Roughly 30% from current levels. I think this is unlikely, but it is possible. We have had a positive retest of this level which gives me confidence that we should not rip through it, but it is one to watch for sure if you are looking for an extreme stop. The other place I would look to lock in profits would be around $ 46.45. This is about 13% from current levels and a much more reasonable place for a stop. Again, we can see price history shows we have support here, and taking profits when you're up over 80% in less than a year on a large cap never hurts.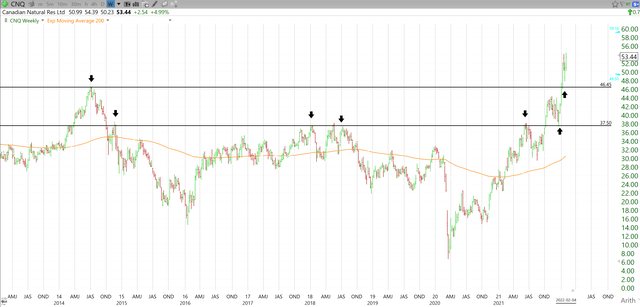 Now for the fun part, what about the next leg up? The next leg up will be an all-time high. In my opinion, there is nothing more bullish than buying stocks that are setting new highs. It's nothing but blue sky. The mark to beat right now is $ 54.67. I do think we dip again here, but we will break through this level in the very near future and likely move higher from there. Technically speaking, it's hard to predict just how high, but I do not think $ 80 is out of the question over the next two years.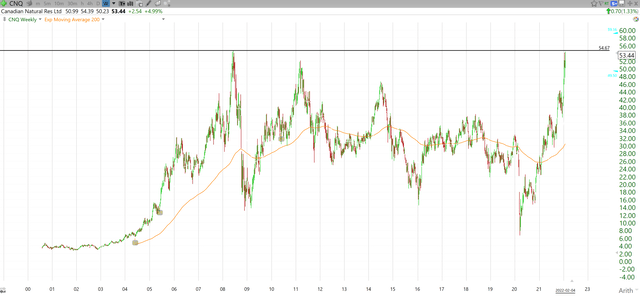 The last time we saw that level was in 2008. We all know what happened then. Oil was also just under $ 180 per barrel. So we're only at $ 90 oil, with lower CapEx, a more efficient company, with stupid cash flows? You bet we're setting a new all-time high shortly. Be patient on the dips, buy or add on red days, not green ones. I do prefer the mid-caps to Canadian Natural personally, but it would be one of my top large-cap picks without a doubt. Clear skies ahead.
Wrap-Up
As you can see Canadian Natural is a cash machine. Over the next few years, they are going to continue to act as an ATM for shareholders as they increase the dividend and continue to buy back shares at an aggressive rate. We could see a short-term pullback given the macro oil conditions, but I firmly believe that the short-term supply coming onto the market will not cover the demand that is about to come back. As long as oil prices remain stable over $ 70, there is a lot of money to be made in the industry for the producers and shareholders. There is still a lot of room to run here, continue to look to add on the dips.