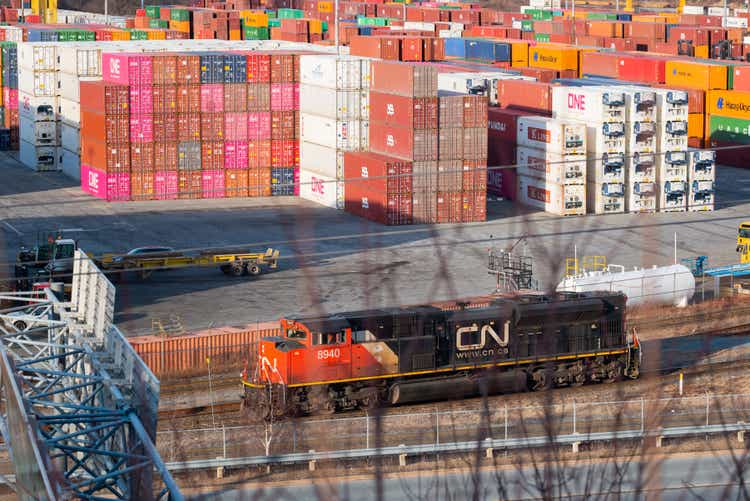 Financial numbers in this article are in Canadian dollars unless noted otherwise.
Introduction
It's time to talk about one of the few railroad stocks I do not own in my dividend growth portfolio: Canadian National Railway (CNI). The only reason I do not own it is that I own three other railroads with significant exposure in my dividend growth portfolio. Now as Canadian National has come down a bit on the stock market, I think it's a company investors need to take a closer look at, especially the ones looking for dividend growth. The company is in a great spot to benefit from improving transportation (mainly intermodal) demand and the company's ability to improve its operating ratio. In this article, I will guide you through my thoughts starting with its dividend and 4Q21 earnings.
You can access my most recent article on this stock here.
CNI Beats Earnings, Raises Its Dividend
Let's start with the best news investors got in recent weeks: the company hiked its dividend on January 25 by 19.1% to $ 0.615 per share trading in Toronto. That's the same for US shareholders except that they still need to deal with currency volatility. The CNI currently shares yield 1.9% after the hike, which makes CNI one of the highest dividends in railroads. Union Pacific (UNP) yields 1.9%. Norfolk Southern (NSC) yields 1.8%.
Including currency changes, the stock has rewarded CNI investors with (on average) 12% in annual dividend hikes since 2009 according to Seeking Alpha data. If that continues, investors who buy a 1.9% yield now will end up with a 3.4% yield on cost 5 years from now.
With that said, the company's decision to hike its dividend was backed by once again a very solid quarter. In 4Q21, the company did $ 3.75 billion in sales, up 2.5% year-on-year and $ 90 million higher than expected. Non-GAAP EPS came in at $ 1.71 – $ 0.18 higher than expected.
Meanwhile, total carloads were down 10% in the company's last quarter. This was led by intermodal (-19%) and grains (-16%) as well as weather disruptions that caused minor contractions in other areas. In this case, intermodal was down because of supply chain issues that make it harder to ship containers and truck trailers. Ports are not operating smoothly despite low retailer inventories.
The Wall Street Journal recently published an article mentioning that some retailers prefer to use much more expensive long-haul trucking companies – who suffer from labor shortages – to make sure goods arrive on time.
Railroads carried record levels of intermodal cargo toward the end of 2020 and through the first half of 2021. But last summer, the system ground to a halt as rail yards in the Chicago area filled with tens of thousands of boxes, backing up shipments at a key hub for transportation to destinations east of the Mississippi River.

Rail and trucking industry officials say the congestion was caused by too many boxes flowing into the region for warehouses and truckers to handle, a situation that has popped up intermittently at other intermodal hubs around the country.
However, I believe that this is bullish in the longer term as railroads are better for the environment, way more efficient than trucking companies, and a key in reducing massive container congestion at North America's largest ports.
Also, CNI's pricing was spot on, which resulted in 3% higher intermodal revenues – despite lower shipment volumes. The company's "same-store" prices rose by 5.4% in 2021, which means investors – and the company itself – were protected against inflation. It also helped that the company charged premiums for priority train services.
Meanwhile, total operating expenses were down, not up. Labor costs fell by 11% due to a 5% lower headcount. Purchased services were down 11% due to lower repair and maintenance and related. Fuel costs were up 38% due to higher prices. Fuel volume was down. Excluding currency changes, operating expenses were down 3%. This allowed operating income to rise 11% and pushed the operating ratio down 350 base points to 57.9%, which is a fourth-quarter record and a step in the right direction as the company was lagging behind competitors when it comes to efficiency gains. On a full-year basis, car velocity improved by 5%. Terminal dwell fell by 8%. Personal injuries were down 19%, which is not due to a lower headcount as it measures injuries based on total person-hours.
It also allowed the company to do $ 3.3 billion in free cash flow on a full-year basis. That's the upper end of company guidance and it implies a 3% free cash flow yield based on a $ 110 billion market cap – again, that's in C $.
Valuation
Yet, investors aren't that impressed as the stock is down roughly 9% since my prior article (CNI shares) and down 3.6% over the past 3 months.
It sure isn't because of the company's outlook. For 2022, CNI sees 20% EPS growth, a 57% operating ratio, and close to $ 4 billion in free cash flow. The company will use free cash flow to start a $ 5 billion share buyback program.
No, this decline is caused by lower economic sentiment.
For example, while the ISM Manufacturing Index is still at 57.6 (%), it has started a downtrend. It means economic expectations are slowing. Hence, cyclical stocks like CNI are starting to see weakness.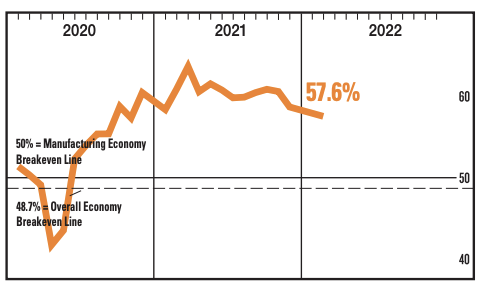 And that's great. It's great for investors who are long as they get to buy more at better prices (and a better yield) and for people who have been on the sidelines.
For example, using the $ 110 billion market cap and $ 14.2 billion in expected net debt for 2022, we get an enterprise value of $ 124.2 billion. Besides that, net debt is just 1.7x 2022 EBITDA, we'm dealing with an EV / EBITDA multiple of 15.0x based on 2022E EBITDA and 13.8x 2023 EBITDA.

Using the historic valuation range, that's not overvalued but more in line with prices that I believe warrant purchases. It also helps that analysts expect the company to do $ 4.5 billion in free cash flow next year – up from $ 4.0 billion in 2022 (expected). This implies a 4.1% FCF yield using the same $ 110 billion market cap. The lower part of the graph below shows that this is indeed not overpriced. It does include expectations that CNI / CNR will be able to generate growth, but if that's the case, we should expect significant upside in the share price as the stock does not tend to trade above 4% FCF yield on a consistent basis.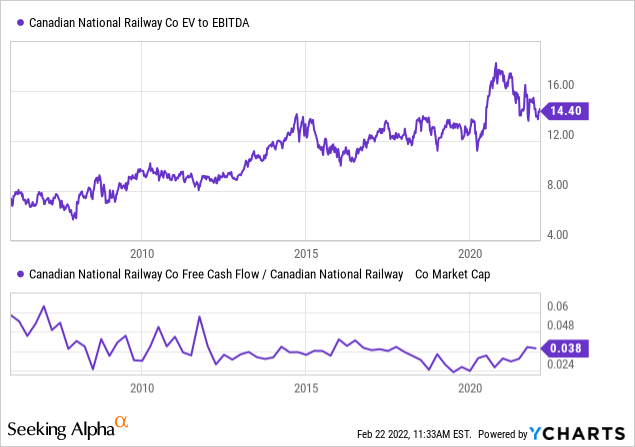 The same is the case when using the dividend as a valuation indicator. Right now – after the hike – it's 1.9%, that's one of the highest of the past 10 years.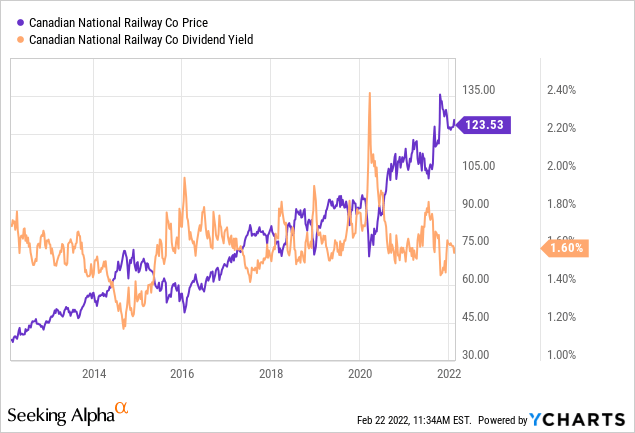 Takeaway
The Canadian National Railway might not be the most interesting stock in the world, yet it's one of the most consistent performers. The company saw a significant improvement in its operating efficiencies in 2021, which is laying a foundation for significant free cash flow growth in the years ahead – used to boost dividends and buybacks.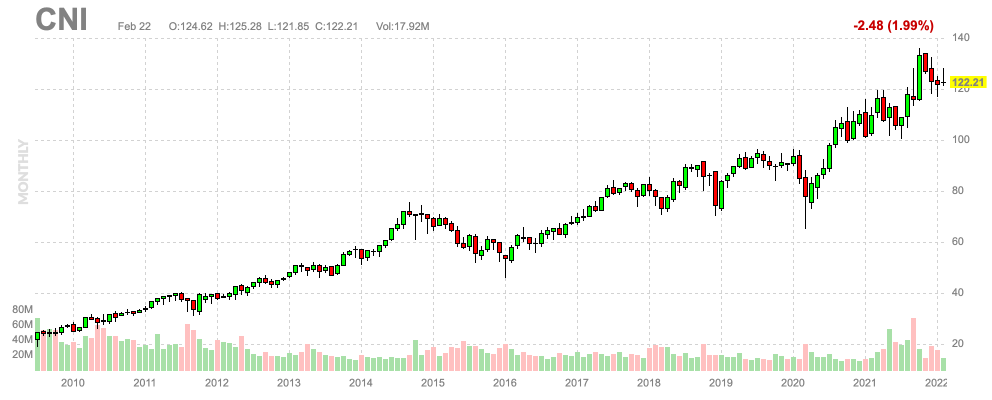 The company has a healthy balance sheet and it offers a dividend yield close to 2% with double-digit annual expected dividend growth.
After the recent downtrend and incorporating future growth, the stock is trading at levels that warrant stock purchases.
While the stock might drop further – it's hard to get the bottom right – I believe that CNI will deliver long-term outperforming capital gains as well as steadily rising income through dividends.
(Dis) agree? Let me know in the comments!