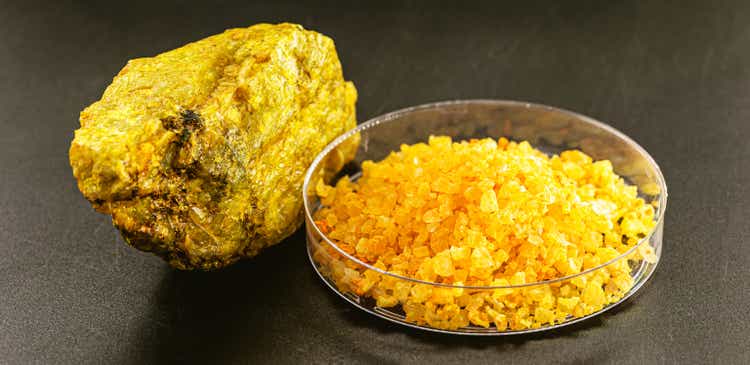 Thesis
Some of the measures Cameco Corporation (CCJ) had to take during the industry downcycle will continue to hinder share performance for several quarters to come. These issues are related to mine closures and the company's contract mix and will eventually be resolved. But in the meantime, investors would be better served by staying away from the stock. The operational issues are also overshadowed by the macro risk, as fighting in Ukraine continues the risk of a nuclear accident is much more elevated than usual and adds to the probability of a pullback in the stock.
Most of this case was written before Russia attacked the Zaporizhzhia nuclear plant in Ukraine. I have added a section at the end discussing the incident.
Cameco
Cameco is one of the largest uranium producers in the world and has operations in Kazakhstan, Australia, and the US, but its largest properties are in the Canadian province of Saskatchewan. It focuses on both mining as well as refining, conversion and fuel manufacturing services.
The stock has been on a bit of a roll over the last year and a half, going from the nine-dollar range to now trading in the low to mid-twenties. But when pulling up a longer-term chart one can see that it has not really gone anywhere in the last 10 years.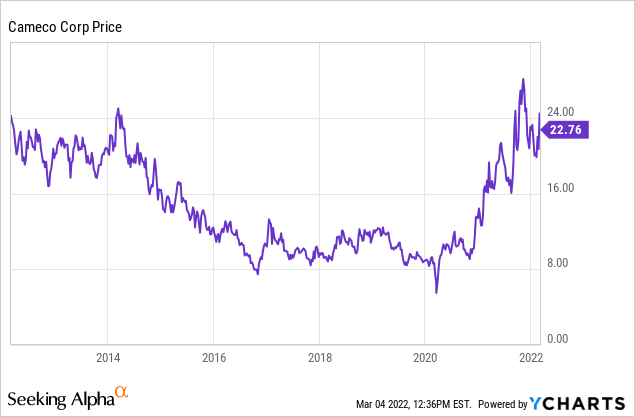 This poor performance was due to the Fukushima nuclear disaster of 2011 which devastated the industry and resulted in depressed demand and low uranium prices for most of the last decade. For Cameco this resulted in having to mothball many of its properties including Tier-one operations at McArthur River / Key Lake in Canada, as well as a number of tier-two operations at other sites in Canada and the US. In 2021 the company was operating at only 25% of productive capacity. A small proportion of that capacity reduction was due to a Covid closure at its Cigar Lake property for a few months. But the reason for the bulk of the underutilized capacity came from having so many properties shut down and not producing anything all year.
However, the demand picture for uranium has begun to change and prices have begun to rise and this has brought renewed interest to the industry.
Commodity Cycle
But unfortunately for Cameco, the protective measures that had to be taken during the industry downturn will take some time to reverse. This may prevent the company from benefiting during the first innings of this new commodity cycle.
That's because after the price spike of 2007-2008 and the post-Fukushima collapse, the discount between the spot price and the long-term uranium price widened substantially. For readers who are unfamiliar with the industry, the spot price is for uranium bought on the open market for delivery within a year while the long-term price is usually set through negotiations between producers and utilities for multi-year supply agreements.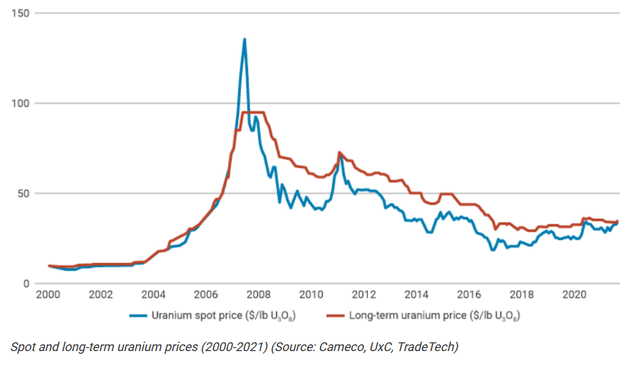 Market oversupply and the low spot price led to utilities turning to the spot market for a greater proportion of their supply resulting in producers being squeezed even more. These conditions led to Cameco suspending production at the aforementioned properties including the McArthur River and Key Lake operations which ceased production in January 2018.
Lower production due to mine closures resulted in Cameco turning to the spot market to fill many of its fixed-price contracts. This was not a problem when spot prices were low but as prices have started rising over the last year this has become an issue. The company now finds itself in a situation where spot uranium is higher than the prices it locked in through fixed-rate contracts.
Client Contracts
Cameco has a portfolio of long-term contracts that are a mix between what it calls fixed-price and market-related pricing. The fixed-price contracts are not completely fixed as they include escalator clauses that allow for price increases throughout the term of the contract at regular pre-specified intervals. However, the prices and escalation clauses are determined when the contract is being negotiated, before it is signed and years before delivery is made.
Market-related contracts are based on either the spot price or the long-term price at the time of product delivery. These contracts may also include some sort of escalator clauses, discounts, floors, and ceilings, but they do leave Cameco with much greater market exposure to changes in the price of uranium.
The company has stated that it aims for a uranium contract mix of 60% market and 40% fixed. However, in the last couple of years it has fallen short of that goal, coming in at just under 30% fixed and over 70% market. This can be seen in the exhibits below under Contract type for Uranium. The company's Fuel Services are almost all fixed-price contracts.


But in spite of the fact that 30% of its sales are being made under fixed-price contracts, in 2021 the company only produced 25% of the uranium it sold and went to the spot market for the balance, as can be seen in the exhibit below.

This was not a problem when uranium prices were low and there was a favorable discount between spot and term prices. That's why in 2020 it only produced 16% of the uranium it sold even though 29% of its sales were made under fixed-price contracts. The company would buy cheap at spot and sell dear at term, but last year spot price surged and the discount disappeared. This forced Cameco to buy high at spot and sell low at term in order to fill those orders.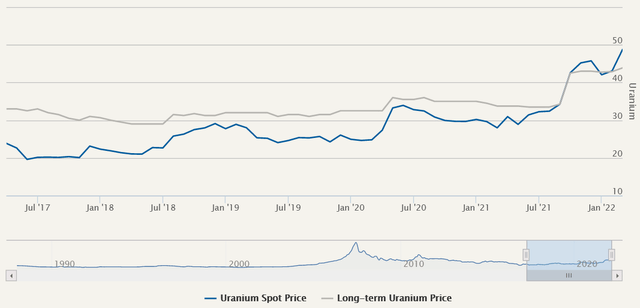 The company was forced to purchase uranium at CAD $ 42.30 / lb or USD $ 33.84 / lb if we use a 1.25 USDCAD conversion rate, the average rate in 2021. Far below its production cost of CAD $ 33.35 or USD $ 26.68.

And while US $ 33.84 / lb was less than the US $ 36.81 / lb that it was reselling it at to fill fixed-price orders, the ~ $ 3 / lb margin turned into a steep loss once overhead was factored in. That overhead also includes costs of over $ 180 million per year related to maintaining the properties where production has been suspended. This led to Cameco's uranium sales division posting a loss of over $ 100 million last year.

Having fixed-price sales commitments that it can not fill with current production essentially means that Cameco has a short position in the uranium market. This served it well in times of depressed prices but will be a drag on earnings during a bull market. The amounts needed to service these fixed-price contracts will also be quite steady until 2025.

This makes the recent announcement that Cameco intends to re-open McArthur River mine and Key Lake mill welcome news. The company will become a net buyer by adding a net 11.5 million pounds of production per year as it simultaneously scales back some production at Cigar Lake.
However, McArthur River will only be fully operational by 2024. During the company's Q4 earnings call Tim Gitzel, Cameco's CEO, attributed the slow ramp-up to supply chain challenges that are impacting the availability of materials and difficulty in finding skilled labor. For those reasons investors may want to wait before committing capital as the company will not be able to fully take advantage of changing market conditions until then. By buying the stock now potential investors are taking on the risk of any slow-downs or problems in the ramp-up of production.
Postscript
Another reason for staying away from the stock is the heightened levels of risk resulting from the war in Ukraine. As I finished writing this article, news broke that Russia had attacked the Zaporizhzhia nuclear plant in Ukraine. Nuclear power is an excellent source of energy but the added risk of a war raging in a country with as many nuclear plants as Ukraine will lead me to avoid the altogether sector until the situation stabilizes. As per the case argued above, I was initially going to rate the stock a hold but the increased risk of an accident has led me to change the rating to a sell.