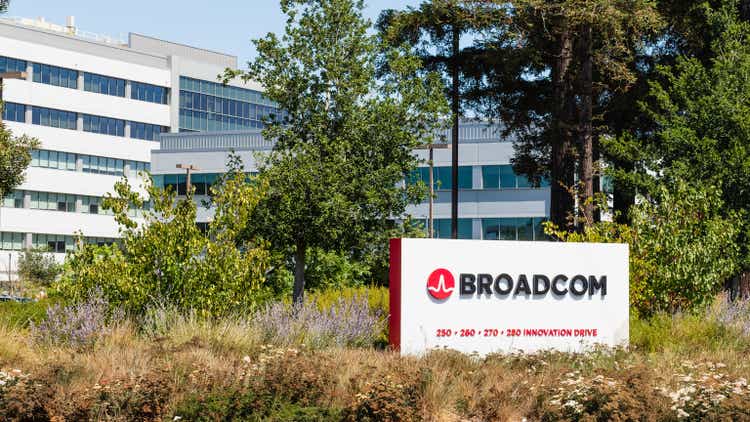 Broadcom Inc. (NASDAQ: AVGO) is a global technology leader that provides services with semiconductor and infrastructure software solutions. It offers a diverse range of products that complement those that are subject to uncertainty, such as its wireless products, which are expected to experience a 5G cycle peak. AVGO also experiences a customer concentration risk with one of its main customers currently creating an in-house wireless chip. This could adversely affect AVGO's top line potential. AVGO is trading at a higher valuation than its peers, but it remains fundamentally sound.
No Doubt, AVGO Is Well Positioned for the Future
AVGO, no doubt, is well positioned to capitalize on its growing market especially with its diverse portfolio, which is ready to serve the growing data center networking, 5G and home broadband connectivity, telecommunication equipment and smartphones, and the fast transition towards cloud environment. It also caters to the next big movers in semiconductors such as factory automation and the future of automotive. This stock ended its Q1 2022 with an outstanding growth in its top line amounting to $ 7,706 million, up 16% from $ 6,655 million last year with an improving net margin of 32.1%, higher than its 5-year average of 23.58%. Additionally, AVGO enjoys a growing top line forecast from analysts as shown in the image below.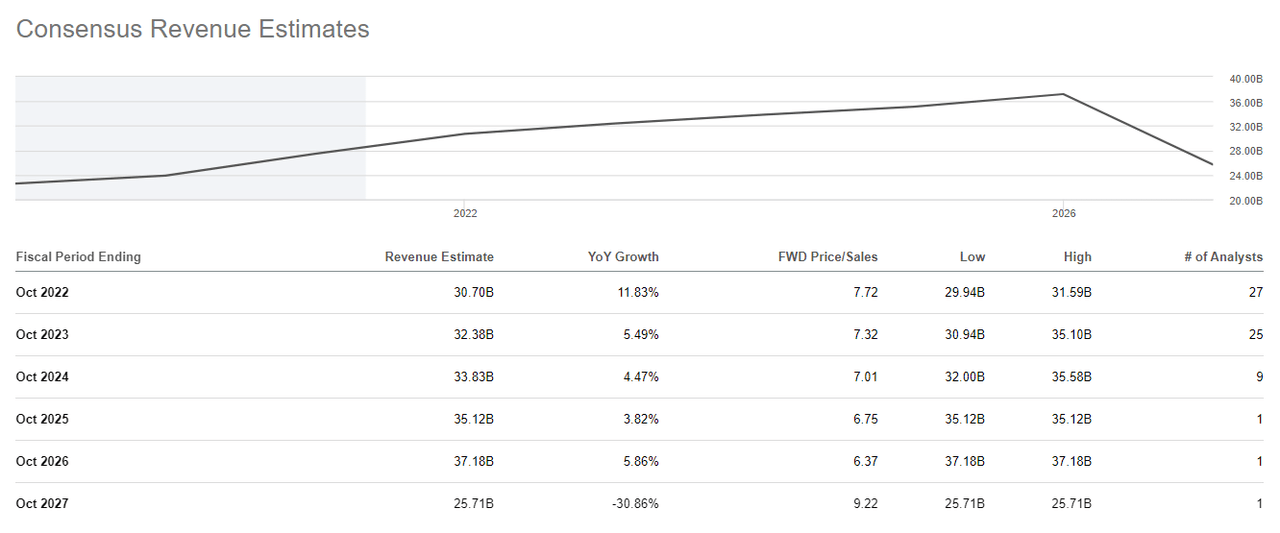 On the other hand, AVGO is battling with uncertainties and the question of whether its future potential has already been priced in. One of the risks I am considering is that one of AVGO's primary customers, Apple Inc. (NASDAQ: AAPL), has recently stated that the company will stop online sales and postpone export deliveries to Russia in response to its ongoing invasion. Hence, it might take longer for AAPL to replenish its finished products, possibly affecting AVGO's top line. AAPL's response was reciprocated by several other companies such as Dell Technologies (NYSE: DELL) and Ericsson (NASDAQ: ERIC), both expressing disapproval of Russia's actions and announced plans to scale back operations in the country.
In my opinion, there might be a higher chance that most of AVGO's customers will follow AAPL's footsteps. The real deal here is that based on its Q4 2021 performance, 35% of its total revenue is attributable to its top five customers, with AAPL alone accounting for 20% of that, and distribution cuts might affect the company's overall spending. On top of that, this ignited its customer concentration risk as AAPL is already invested in creating their own chips for their future products.
Another risk I am looking at is its wireless products which earned $ 2 billion in Q1 2022, accounting for 34% of its total semiconductor revenue and 26% of its total revenue. This is forecasted to experience some market weakness. The risk of customer concentration and the fact that a significant portion of its revenue is seen as peaking growth both contribute to why analysts forecast a lower revenue of $ 25.71 billion in 2027.
Under Pressure Industrial Solutions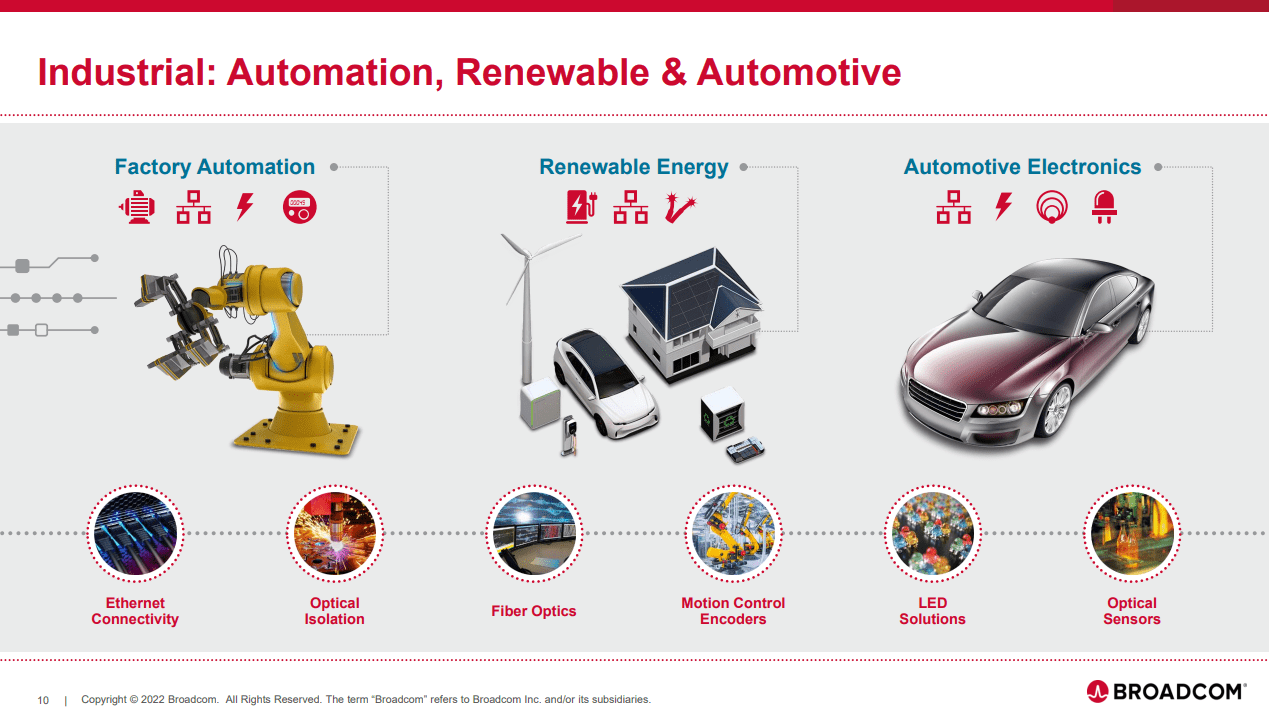 AVGO's Industrial Revenue generated $ 243 million in its Q1 2022, up 37% YoY; however, it is facing pressure from competitors like ON Semiconductor Corp. (NASDAQ: ON), which successfully shifted and penetrated mega trends market with 75% of its total revenue amounting to $ 1,846.1 million in its Q4 2021. Although this accounts for just 4% of AVGO's total semiconductor revenue, improvement of this metric shows the company strong penetration in its industrial market. Its total semiconductor revenue amounted to $ 5,873 million, up 20% from $ 4,908 million the same quarter last year. AVGO enjoys a stronger growth outlook provided by the management of 25% YoY.
Growth Seems Fully Priced In As Of Today

NXP Semiconductors NV (NXPI), Texas Instruments Inc. (TXN), QUALCOMM Inc. (QCOM), Intel Corp. (INTC), Cisco Systems, Inc. (CSCO)
As illustrated above, AVGO trades at a premium to its dividend-paying peers, with a trailing P / E of 35.85x and a trailing P / S of 8.71x. We can easily assume that AVGO is extremely expensive in comparison to its peers, but when we compare its trailing P / E ratio of 35.85x to its 5-year average of 41.94x and median sector of 27.18x, it is trading fairly but not attractively at the current price. This is especially true when looking at its trailing P / S ratio of 8.71x compared to its 6.16x 5-year average, and 3.53x sector median.

Lower Highs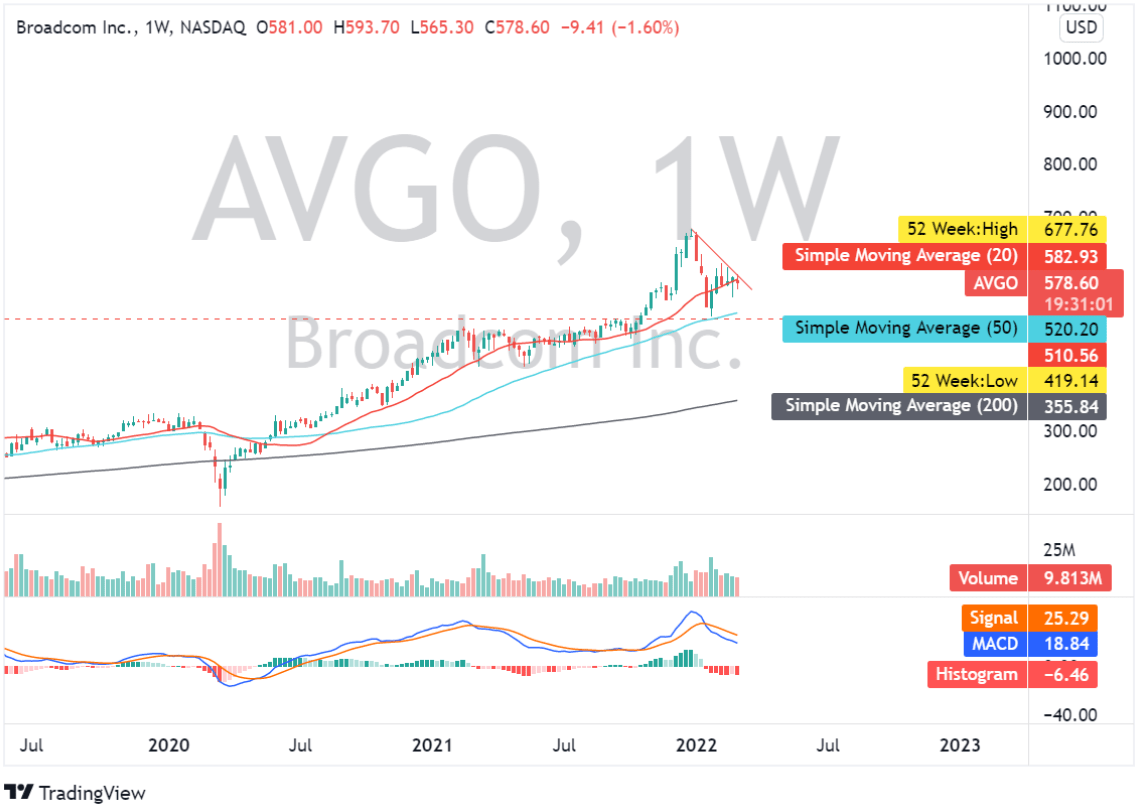 AVGO's simple moving averages show bullish sentiment, and its MACD remains in the bullish zone, implying an overall bullish price action in the coming weeks. In fact, as shown in the chart above, AVGO is on the verge of breaking through its psychological resistance. However, in my opinion, it will have a difficult time driving this stock higher as there is no strong catalyst in place. A retest of the previous breakout points at $ 510, and $ 430 will establish a strong support zone at which AVGO will be considered attractive. This is with the expectation of increasing its upside potential when compared to its relative fair price and a higher dividend yield.
To Sum It Up
Despite the mentioned risks, AVGO benefits from a stable product portfolio. According to its management, they are expecting a 35% YoY growth instead of 25% in its total semiconductor revenue in Q2 2022, excluding its wireless products. On top of that, AVGO continues to be the leader in delivering Wi-Fi 6 and is heavily investing in Wi-Fi 7, enhancing its broadband products. Its infrastructure software has a lot of potential especially in security; however, its growth attributable to its total revenue is declining from 26% in Q1 2021 to 24% in Q1 2022, which implies that more of its product portfolio is still subject to the forecasted 5G peak cycle.
However, Broadcom remains fundamentally sound, with its growing free cash flow margin of 44% in Q1 2022, up from 40% the same quarter last year. It boasts sustainable dividend growth with its record high trailing cash flow from operation of $ 14,137 million and remains liquid at a current ratio of 2.44x.
With the increasing risk associated with its Wireless products in light of the crisis between Russia and Ukraine, and despite the strong EPS forecast in 2026, I believe AVGO's future potential has already been priced in and is therefore unattractive at today's price.
Thank you for reading and stay safe everyone!