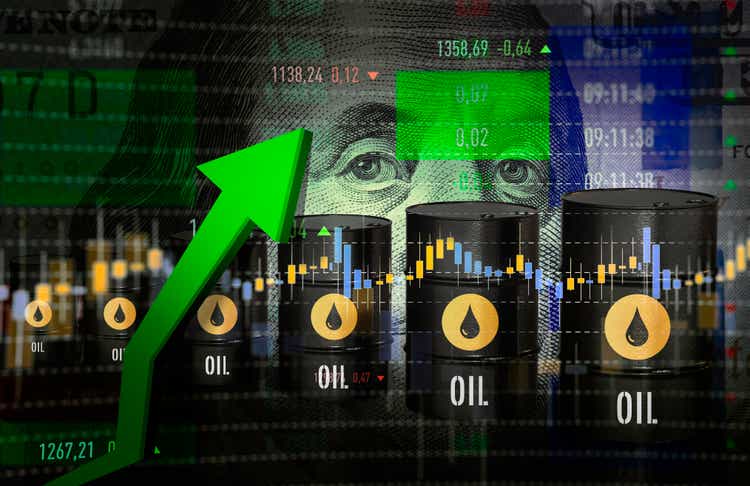 Introduction
When last discussing BP (BP) back in late 2021 and their currently moderate dividend yield of 4%, their positive outlook saw their dividends likened to a coiled spring ready to rebound higher, as my previous article discussed. Despite the lack of subsequent dividend growth following their fourth quarter of 2021 results and new guidance, thankfully these show that investors can still expect to see immense shareholder returns coming during 2022, especially with prospects for a very high 10% + shareholder yield.
Executive Summary & Ratings
Since many readers are likely short on time, the table below provides a very brief executive summary and ratings for the primary criteria that were assessed. This Google Document provides a list of all my equivalent ratings as well as more information regarding my rating system. The following section provides a detailed analysis for those readers who are wishing to dig deeper into their situation.

* Instead of simply assessing dividend coverage through earnings per share cash flow, I prefer to utilize free cash flow since it provides the toughest criteria and also best captures the true impact upon their financial position.
Detailed Analysis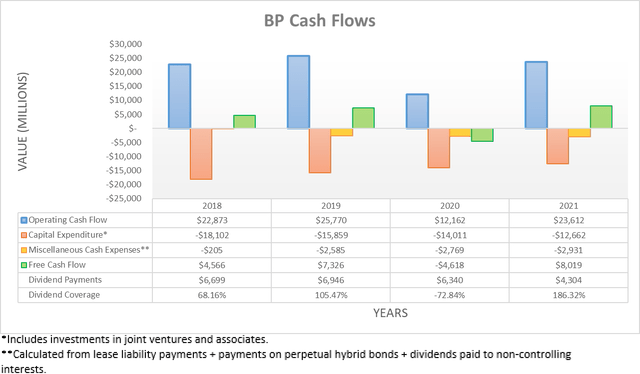 Thanks to their strong operating cash flow of $ 6,116b during the fourth quarter of 2021, they ended the year with a result of $ 23,612b, which is almost double their downturn-inflicted results of $ 12,162b during 2020 and almost matched their result of $ 25,77b during 2019. When combined with their continued restrained capital expenditure, this saw a very impressive $ 8,019b of free cash flow, which exceeded any of the previous three years and comfortably provided very strong coverage of 186.32% to their $ 4,304b of dividend payments. Considering the strong outlook for oil and gas prices during 2022 and likely 2023, it would not have been surprising to see management put their foot on the pedal and accelerate growing their quarterly dividends, which at $ 0.3276 per ADR are well beneath their pre-Covid- 19 level of $ 0.63 per ADR. Somewhat disappointingly, their management was rather tight-lipped regarding their future dividends with no new hints or insights, although they were firm regarding their share buybacks and deleveraging, as per the commentary from management included below.
"We've been very clear in terms of buybacks for this year, what you can expect, and it's not at least 60%. It's 60% for 2022 with the 40% going to the balance sheet, and we'll update our views on that again, at the same time next year. And obviously, the dividend is kept under review by the board on a quarterly basis. But we've laid out our expectations around that. "
-BP Q4 2021 Conference Call.
Even though the lack of indicators for higher dividends has been somewhat disappointing, at least they still appear poised to provide immense shareholder returns with share buybacks topping up their current 4% dividend yield. Whilst I personally prefer higher dividends instead of these share buybacks since they provide a more tangible return that is less influenced by the future direction of notoriously volatile commodity prices, at least the latter is still better than too much deleveraging or pursuing overpriced acquisitions in the name of growth at any price.
When looking ahead during 2022, it appears that oil prices are more likely to rally higher than crash with discussions of prices at $ 100 + per barrel now mainstream and possibly even the consensus outlook. This actually makes their results for the fourth quarter of 2021 suitable to form a relatively conservative estimate for 2022, thereby encompassing a margin of safety, which saw Brent oil prices average just shy of $ 80 per barrel, as per the data from the EIA. Even though their operating cash flow of $ 6,116b during the fourth quarter of 2021 was already strong, it was actually weighed down by a $ 2,161b working capital build and thus their underlying operating cash flow was actually considerably higher at $ 8,277b, which annualizes to circa $ 33b.
If the midpoint of their capital expenditure guidance for 2022 of $ 14.5b is subtracted, it leaves circa $ 18.5b but they also normally incur approximately $ 3b per annum of miscellaneous cash expenses that primarily relate to their payments for lease liabilities and perpetual hybrid bonds, as noted beneath the graph included above. Once this is also subtracted, it leaves estimated free cash flow of circa $ 15.5b and thus a very high near 15% free cash flow yield on their current market capitalization of approximately $ 107b. Whilst their guidance also indicates Macondo oil spill payments of $ 1.4b during 2022, they are also forecasting between $ 2b and $ 3b of divestitures and thus in my eyes, these broadly counterbalance and thus should not materially impact this analysis.
Since their dividend payments amounted to $ 4,304b during 2021, they should be left with an estimated circa $ 11b of excess free cash flow after dividend payments of which 60% or $ 6.6b will be directed towards share buybacks with the last 40% or $ 4.4b being retained to reduce net debt. If any new readers are interested in more details regarding their current capital allocation strategy, please refer to my previously linked article. These share buybacks amount to slightly over 6% of their current market capitalization of approximately $ 107b and thus when aggregated with their current 4% dividend yield, it sees a very high shareholder yield of 10% + coming during 2022. It is also positive to see that these immense shareholder returns are possible whilst their capital expenditure increases by approximately $ 2b during 2022 versus 2021, which means that they are not simply a short-term sugar hit that comes at the expense of their medium to long-term future.
It should be remembered that given the outlook for triple-digit oil prices that are already in the low $ 90 per barrel range, this represents a relatively conservative estimation and thus given that their share buybacks scale with their free cash flow and by extension, oil prices , they might provide even higher shareholder returns during 2022. Alternatively, the previous commentary from management left the door open to "update" their "views" on their capital allocation next year and given their subsequently discussed deleveraging, it would not be surprising to see a relatively higher amount of cash returned to shareholders during 2023, if not sooner.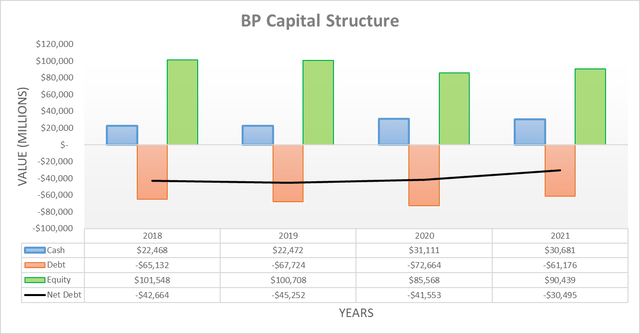 Now that 2021 has come to an end, it shows that their net debt ultimately decreased to $ 30,495b and despite still sounding formidable in absolute terms, it nevertheless represents the lowest level in many years and thus sits a very solid 26.61% lower year-on -year versus its level of $ 41.553b at the end of 2020. It also represents a circa $ 2b decrease versus the previous analysis following the third quarter of 2021, which is solid for only one quarter but in the grand scheme, it means that their leverage has not changed materially since the previous analysis and since their cash balance remaining essentially unchanged at $ 30,681b, the same can also be said for their liquidity. When looking ahead, their net debt should decrease by at least approximately $ 4.4b given the previously discussed relatively conservative estimate for their capital allocation during 2022, thereby representing another very solid decrease of 14.43% year-on-year versus the end of 2021.
Due to these relatively immaterial changes following the fourth quarter of 2021, it would be rather redundant to reassess their already low leverage and strong liquidity in detail, although if any new readers are interested, please refer to my previously linked article. The two relevant graphs have still been included below for reference, which shows that their leverage sits at the bottom of the low territory with a net debt-to-EBITDA of 1.04 and net debt-to-operating cash flow of 1.29, whilst their current ratio of 1.14 and cash ratio of 0.38 show that their liquidity remains strong.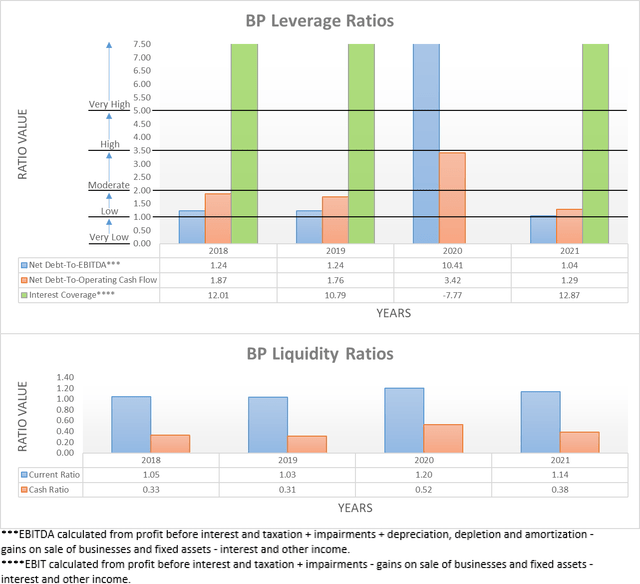 Conclusion
Since their leverage is already low and should continue decreasing throughout 2022 as their net debt is further reduced, it would not be surprising to see their dividend growth pushed higher than the already planned 4%, especially if oil prices maintain their strong trajectory towards around $ 100 per barrel. Even if this does not transpire, at least they are still committed to returning capital through share buybacks and given their prospects to generate ample free cash flow even with a relatively conservative estimation, this should see a very high 10% + shareholder yield and thus I believe that maintaining my buy rating is appropriate.
Notes: Unless specified otherwise, all figures in this article were taken from BP's Quarterly Reportsall calculated figures were performed by the author.