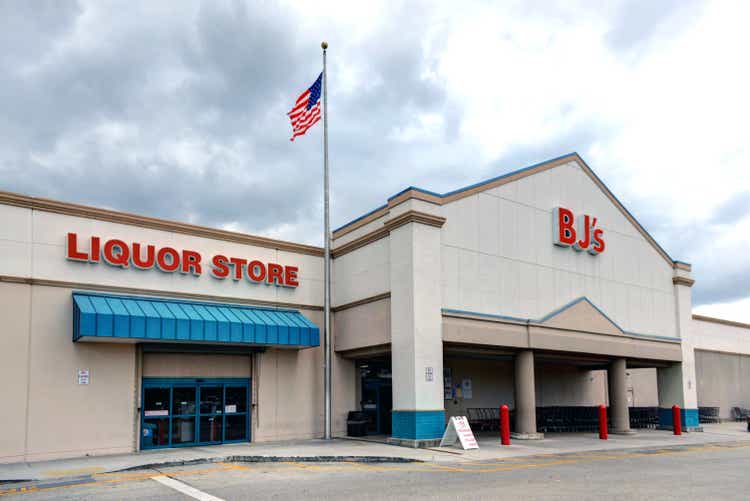 It's been a turbulent start to 2022 for the market, and many small and mid-cap names have been flattened. Fortunately, BJ's Wholesale (NYSE: BJ) has held up better than its peers. This is evidenced by the stock being just 14% below its highs vs. the Retail Sector (NYSEARCA: XRT), which is 20% below its highs. This outperformance is not surprising, given that the company continues to fire on all cylinders and has another strong year ahead. However, with no real margin of safety at current levels, I do not see any way to justify paying above $ 64.00 for the stock.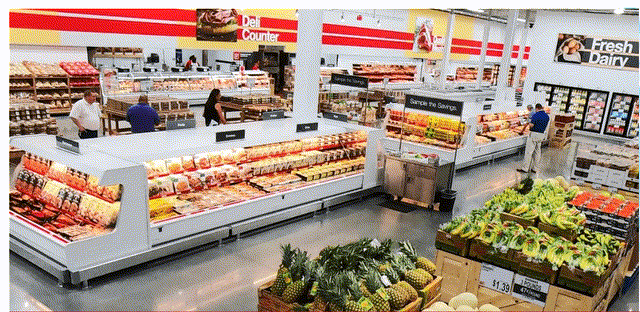 Just over two months ago, I wrote on BJ's Wholesale ("BJ's"), noting that while the stock just posted an exceptional quarter in Q3, the easy money appeared to have been made short-term. This is because the stock was up nearly 80% for the year heading into December, and the market was vulnerable to a short-term correction. As I pointed out, the S&P 500 (NYSEARCA: SPY) was trading at a more than 20% premium on a price-to-sales basis to the Dotcom Bubble (3.15 vs. 2.60), which meant that if investors were going to start new positions, it was best to ensure there was a margin of safety.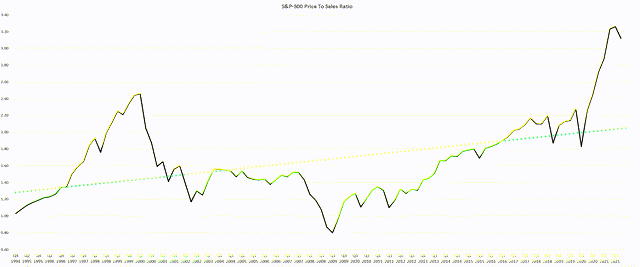 Since that article, BJ's has corrected another 17% from $ 67.00 to $ 55.40. However, it has recently rallied sharply off its lows, with BJ's a possible beneficiary of food inflation if retailers can continue passing on price increases to customers without any pushback. This could partially offset the supply chain headwinds that have persisted that have driven up freight costs and the tight labor market, which has upward pressure on wages (BJ's recently increased its wage rates to $ 15.00 per hour). Let's take a look at recent developments and see whether this pullback has set up a buying opportunity: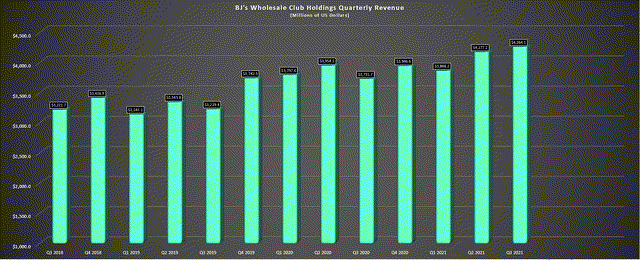 As noted in my article discussing BJ's Q3 results, the company had an outstanding quarter, reporting a record revenue figure of ~ $ 4.26 billion, near-record quarterly EPS of $ 0.91, and impressive progress in key operating metrics. These included 3% growth in members year-over-year and 15% on a two-year basis, combined with a higher-tier penetration rate of 34%, up 900 basis points from its IPO debut. Finally, renewal rates came in at a record 88% in the quarter, with BJ's members clearly not showing much resistance to membership fee increases as this renewal rate continues to improve.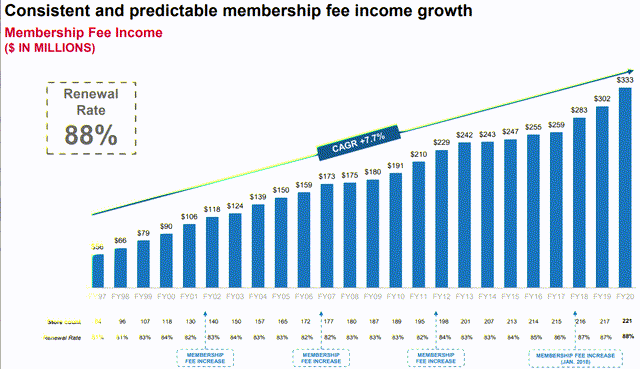 While the company could have chosen to pocket these extra profits, it wisely chose to continue reinvesting in the business and its team, boosting wages to $ 15.00 per hour to better attract / retain talent in a difficult labor market. The company also invested in maintaining its price gaps against competitors to ensure members continue to see a real value proposition, and the company has invested in digital. So far, investments in digital are paying dividends, with digitally-enabled sales up 240% on a two-year stacked basis. However, the company also made what appears to be a major investment from an asset standpoint, though the terms were not disclosed.
Just last month, BJ's noted that it would be acquiring the assets and operations of four refrigerated distribution centers from Burris Logistics (a 95-year-old family-owned and operated third-party logistics business), its long-time distribution partner. This will give BJ's four additional distribution and the related private transportation fleet, insourcing these capabilities to support the company's future growth and geographic expansion. BJ's noted that the deal is expected to close soon, and it should help improve efficiency in its supply chain, ensuring that it is providing the highest-quality perishables to its members by bringing its end-to-end perishable supply chain in-house.
Finally, when it comes to investments in growth, BJ's continues to grow rapidly, with 226 clubs, with new clubs opened last month in Port Charlotte, Florida, and Lansing, Michigan. The company noted that it plans to open ten clubs in 2022, and it's certainly off to a good start, with two already opened in the first month of the year. Assuming the company can meet this estimate, this would translate to ~ 4% unit growth, which is a very respectable figure for a company of BJ's size.
Given the growth, the recent investments in its team and supply chain make complete sense and should help to de-risk this growth profile, with the confidence that it can staff new stores and boost its efficiency with added refrigerated distribution centers and a private fleet. In fact, the latter move (acquisition of private fleet / distribution centers from Burris) makes complete sense at a time when, according to McKinsey, refrigerated reefer capacity is even tighter than dry van (non-temperature-controlled), with rates soaring relative to 2020 levels.

Looking at BJ's earnings trend above, we can see that the company has a strong track record of growing annual EPS, which certainly places high confidence in its recent investments. This is because the company has clearly been a smart steward of capital in the past, opportunistically repurchasing shares and investing where it needs to grow its business. In fact, within the retail space, BJ's stacks up well to many market leaders, with a compound annual EPS growth rate of ~ 35% since FY2017. Looking ahead to next year, BJ's is expected to grow annual EPS yet again, with ~ 130% growth vs. pre-COVID-19 levels ($ 3.35 vs. $ 1.46). Let's take a look at BJ's valuation below.
Valuation & Technical Picture
If we look at BJ's valuation below, we can see that the stock has historically traded at ~ 17x earnings since its IPO debut in 2018. This is a very reasonable multiple for a company boasting a ~ 26.5% compound annual EPS growth rate since FY2018, assuming the company can meet FY2023 estimates ($ 3.90). Given these strong growth rates, I would argue that a fair earnings multiple for the stock is 19 vs. the historical earnings multiple of ~ 17. Assuming that the company can meet FY2023 estimates of $ 3.90, this translates to a fair value of $ 74.10 per share or a 16% upside from current levels.
While this is an attractive upside case for an 18-month target price, especially in a market that is struggling to tread water, the goal is to buy at a deep discount to fair value to bake in a margin of safety. When it comes to mid-cap stocks, I generally prefer a minimum 30% discount to fair value to justify starting new positions. In BJ's case, this would translate to a low-risk buy zone of $ 51.90. Obviously, the stock does not have to trade here, but this is where I believe the valuation would become compelling enough to justify buying an initial tranche of the stock. Hence, while correction has improved the valuation, I do not see a low-risk buy point just yet.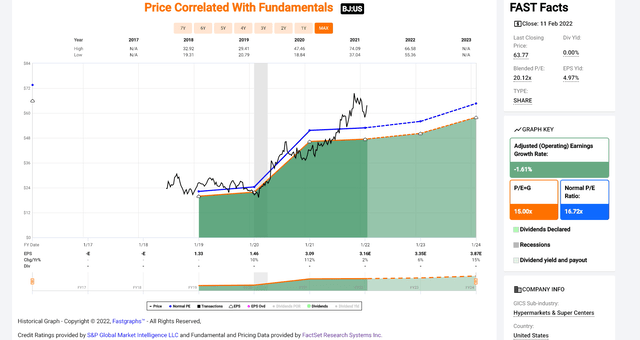 Moving to the technical picture, we can see that BJ has seen a sharp correction following its post-earnings rally and has now broken its uptrend line from its Q1 2020 lows. This is a negative short-term development, with the possibility that any back-tests of this broken trend line near $ 67.00 could lead to selling pressure. Meanwhile, although the stock did find support at $ 55.00 recently, this isn't a clearly defined support level yet, with the next strong support level not coming in until $ 47.40 – $ 48.70. This is where the stock broke out in Q3 2020 and where its 400-day moving average lies (green line).
Based on a current share price of $ 63.80, this points to an unfavorable reward / risk ratio of 0.64 to 1.0. This is because the stock has $ 9.70 in potential upside to resistance and $ 15.10 in potential downside to the top end of its next strong support level ($ 48.70). The current reward / risk ratio does not mean that the stock can not go higher; it simply means that from an investment standpoint, it's hard to justify paying up for the stock above $ 64.00.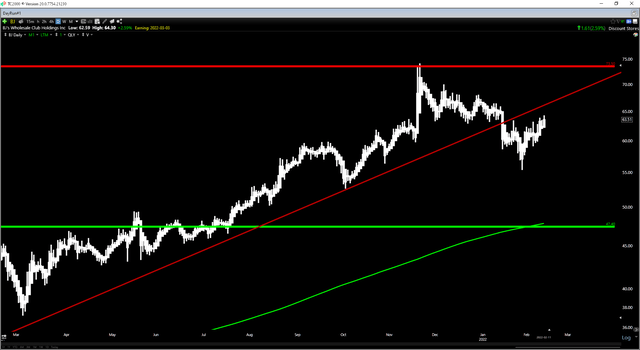 BJ's is on track for another year of record annual EPS growth, but with the stock priced at ~ 19x FY2022 earnings estimates, the stock appears fairly valued short-term. This does not mean that investors should rush out and sell the stock. Instead, it suggests that investors anxious to start new positions or add to their positions should be patient for a more attractive buy-point. For now, I believe there are more attractive bets elsewhere in the market. One of my favorite ideas continues to be Agnico Eagle (NYSE: AEM)which trades at ~ 15x FY2023 earnings estimates with ~ 40% operating margins and a ~ 2.9% dividend yield.