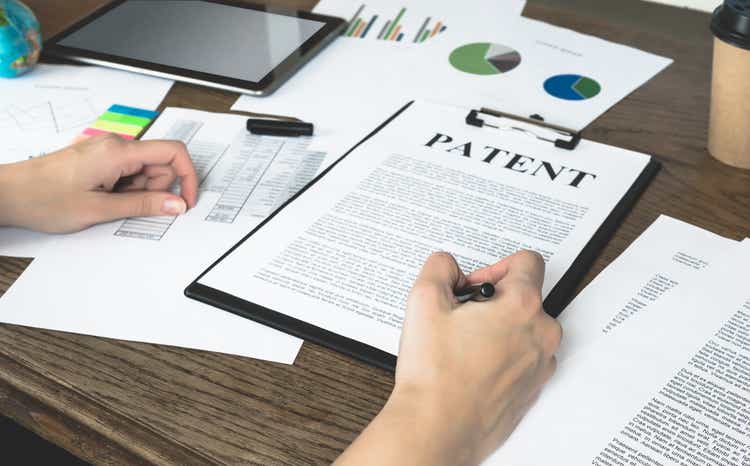 BioDelivery Sciences (BDSI) went up 20% after the courts ruled in its favor in the Alvogen generic launch dispute. I covered BDSI in November, and I am pleasantly surprised to see that the stock is up – that's a rare thing for a 2021 stock recommendation.
Recall that BDSI's BELBUCA was approved by the FDA in 2015 for the treatment of acute pain. BELBUCA is a buccal film (applied to the inner cheek) formulation of buprenorphine "for use in patients with chronic pain severe enough to require daily, around-the-clock, long-term opioid treatment and for which alternative treatment options are inadequate." The patent covering BELBUCA is listed in the Orange Book and a number of insurers cover the medication. BDSI successfully defended its patent for BELBUCA against generic giant Teva (TEVA). In a lawsuit that was settled out of court, BDSI had alleged infringement upon two of its patents covering BELBUCA for the three ANDAs filed by Teva in 2017. The settlement allowed Teva to start selling generic BELBUCA only after January 1, 2027, giving BDSI a long runway and exclusivity. Over the years, BELBUCA has turned into a good revenue generator for the company, raking in over $ 150mn for BDSI, a $ 358mn market cap company.
In August 2021, Alvogen, a privately-held generic manufacturer based out of New Jersey, launched a generic version of BELBUCA despite a Delaware court having issued a stay order on the launch. Alvogen listed their generic product in 5 compendia, which made some payers refuse insurance to BELBUCA. BDSI went to court, and Alvogen removed its products in September, one month after launch. However, this, among other things, caused BDSI to lower guidance for the fiscal year; it also raised questions about the vulnerability of BDSI's patent estate. I discussed all of that in my November article.
On December 20, the company announced that the courts had given them a favorable ruling, which took the stock up a few notches. Indeed, the stock saw gains it had not seen since 2014 after the court upheld the validity of its two patents supporting BELBUCA. According to Seeking Alpha:
The decision issued by a trial judge in Delaware reaffirms the patents 8,147,866 and 9,901,539, which expire in 2027 and 2032, respectively, and prevents Alvogen from selling a generic version of the BELBUCA for a decade, Bloomberg reports.

District Judge Colm Connolly determined that in addition to some claims related to the patent 8,147,866, those on a third patent 9,655,843 ending in 2027 were invalid.
Notwithstanding the invalidity of the '843 patent, validity upheld for the two key patents provides considerable support to BDSI's case. However, despite conceding infringement of two of the patents ("Alvogen stipulated to infringement of the asserted claims but argues that all asserted claims are invalid."), Alvogen intends to challenge the court's decision. Bloomberg Law reports:
For reference, here is Judge Connolly's opinion. The Judge concluded as follows:
For the '539 patent

I already found that as a matter of fact Alvogen has not shown by clear and convincing evidence that the backing layer pH limitations of the # 539 patent are inherent in Vasisht I. Because Alvogen has not argued that any other reference teaches buffering the backing layer to a pH of about 4.0 to about 4.8, Alvogen has not shown that an artisan of ordinary skill would have been motivated to achieve this result. Alvogen, therefore, has not shown that the claims are obvious. This result is supported by the secondary consideration of unexpected results. Thus, Alvogen has not met its burden to prove that either claim 9 or claim 20 of the # 539 patent is invalid for obviousness.

For the '866 patent

Because Alvogen has not shown by clear and convincing evidence that the # 915 application's written description is inadequate to support the # 866 and # 843 patents, those two subsequent patents can claim priority to the # 915 application. It follows that the # 915 patent cannot anticipate the claims in the # 866 and # 843 patents. Therefore, the asserted claims of those patents are not anticipated.

Broadly

For the foregoing reasons, I find that the asserted claims 4 and 5 of the # 866 patent and 9 and 20 of the # 529 patent are not invalid and that Alvogen infringes these asserted claims. I further find that asserted claims 3 and 10 of the # 866 patent and 8, 9, and 20 of the # 843 patent are invalid under §103.
The question now becomes: will infringing a set of claims validated by the Court invalidate the totality of Alvogen's invalidity claim, or can they salvage their case by showing that some of the claims were ruled invalid? This may reduce to a finding of fact – can the generic product stand without infringing the validated claims?
The stock gained after the Court ruling but then lost some momentum after Alvogen announced it will pursue the case further. BDSI did raise its guidance – or rather, assured the market that it is guiding 2021 revenue towards the higher end of the given guidance:
Total 2021 Net Revenue expected in the range of $ 165 – $ 167 million, as compared to previous guidance of $ 162- $ 167 million

BELBUCA 2021 Net Sales expected to be in the range of $ 147 – $ 148 million, as compared to previous guidance of $ 144- $ 148 million

2021 EBITDA expected to be in the $ 40 – $ 45 million range as compared with previous guidance of <$ 40 million
This is still quite short of the $ 170- $ 180 million previously communicated. However, this news, coupled with the win in court, helped the stock considerably.
Bottomline
What now for BDSI? I think the Alvogen question has been settled quite satisfactorily for now, and the company will think twice before launching a generic drug without authorization. Indeed, I would not be surprised if the courts issue some penalty for loss and damages caused by Alvogen to BDSI.
About the TPT service
Thanks for reading. At the Total Pharma Tracker, we offer the following: –


Our Android app and website features a set of tools for DIY investors, including a work-in-progress software where you can enter any ticker and get extensive curated research material.
For investors requiring hands-on support, our in-house experts go through our tools and find the best investible stocks, complete with buy / sell strategies and alerts.
Sign up now for our free trial, request access to our tools, and find out, at no cost to you, what we can do for you.