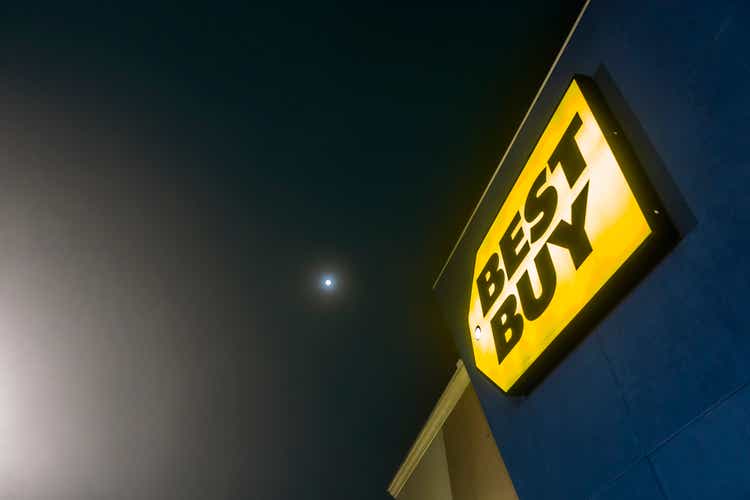 Best Buy (NYSE: BBY) is one of the leading providers of technology products and it offers a wide range of consumer electronics, home appliances and entertainment products. It is also one of the largest retailers of consumer electronics in the US. BBY is currently facing headwinds from its management's downward forecast for the entire CE industry, wiping out a 36% gain from the strong rally in September last year. Revisiting this stock following my first article on how BBY leverages its online sales, it has become even more attractive due to its growing yield and its management's strong buyback guidance. BBY continues to leverage on growing trends in technology, and continues to enhance TAM with its recent acquisition of Current Health Ltd. The management provided a clear path towards its 2025 targets, and reassured its investors that the company is on track to make a record year in their fiscal year 2025. Despite the numerous downward revision in its top line by experts, BBY still generated a healthy cash flow and improved its liquidity status. A temporary industry headwind and the current off-season will justify BBY's potential drop, however, it will also provide investors an opportunity to buy this stock at a better price.
Accelerated Too Fast?
One of the bearish catalysts about BBY is its slowing Non-GAAP operating income and diluted EPS forecast by management on a YoY basis. According to them, they expect a Non-GAAP operating margin to be around 5.4%, breaking the 5 year streak of growth.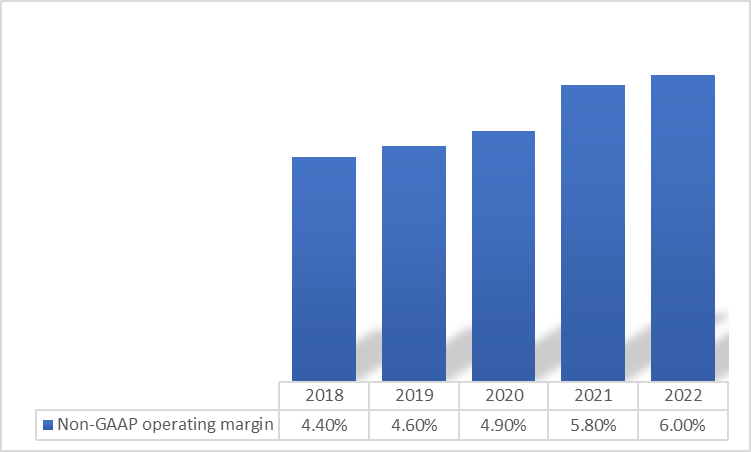 As a result, while projecting a possible peak in its return on operating revenue next fiscal year, the company will still achieve a level of performance above that of its pre-pandemic period. Apart from the management's forecast for a slowing CE industry, supply shortages, and prolonged higher input costs due to inflation sparked by the Russia and Ukraine crisis, the company is aggressively investing in digitalization, putting its operating margin under pressure in 2023. The management assures investors that the decline is not the result of operational weakness and touts a customer-first approach with their Totaltech investment that will set them apart from the competition.
As we look to fiscal '25, we expect the CE industry will return to the high levels we saw in fiscal '22 and that Totaltech will drive meaningful growth. Source: Q4 2022 Earnings Call

One of its primary objectives is to capitalize on emerging and rapidly changing technology trends, as well as to leverage its online presence to accommodate the shift in customer shopping behavior towards e-commerce. They are building a one of a kind customer experience, which will drive sustainable top line growth with their new Best Buy Totaltech membership program. According to management, this strategy will cost them necessary marketing expenses, which will eventually provide meaningful sales that will drive higher operating income in the future. How meaningful? According to the management:
Totaltech, we believe that the combination of membership revenue and incremental purchases by members will add approximately $ 1.5 billion in revenue by fiscal '25 compared to fiscal '23. Source: Q4 2022 Earnings Call
A Stretch
Towards Online Sales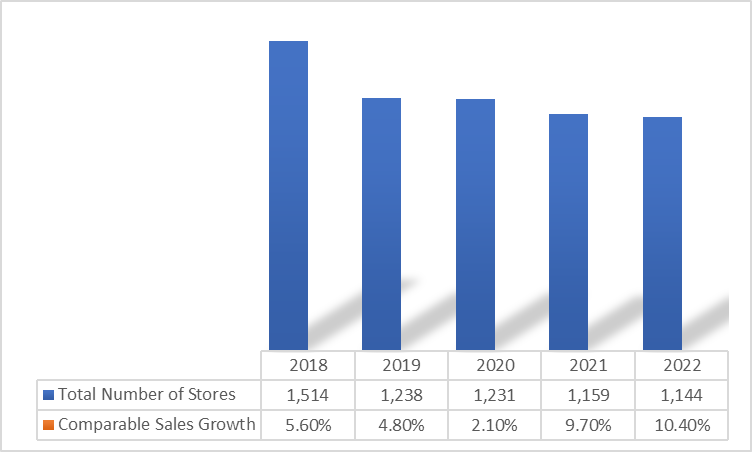 One of BBY's most noticeable trends is its declining store count and its continued plan to close 20 to 30 stores annually through 2025 by the management. Considering this metric and the management's slowing outlook for comparable sales decline of between 1% and 4% in its next fiscal year on top of peaking non-GAAP operating margin is enough to drag the price down lower. However, the declining store count is aligned with their strategy as they shift their focus towards online operation and virtual stores.
Our outlook assumes closing 20 to 30 stores per year through fiscal '25. This assumption reflects our belief that the online channel mix will grow approximately to 40% in fiscal '25. Source: Q4 2022 Earnings Call
BBY is being freed up from associated fixed store rent expenses, which may help alleviate pressure on its operating margin during periods of uncertainty. Additionally, despite its slowing store count, the company increased its human resource base and shifted towards variable expenses. As of its fiscal 2022, the company has 105,000 employees and 50% of it is attributable to full time employees, better from 102,000 in fiscal 2021, of which 60% work as full time. To sum it up, in my opinion, BBY does not experience inefficiencies and slowing comp sales growth is just temporary due to the aggressive store closures.
Towards Health Technology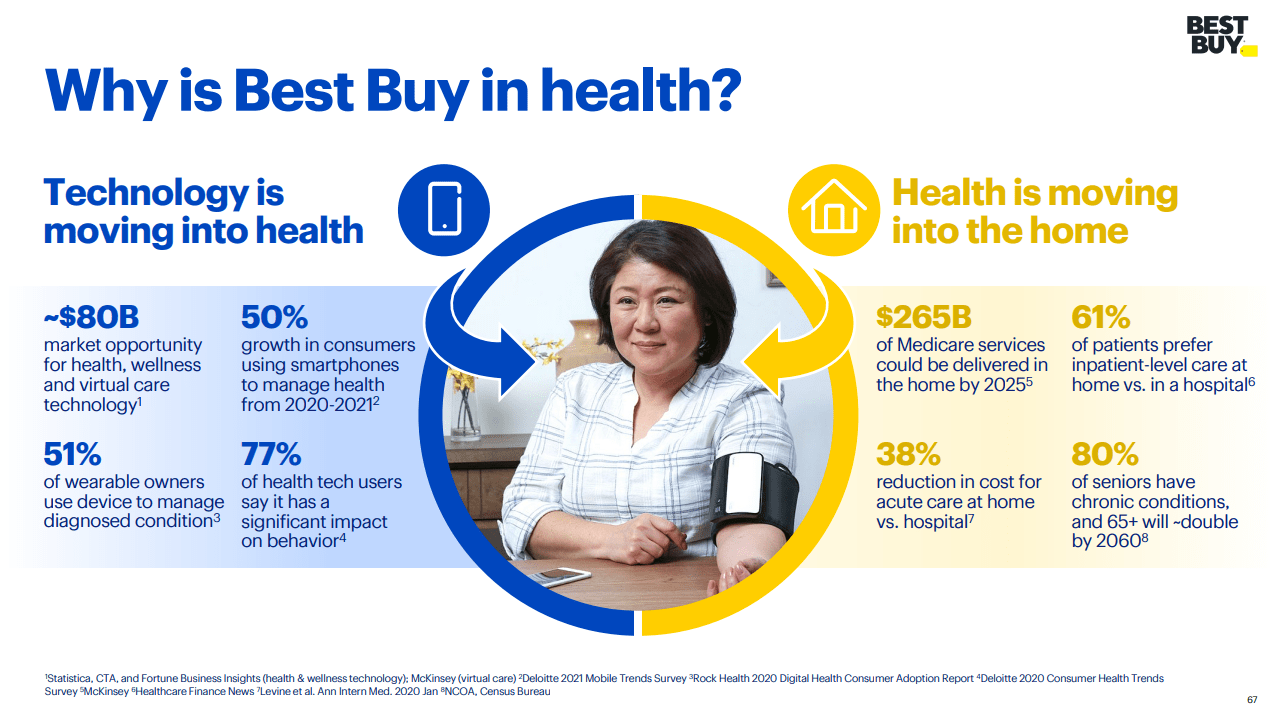 Another value adding catalyst of BBY is its growing TAM thanks to its acquisition of Current Health Ltd. BBY now has a skin on Health technology, and is expected to address $ 80 billion in market opportunity. According to management, they are seeing an increase in demand in the next few years towards virtual care and hospital care at home as quoted below.
By 2025, an estimated $ 265 billion in Medicare services will move into the home, and 61% of patients say they would choose hospital care at home.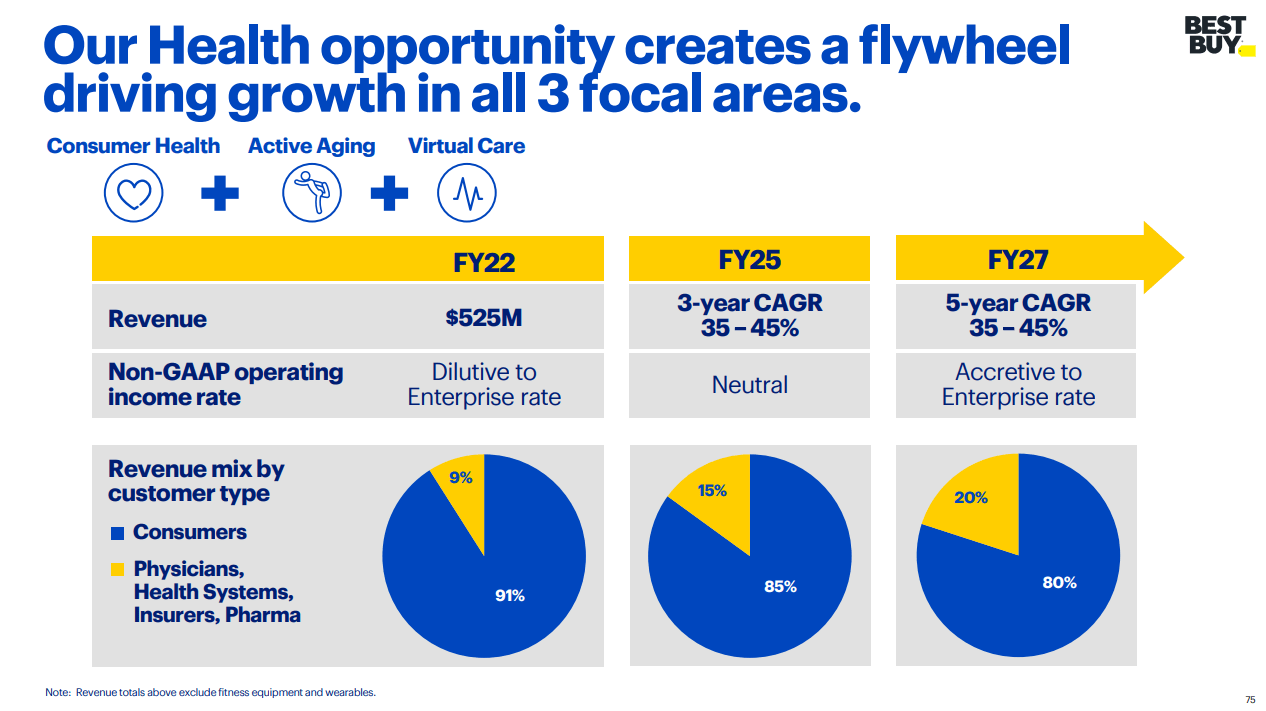 This is also one of the reasons why I believe the declining forecast in its operating margin is not due to operational inefficiency. As illustrated in the image above, management anticipates a dilutive effect until fiscal 2025, and anticipates 35% to 45% annual growth, and then a positive contribution in fiscal year 2027.
Still Cheaper Than Its Peers and Discounted Cash Flow

Conn's, Inc. (CONN), Rent-A-Center, Inc. (RCII), GameStop Corp. (GME), Carvana Co. (CVNA), Tractor Supply Company (TSCO)
BBY is relatively cheaper than its peers, both on a total average basis and excluding CVNA and TSCO. The company's top line is under pressure as supply chain shortages persist, as well as a potential staffing problem because of Covid-19. Experts projected a decline of – $ 2.84% on its top line in fiscal 2023 amounting to $ 50.29 billion, affecting its forecasted forward P / S of 0.47x and forward EV / Sales multiple of 0.49x. Investigating its trailing P / E ratio of 10.35x, it is relatively expensive compared to its forward P / E ratio of 11.31x. However, taking its 5-year average of 15.47x into account, its trailing P / E ratio remains fairly attractive.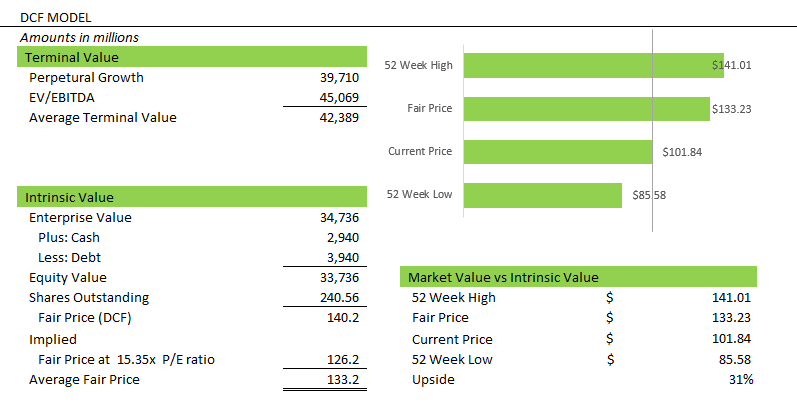 I tweaked a bit of my model in line with today's weakness, although in my opinion, this is a very conservative approach as the management gave a positive outlook beyond its fiscal 2025. Moving forward, based on my DCF model, BBY should trade near $ 133 which still provides a meaningful upside. Projecting it further to 10 years with 1.5% annual growth rate, I believe streets' price target of $ 150 is achievable.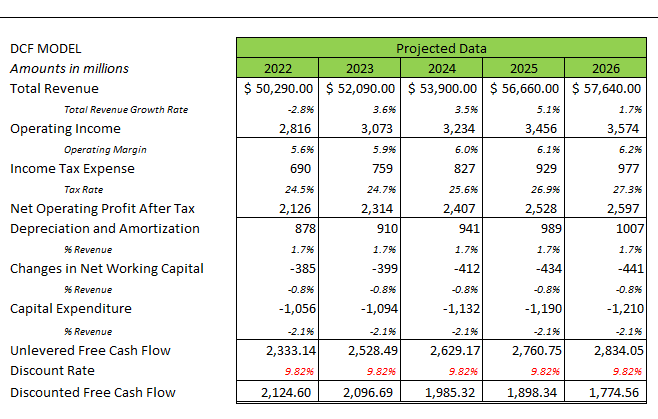 I finished my DCF model using the projected values ​​by the analysts. I lowered my forecast for its future operating margin because there is no reason to be overly optimistic given current market conditions and the uncertainties surrounding its recent acquisition and other recent developments. Additionally, given the company's forecast free cash flow, it is unsurprising to see future dividend payment to increase, on top of the company's planned $ 1.5 billion share repurchase next fiscal year.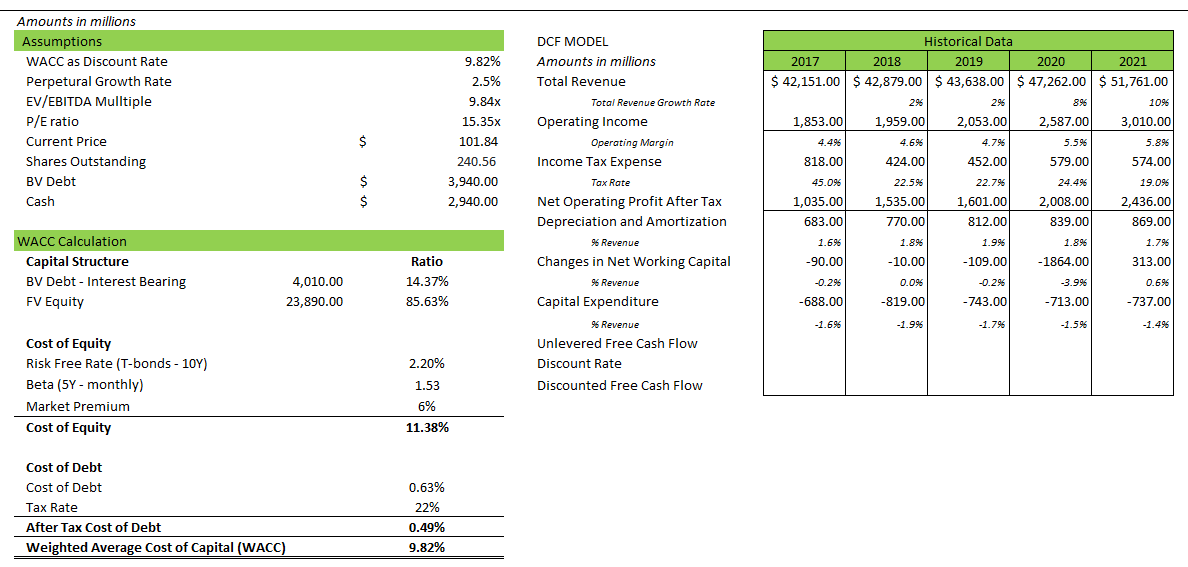 The table above details my WACC calculations and the selected historical data of the company I used to complete the model.
Final Key Takeaways: Another Opportunity To Add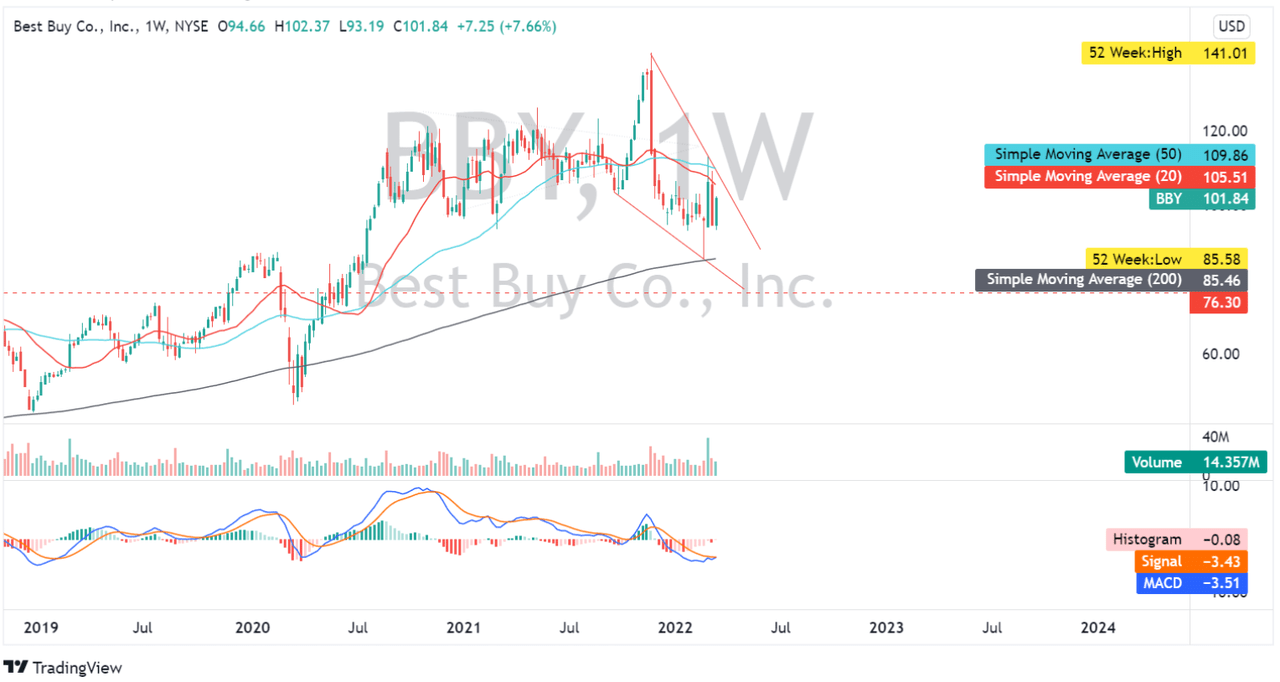 Looking at today's price action, its 20 and 50 day simple moving average shows bearish sentiment. Any further decline would increase its forward dividend yield of 3.46%, which is currently higher than the S&P 500's trailing dividend yield of 1.35%. If it breaks its current support level of $ 94, it may force the price to retest the $ 76 to $ 85 range, which I believe will act as a strong support zone.
BBY enjoys an improving credit rating from Moody's to BBB + in its fiscal 2022, better than BBB last fiscal year. Its focus on improving macro trends in information technology and the healthcare industry positions the company well to weather today's uncertainties. Hence, BBY is still a buy on its potential drop.
Thank you for reading!