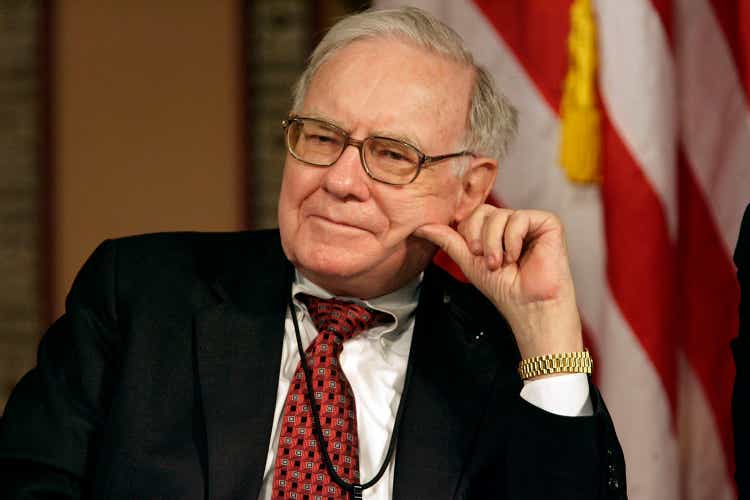 Warren Buffett is beating the market in 2022. With Berkshire Hathaway (BRK.B) up 4.87% year-to-date, the Oracle is ahead of both the S&P 500 (down 8%) and the NASDAQ-100 (down 13%). It has been a great start to the year for an investor who, until recently, was written off as "washed up" by the financial press. For years, Buffett had been underperforming the S&P 500, which was being lifted ever higher by growth names. Although Buffett made some profitable investments in Apple (AAPL) and Snowflake (SNOW), he mostly missed the party in tech stocks. In 2020, the growth oriented Ark Innovation ETF (ARKK) soared, absolutely crushing Buffett's performance in the same period. Tales of Buffett's demise circulated widely in the financial press.
As it turns out, those tales were wildly exaggerated. Although Berkshire underperformed in 2020, it began making gains in 2021. Eventually, it got to the point where Berkshire was out-performing ARKK over the entire duration of the COVID-19 pandemic. Today, the out-performance continues.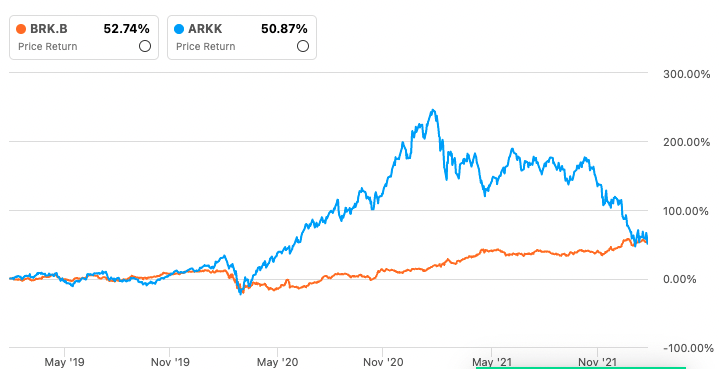 So we've got Berkshire beating the S&P 500 in 2022, and beating the world's most talked-about growth fund since 2019. Certainly, it looks like Buffett is back to his winning ways.
The question is, can this continue?
Berkshire Hathaway's gains in 2022 have been impressive, but everybody knows that value stocks have been outperforming since mid-2021. Given the weakness seen in growth stocks, it's natural that Berkshire, which mostly owns value names and is arguably a value stock itself, would outperform. This in itself does not mean that Berkshire will keep outperforming. However, the stock does have some characteristics that make it a uniquely appealing play in 2022. In this article I will explore some of those characteristics in detail, and advance a bullish thesis on Berkshire Hathaway stock.
Berkshire's Holdings Breakdown
Berkshire Hathaway is a diversified holding company that owns a large portfolio of publicly traded stocks. In this respect, it is somewhat like a mutual fund. Although Berkshire is not structured as a fund, it is a company whose job it is to invest in other companies. Therefore, it pays to look at what sectors Berkshire holds stock in. This can give us a sense of how the stock is likely to perform in the year ahead.
According to US News, Berkshire's portfolio breakdown by sector in May 2021 was as follows:
IT: 40%.

Financials: 31%.

Consumer staples: 13%.

Other 16%.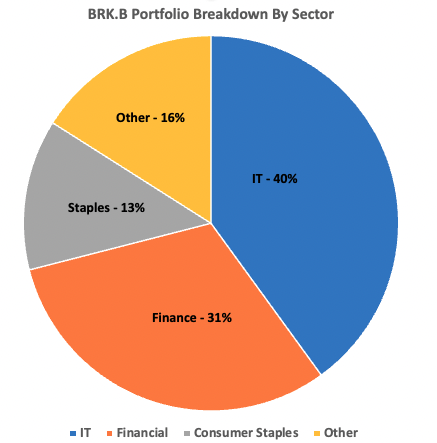 Overall, it's a pretty diversified mix of assets. There are only four main sectors represented in the portfolio, but some of them contain many different stocks. The IT part of the portfolio is heavily concentrated in Apple stock. The financials part is more diversified, holding Bank of America (BAC), Bank of New York Mellon (BK), and Mastercard (MA), among others. According to CNBC's Portfolio Tracker, Berkshire's portfolio has 46 major holdings. I say "major" because Berkshire generally does not disclose positions that are too small for disclosure to be legally required.
Berkshire Hathaway's portfolio has many characteristics that make it desirable in 2022.
The first of those is heavy exposure to financials. We are in an environment where interest rates are rising, and financials are among the few stocks that can benefit from higher interest rates. When central banks increase interest rates, deposit interest goes up, but loan interest goes up even more. So the spread between costs and interest income increases, improving bank margins. This is how it works in theory. In practice, it does not always work out this way. A Kansas Fed Research paper points out that there have been some periods when bank margins and interest rates moved in opposite directions. Nevertheless, there have been many cases where banks profited from interest rate hikes. For example, in the fourth quarter of 2018, the Federal Reserve hiked interest rates, and BAC explicitly said that it earned more net interest income because of this action. So, the data suggests that, at least sometimes, higher interest rates improve bank margins. In other industries, higher interest rates simply mean higher financing costs, with no corresponding increase in income.
Berkshire has a lot of exposure to banks and related companies. And many of its bank holdings appear to be those whose profit margins are impacted quickly by interest rate hikes. As I mentioned before, Bank of America reported higher interest income in Q4 2018 because of rate hikes. It reported lower net interest income in Q1 2021 because of rate cuts. So, BAC is an interest rate sensitive bank that makes more money when the Federal Reserve hikes interest rates. And it just so happens to be about 13.5% of Berkshire's portfolio. Undoubtedly a bullish signal for Berkshire in 2022.
Now, the above are some good reasons why people like banks in 2022. Interest rates are rising, some banks could make money off the hikes, and tech stocks are very expensive. This is pretty much what I was thinking when I wrote my recent article "The Tech Stock Crash Will Likely Get Worse." I was pretty sold on value stocks then, particularly bank stocks. I still like them for the year ahead. However, the prediction I made in the article has already come true. Since January 24th, the NASDAQ-100 has fallen another 2.22%, despite a string of earnings beats in the ensuing period.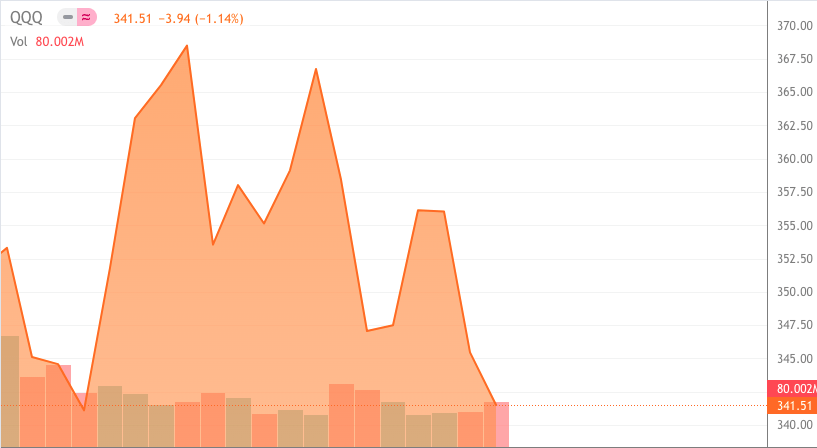 In the late-January / early-February earnings season, the following companies beat on earnings:
They all performed pretty well immediately after their releases, but then Meta Platforms (FB) came out with a release that showed a tiny miss, and its stock cratered 25%. This dragged the NASDAQ down with it. Since then, even the companies that beat on earnings have seen their shares slide.
What all this means is that tech may be getting undervalued now. While bank stocks still have a good chance of out-performing measured from the start of the year, banks bought today may underperform tech bought today. Berkshire is way ahead of the curve on this. Its Apple stake is the single biggest position in its portfolio. So while there's plenty of financial exposure in there, there's plenty of tech in there too. And the tech play the Berkshire owns just happens to be one of the ones that's still holding up pretty well — both financially and in the markets. Thus, BRK appears well positioned.
Financials and Valuation
Speaking of financials, let's take a look at Berkshire's own.
For the most recent quarter, Berkshire reported:
$ 70.5 billion in revenue, up 11.9%.

EBIT: $ 12.1 billion, down 67%.

EPS: $ 6,882, down 64%.

Nine month cash from operations: $ 31.6 billion, up 8.2%.
As you can see, the top line saw a healthy amount of growth while the bottom line declined. That was largely due to changes in Berkshire's investment portfolio. Because Berkshire owns so much publicly traded stock, it has to report its stocks' gains and losses in income. In the third quarter of 2020, the gains were much larger than they were in Q3 2021, so that portion of income declined. If you look at cash from operations, you see that it is growing in tandem with revenue. The key takeaway is that the Q3 EPS decline does not indicate much: it does not reflect operating performance.
Now, we can zoom out to the trailing 12 month period. For the last 12 months, Berkshire reported:
$ 268 billion in revenue, up 9%.

$ 111 billion in EBIT, up 81%.

$ 56,269 in EPS, up 153%.

$ 42.1 billion in operating cash flow, up 2.1%.
As you can see, the earnings metrics for the most recent 12 month period are much better than for the most recent quarter. This again is a matter of Berkshire owning a lot of stock. The more stock a company has on its balance sheet, the more earnings will deviate from cash flows. If you take cash flow as more reliable than earnings-as I personally do-then this implies that Q3 was an improvement over the other quarters in the trailing 12 month period.
Based on the periods we've looked at, it's clear that Berkshire Hathaway is growing, albeit not at a frantic pace. This is to be expected. As Warren Buffett says, size is the anchor of performance. When you're making nearly $ 300 billion in revenue, incremental gains are difficult to achieve. Still Berkshire is absolutely crushing it on profitability. For the trailing 12 month period, it had a 41.4% gross margin, a 32% net margin, and a 19.4% return on equity. These are all excellent profitability metrics. So while Berkshire may not be growing its earnings dramatically, each year's profit returns a lot of value back to the company.
Now, let's look at Berkshire's valuation metrics. According to Seeking Alpha Quant, Berkshire has:
These are pretty good metrics overall. The adjusted P / E ratio is a little high, but the rest are quite low. And Berkshire has moderate growth on top of its cheapness, so it's not a "value trap" that's cheap because it's going out of business.
Risks and Challenges
As we've seen in this article, Berkshire Hathaway is a financially sound company with modest growth and a cheap valuation. Certainly, it looks like a great value play, which may explain why so many value investors own it. Nevertheless, Berkshire is not without its risks. Some of the biggest include:
Concentration of the equity portfolio in Apple stock. While Berkshire Hathaway's portfolio is pretty diversified going by the number of stocks, it is very concentrated going by weighting. As mentioned earlier, Apple made up 40% of the portfolio a year ago, and it's likely a bigger percentage of the portfolio now. Buffett believes that this is justifiable because Apple is a great company. I agree with him on this, but going by textbook finance theory, this high exposure to one stock is a risk factor.

Insurance underwriting risk. A large part of Berkshire Hathaway's business is insurance. Like all insurance companies, Berkshire is exposed to underwriting risk. That is, the risk that the insurer miscalculates, resulting in costs / payouts exceeding premiums. Normally, insurers collect enough premiums to cover costs, leaving them with a bit of money to invest. If they do not, then they have to pay out more than expected on claims. In Berkshire's case, this would result in less money to invest in stocks and other assets.

Succession. The identity of the person who succeeds Warren Buffett after he leaves is considered a risk to Berkshire Hathaway shareholders. One of the big reasons people invest in Berkshire is to get exposure to Buffett's long-term market beating investments. If the person who succeeds Buffett is not as adept at investing, then Berkshire may lose value over time. Certainly Buffett has some skilled money managers working for him. Ted Weschler, for example, managed to grow a $ 70,000 IRA to $ 264 million. That looks promising, but it's actually Greg Abel, not Ted Weschler, who is set to take over from Buffett as CEO. It remains to be seen how well he will manage the company's massive investment portfolio.
All of the risks listed above are very real. However, they aren't enough to damage the long term bullish thesis on Berkshire Hathaway stock. Ultra-profitable and undervalued, it's as good of a deal as it's ever been.