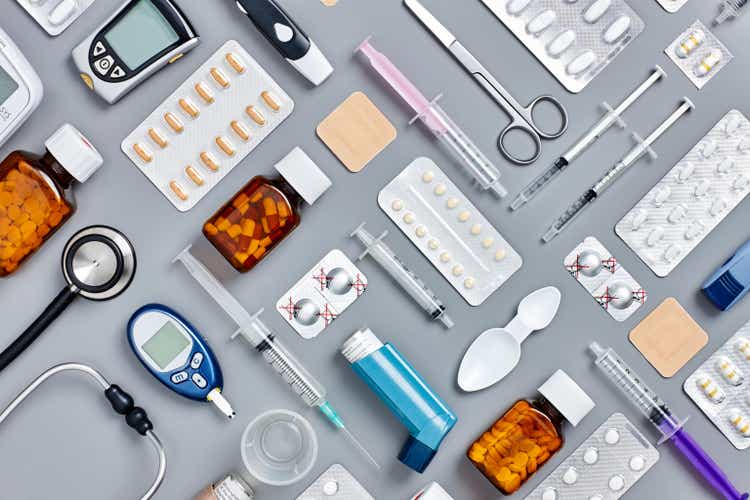 Baxter International (BAX) is an appealing business. Its fundamentals of supplying medical equipment have a great correlation to society as it is today. Its expertise in several solutions is well-used by most of its customers, using Baxter to supply far more advanced products than say, cotton swabs and wound dressings.
In this article, we revisit Baxter and see what we can do with an investment in the company.
Revisiting Baxter International
Baxter is among market leaders in its field, and its portfolio of healthcare solutions and products, including dialysis therapies, IV solutions, infusion systems, nutrition therapies, inhaled anesthetics, and other things are well-used by customers at every level of the healthcare chain . It's not just a US-based company, nor does it only sell to US companies. It has international operations with a broad appeal, even if sales do favor the Americas.
In my last article, I spent some time talking about the Hillrom M&A, which I believe will bring value to Baxter over time. This will come through a pivot into higher-margin business areas, such as connected care, with an overall sales / revenue mix away from hospital care.
The targeted synergies half a year ago are well-documented. 4Q21 is out, so we can start looking at what we're getting from Baxter here.
Baxter is giving us double-digit 10% YoY sales increases, 12% on a constant currency basis for 4Q21. The company's Gross margins are at a strong 40%, with an ~ 11% OM margin, 20.3% on an adjusted basis, as well as double-digit, 30% diluted EPS increases.
For FY21, the numbers are even better. The operating margin is in the 13.4% range, with a 20% diluted EPS increase year-over-year.
There are certainly COVID-19 tailwinds at play here, but Baxter is showing strong portfolio resilience in a very difficult environment.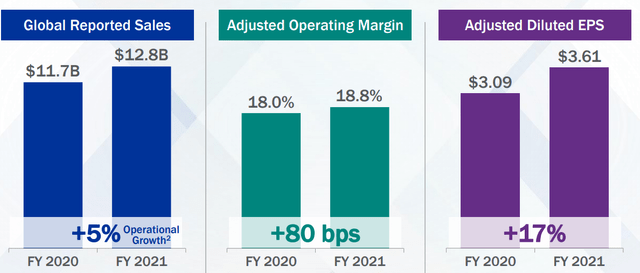 Hillrom has already started contributing to earnings. For 4Q21, that contribution was around $ 0.08 on a $ 1.04 basis, with performance impacted by logistics and FX. However, those $ 0.08 only represent 19 days of Hillrom.
The company has, as I mentioned a whole slew of different operational sectors. Renal Care, medication delivery, Pharma, Clinical Nutrition, Advanced Surgery, Acute Therapies, Biopharma, and Hillrom, the last added in 2021. Most of these segments are between $ 150- $ 250M in sales. Renal Care is by far the largest at just north of a billion dollars in sales, with medication and pharma in 2nd and 3rd place.
All in all, it was a good quarter and a good year. The company's performance came in line with the upper range of its targets. Earnings beat analyst expectations as well, both in revenues and in earnings.
Impacts during the quarter? Omicron and costs. That's pretty much it. COVID-19 continued to pressure certain segments while advancing others. It's not as simple as that healthcare benefits from COVID-19. Most healthcare, in fact, does not. But with a diverse portfolio like Baxter's, some things are bound to be up.
Inflation / costs is another big thing, along with the general state of the supply chain. Baxter has had to pay significant amounts for expedited shipping during times as well as some truly extraordinary lengths to make sure that shipments and contracts were adhered to.
We should expect these elevated logistics costs and associated challenges to continue for some time.
The important part is that we can expect a 7-9% accretion in terms of EPS growth for Baxter as a result of Hillrom. This reflects a slightly lower accretive EPS than the company guided for initially. The reason for it is increased freight costs and similar SCM-related headwinds.
The company expects Hillrom to contribute around $ 0.10 / share in EPS for the coming 1Q21 quarter – but also expect a $ 0.15 negative impact from inflation, freight and SCM.
Baxter is under pressure – but that pressure is mostly outside its sphere of influence, whereas most of what they can affect is going fairly well. What should be talked about is inherent contract clauses to existing business to absorb some of the SCM / Inflation ongoing here. Baxter, after all, should be able to pass some of these cost increases along to its customers. For the time being, the company will not comment on it (Source: 4Q21 Earnings Call) – so this is a bit of a negative and risk that needs considering.
Overall, and from a high level, Baxter is battling COVID-19 impacts, while enjoying COVID-19 benefits (almost $ 100M in vaccine business from the pandemic). They're navigating SCM and inflation challenges. Despite the Hillrom integration, I expect pressure for the company in the near term, which could end up bringing the company to the lower end of its overall guidance spectrum.
The company has given us 2022 guidance.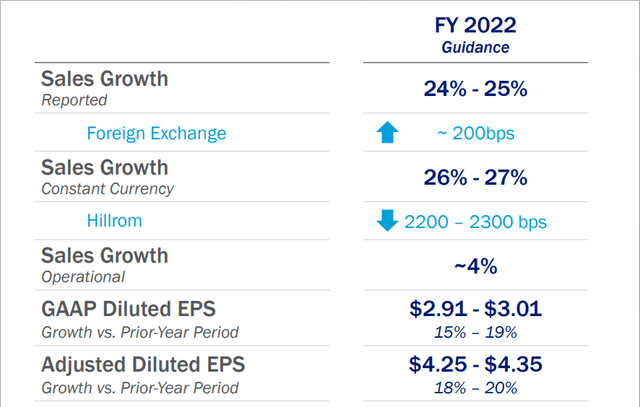 Let's look at some of these forecasts to see where Baxter could be going here.
Baxter – a look at the valuation
Overall, Baxter has a tradition of trading along that 22-25X P / E line, owing to strong sector margins, an overall good market position that includes global exposure (unlike some of its NA-only peers), and a relatively strong double- digit EPS growth rate.
I consider this premium relatively fair and would forecast Baxter at roughly 22-25X P / E on a forward basis. The average expected EPS growth for the coming 2-3 years come in at roughly 15%, and that's the low point of the company's own guidance. I consider this accurate. To back this up is a relatively high, 85% + forecast accuracy with a 10% margin of error. (Source: FactSet).
On this basis, the lowest 3-year upside on a 22X forward P / E is around 15.49% per yearor 51% total RoR.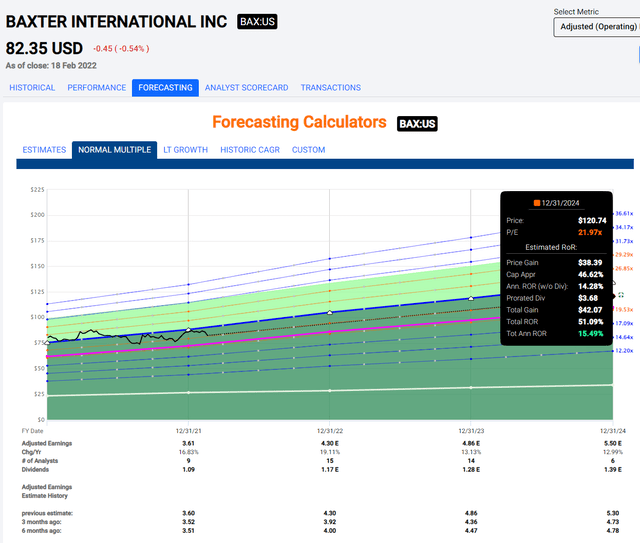 If you look at the analyst estimate changes, you'll see that these shift in the correct direction. Analysts typically adjust upward, compared to a 6-month historical basis. And this is the lowest premium I consider fair for Baxter.
The company is BBB-rated, has low debt, and unfortunately a relatively low dividend at 1.36% – but you can not have everything when investing.
The upside goes up to almost 20% annually given a 24.5X forward P / E, or almost 68% total RoR.
This is a safe investment that, albeit at a premium, I believe will deliver alpha over the next 3 years.
Given the relatively chaotic state of the market, I believe these to be the sort of investment opportunities you want to push for.
Safe. Solid. No-nonsense. In good sectors. With a good upside.
Anything else, in my view, is too risky.
Baxter is one such company.
S&P Global targets for the company range from a level of $ 86 on the low point, which is higher than the $ 82 we have today, and $ 110 on the high point, to an average of $ 96.47, or an upside of 17%. This comes to about my own estimates.
More than 60% of the analysts following the company are at a "BUY" or "outperform" rating at this time (Source: S&P Global).
I believe the company's upside to being on a solid foundation at this point. I understand that this company is not everyone's cup of tea given the low yield, but I encourage you to take a look at Baxter to see if it can offer you sufficient upside – because this company is solid.
Thesis
My thesis for Baxter is as follows:
The company is a solid healthcare company with interesting segments that both suffer and gain tailwinds from the current situation. I estimate the net effect of a pandemic unwinding to be about 1: 1 for Baxter, which means that overall longer-term growth potential is intact.
At current valuations of below 23X P / E, I consider the company a buy to a forward 22-25X P / E range.
BAX is a "BUY" here. A price target that I would consider attractive for investment based on my goals would be around $ 95 / share – though every investor of course needs to look at their own targets, goals, and strategies. I would also always consult with a finance professional before making investment decisions such as this.
Remember, I'm all about:
1. Buying undervalued – even if that undervaluation is slight, and not mind-numbingly massive – companies at a discount, allowing them to normalize over time and harvesting capital gains and dividends in the meantime.
2. If the company goes well beyond normalization and goes into overvaluation, I harvest gains and rotate my position into other undervalued stocks, repeating # 1.
3. If the company does not go into overvaluation, but hovers within a fair value, or goes back down to undervaluation, I buy more as time allows.
I reinvest proceeds from dividends, savings from work, or other cash inflows as specified in # 1.
This process has allowed me to triple my net worth in less than 7 years – and that is all I intend to continue doing (even if I do not expect the same rates of return for the next few years).
If you're interested in significantly higher returns, then I'm probably not for you. If you're interested in 10% yields, I'm not for you either.
If you however want to grow your money conservatively, safely, and harvest well-covered dividends while doing so, and your timeframe is 5-30 years, then I might be for you.
Thank you for reading.