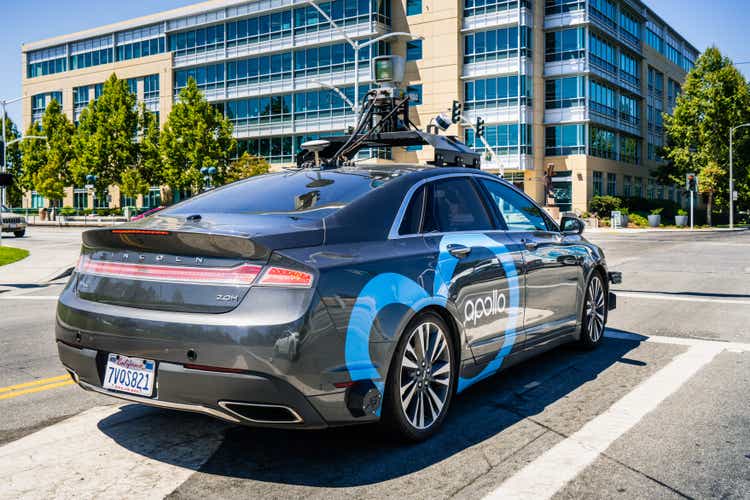 Thesis
Baidu (NASDAQ: BIDU) is a leader in AI, which will allow them to compete effectively in cloud and autonomous driving, in addition to their legacy advertising business. The company's transformative growth story does not seem to be fully appreciated by the market. This quarter, the robotaxi business crossed the huge milestone of charging for rides, which no US company has done yet.
Search And Advertising
While Baidu Core ad revenues increased by 12% in 2021, macro factors and COVID-19 resurgence have impacted the ad industry in late 2021. In the fourth quarter, our ad revenue declined by 2% quarter-on-quarter with year-over- year growth slowing down to 1%. – Q4 Earnings Call
Baidu is all about AI. Even in Baidu's search business – which brings in most of the company's revenue – the use of AI is clear. They've improved their search products by adding instant replies and introducing a smart home assistant similar to Amazon Alexa.
Nevertheless, advertising revenue growth has slowed due to macro issues in China's economy. Advertising is a cyclical business, so management expects growth to re-accelerate as the economy improves. I view this low growth as a temporary issue, but search is not an important part of the long term Baidu bull thesis at this point anyway.
AI Cloud
Revenues from Baidu AI Cloud increased by 60% year-over-year to RMB5.2 billion in Q4, and was up by 64% year-over-year to RMB15.1 billion in 2021. (Q4 Earnings Call)
The next largest part of the company is the AI ​​Cloud, which has more momentum than search. Baidu's cloud service is more specialized than its larger peers like Alibaba (NYSE: BABA), as Baidu focuses on bringing AI innovations to specific industries like transportation, manufacturing, public services, energy and utilities. For example, energy and utility companies use Baidu to detect malfunctioning systems, and manufacturers use it for automation to improve efficiency.
Although I still view Alibaba as the cloud leader in China, Baidu's cloud is growing faster, perhaps thanks to its specialized approach, smaller revenue base, and AI leadership.
Apollo Go
In the fourth quarter last year, Apollo Go advanced, Apollo Go provided 213,000 rides and once again almost doubled its rides quarter-over-quarter, reaffirming our leadership position in the global autonomous ride-hailing market. Apollo Go is now available in eight cities Beijing, Shanghai, Guangzhou, Shenzhen, Chongqing, Changsha, Cangzhou and Yangquan. Meanwhile, we have started to charge fees for the autonomous ride-hailing service open road things November 25, 2021 in Beijing, and February 18, 2022 in Chongqing, and February 27, 2022 in Yangquan.

Today, we believe that we're already the largest autonomous ride-hailing service provider in the world … So in the medium and long-term, we aim to expand the Apollo goal to 65 cities in 2025 and 100 cities in 2030. And expand our smart transportation into more cities and deepen our penetration in each city.

I think we've been testing for more than 10 million kilometers. We have not had a serious injury, yet.
Now we get to the most interesting part for long term investors. Baidu's autonomous driving platform Apollo Go continues to gain momentum. While most US autonomous driving platforms are only available in one or two cities (or in Tesla's (NASDAQ: TSLA) case, zero), Apollo Go is available in many of China's most populous cities. They've also received regulatory approval for test drives in international cities like San Francisco.
This quarter, Baidu achieved the huge milestone of actually charging for robotaxis, which puts them ahead of US companies in this respect.
| | |
| --- | --- |
| Autonomous Taxi | Cities Available |
| Apollo Go (BIDU) | 8 |
| Pony.ai (BABA) | 3 |
| Waymo (GOOG) | 2 |
| Cruise (GM) | 2 |
| Tesla (TSLA) | 0 |
Source: The Author
Baidu is also ahead of US companies and Alibaba in terms of the number of cities they have taxis in. Although I could not find directly comparable statistics about test miles, as far as I can tell Baidu is a leader in that category as well but potentially behind Waymo (and Tesla if you count their FSD).
Here are a couple videos showing Apollo Go in action:
The videos are in Chinese, but they show test drives about five months apart in H2 2021. They prove that Apollo Go is real and functional; the screen on the back of the driver seat shows the vehicle's surroundings including other cars and obstacles. The car even slows down to account for a jaywalker. It's also clear that a lot of progress was made in the few months between the two videos; there's no longer a safety driver in the passenger seat, the entry method changed from a QR code to a pin, and there appear to be more sensors on the car.
Regulatory Concerns
I want to highlight that our autonomous driving business is navigating a favorable operating environment. The Beijing government has enacted plans to expand autonomous driving region to a large area in 2022. Several large cities such as Guangzhou, Chongqing and Shanghai have proactively adopted our ACE smart transportation solutions and facilitated the public obligation for Apollo Go autonomous ride-hailing. We believe that we will continue to benefit from China's ambition to establish autonomous driving as national pride and the home grown technology. – (Q4 Earnings Call)
Chinese stocks have been selling off for over a year, thanks in large part to regulatory concerns. Mega cap Alibaba has seen its earnings decrease a lot, partially due to fines and other contributions. Although most other Chinese companies have not been hit as hard as Alibaba, they've sold off in sympathy, as investors worry that other companies could be unpredictably targeted by the CCP.
This is a valid concern – as is delisting – and it's something that investors should consider. However, the risk may be lower for Baidu since it's a comparatively smaller company.
Moreover, China's more whimsical regulatory environment may actually be more favorable for autonomous driving than the USA. I'm a proud American and advocate of free speech. Even so, there are real pros and cons to different types of government. One benefit of an authoritarian government like China is efficiency. While the USA will probably struggle with autonomous driving regulations for years to come, China can move quickly to legalize it and perhaps even enact laws retroactively as unexpected situations come up.
Moreover, while the USA media continues to publish fear mongering clickbait about every autonomous driving accident, China seems determined to have autonomous driving succeed and the media is part of that. Anecdotally, my wife is Chinese and after browsing through various Chinese media, she found no mention of any crashes related to Apollo Go (but many mentions of safety issues with Tesla and Waymo (NASDAQ: GOOG) (GOOGL)). Whether this is a case of censorship or Apollo Go just working extremely well does not make much of a difference; it's very favorable for Baidu either way. If this trend continues, it's unlikely that Chinese citizens will develop the fear of autonomous driving that many Americans seem to have.
Cash And Buybacks
In addition, you've mentioned the share repurchase program, I think we believe that our AI business has been undervalued by the market. For example, the market has not placed sufficient values ​​on our intelligent driving businesses. That's the reason why we keep buying back our shares. As of the end of 2021, will have returned approximately $ 2.9 billion to the shareholders under the 2020 share repurchase program. I think this reflects the confidence that we have in the direction of our businesses.
Baidu's market cap is $ 56B but thanks to a large cash pile, their enterprise value is $ 42B. This gives them an extremely low EV / EBITDA of 3, or EV / Earnings of 20. For a US company, an EV / Earnings of 20 for a company growing revenue at a low teens rate would be quite fair, but Baidu's current growth is mostly from cloud and advertising. These days autonomous driving startups with just a few million in sales can fetch multibillion dollar valuations in the stock market, but Baidu investors are basically getting its autonomous driving business for free.
Unlike more speculative autonomous driving companies, Baidu has been using its cash to enact shareholder-friendly stock buybacks. At the current low valuation, this seems like a good use of cash to me and will help boost shareholder returns in the coming years.
Conclusion
Some would argue that autonomous driving should not be considered in Baidu's valuation until it's generating meaningful revenue, and that's fair. It's also fair to argue that Chinese stocks should trade at a discount due to an unpredictable regulatory environment. There's no doubt that seeing what happened to Russian stocks recently has not helped sentiment.
Baidu definitely isn't risk-free. However, ARK estimates that robotaxis represents a $ 2 trillion profit opportunity. That means that Baidu's entire income last year was just 0.1% of this opportunity. Even if the opportunity is overestimated and Baidu only gets a small part of it, it's safe to say that there's a lot of potential upside from current prices if the robotaxis work out.
To me, Baidu looks like a leader in robotaxis and AI more broadly. I like that unlike US tech giants, Baidu is still founder-led. And I like that the company is leading the way in robotaxis and AI. I consider Baidu a strong buy at these levels for those who can wait another 3-5 years for robotaxis to meaningfully contribute to revenue.
Housekeeping Note: I'll be launching a Marketplace service on Seeking Alpha focused in depth coverage of the best growth opportunities in today's market, including Baidu. Stay tuned for an announcement in the next couple months if you're interested!