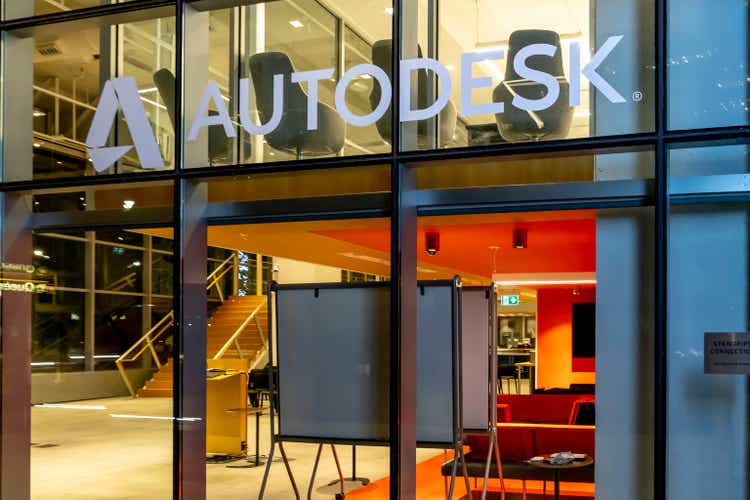 The major tech correction that has whiplashed the market since the start of November has hit all corners of the tech sector rather indiscriminately. Large-caps and small-caps fell in tandem, and even large and stable cash-flow generators like Autodesk (NASDAQ: ADSK) were no exception. The CAD software giant is down ~ 35% from highs notched in early November, and ~ 25% down since the start of the year.
As the market looks set to rebound, the question for investors is: is it the right time to pick up Autodesk on the dip?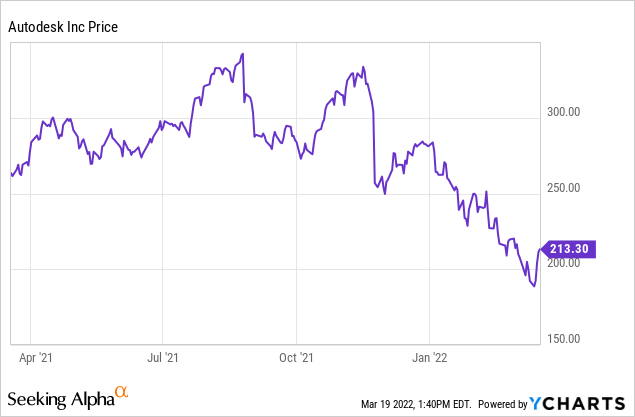 The bull and bear theses on Autodesk are fairly balanced at this price
In light of the sharp fall from highs in Autodesk's stock, plus the fact that the company's fundamentals have not really seen a massive degradation over the past several months (though they've also lacked excitement), I'm bumping up my viewpoint on Autodesk to neutral, from a prior view of bearish. At the same time, I'm not in a rush to buy Autodesk, nor do I think it's the best play for the current rebound. I do think that Autodesk will be on par or slightly above market performance over a 1-2 year timeframe due to the consistency of its results and the strength of its earnings, but I think the far more beaten-down small / mid-cap growth stocks are a better way to play the near-term rebound.
At current share prices for Autodesk, I view the stock as a mixed bag of positives and negatives. On the positive side:
Category leader. Autodesk is synonymous with the CAD / CAE software space, and is the gold standard taught in engineering and design schools. It has managed over the past several years to convert the strength of its brand into a nearly pure subscription / recurring revenue business, extending its runway and making itself more appealing to smaller customers who do not want to buy large license packages upfront.
Margin strength. Autodesk is one of the rare few software companies that have truly reached scale. Its ~ 90% pro forma gross margins has led to tremendous business scalability, and its high-30s pro forma operating margins on top of mid-teens growth makes the company an enviable "Rule of 40" member.
At the same time, however, there are several concerns here:
What's next for Autodesk? The company does not really have any major growth initiatives planned. It's already the market leader in a relatively saturated market, and the company may resort to the tried-and-true playbook of acquiring growth via M&A.
Valuation. For its relatively modest growth profile, Autodesk already trades at quite rich multiples.
More details on the above: at current share prices near $ 213, Autodesk trades at a market cap of $ 46.35 billion. After we net off the $ 1.81 billion of cash and $ 2.50 billion of debt on Autodesk's most recent balance sheet, the company's resulting enterprise value is $ 47.04 billion.
Meanwhile, for the upcoming fiscal year, Autodesk has guided to $ 5.02- $ 5.12 billion in revenue, $ 6.46- $ 6.83 in pro forma EPS, and $ 2.13- $ 2.21 billion in FCF (we note this represents quite substantial 44-50% y / y FCF growth , despite the rather meager 14-17% y / y revenue growth):

Taking the midpoints of these guidance ranges at face value, we get to valuation multiples of:
9.3x EV / FY23 revenue
32.0x forward P / E
21.7x EV / FY23 FCF
I view these multiples as already fully-valued, and I do not see much opportunity for Autodesk to rally in the near-term.
The bottom line here: if your investment horizon is to pick stocks that will be solid two years down the line, Autodesk's combination of steady performance, category leadership, and rich bottom-line margins make it a safe bet. If, however, your goal is to capitalize on a near-term rebound, I do not think Autodesk's valuation multiples leave enough room for a sudden upward correction.
Q4 download
Let's now dig into the details of Autodesk's most recent quarterly results. The Q4 earnings summary is shown below: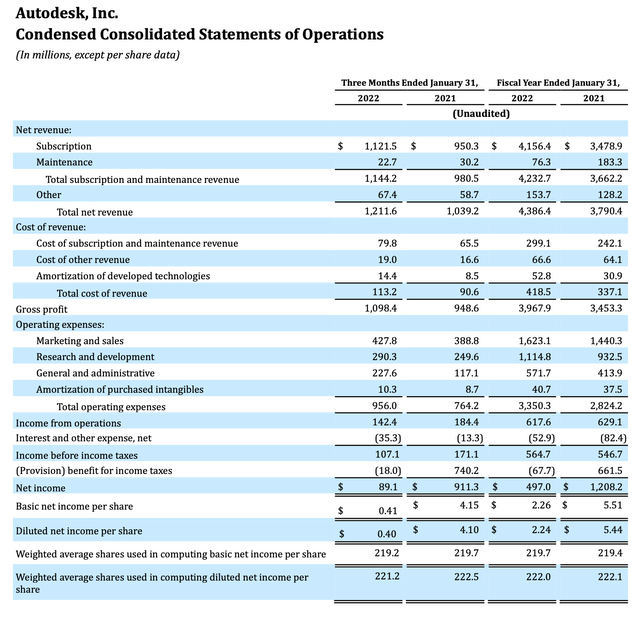 Autodesk's revenue grew 17% y / y to $ 1.21 billion in the quarter, only barely edging out over Wall Street's expectations of $ 1.20 billion (+ 16% y / y). Revenue growth also decelerated slightly from 18% y / y growth in Q3.
Note as well that Autodesk cites currency movements as being beneficial fo FY22 revenue. Of the 16% y / y growth that Autodesk generated in the entirety of FY22, it attributes two points of growth to currency tailwinds.
By product, Autodesk's nascent media and entertainment tools were the biggest contributor to growth, with revenue of $ 93 million (less than 10% of the total) growing 39% y / y, while revenue from manufacturing solutions grew at a disappointingly low 4% y / y, which the company attributes to a tough y / y comp. By geography, growth was evenly distributed across the company's three main reporting regions, with growth indexing slightly stronger in the Americas.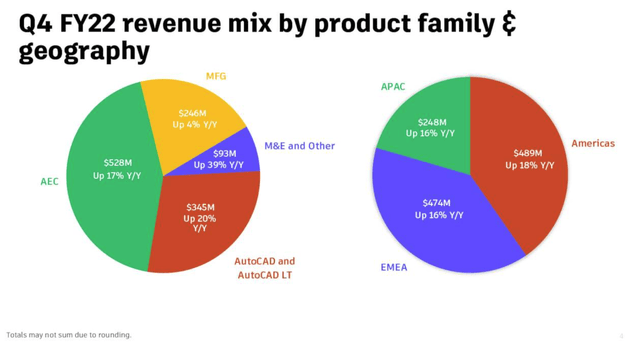 Among the quarter's biggest success stories was digging deeper into its construction products, which the company achieved in part by strengthening its reseller channel for these products. Per CEO Andrew Anagnost's prepared remarks on the Q4 earnings call:
With the launch of Autodesk Build, the introduction of an account-based pricing business model and distribution through our channel partners, we are extending our reach into the construction market. For example, Lee Lewis Construction, an ENR 400 general contractor from Texas, has been driving innovation through construction technology for over 45 years. In 2021, it began adopting capabilities of the Autodesk Construction Cloud, beginning with Assemble for Virtual Design & Construction with the end goal of a full replacement of their product management software with Autodesk Build. By having one platform for the full end-to-end construction workflow, Lee Lewis will be able to more efficiently deliver extraordinary results for their clients, from concept planning to ribbon cutting.

With strong growth from Autodesk Build and the benefit of recently launched ACC bundles for preconstruction and construction operations, Autodesk Construction Cloud reported its best ever quarter and accelerating growth in the fourth quarter, entering FY '23 with strong momentum.
One additional thing to note: Autodesk's billings in the quarter were $ 1.66 billion. While still representing a healthy excess to revenue and adding to deferred revenue, the 13% y / y growth pace (which the company attributed to tough one-time comps in Q4 of last year) does shed some doubt on Autodesk's guidance to deliver 22- 25% y / y billings growth in FY23 and 14-17% y / y revenue growth.
The margin story continued to be a positive one for Autodesk. Pro forma operating margins rose five points in the quarter to 35%, while for the year, the company boosted operating margins by three points to 32%. On top of mid-teens revenue growth, Autodesk passes the "Rule of 40" test on both a Q4 and full-year basis.

The company's full-year free cash flow of $ 1.475 billion grew only 10% y / y, but it's really next year in FY23 where the company's $ 2.13- $ 2.21 billion in FCF guidance signals the leap in free cash flow.
Key takeaways
To me, Autodesk is simply an "okay" stock to invest in. I have confidence in the stock's ability to rise over the longer-term timeframe, but there are plenty more undervalued names to dig into right now (at the top of my buy list currently are DocuSign (DOCU), Roku (ROKU), and Coupa (COUP)).