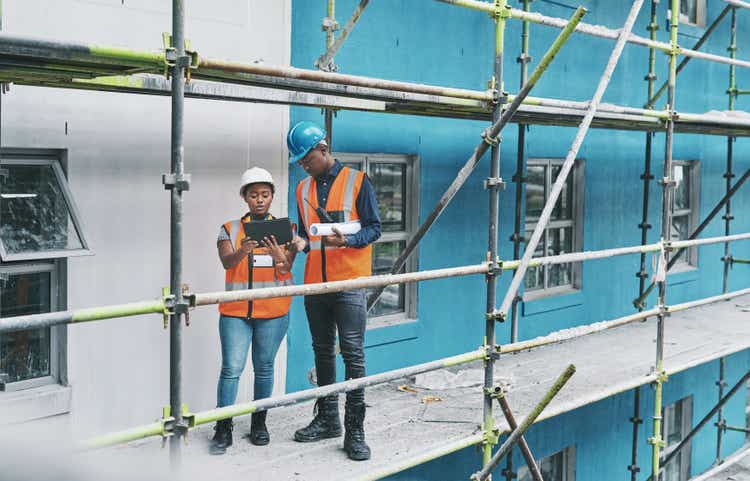 Two months into 2022 and I already have egg on my face, at least for anyone measuring short-term performance. On January 6th I had an article published highlighting the stocks that I thought would outperform the market. One of those picks was AMERISAFE (AMSF), provider of workers compensation insurance. My calculations indicated that even if their revenues drop slightly every year for the next five years and margins contracted, a 12% annualized return would still be assured if bought at the ~$52 per share they were then trading at. That felt like a mighty fine margin of safety. Then Q4 and full year 2021 results were announced and the stock dropped as low as $44 before recovering slightly. Not a good start to the year.
My intent with this article is to review the things that caused the drop and what revisions to the investment thesis need to be made. Bottom line-up front: a catastrophic accident in Q4 incurred a massive loss reserve that will soak up cash as the claim is settled. Intrinsic value has therefore been impaired. Taken together with muted guidance for 2022 and general stock market declines created a perfect storm. But there might be some light on the horizon.
The Incident
We know very little about the catastrophic accident that occurred in the fourth quarter. Management cited a need to protect the victims and their family's privacy. All that was said was that it involved several people and the nature of the injury is burns. Management is estimating that this claim will cost them $24 million after collecting from reinsurers.
Using simple math, dividing $24 million by shares outstanding gives us an idea by how much intrinsic value should be lowered as a result of paying this claim, about $1.24. But this doesn't take into account the time value of money. A dollar today is worth more than a dollar next year because that dollar can be invested today for a return. A lot of the $24 million will be spread out over coming years as their reinsurance covers the first $10 million. AMSF will be earning a return on those dollars-to-be-paid as they sit in the investment portfolio in the interim. So the true hit to intrinsic value would be lower than $1.24.
The other bit of good news is that AMSF has historically been very conservative in their estimates of claim liabilities, setting aside more than is actually needed. This results in an eventual reversal of those expenses. These "favorable developments from prior accident years" amounted to $61.9 million in 2021, $63.5 million in 2020, and $65 million in 2019. Perhaps the same will hold true as they refine their estimates for this accident. That being said, with all these things requiring managerial assumptions, there is a chance that they will have to increase their estimate, resulting in future charges to earnings.
Premiums
Even if AMSF ends up having to pay the full $1.24 per share for the catastrophic accident, that doesn't explain why the market took ~$8.00 off the share price after seeing earnings. There are two other things I believe going on. The first is that AMSF has been dealing with several years' worth of a declining loss cost multiplier, or LCM. These are rates approved by the states they operate in that allow them to charge premiums such that they can cover operating expenses and have a profit margin. This has been the cadence of the LCM:
| | | | | | | |
| --- | --- | --- | --- | --- | --- | --- |
| | 2021 | 2020 | 2019 | 2018 | 2017 | 2016 |
| LCM | 1.53 | 1.58 | 1.6 | 1.64 | 1.67 | 1.72 |
*Compiled by author
When asked in the conference call about how the LCM was shaping up for 2022, the CEO guided to more "mid-single digit declines". Declining LCM's has meant bad news for revenue:

*Date compiled by author
The market is expecting more of the same this year, which is why shares have fallen so sharply. But the LCM can't go down forever, otherwise workers compensation providers would go out of business. In email correspondence from a few months ago, the AMSF CFO, Neal Fuller, provided me some good insight into the dynamics at play:
During the financial crisis and great recession of 2008-2009, there was an increase in claims and the length of time injured workers were treated. This increased loss costs and later the rates approved by the states for workers compensation insurance. This increase peaked in 2014/2015 and since that time loss costs and rates have generally been declining at a gradual pace. Employers are also becoming safer and as a result the frequency of injuries has gradually decreased over the past number of years. Insurance is a cyclical business and generally soft markets (rates decreasing) are followed by hard markets (rates increasing) when the rates charged no longer cover the costs of the claims. As to when that might occur is uncertain.
The last time rates were this low in a declining rate environment was in 2007 when the LCM was at 1.51. It took three more years for rates to bottom at 1.43 in 2010. But it may not take that long this time. The mid-single digit decline in LCM forecast for this coming year, let's call it a 5% decline, would indeed amount to an LCM of 1.43. Let's hope it will indeed be the bottom. When rates rocketed every year to reach a high of 1.84 in 2014 after the 2010 low, revenue compounded annually at a rate of 16% during those four years, from $218 million to $404 million. If history repeats, massive gains are in store. It's worth noting that at least one other player in the workers compensation space, Barrett Business Services (BBSI), is NOT seeing pricing declines this year. From their conference call:
Looking at the market more broadly, market pricing for workers compensation coverage has now largely flattened after decreasing for several years.
Might this be the turning point?
Revised Valuation
I wish I could say that AMSF was oversold at this point and that shares were a good value. My original models indicated that even if their revenue slowly fell 1% annually and margins compressed slightly, a stock price of ~$52 still presented a 12% annualized return opportunity. With the stock now ~$47, shouldn't the case have strengthened? In a word, maybe.
My original thesis was contingent upon the loss cost multiplier evening out. That would prevent continued severe drops in revenue. But as mentioned already, management is guiding to a significant drop in the LCM in 2022. And the company has been unable to cut costs as quickly as revenue has dropped, having a pronounced effect on margins:

Notice how the expense ratio has risen almost every year. In short and looking forward, revenue will likely drop more and margins will compress further than I had input. My margin of safety was not big enough. With the stock at ~$47, here is what the market is pricing into AMSF future business results with a discount rate of 10%, the long-term average return of the stock market (which is what I assume most investors would at least wish to match):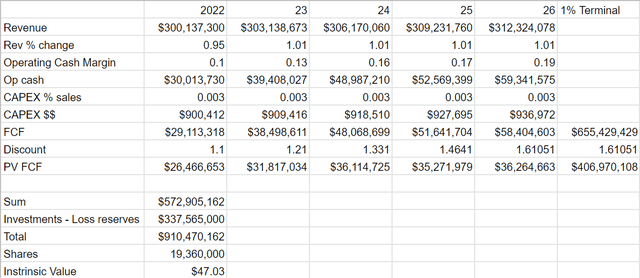 Pricing the stock at $47 means that the market expects AMSF revenue to go down 5% next year then grow 1% every year through 2026 through a combination of increased policy count and wage inflation. Margins go down to 10% next year and then recover up to 19% in 2026, still well below their prior five-year average margin of 22%. Now, this isn't a prediction. The same value could have been arrived at through a different combination of inputs. Perhaps revenue will grow at a faster rate but margins will stay lower. This is just an exercise. I only intend for this spreadsheet to be a starting point to help others form their own opinions about future prospects for AMSF.
Upside?
There are a few positives that have a good chance of materializing. First, 2021 was the first year in a long time where AMSF actually grew their policy count. Since at least 2016 they have had about 8,000 policies annually, with the average premium per policy facing a steep descent as the aforementioned LCM plummeted:

But 2021 saw policy count grow, tallying 8,400. And AMSF has stated plans to invest in their relationship with brokers more in 2022 so that those brokers will do a better job of marketing and selling their policies. From the conference call:
As far as the distribution network, yes we're spending time…. with our agents reiterating what the value proposition of working with AMERISAFE is from an agent's perspective and how they sell that to their clients. Our safety services, our claim service is how we take care of their injured workers, how we service their policies and then I think our retention rate really speaks to that. So I think those are all things that we can really drive home with our agents in trying to find the best solutions for their clients in 2022.

…..our goal is to grow policy count. We were able to do that finally in 2021, not quite where we want to be and that is our continued focus into 2022.
A second potential tailwind is improving employment rates and wage inflation. More workers and workers getting paid more is a HUGE benefit to AMSF, as their premium prices are based on a percent of wages. This too was mentioned in the call:
…. anything that increases payroll increases premium for us. So that's a positive sign for 2022.
The largest industry that AMSF services is construction which comprises 45% of written premiums, following by trucking and then logging and lumber at 15% and 10% of written premiums, respectively. Of the seven industries total that they service (the others being agriculture, manufacturing, telecommunications, and maritime), those largest three are also three of the four most profitable:
| | | | | | | | |
| --- | --- | --- | --- | --- | --- | --- | --- |
| | Construction | Truck | Log/Lumber | Ag. | Manu. | Tele | Maritime |
| premium per $100 payroll | $4.55 | $6.00 | $8.05 | $4.31 | $3.03 | $3.92 | $4.97 |
*From 10-K
With the Biden administration splurging on infrastructure and with the Architectural Billings Index (a leading indicator of construction and therefore economic activity) showing continued expansion, all signs are pointing towards significant tailwinds for Amerisafe's bread and butter, that of providing workers compensation insurance to employees in high hazard industries.
Finally, rising interest rates are a boon to their investment book, which consists almost entirely of bonds. The federal reserve has said there are going to be three rate hikes this year. That will have a material impact on investment income for AMSF. Here is their history of investment income based on portfolio yield:
| | | | | | | |
| --- | --- | --- | --- | --- | --- | --- |
| | 2021 | 2020 | 2019 | 2018 | 2017 | 2016 |
| Average Invested Assets (mil) | $1,151.8 | $1,191.7 | $1,200.6 | $1,195.1 | $1,188.7 | $1,165.4 |
| Yield | 2.3% | 2.5% | 2.8% | 2.6% | 2.5% | 2.5% |
| Investment Income (mil) | $25.4 | $29.4 | $32.5 | $30.5 | $29.3 | $28.1 |
*Data compiled by author
Since their portfolio consists mostly of municipal bonds, tracking that rate will be important moving forward. It has perked up of late: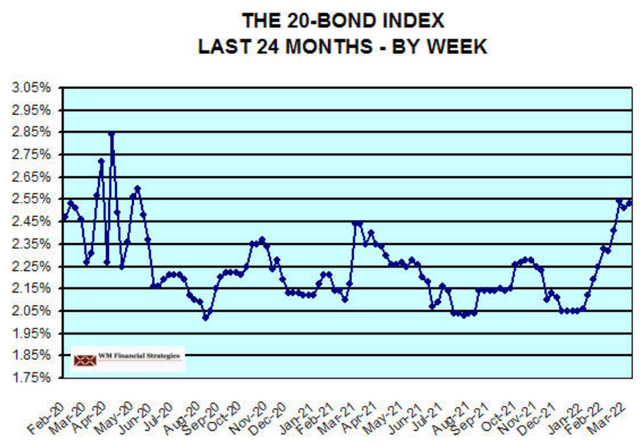 It is also important to note that while higher yields will technically lower the carrying value of their fixed-income investments, they hold the majority of those to maturity and will therefore be unaffected.
With their current balance of $1 billion worth of investments, every 100 bps expansion on their yields will increase investment income by $1,000,000, or $.05 of EPS. That is not immaterial.
Taken together, these three matters of more policies written, higher employment and wages generally, and higher interest rates could have a pronounced effect on AMSF 2022 results, to the upside.
Unearned Premiums vs. Premiums Receivable
There are two specific line items on the balance sheet that will indicate a turning point, unearned premiums and premiums receivable. The numbers will go up as AMSF writes more policies and/or writes policies with higher premium rates, and the rise will possibly precede a rise in revenue.
Unearned premiums accrue in instances where a company pays up front for their entire one year policy. This is money that AMSF gets but hasn't "earned" in the sense that the coverage period hasn't even happened yet, and is therefore listed as a liability on the balance sheet. It will be recognized as revenue as future quarters elapse, showing up as a decrease in the liability on the balance sheet.
Premiums receivable are the reverse, where a company has a one-year policy but pays in, say, quarterly installments. Because the full years' worth of premium is contractually agreed upon, AMSF gets to record it as an asset on the balance sheet, to be recognized as revenue as it is in fact paid in future quarters, thus decreasing the asset.
The main thing to watch for here is these line items going up, because it means that revenue will go up later. If the above possibilities concerning more policies written and higher policy amounts start to materialize, it will likely show up on the balance sheet first. Any year-over-year increase will be a big buy signal.
Capital Management
Several readers commented on my last AMSF article highlighting the fact that the company has been paying out more in dividends than they made in net income. This is obviously an understandable concern, so I reached out to management with the issue. The CFO had this to say:
We have in some years paid out more than in earnings because our operating leverage is too low (implying overcapitalization). Our long-term target for operating leverage as measured by Net Written Premiums / Shareholder's Equity is 1x or 1.1x. At year-end this ratio was 0.69, still implying overcapitalization.
In other words, they would rather give unused monies back to shareholders rather than let it sit in the investment book, which can already cover losses 1.36X. I don't disagree with this practice per say, but it does look a little bit like they are grooming their metrics. Return on Equity can be propped up artificially by continually pruning the denominator. Personally, I would rather them use the excess capital to expand the equity position of the investment book. Their equity purchases have performed much better than their fixed income securities, with an unrealized gain of more than $12 million on the balance sheet. Only 6% of their investments are in equities, but they are authorized to have up to 10%. I would love to see them get it up to the 10% sooner rather than later, especially given the recent stock market declines and therefore greater availability of fair priced securities. Better still, perhaps they can find good places to use those dollars in pursuit of more policies.
Conclusion
The earnings report was decidedly negative. A big claim in the quarter added a big chunk to loss reserves, and guidance for 2022 was to have the topline contract further. The stock has been punished, and much of that is merited. Intrinsic value has been permanently impaired due to the catastrophic claim. But there are several potential positives around the corner. Investments in generating more policies, higher employment and wages, and higher interest rates could all work together to bring AMSF back to revenue growth after years of decline. The loss cost multiplier, by its very nature, can't contract indefinitely. If it firms up sooner rather than later, bet on significantly higher earnings for AMSF. This year might be the inflection point for this beat down insurer, who in spite of a challenging environment has managed an underwriting profit for many years.