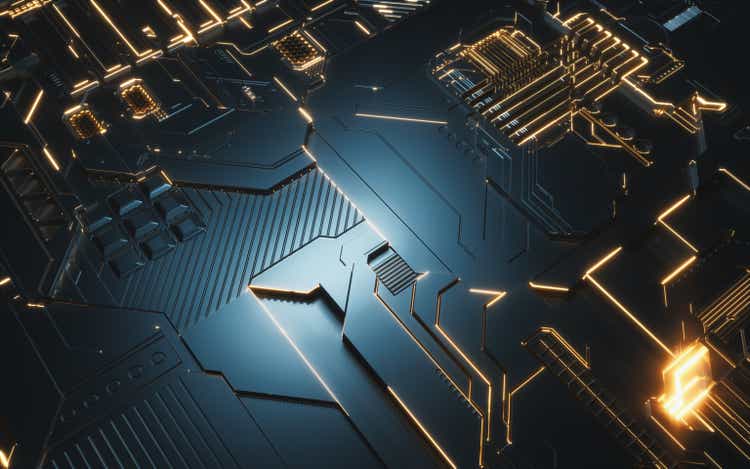 Alpha and Omega Semiconductor (AOSL) had a tough start to the year. The stock lost a third of its value at one point, although it has since rebounded. The stock is still in negative territory though. However, there are a couple of reasons why the stock may not yet be done rallying. Charts, valuations, internal changes and the newly laid out company outlook are some of the factors suggesting higher prices for AOSL are a real possibility. Why will be covered next.
Why it may be a good time to get in on AOSL
AOSL ended 2021 in style after appreciating by 74.8% in the last two months of the year to end the year up 156% YoY. But AOSL was not left untouched by the problems tech encountered in 2022. The stock fell at the start of 2022 along with the tech sector as a whole. The stock lost as much as 33.1% of its value a few weeks into 2022. The stock has since rebounded strongly off of the lows with 12.2% coming the day after the most recent quarterly report was released. Still, the stock is down 12.9% YTD.

More importantly, the stock rebounded off of what appears to be a support level as shown in the chart above. The stock skimmed along the lower trend line from August through October, which also happens to be where the stock managed to regain its footing and recover in late January after sliding for weeks. The stock did briefly peek below the trend line, only for the stock to recover and close above the line, a sign support is able to hold its ground.
AOSL has soared higher in recent months, which is why a previous article suggested locking in profits and taking some chips off the table with the run the stock was on in late 2021 and the possibility of a looming pullback in the stock. With the way the charts are set up currently, some of those chips could be put back to work. The stock has completed a major correction after it searched for and found support. Higher stock prices are more likely than not. In addition, the stock has managed to close back above the 50-day moving average after the release of the Q2 FY2022 report.
The Q2 FY2022 report contained important updates for the future
As mentioned earlier, the stock jumped by more than 12% the day after the latest earnings report was released. There's a reason why the market gave the Q2 FY2022 updates such a good reception. Not only did AOSL beat estimates for the top and the bottom line, but it also laid out a clear roadmap as to how AOSL intends to grow in the future. Q2 FY2022 revenue, for instance, increased by 21.7% YoY to $ 193.3M and non-GAAP EPS increased by 84.6% YoY to $ 1.20, putting AOSL on track for $ 4-5 in annual earnings.
GAAP income, on the other hand, was much higher at $ 383M or $ 13.54 per share due to a gain of $ 391.4M as a result of deconsolidation and changes to the equity interest in the Joint Venture Company or JVC in Chongqing. EBITDAS was $ 46.7M in Q2 FY2022, up from $ 45.3M in Q1 FY2022 and $ 31.6M in Q2 FY2021.
Non-GAAP gross margin hit 36.7% thanks to improvements to the product mix, a new record. In terms of segment, DMOS revenue was $ 135M, power IC revenue was $ 55.1M and assembly service revenue contributed the remaining $ 3.2M. Guidance calls for Q3 FY2022 revenue of $ 191-197M, an increase of 14.7% YoY at the midpoint. The table below shows the numbers for Q2 FY2022.
| | | | | | |
| --- | --- | --- | --- | --- | --- |
| (TO YAWN) | Q2 FY2022 | Q1 FY2022 | Q2 FY2021 | QoQ | YoY |
| Revenue | $ 193,319M | $ 187,035M | $ 158,830M | 3.36% | 21.71% |
| Gross margin | 35.4% | 34.5% | 30.7% | 90bps | 470bps |
| Operating expenses | $ 40,648M | $ 39,618M | $ 35.159M | 2.60% | 15.61% |
| Operating income | $ 27,717M | $ 24,949M | $ 13,590M | 11.09% | 103.95% |
| Net income | $ 382,998M | $ 23,424M | $ 12.903M | 1535.07% | 2868.29% |
| EPS | $ 13.54 | $ 0.85 | $ 0.47 | 1492.94% | 2780.85% |
| (Non-GAAP) | | | | | |
| Revenue | $ 193,319M | $ 187,035M | $ 158,830M | 3.36% | 21.71% |
| Gross margin | 36.7% | 35.3% | 31.4% | 140bps | 530bps |
| Operating expenses | $ 33,517M | $ 35.121M | $ 31.475M | (4.57%) | 6.49% |
| Operating income | $ 37,368M | $ 30,827M | $ 18,468M | 21.22% | 102.34% |
| Net income | $ 33,997M | $ 29.303M | $ 17,780M | 16.02% | 91.21% |
| EPS | $ 1.20 | $ 1.06 | $ 0.65 | 13.21% | 84.62% |
Source: AOSL Form 8-K
AOSL made important changes in late 2021. Not only did it reduce its stake in the JVC and become a minority shareholder result in a gain of $ 391.4M, but it also cleared the way for the next phase in the development of AOSL. From the Q2 earnings call:
"First, we made a significant investment to expand our capacity and further enhance our R&D capabilities at our Oregon facility.

Second, the joint venture in Chongqing completed Phase 1 of its capacity ramp in September, and in December, we sold 3.2% of our equity interest in the JV for approximately $ 26 million. The strategic intent of this transaction was to reduce our shareholding below 50% to allow the JV more flexibility to one, raise capital as a more independent company.

Two, accelerate further expansion plans; and three, pave the way for an eventual IPO on Shanghai's STAR market or STAR market. Additionally, I am delighted to see that less than two months after our initial sales transaction, the JV successfully raised $ 80 million from outside investors as part of Phase 2 of its expansion plan, which the JV expects to complete sometime in 2023. "
A transcript of the Q2 FY2022 earnings call can be found here.
As mentioned before in an earlier article, AOSL was able to grow very rapidly in recent quarters due to it having access to spare capacity at a time when other competitors did not and the market was tight. However, AOSL has since utilized its available capacity and the company is now on allocation. If AOSL is to keep growing, AOSL will need to have access to more capacity in order to increase supplies. The recent changes made to the JVC are a major step towards achieving that goal.
Multiples are still worth it for AOSL
While valuations are not as low as they used to be, they're still much lower than what you would expect from a stock that has doubled in value in the last six months or so. The table below shows the multiples for AOSL. Keep in mind that the multiples below have yet to account for the latest numbers from AOSL and all the changes made during Q2 FY2022, especially as it relates to the JVC.
| | |
| --- | --- |
| | AOSL |
| Market cap | $ 1.22B |
| Enterprise value | $ 1.30B |
| Revenue ("ttm") | $ 692.4M |
| EBITDA | $ 132.1M |
| Trailing P / E | 17.99 |
| Forward P / E | 13.88 |
| PEG ratio | – |
| P / S | 1.77 |
| P / B | 3.09 |
| EV / sales | 1.88 |
| Trailing EV / EBITDA | 9.86 |
| Forward EV / EBITDA | 7.27 |
Source: Seeking Alpha
For instance, the trailing P / E multiple was calculated using annual EPS of $ 2.61. In comparison, GAAP EPS in the recently concluded quarter was $ 13.54 as shown earlier. Such a big addition will undoubtedly skew the P / E multiple into the low single digits. The balance sheet also saw major changes, which will affect, for instance, AOSL's price-to-book of 3.09.
For example, property, plant and equipment was $ 196.7M in Q2 FY2022 with AOSL giving up its controlling stake in the JVC, down from $ 441.3M in Q1 FY2022 and $ 430.8M in Q2 FY2021. Instead, the asset side of the balance sheet will expand with the addition of $ 376.1M for equity investment as a result of the changes made to the JVC. Book value should increase, which will lower AOSL's price-to-book. The closer book value is to stock value, the greater the perception the stock is valued too low and the likely it is to go up.
Regardless, multiples are appetizing, even without the addition of the latest numbers. AOSL has an enterprise value of $ 1.3B, which is equal to 9.9 times trailing EBITDA and 7.3 times forward EBITDA. AOSL is not as cheap as it used to be with the stock rallying as much as it has, but it's still by no means an expensive stock to own.
Investor takeaways
While the latest headline numbers did not show the eye-popping YoY gains that previous quarters did, AOSL compensated by providing other updates that should raise confidence as to what the future looks like. Right now, AOSL is limited by capacity constraints, which is keeping a member on sales and earnings growth by extension. Still, Q2 revenue and non-GAAP EPS grew by 21.7% and 84.6% respectively.
More importantly, AOSL has provided some clarity as to the roadmap for the future. AOSL knows it needs more capacity and it has a plan as to how to get it in order to address the growth constraints that are holding it back. The multi-faceted roadmap involves expanding its current fab in Oregon, which should start to contribute in late 2022 / early 2023, bringing in outside foundries to secure more supplies and lay the foundation for the JVC to expand and contribute to AOSL's growth going forward.
If the JVC manages to do an IPO as is likely, AOSL stands to reap a major windfall as the JVC is likely to receive a big premium, similar to other recent listings on the STAR market. If the current equity investment on the balance sheet appreciates due to this, AOSL can expect to be rewarded with a much higher valuation than is currently the case.
I am bullish AOSL. AOSL continues to execute and deliver despite the constraints to growth. By shifting to products carrying higher value and higher margins, AOSL is able to compensate for the lack of sufficient supplies. While capacity is limited for now, AOSL has laid the foundation that should result in more capacity and thus supplies down the road, which in turn should put AOSL on the path towards growing into a $ 1B company.
The charts suggest the stock has room for additional gains, even after the recent rally. AOSL has found support which also happens to be sloping upwards, something that bodes well for the stock. Multiples are not what they once were, but they're still appealing, especially since they should go lower once the internal changes made to the company have filtered through. There's simply a lot more to like about AOSL than not to like. The odds favor higher stock prices. Long AOSL is the way to go.