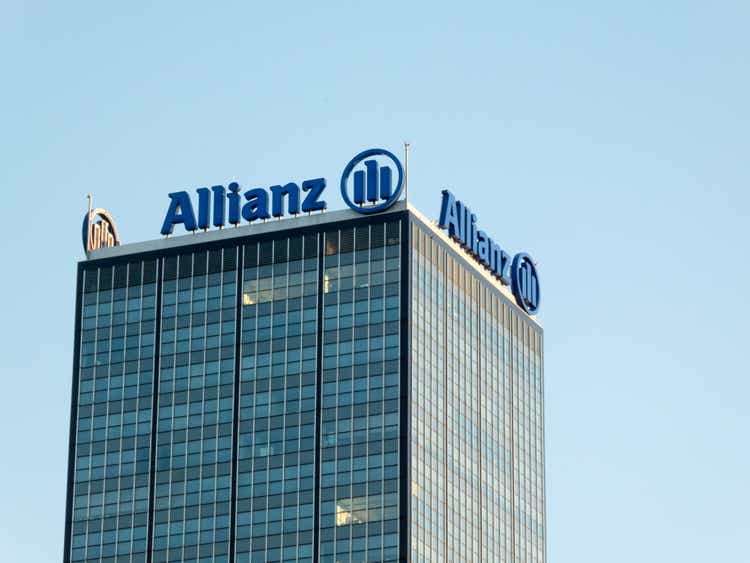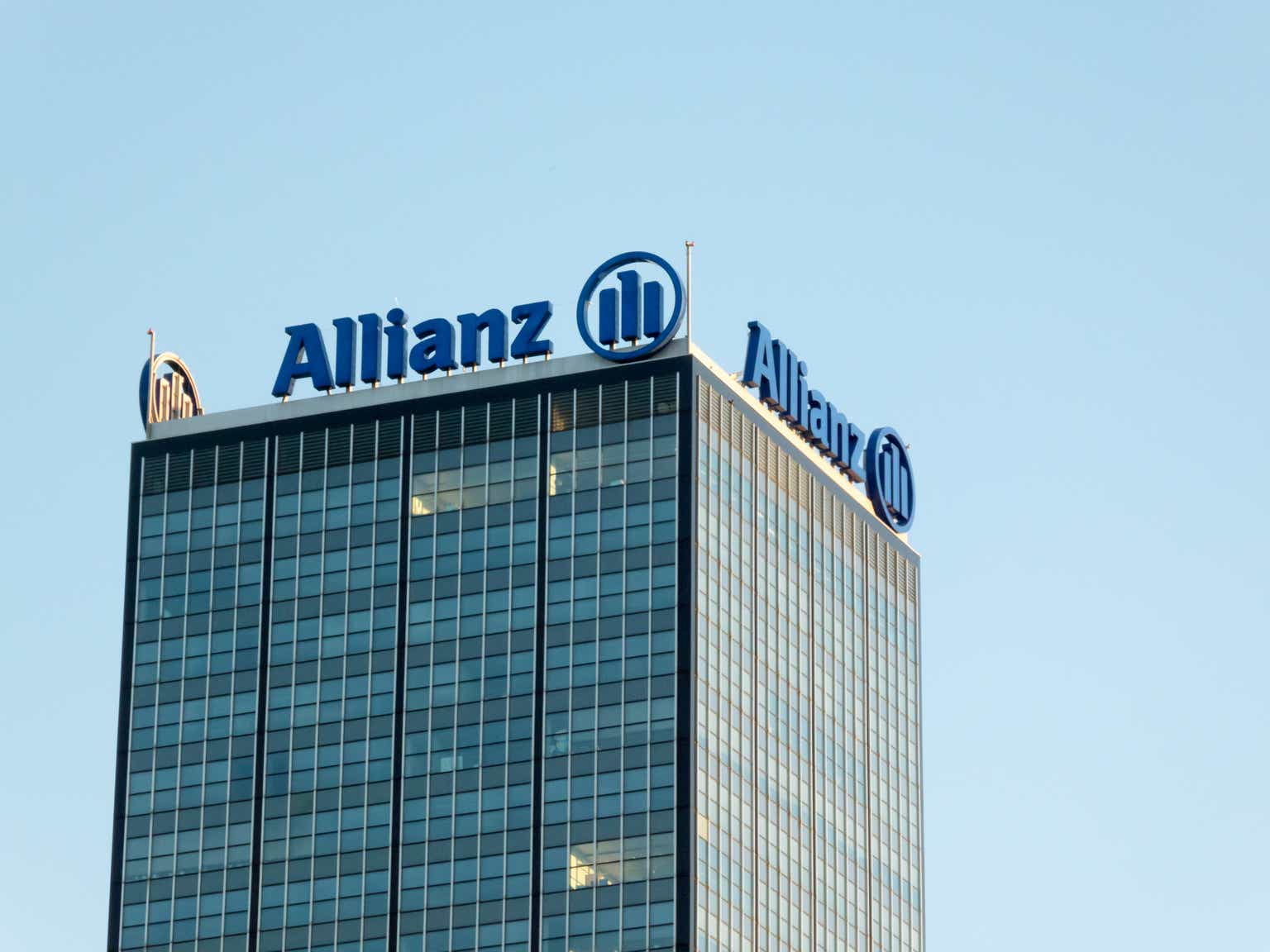 Dear readers,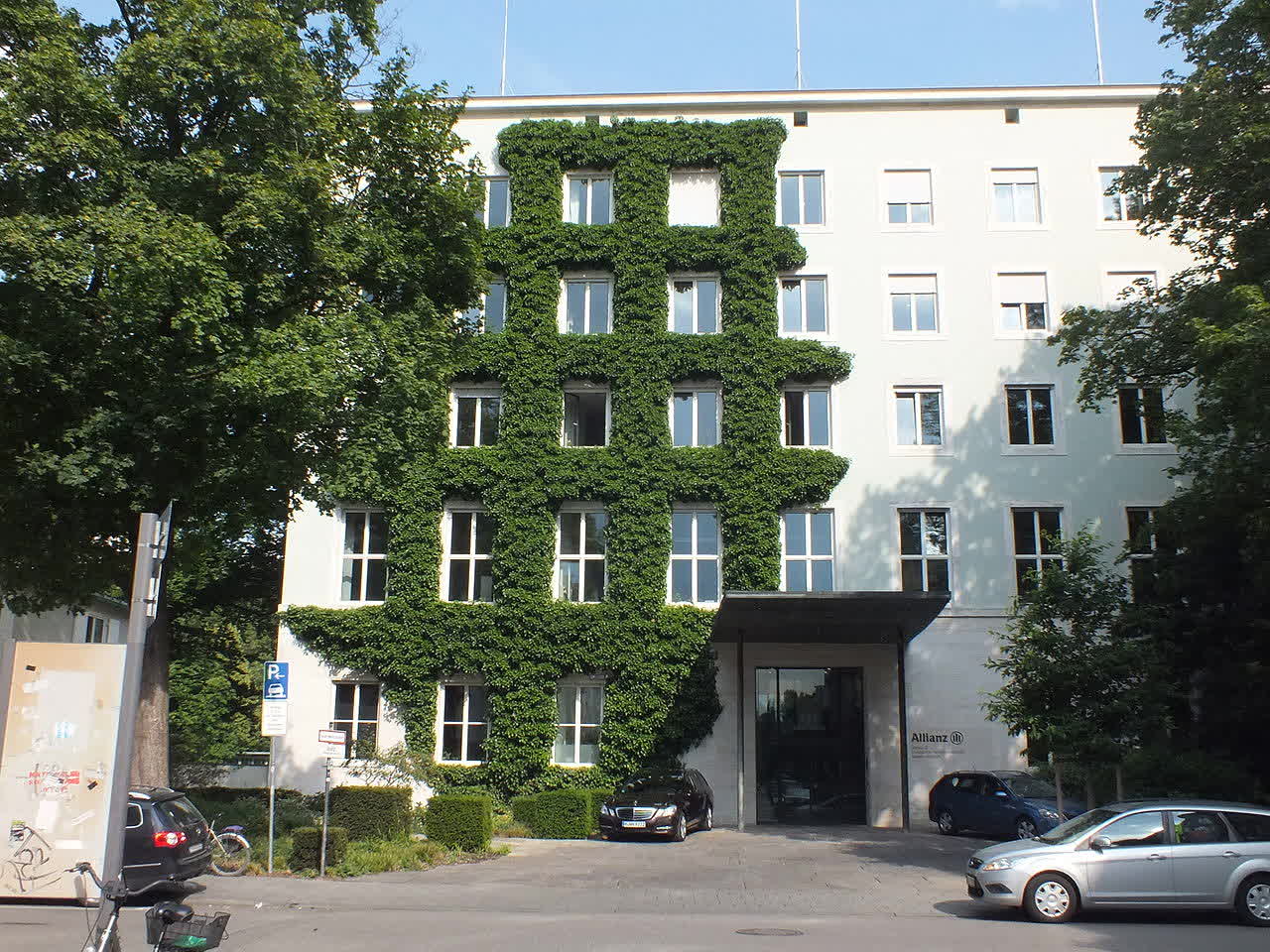 Behind the doors of these unassuming, almost apartment-complex-seeming buildings lie one of the headquarters of Allianz (OTCPK:ALIZF) (OTCPK:ALIZY), one of the largest insurance businesses on earth.
The business, with its roots in 1890 German Reinsurance, was founded as Allianz AG and began selling marine and accident policies back in the day, but only took 3 years until opening its international office in London, with an initial specialization of German clientele looking for international coverage.

What is Allianz?
Allianz is, as mentioned, the largest insurance corporation on earth. It has annual revenues of over €140 billion and earns an operating income of €10,7 billion on that revenue. It has €2.389 trillion worth of worldwide AUM (Assets under management).
Its operations span the entire globe.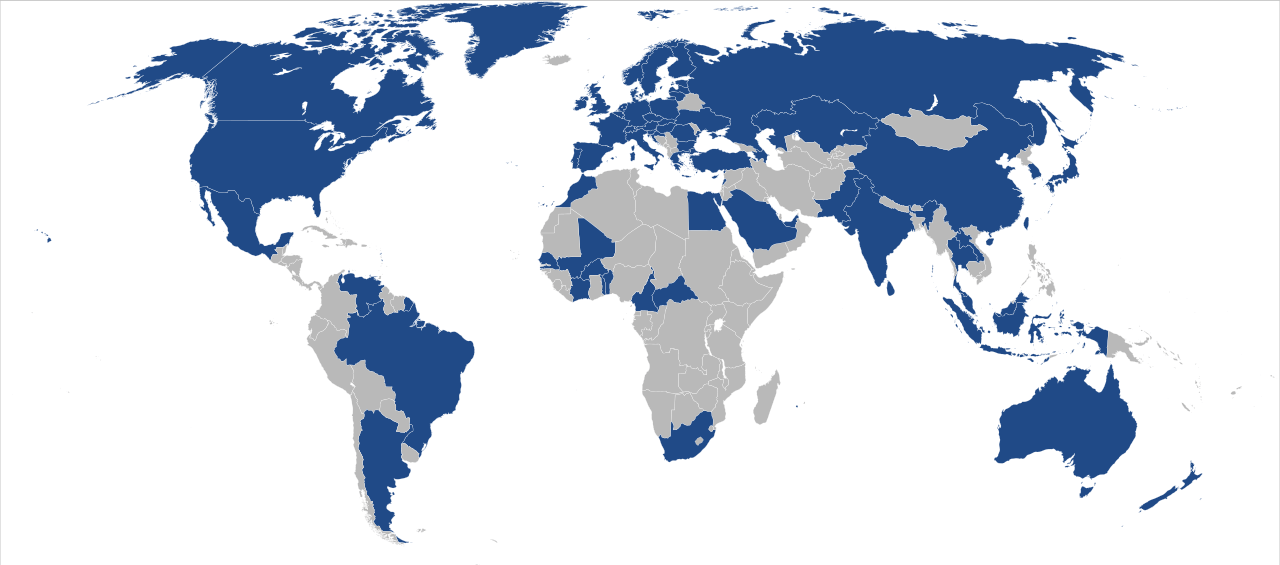 It has 150,000 employees, operations in 70 countries, and over 100 million customers.
Services today include:
Property Insurance
Casualty Insurance
Life/Health Insurance
Asset Management.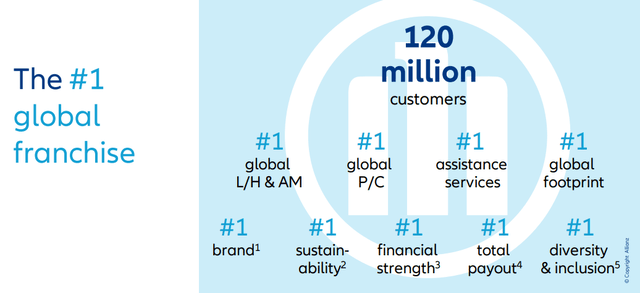 One of the initial fears when looking at an insurance business is its reliance on insurance premiums as income when considering the volatility of the industry especially in light of COVID-19.
Allianz has different dynamics than some of its insurance public comps, which rely on premiums while having a small wealth management arm. Allianz instead earns most of its income from asset management, with only 30% of annual operating income coming from premiums.
This means that despite being an insurance business, Allianz has a different makeup than most, and should be considered differently.
Allianz is, in fact, one of the biggest asset managers in the world. Allianz is the major shareholder of Pacific Investment Management Company, LLC, or PIMCO, which many of you may know. PIMCO operates as a subsidiary of Allianz following a 2000 takeover. Combining PIMCO operations and AGI operations makes Allianz one of the biggest in all of the space, with representation in most nations on earth.
In fact, it would be fair to say that Allianz insurance operations are sort of continuing "as-is" with few changes, while most of the company's focus lies on its AUM business through PIMCO and AGI. Allianz has also been an active M&A'er, buying up two Euro peers with parts from Aviva in Italy, as well as Aviva Poland, adding a motor and non-motor businesses as well as life/non-life insurance operations from the businesses.
The company is a generous dividend payor, with a recent dividend policy shift in December of 2021.
The regular pay-out remains at 50% of Allianz Group's net income (attributable to shareholders), however, adjusted for extraordinary and volatile items.
A 5% DPS increase from the preceding year's dividend. This already applies to the dividend for FY2021.
In addition, Allianz returns excess capital to its shareholders on a flexible basis, e.g. through share buybacks.
The dividend policy is subject to a sustainable Solvency II capitalization ratio of from now above 150% (excluding transitional measures).
(Source: Allianz)
The company did not cut the dividend during COVID-19.
On a segment breakdown and in terms of revenues, Insurance in the form of life/non-life makes up about half of the annual revenues at €50 billion and €57 billion each, with Asset management contributing around €10 billion in revenues, but much of the pre-tax profit.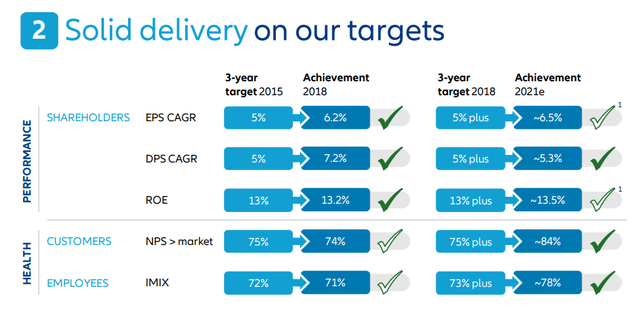 Allianz is historically unimpacted by really most things. Even COVID-19 was only a slight hurdle before it jumped back up.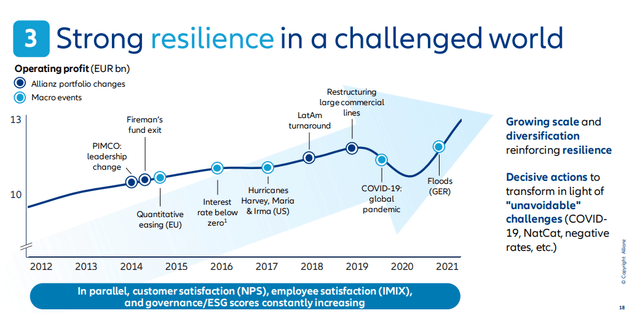 The company sees something I strongly agree with. The future will not allow for average executions to be sustainable. You're either an industry winner, or you're bound for lower growth, overcapacity, inflation losses, digital disruptions, high cost of equity and debt, and increased risks.
Allianz is determined to be on the right side of that fence, and current trends are certainly encouraging on that front.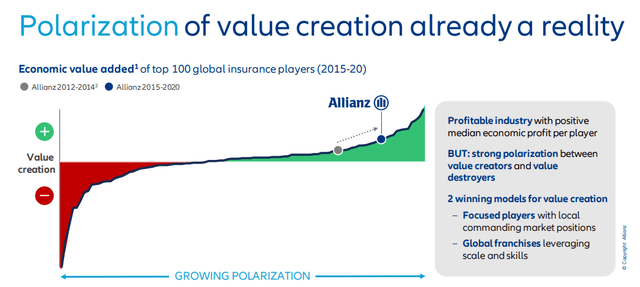 Allianz guides to a forward journey of slight growth, a 5-7% CAGR EPS growth until 2024, and 1-2% margin expansion based on capturing efficiencies, expanding leadership, and doing some transformative work in some of its franchises. With an already-market leading German position at half of the market average costs due to its scale advantages, Allianz has no issues leveraging this to get better returns. Over 10% of the German population are Allianz customers.
The company has invested heavily in IT and new platforms, including its customer-facing experiences such as Allyz, Allianz Automotive, Vivy, Medi24, Allianz Assistance, Allvest, and others. This company has almost a ridiculous amount of working operations in its areas of Health, Travel, Mobility, Finance, and Home insurance, and its claims experiences mix the "best" parts of modern analysis such as AI and human input.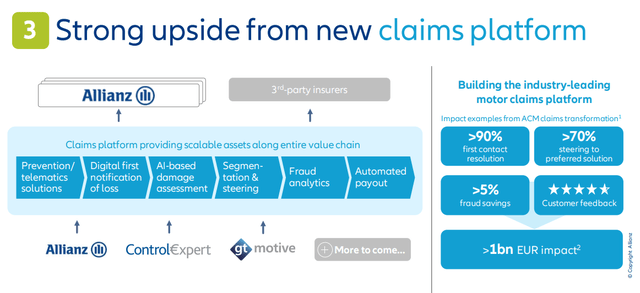 The company has reported very strong recent numbers, with recent 3Q21 results showing 2% YoY increase in profit, substantial RoE increase to 13.3%, and inflows of over €25.6 billion. Allianz is a net beneficiary, like most asset/wealth managers, of the way the stock market has been going. The company also increased its overall guidance, around €12-€13 billion for the full year of 2021.
EU insurance businesses no longer give full quarterly reports during 1QXX or 3QXX. This is due to the recent change in the EU transparency directive, which allows them to only give small updates, reducing the quality of shareholder information for these interim periods.
Still, for general valuation and forecast purposes, these figures are enough – and while I don't like this change or any change that reduces transparency and makes my job more difficult, I don't find this one as onerous.
Fundamentally speaking, I view Allianz as one of the safest investments on the planet. It goes in the "too big to fail" basket, with incredible diversification and operational width.
The company is one of the extremely few global businesses that warrant a stable AA credit rating. Only a handful of companies have this, or better. The company's yield is higher than you might think – around 4-5% depending on where you buy it, with a current yield of around 4.9% expecting a yield of just over €10/share for the 2021E period.
The company plays in a sector with other majors. Direct EU peers are AXA (OTCQX:AXAHY), Zürich Insurance (OTCQX:ZURVY), Aviva (OTCPK:AVVIY), and others such as Italian Generali (OTCPK:ARZGY). US peers include MetLife (MET) and Prudential Financial (PRU), though I find it crucial to point out that none of these are as big as Allianz, and Generali and Aviva together is less than half the size of Allianz in terms of market cap.
Let's look at some other parts of this thesis.
Risks? Do they exist?
Of course.
While I will freely argue with anyone who claims that there's an outsized risk here, I will admit that any insurance operation that's as dependant on capital flows to its asset/wealth management as Allianz is, has some risks. Market downturns and capital flows can have impacts on this business that you might not expect – but this is not really unique for Allianz, but something common to every major insurance business that's heavy in asset management.
So one major risk is that Allianz's business is more tied to macroeconomic trends than some of its public comps, which are more premium-focused (but because of that, higher impacts from things like COVID-19).
The company's size and scale is an advantage, but as we all know, large corporations are extremely hard to turn around or change, and this company's size is an oil tanker in a puddle – so there's that.
In a business like this, it also goes without saying that there are risks and failures you can't always account for, and people make mistakes. One of the bigger mistakes that are currently on the horizon is investment losses for AGI's structured funds.
This has gone very far – to a degree where the DoJ is involved. This is/was a pension fund for truck drivers, teachers, and subway workers that have sued Allianz for losses of almost €6 billion during the pandemic.
Market panic around the virus resulted in billions of dollars in losses last year, hitting many investors, but no other top-tier asset manager is facing such a large number of lawsuits in the United States connected to the turbulence.

Allianz said that its Allianz Global Investors unit has received a voluntary request for documents and information from the Department of Justice (DOJ) and that Allianz is fully cooperating with the DOJ as well as with the U.S. Securities and Exchange Commission.

The U.S. lawsuits allege that Allianz Global Investors, in its Structured Alpha family of funds, strayed from a strategy of using options to protect against a short-term financial market crash.

Last year, Allianz was forced to shut two private hedge funds after severe losses, prompting the wave of litigation which the company has said is "legally and factually flawed".

(Source: Reuters)
So, incoming litigations are always a risk when you're an asset manager such as this.
However, that's pretty much it.
What of that valuation?
The positives are significant. Allianz is so damn predictable because a combination of good management and the absolute size and scale of the business operations, that any downturn for the company really only represents a buying opportunity.
That is why I bought when the company saw a drawdown compared to comparative indexes back in 2021 – especially as the company underperformed sector comparisons.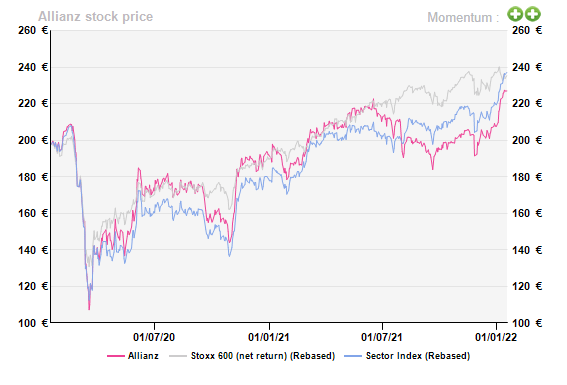 So while recent action has seen Allianz recover some steam, I will argue in this piece that Allianz is still a safe investment at a good cost that easily rivals investing in businesses such as BlackRock (BLK), but at a far more appealing valuation.
Insurance businesses across the world are being discounted like dirt – Allianz is no different, despite AA, despite its quality, and despite near-5% yield. A big reason for this discount that's often not discussed is legacy following the financial crisis in 2007-2010. This period saw regulators enacting stringent new rules and regulations for solvency/capital that businesses had to fulfill.
These are currently fulfilled by most relevant companies, and it's gone so far in terms of capital safety that many of these insurance businesses (most I write about) are starting to buy back billions of dollars' worth of shares to improve their valuations and returns, using excess capital that's not worth paying down debt with or pay out in dividends.
The dividend yield in insurance, or Allianz, is one of the highest you're able to get safely in Europe. The low valuation does not reflect the underlying stability or quality of Allianz's operations.
Non-life operations are extremely stable, and life-focused businesses saw recovery following the financial crisis. I do not apply any significant premium to the company as a whole here, but I do believe the company warrants consideration for being the largest, the by far most qualitative, and trading at an appealing valuation.
Based on the company coming out of COVID-19 in what I see as good shape, a conservative valuation calls for an embedded value (Embedded value is used outside of NA contexts for valuing insurance businesses, combining the sum of NAV and a discounted PV of future profits) of around €220-€240/share, depending on the exact variables or rates used.
We, of course, don't just use the embedded value here. In terms of embedded value alone, Allianz is trading close to, or even above fair embedded value here. As I mentioned, Allianz compares favorably to its peers in terms of multiples, with a P/E discount of around 14-19% to peers, a book value discount of 10-16% to most peers, and somewhat of a dividend yield-based premium – unless you're willing to assign a quality premium to Allianz for any of these numbers.
I do consider it viable that Allianz, due to advantages of scale and global diversification, should be assigned somewhat of a premium for most of these things. Because of this, I choose to land on a price target on a higher premium range than some, around €235/share.
The point, to me, of an Allianz investment unless done at a substantial discount to Emb.V is to provide safety and stability in an uncertain market without compromising on those dividends.
At a 5% yield, you're outpacing most of the inflation, and with capital appreciation, you're usually beating most average markets. You're doing so at AA credit and with less than a 0.7X 5-year monthly average Beta. Stability is the name of the game here.
Concluding Allianz
Dear Readers,
This article is the condensed version of a longer article published on our private investing community, iREIT on Alpha, on January 18th. The full article goes deeper into debt/capital structure, more advanced forecasts, and methods of evaluating the company, as well as what to expect from the investment.
About 2-3.5% undervaluation for both common and ADR is what I see here – not much, but if you're looking for stability for the long term in the market, then this one could be on your radar. It's most certainly on mine, and through 2021, I added share after share of Allianz. I believe part of what investors may want to consider for 2022 is positioning themselves for lower returns and higher stability. That is what I am currently doing, and most major investments are flowing directly into safe companies such as this.
Remember, I'm all about :
1. Buying undervalued – even if that undervaluation is slight, and not mind-numbingly massive – companies at a discount, allowing them to normalize over time and harvesting capital gains and dividends in the meantime.
2. If the company goes well beyond normalization and goes into overvaluation, I harvest gains and rotate my position into other undervalued stocks, repeating #1.
3. If the company doesn't go into overvaluation, but hovers within a fair value, or goes back down to undervaluation, I buy more as time allows.
4. I reinvest proceeds from dividends, savings from work, or other cash inflows as specified in #1.
This process has allowed me to triple my net worth in less than 7 years – and that is all I intend to continue doing (even if I don't expect the same rates of return for the next few years).
If you're interested in significantly higher returns, then I'm probably not for you. If you're interested in 10% yields, I'm not for you either.
If you however want to grow your money conservatively, safely, and harvest well-covered dividends while doing so, and your timeframe is 5-30 years, then I might be for you.
Allianz is currently in a position where #1 is possible in my process, through #3 and #4.
Thank you for reading.